If you are a true gamer and serious about gaming, then a proper Xbox wireless headset is a significant item in your loadout. Headsets grant you an edge in multiplayer, being able to hear enemies close in on you, but it's also a great way to engross yourself in the great worlds you can find on Xbox platforms. Hence, Microsoft's wireless technology lets you swiftly pair with your Xbox sans dongle.
However, you can choose from a wide variety of accessories because the Xbox Series X|S is backward compatible with all Xbox One accessories. There are also amazing headsets that have been released in a couple of years; they offer gamers a strong build, and the Xbox wireless headphone sets themselves via its super-comfy rotating dials on each earcup. With the ability to connect concurrently to your Xbox device/PC and your phone.
In this blog, I will give you a detailed review of wireless headsets, including design, build quality, sound quality, comfort, and other features. So let's move ahead to know a detailed review of the Xbox headset. And also you may checkout Why to Keep an Eye on Sustainable Tech in 2023?
Xbox Headset Design
The all-black design of the Xbox headset is blown up with classy touches, such as the green rings that cover the outside of the earcup and the marked Xbox logo on the right-hand side, giving an incredible look. The inside of each earcup, which is handily marked with huge "L" and "R" letters, also has a faded green hue that seeps through the mesh, as the drivers are also coated in Xbox's common brand color.
You can power up the headphone by pressing the light green power button on the left side to meet you with the familiar Xbox series X boot-up sound. You also get audio cues that Xbox owners will straightly recognize when you power them down, quiet the microphone or pair the Headset too.
Its gaming DNA is delicately revealed by the green power button and similar accents on each earcup, along with the flexible boom mic on the left side. Although the mic can be placed at any angle, thanks to the flexible arm, it can be pushed up all the way for those incidents when you are not using it.
The Xbox wireless headset isn't the lightest Headset around, as it weighs 312g. Although, it's more than contended for hours of constant use, thanks to the foam padding on both the ear cushions and band.
You can easily wear these headsets for a long time comfortably, as the earcups are amazing in size and easily manage my larger-than-average ears, making them a relaxed fit for pretty anyone. Each earcup also has a turning control dial smartly included in the design.
Audio Performance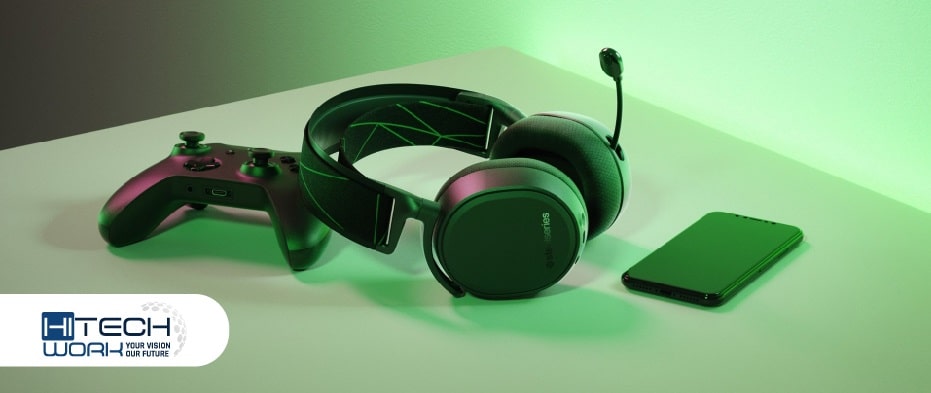 When we first set the wireless Headset on, we were equally overcome and concerned by how bass-heavy the sound signature was. If you are someone who loves nothing more than a strong, thumping baseline, the Xbox headset won't disappoint you. It gives truly amazing bass reproduction.
Critically, these are superb at carrying that low-end sound that so many people crave and enjoy. Even a bass boost option goes up to +12, which seems excessive, considering just how low these headphones can go. Too much bass can overpower and muddy the other frequencies that are likewise essential, leaving you with a stifled sound that won't do you any favors in online multiplayer games.
Luckily, Microsoft has offered the Xbox wireless headset that suits everyone, as you can customize the sound to your liking. If you move to the Xbox Accessories app, you can pick from a selection that includes Music, speech, and movie.
You can also encounter an option to customize six EQ levels to your liking; it's here where the Xbox wireless headset truly comes into its own. However, the Xbox headset can get future improvements thanks to its ability to receive over-the-air updates.
Comfort
The Xbox wireless headphones have an amazing design—all black with flat, matte plastic surfaces on the earcups and headband that remind me of the Xbox Series X. The huge, circular earpads are padded with soft memory foam and covered in supple, black faux leather.
The headband and earcups are a bit rigid at first, but when the headsets are fitted to your head size, the Xbox wireless headset feels lightweight and comfortable. However, they are extremely comfortable, and you can wear them for extended periods of play without difficulty.
Battery
As per Microsoft, an Xbox headset can last up to 15 hours on a single charge, but it far exceeds that in our testing. At a consistent output of ~75dB(SPL), the headphone lasted 19 hours onwards, not closely the longest life on the market.
Hence, the Headset has a great battery performance that lasts more than 19 hours on a single charge. Though the Headset is also operational with an auto-off timer to help conserve battery life when you are not using it, and you can use it while charging.
Xbox Wireless Headset Performance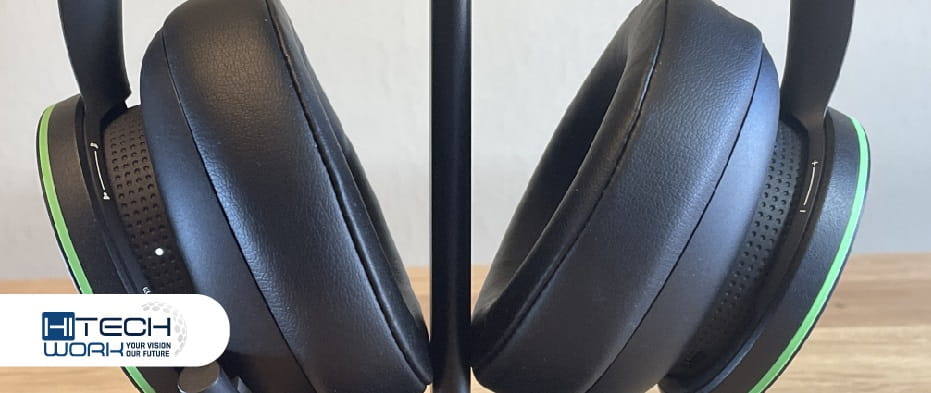 In terms of gaming performance, In gears of war 3, Marcus Fenix's critical voice carried just as much weight as his frenzied gunshots. I continually turned my head to follow the eerie whispers in Hellblade: Senua's sacrifice. The Headset conveys satisfying construction sounds and gorgeous Music in Age of Empires III: Definitive edition. I felt absolutely engrossed in the background noise of a city as I explored Kamurocho in Yakuza 3 remastered.
The Xbox wireless headset offers a balanced soundscape with instant, close quality to it. Like many gaming headsets, it favors treble over bass. By default, the Headset considerably boosts the soundtrack's low frequencies, which takes attention away from the stunning melodies and atmospheric sounds. Modifying to a mode that highlights the higher frequencies produces a much more balanced game sound.
Features
Xbox Wireless Headset's most valuable feature is its ability to connect to your phone simultaneously with your PC or Xbox console. This is a bonus if you regularly play crossplay games with PC gamers who favor using Discord above any other voice chat service.
As some users played grounded on the Xbox Series X with a few friends who were on PC, I listened to both the in-game audio from the Series X and the Discord voice chat from my Android smartphone, dialing in the perfect mix between volume and game chat balance for a flawless experience. This dual connectivity also means you can take incoming phone calls during gaming sessions without having to roam around while pausing and removing the Headset.
Moreover, the Xbox wireless headset is packed with the option to play and tweak the settings, all made possible via the Xbox accessories app on Pc and console. The first and possibly essential option is the equalizer, which allows you to tweak the levels of lows, mids, and highs. While choosing (or turning off) bass boost.
The app also allows you to choose the level of the auto-mute function, a useful setting that automatically mutes your microphone when you are not talking or using it. Hence, you can adjust the sensitivity according to your background noise levels, and it functions amazingly well, adverse to the need to fiddle around with more traditional push-to-talk settings if that's how you roll. It functions particularly well if, say, there's a crying baby in the background, and you wish to save your teammates from their piercing wails.
The other feature is the mute light brightness which allows you to adjust the brightness of the mic's built-in white LED or turn it off altogether. Last, the Xbox headset has a mic monitoring section, which allows you to increase or decrease how much you can listen to your voice through the Headset itself.
Pros & Cons
| | |
| --- | --- |
| Pros | Cons |
| Great sound and powerful bass | Plasticky build |
| Clever design | Mic monitoring could be a little louder |
| Easy-to-use controls | No Active Noise Cancelling |
| Incredible value | Bluetooth lacks high-end audio codecs |
| Lightweight and comfortable | No water resistant |
| Bluetooth connectivity | —– |
| Remembers multiple wireless signals | ——- |
Final verdict
Xbox wireless headset is amazing with a thoughtful design, incredible control layout, and easy pairing, making it simple to use. On the other hand, the microphone is easy-to-use and clear, considering that it never actually gets that close to your mouth. If we compare it to other amazing headsets, such as Arctis 7X and the Kaira pro, the price of these headsets costs you $150.
While the Xbox headphones cost only $99.99, and the price is likely the single most essential factor that raises the Xbox headset from "pretty good" to "Bestest." And it's uncommon to find Bluetooth functionality in a $100 gaming headset.
Despite some real frustrations, such as its terrifying pairing procedures and its limited customization options, even so, it's a simple suggestion I can make to anyone, particularly Xbox gamers who don't need or want to swindle around with a lot of extra features, then Xbox headset is best to buy. If you can afford the Arctis 7X or Kaira Pro, then go for it. But if you can't, then the Xbox One headset is the right headphone at the right price.
Editor's Recommendations