Are your youtube comments not loading? Here are the ways to fix it. Hitechwork can help you out to solve every technical issue you are facing. Read out the complete blog to solve the error. Comments on a YouTube video are useful to the viewers and the creators. Sometimes, I quickly wade through a video's comments to get extra information or predetermine if the content is worth my time or not. However, there are times when comments on videos miss to load, particularly with Chrome. If this describes your current plight, refer to the troubleshooting checks in this guide to fix that problem.
Before you tweak the browser, check whether the video really supports comments. In a bid to moderate hate speech, violence, etc., YouTube sometimes disables comments on particular videos. Additionally, comments might be unavailable on videos whose creators have restrained viewers from commenting. Suppose the issue affects just a particular video; these restrictions may be in place. To verify that, open the video in another browser.
If YouTube comments are loading perfectly for all videos on other browsers, something is wrong with Chrome. Try stopping the video tab or opening the video in a new Chrome tab. You should also complete and reopen the browser. That could help.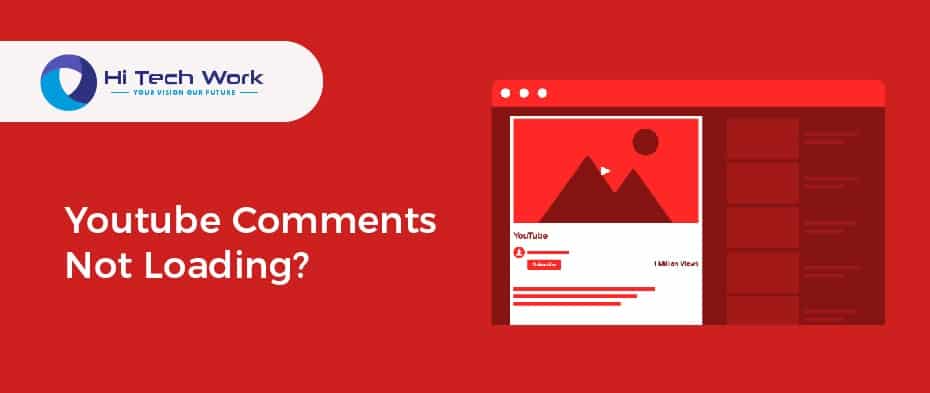 Youtube Comments Not Loading? 
YouTube is now one of the most popular social platforms, with millions of videos added regularly. By way of video, the audience can quickly catch the idea of the YouTube Channel.
It is an excellent convenience for YouTube Users to catch some video's key points by reading YouTube comments. However, some users have recently reported that they observe YouTube comments not loading on their websites except for the pinned comments for a channel. The loading icon keeps spinning, and some users say that the comment section is blank.
Clear Chrome's Data 
The accumulation of browsing data (cached images & files, cookies, browsing history, etc.) on your system's local storage sometimes leads to persistent abnormalities while surfing the internet. Clearing Chrome's browsing data can help fix problems preventing YouTube comments from loading.
Tap the three-dotted menu icon at the browser's top-right corner (next to the address bar) and select Settings.
Alternatively, type chrome://settings into the address bar and click Enter/Return on your keyboard.
Scroll to the 'Privacy and security section and choose Clear browsing data.
Click the Time range drop-down key and choose if you want to clear the browser's data for the last 24 hours, seven days, four weeks, or All-Time.
We suggest clearing data generated by the browser in the past 24 hours. If you still can't view YouTube comments, repeat steps #1 to #3, and select other time ranges.
Check all the browsing data options and tap the Clear data key.
Reload the YouTube video and verify if the comments are loading up.
Reset Chrome
Through resetting Chrome, you're restoring the browser's settings to its factory default. This is an efficient troubleshooting solution to several glitches affecting the browser's functionalities and the performance of some websites. If you still cannot access YouTube comments after clearing browsing data, follow the actions below to reset Google Chrome settings.
NOTE: Resetting Chrome's data will clear the browser's volatile data and disable all extensions. Additional data (saved passwords, bookmarks, history, etc.) will not be deleted.
Scroll to the bottom of the settings menu and tap the advanced drop-down key.
Next, hit Restore settings to their original defaults.
Hit Reset settings on the prompt to proceed.
Disable Proxy on Your PC
Using a proxy server on your system could also mess with YouTube videos' comments and cause other connectivity issues on Chrome. If your system uses a proxy connection, disable the proxy and check if that fixes the problem.
Launch the Chrome settings menu and tap the advanced drop-down key.
Click 'Open your computer's proxy settings.'
That will redirect you to your system's network settings page, where you can disable any active proxy connection.
Disable Ad Blocker
You could also encounter troubles navigating some websites on Chrome if you have broken or corrupt extensions installed on the browser. Some users made YouTube comments working again by disabling an extension that blocks ads. Ad blockers are infamous for causing website malfunction, particularly on Chrome.
If you have an Adblocker or any similar extension installed on your browser, disable it and reload YouTube.
Enter chrome://extensions into the address bar and toggle off the Adblocker (or similar extensions).
Try Incognito Mode
If you don't have an Adblocker installed or don't know the correct extension responsible for blocking YouTube comments, try loading the video in Incognito mode.
Open an Incognito tab in Chrome, tap the menu icon, and choose New Incognito Window.
QUICK SHORTCUT: Try Control + Shift + N (for Windows) or Command + Shift + N (for Mac) to quickly launch an Incognito tab in Chrome.
If YouTube comments load without problems in Incognito mode, that's an indication that the issue stems from a corrupt extension. To lastingly fix this issue, you'd have to isolate and remove the problematic extension.
Tap the Chrome menu key, navigate to More Tools > Extensions, and disable the extensions individually.
Update Chrome
Finally, check that your browser is up-to-date. To update Chrome on your PC, type chrome://settings/help into the address bar and click Enter. The browser will automatically monitor for updates and prompt you to download any available Chrome version. Make sure you finish the update by relaunching the browser. Otherwise, this problem might persist even after downloading the updated version to your device.
Final Words
YouTube comments usually turn out to be a goldmine of entertainment and information. Surprisingly, your data connection could also be responsible for this anomaly. So you need to make sure your network connection is strong and within range.
We should also add that the difficulty could be from YouTube's end. Sometimes, they temporarily disable commenting on fixing some issues or rolling out new updates/features to the platform. This is usually restored swiftly, so you might have to wait for comments to be reactivated.