Alexa's traffic estimates and ranks are based on the browsing behavior of people in our global data panel which is a sample of all internet users. Alexa Rank Checker is based on the traffic data provided by users in Alexa's global data panel over a rolling 3 month period. Traffic Ranks are updated daily. A site's ranking is based on a combined measure of Unique Visitors and Pageviews. The site with the highest combination of unique visitors and pageviews is ranked #1.
Online Alexa Rank Checker Tool
You can check your Alexa rank from its official website. But you can also install the widget in the WordPress to make a Good impression on a visitor. I will explain all the method to check Alexa rank and how to improve it. But first, we have to learn about what is the Alexa rank checker, how it actually work!
What is Alexa Rank?
This is a ranking system set by alexa.com that basically audits and makes public the frequency of visits to various Web sites. The algorithm according to which Alexa traffic ranking is calculated, is simple. It is based on the amount of traffic recorded from users that have the Alexa toolbar installed over a period of three months. This traffic is based on such parameters as reach and page views.
The Reach refers to the number of Alexa users who visit a particular site in one day.
Page view, as its name shows, is the number of times a particular page (URL) is viewed by Alexa users.
Alexa.com makes it clear though that if a particular user visits the same URL multiple times on the same day, all those visits will be counted as one.
How does Alexa Rank Websites?
Alexa gets their rankings from the Alexa Toolbar, which people install into their browsers and it basically tracks their activity around the Internet, the websites they visit, and how often they visit. This is where they get most of their data.

Alexa does not give you the exact ranking about your site. It just only tells the rank according to the data which is collect from their toolbar. Alexa also uses amazon.com data to rank your site and also collect data from 3rd party software.
The Alexa toolbar not only displays information, but it also sends data to the central server. Thus, each time you visit a Web page via a Web browser (be it Internet Explorer or Firefox) that has the toolbar installed, information is sent to the server indicating your IP and the page you are visiting. Such data is gathered from all the Web users who have the Alexa toolbar. Along with that, they claim to get data from "other" unknown sources as well. This way Alexa rank checker work and give you the ranking your site.
Limitation:- The main data Alexa gets's from is Alexa Toolbar, so if your site gets 50,000 UVs per day and only 10% of them would be using Alexa toolbar then Alexa will get data of only 5000 visitors. The remaining visitors probably won't be counted or they would get data of them from different sources. So, all in all, Alexa Rankings is not too much dependable for considering a website's total traffic.
Ways To Improve Your Alexa Ranking

If you want to boost your Alexa traffic ranking, you just have to follow some quite simple rules, such as.
Download and install the Alexa toolbar and then surf your own site.
Place the Alexa widget on your Website. It will entice the visitors to check it out, and you know, each click counts.
Write useful, quality content, mostly webmaster-related. Promote it on webmaster forums and on social networking sites. The idea is to get as many computer and Internet savvy people as possible to visit your site since the probability that they will have the Alexa toolbar installed is high.
Write posts on your blogs and articles about Alexa. You will get links to your pages that will help improve your ranking.
Try to get your articles on such social networking websites as digg.com,

del.icio.us

, or www.stumbleupon.com.
Tell your friends about the Alexa toolbar, have them download and install it on their computers, and then tell them to visit your site.
Whenever you post on webmaster forums, include your site's URL in your signature. It is very likely that most webmasters have the toolbar installed, and there's a great probability that they'll visit your site.
Setup Account For Alexa Rank
Alexa added a new way to add widget on your blog Sign in Alexa account or register.
Now enter your domain name.
Crawl down and click on edit site info.

Enter detail about your site and your personal detail.
If you have a good Alexa ranking site, Just add Alexa rank checker widget to your website and make a good impression on the visitor.
How to Install Alexa Toolbar in Browser
Alexa toolbar installs in your browser. It is a toolbar that sends your browsing details to Alexa. But, it can be an essential tool for you in checking a website's Alexa Rankings instantly as well as increasing your site's Alexa rankings.
Search Alexa Toolbar for Chrome and Click on Alexa Toolbar.
Now click on Added to chrome.
Note:- For now the Alexa rank checker toolbar is compatible with Firefox, Internet Explorer and chrome only.
Add Alexa Widget In WordPress
There is also a 3rd party free Alexa Rank Widget WordPress plugin which you can use to show your Alexa rank in a sidebar.  Once you have installed and activate it, go to your WordPress widgets section and drag-drop the Alexa Rank widget in your sidebar. All you need to configure here is the domain name. Replace the default domain name with your existing domain name.
Note:- There are so many plugins about Alexa but you have to sure to install an exact plugin which I mansion above.

Now click on appearance and the widget and drag-drop the Alexa Rank widget in your sidebar.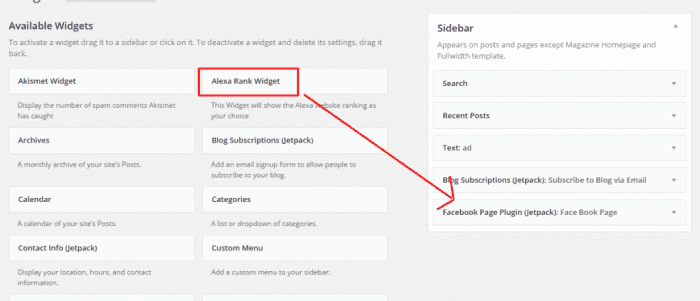 Now click on Alexa widget in the sidebar and enter your domain name.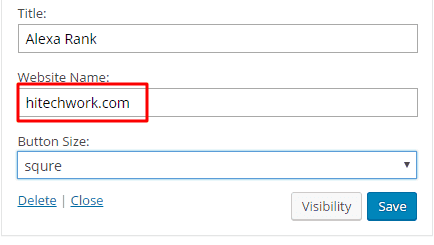 Save the setting and it's all done.
Open your blog and open your post. you can see a widget of Alexa ranking on the right side of your post.
FAQ's
Q: What is a good Alexa rank?
A: It depends. Since the rank is a relative measure, you will want to check your competitors' Alexa Rank data and then see where you stand. Generally, many people consider a ranking of 1 million or lower to be good. The popular media pitching website HARO requires that sites have an Alexa Rank of 1 million or less.
Q: What is Alexa rank in SEO?
A: Alexa rank is a measure of website popularity. It ranks millions of websites in order of popularity, with an Alexa Rank of 1 being the most popular website. Alexa rank is evaluated using a proprietary methodology that combines a site's estimated visitors and visitor engagement over the past three months.
Q: Is Alexa Ranking reliable?
A: While Alexa rankings are a great way to compare one website's performance with others, Alexa's statistics are not necessarily accurate in the absolute terms. Several internet experts have tried to compare data from Alexa and Google Analytics over the years and have found that the data from Alexa was way off.
Q: Who is better Alexa or Siri?
A: Google Assistant's capabilities dominate Siri and Alexa, research shows. Google is the best and most authentic smartphone assistant, according to new research. Siri understood 99.8 percent of questions and answered 83.1% correctly, while Alexa understood 99.9% and answered correctly 79.8 percent of the time.
Recommended Post
Remember to share this post with anyone who might benefit from this information, including your Facebook friends, Twitter followers, and members of your Google+ group! And also Support Us By Liking Our Facebook, Twitter, and Google+ Page.
If you have any suggestions or problems about Alexa rank checker please feel free to comment below.