When used as part of your overall keyword mapping strategy, long tail keywords can really help search engines understand what your site is about, making high rankings a lot easier to achieve.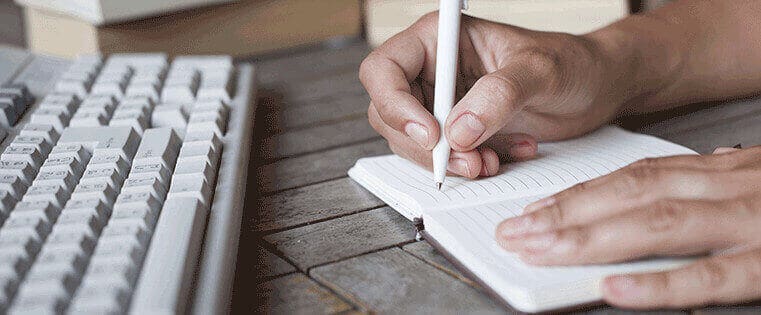 In professional terms, what we are talking about here is the concept of targeting so-called Long Tail Keyword Research. Numerous studies in the SEO industry confirm that long tail keywords make up more than 70% of all searches performed on the web, with only 30% left for the generic 1- or 2-word phrases.
In order to really profit from a keyword strategy focusing on long tail keyword, you should have a clear vision of your company, your product and your website. In this post, We will focus on only how Keyword Work and how to find it and in next article we will cover some more  another important point.
How Long Tail Keyword Play Important Role In Traffic
Often, getting into the Top 10 of Google search results with a long tail keyword is as easy, as just writing an article or publishing a landing Page optimized for that specific keyword.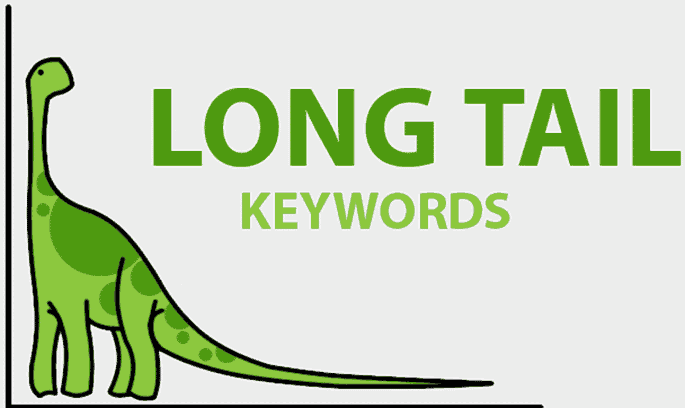 Here is a case – let's consider these two keywords:
| | | |
| --- | --- | --- |
| Keyword Tool | Vs | Long Tail keyword Suggestion Tool |
At first sight, they look to be pretty relevant. But this two keyword are totally different from each other. how? "Keyword Tool" cover all the tool related to the keyword like,
keyword research tool
keyword competition analysis tool
keyword rank tracking tool
keyword search volume estimation tool
keywords density analysis tool
long tail keyword tool
Let as supposing your post is about "Long tail Keyword Research" where you explain about the keyword research and your focus keyword is "Keyword research Tool" ranking on position one on google's first page.
When people type "keyword Research Tool" your post come first and visitor clicks on it. What they found. They found an article on "long tail keyword research".
The visitor comes to your website is for keyword research tool not for Long tail keyword research post. They suddenly click back and create bounce rate for your website. They decrease the value of your content. So, selecting of bad keyword not only heart your organic traffic but also heart your SEO. Long Tail keyword help you to filter your traffic and help to reduce Bounce rate. The long tail keyword does not get huge amount of traffic they get quality traffic and filter another unimportant customer. We will study more about the keyword in next article.
Long Tail Keywords Research For Quality Customer
For better understanding here, I'm dividing my keyword into 3 different parts are Head, Body and Tail.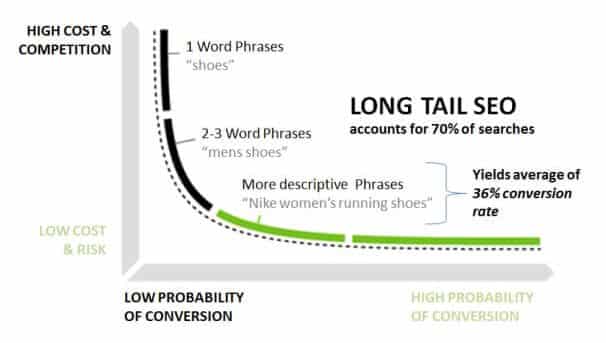 let us assume, today we have to write an article on "coffee". But we don't know which Focus keyword ( Long tail keyword) is good for the Title of the Article. let us find this keyword.
Step1:- Go to google search box and write the head of the keyword, according to Your article. The head of my article may start with coffee because I have a to write an article on coffee. so here am selecting Coffee is my Head Keyword.
Note:- In maximum case, the first word of the sentence is your head of the keyword. But there is not any hard and fast rule to select the first word as the head of the keyword. you can also select 2nd word as a head keyword.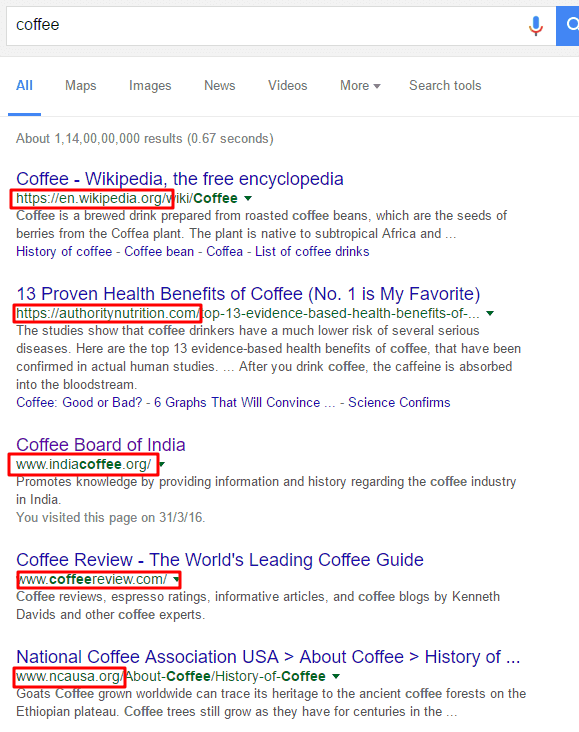 Step 2:- Now see the coffee keyword is occupied by all the high authorized website as shown in the figure. So if I select coffee as my focus keyword then my article never beat this website to rank on the first page of google. You can beat this website if you have a good social image and high Website authority. It takes time to achieve high authority, so for starting purpose select low competition keyword.
Did you ever notice that when you scroll to the bottom of Google's search results there's a section called, "Searches related to…"?
It looks like this: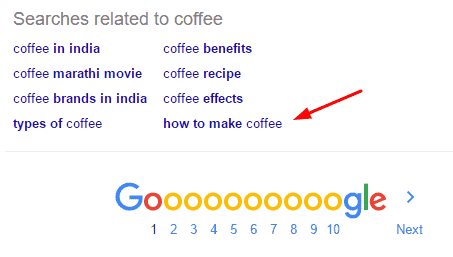 Now found keyword related to your article or post and copy it and save it in txt file or on the notepad. Now click on a keyword  and a new window will be open. Again go to google gold mine and find more keyword which is related to your article and save it.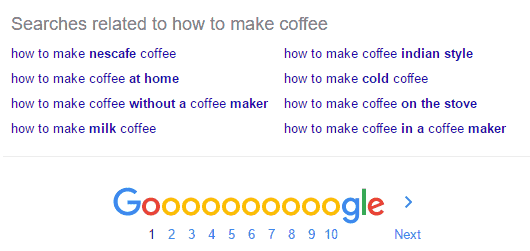 Now, notice that these keywords are more related to your article or post. Identify the body of the keyword means which keyword is better and attractive for your post.
For Example
how to make nescafe coffee
how to make coffee at home
how to make coffee without a coffee maker
how to make milk coffee
how to make coffee Indian style
how to make cold coffee
how to make coffee on the stove
how to make coffee in a coffee maker
Step 4 :- Now, You have both Head and Body,  Separate the Head and Body of the keyword from the above list.
Nescafe coffee
coffee at home
coffee without a coffee maker
milk coffee
coffee Indian style
cold coffee
coffee on the stove
coffee in a coffee maker
Now see this above keyword, some of them keyword also have a tail like "Coffee without coffee maker". a Pick "Head and Body" and again search with that. Repeat this process again and again to find more long tail keyword. More you drill the search you will better result.
For example, click on all option related to your article and open in new tab, go to gold mine find more keyword, and make a list of at least 50 keywords.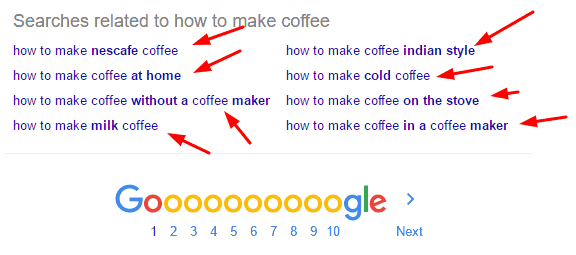 Step 5 :- Go to google AdWord Keyword planner tool account, If you don't have AdWord account make it. Upload the list of the keyword and check the competition on the keyword. you can also copy past all the keyword in Google AdWord keyword planner tool and then click on get volume.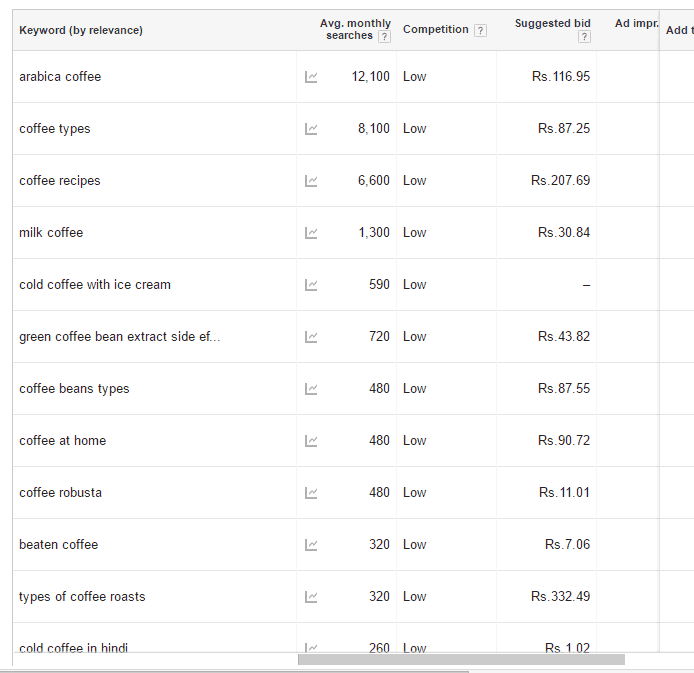 Now you have a keyword list and search volume on every keyword, filter this keyword and find low competition and low bid keyword have a great place in the google search result.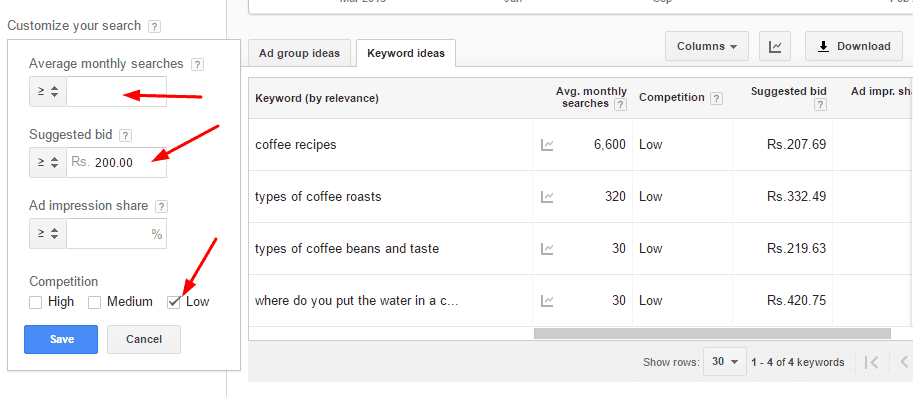 As we know long tail keyword have low search always but it performs better than short tail keyword. I randomly select this keyword for better understanding. At the end, the result not satisfy me and you, we have failed to find keyword according to our post but we find more important than our keyword because we have found untapped keyword i.e "coffee recipes".
With"Coffee Recipes" keyword, you can rank easily because every people write on  "how to make coffee" as we seen above. but no one tells which recipes use to make a coffee. Write and article on coffee recipes and get the advantage of untapped keywords.
I choice the coffee keyword because I want to explain whole the process include the long tail keyword research and the value of an untapped keyword and how to find it. So that is, why I choice the coffee as our niche in this article.
You can still find the best keyword for you post, just copy all the keyword from the gold mine to google planner tool and see the result.
There are so many online tools that help you to work on long tail keyword research like scraper Box Sofware.
UberSuggest: Google Suggest Scraper
Another online tool which helps to find long tail keyword are ubersuggestion.com.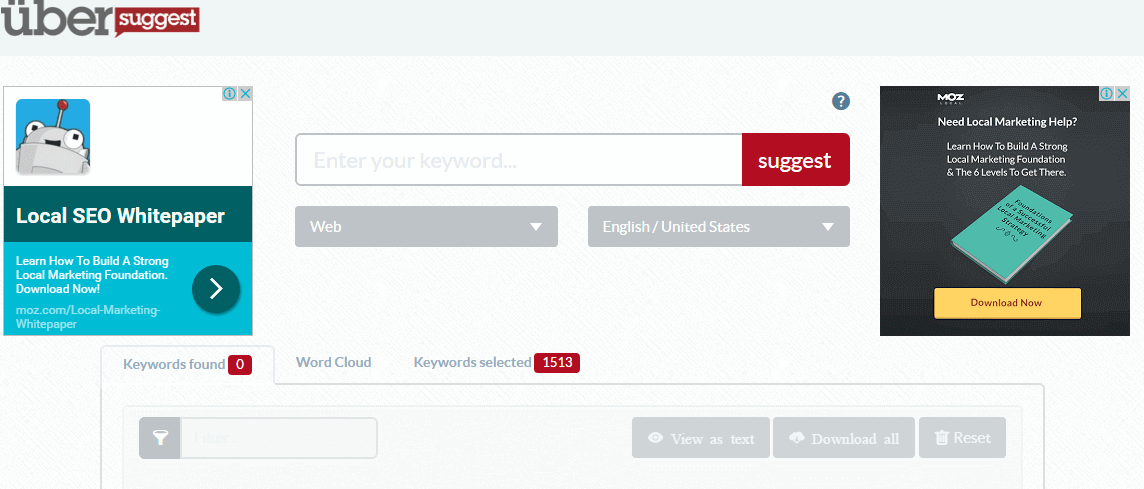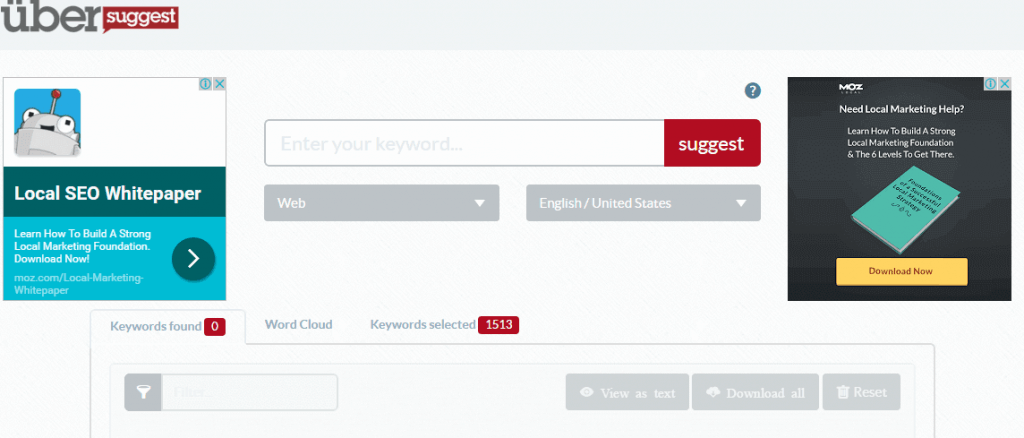 It takes your seed keyword i.e head of the keyword and adds every letter in the alphabet after it to generate hundreds of suggested keywords.
For example, when you type the keyword "coffee" into Google you get a list of suggestions, like this: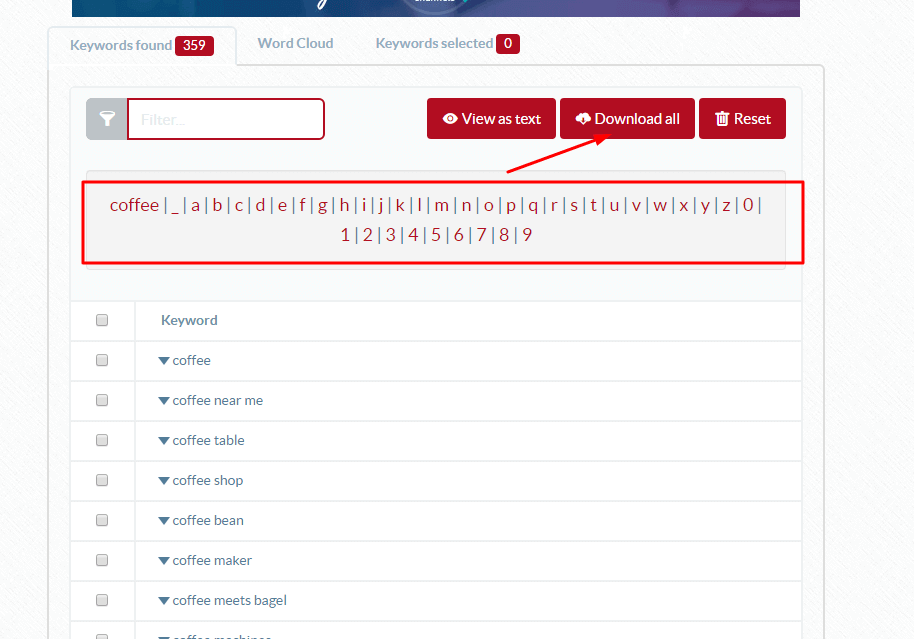 This tool Alphabetic approach means first they search coffee+a, then coffee+b, then Coffee+c and so on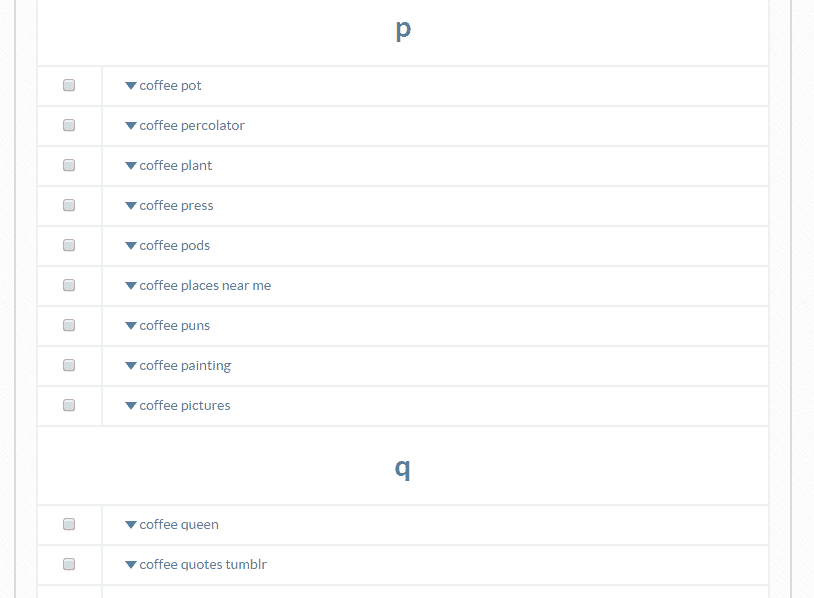 Most of the suggested keywords won't make sense for your site, but several will.
Use Soovle.com to Find Long Tail Keywords
Soolve.com is my favorite Tool because at the same time a check a lot of search engine like google, YouTube, Wikipedia, Amazon, yahoo Bing etc for the keyword.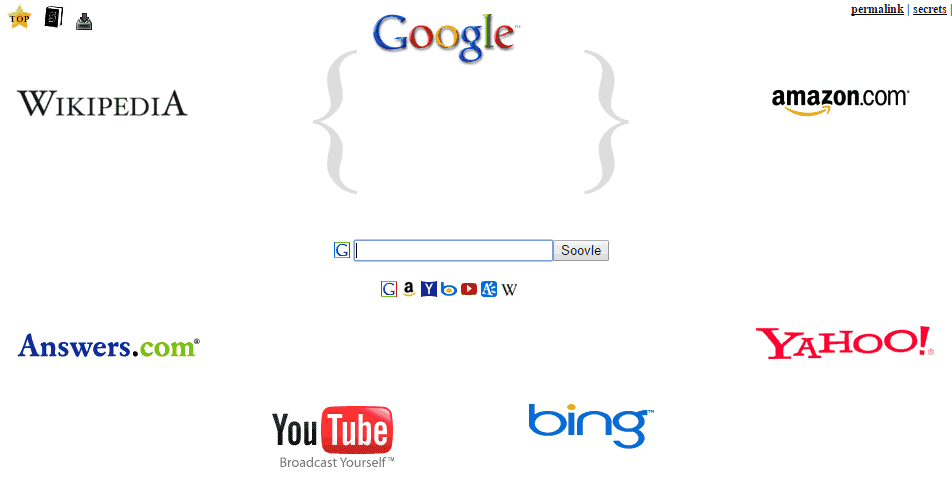 Write the head of your keyword in soolve.

Soovle will automatically display suggested results from different websites: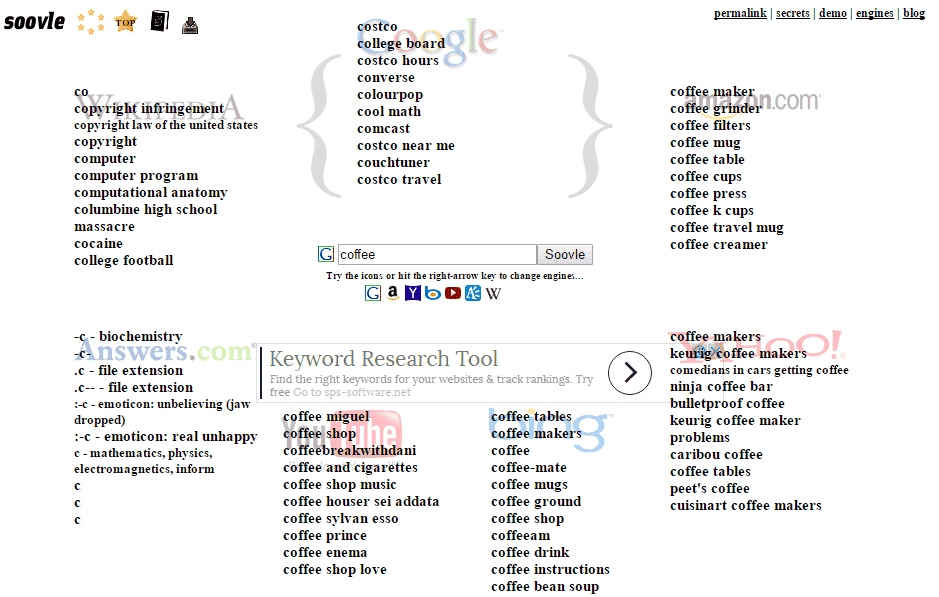 You can download the results in a CSV file by clicking the download icon in the top left corner of the page: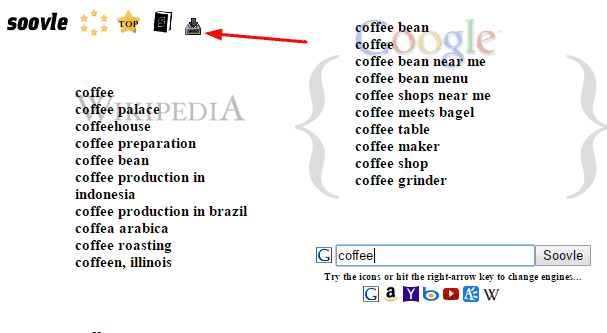 This is a GREAT tool because it shows you keyword ideas from sites that your competition probably overlooks.
KeywordTool.io
It's similar to UberSuggest in the sense that it grabs results from Google Suggest. What makes this tool superior in many ways is the fact that it adds a character before AND after the keyword that you enter.


For example, if you enter "Coffee" into UberSuggest, it will search for "Coffee+a", "Coffee+b","coffee+c" etc. KeywordTool.io will search for those same keywords AND search for "a+coffee", "b+coffee","c+coffee". That means you get more keywords from the same search.

First, head over to KeywordTool.io and enter a seed keyword into this field: Yoy can also find Question in the keywordtool.io

In this way perform long tail keyword research and find the untapped keyword to easily rank high in google.
Step 6:- Last but important form all the step. Check the keyword you select still active in search queries or not.
The google Adwords keyword planner tool just tells us keyword search volume according to last 10-year result, not present search. So that's why it important to check the search queries of the particular keyword to sure that this keyword is still active on the net or not.
First, head over to Google Trends, and enter the keyword you want to rank for into the search field:

Google trend also have a feature like, if you have two keywords and you puzzle about it. You can compare keyword and filter it with some option.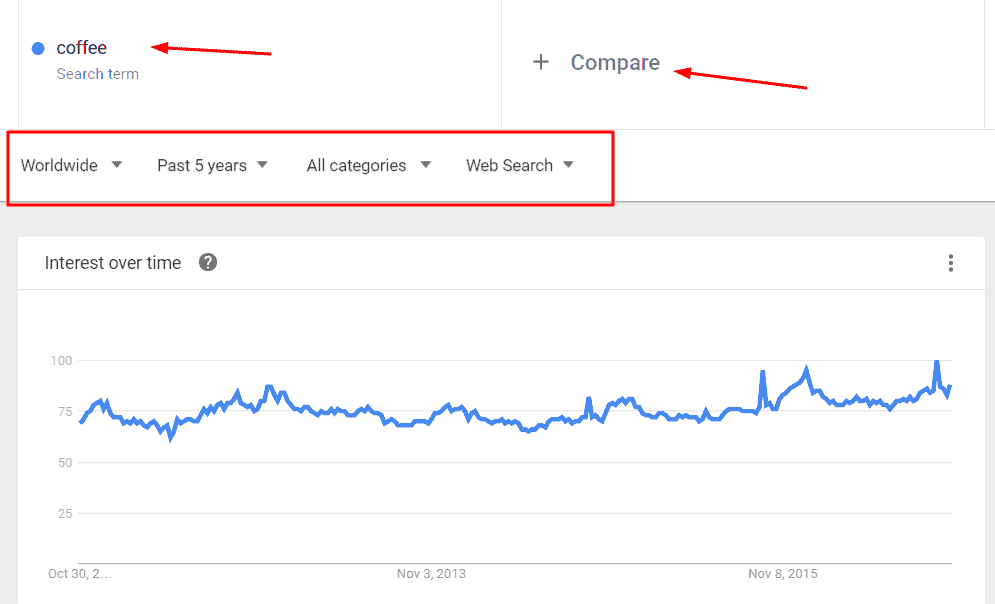 Enter one of your target keywords into Google Trends to find related queries and topics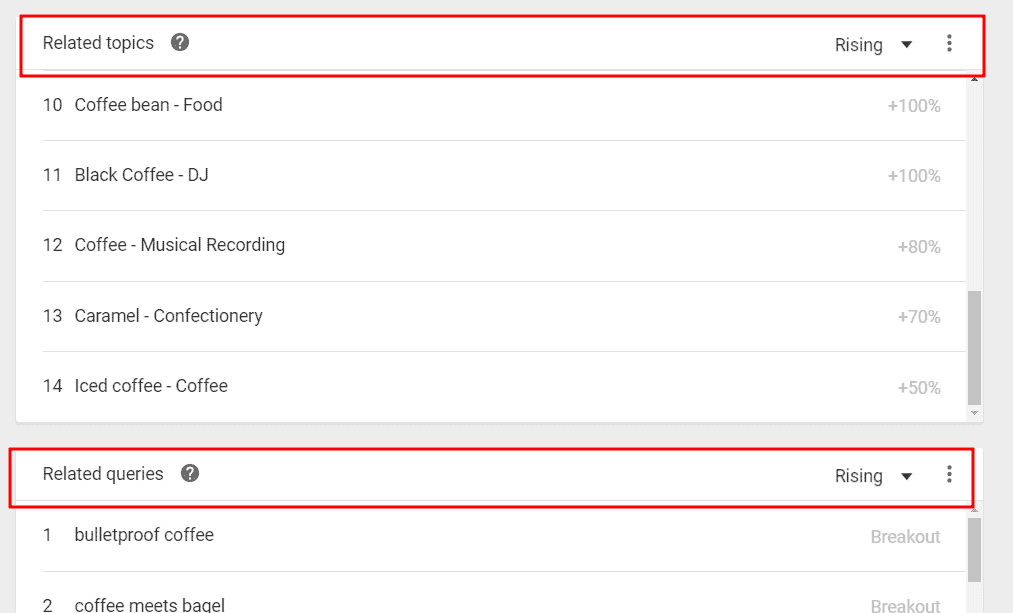 Overview of Long tail keyword research
Go to google and search head of the keyword.
Go gold mine copy the keyword and save into text file.
Again repeat the gold mine process.
Now take help form soolve , ubersuggestion, and keywordtool.io to find more keyword.
Save all the keyword in one place and upload it to Google AdWord keyword planner tool.
Filter and find the best keyword according to your article.
Check keyword still active are not
Recommended Post
Remember to share this post with anyone who might benefit from this information, including your Facebook friends, Twitter followers and members of your Google+ group! And also Support Us By Liking Our Facebook, Twitter, and Google+ Page.
If you have any suggestion or problem about long tail keyword research please feel free to comment below.