Are you looking for the best click link tracking software? That's tremendous! Click tracking software is a great tool to have being as a marketer and business owner. Click trackers basically tell the total number of track clicks a link gets. While depending on the tool which one you choose, you can also get to know other information that will help you understand your audience better.
However, searching for the best software among all options will be tough, costing thousands of dollars. Therefore, I have covered a list of the best click tracking software that would work well for your needs.
Hence, if you are working in a firm as HR then you can check this beneficial software applicant-tracking-system
1.   ClickMagick – Retargeting Tracker [Top Choice]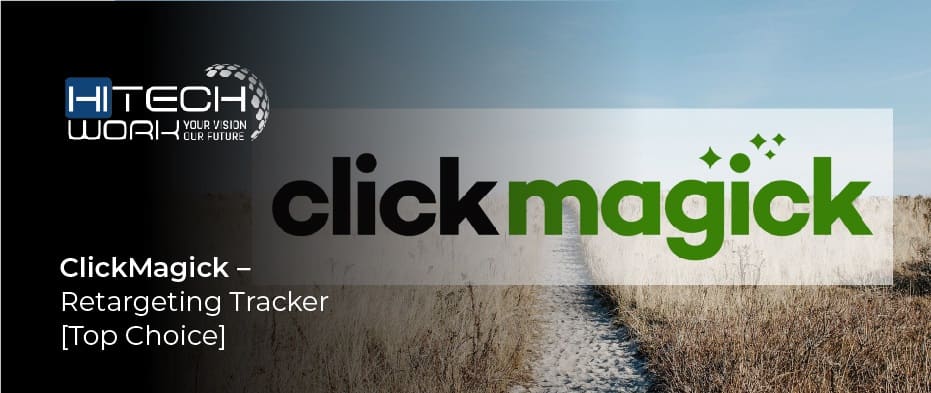 One of the best link trackers, ClickMagick software, was founded in 2014;it isa link tracker and works everywhere, including LinkedIn, YouTube, Facebook, etc. This click software is also used for tracking and optimizing sales.
Furthermore, it searches out your customers and reduces spending on wasted ads. Thus, you can easily and quickly expand your business.
It gives you a real-time report so that you can re-target your customers and increase your sales. Moreover, the Affiliated ClickMagick marketing tool and tracking software can track your affiliate link, Solo marketing campaigns, Google ads, and Facebook ads and level up your website sales and visitors. It filters every type of Bot to lessen wasting your ad budget.
In a nutshell, ClickMagick is the best choice for digital and affiliate marketers. Even so, they give a blasting offer for you on 14 days of a free trial so that you can enjoy their services.
Key Features of ClickMagick
Track your affiliate link and marketing tools.
Offers a real-time analyzing report.
Competent in following your URLs or links.
Track your phone sales and cross-device
Make use of A/B Split Testing.
Trace unlimited custom domains.
Re-target your customer easily.
Support Google Analytics.
Import and export the stats and reports.
Monitor and enhance an entire sales funnel with the funnel builder.
Boost exposure and conversion rates.
Filtering bot automatically.
Multiple marketing tools and metrics.
Latest tips and tricks with the expert academy.
Pricing
Two-week free trial period in every plan to check their service.
Starter Plan: $27 /month
Standard Plan: $67/month
Pro Plan: $97/month
2.   Click.Org– Real-Time Tracker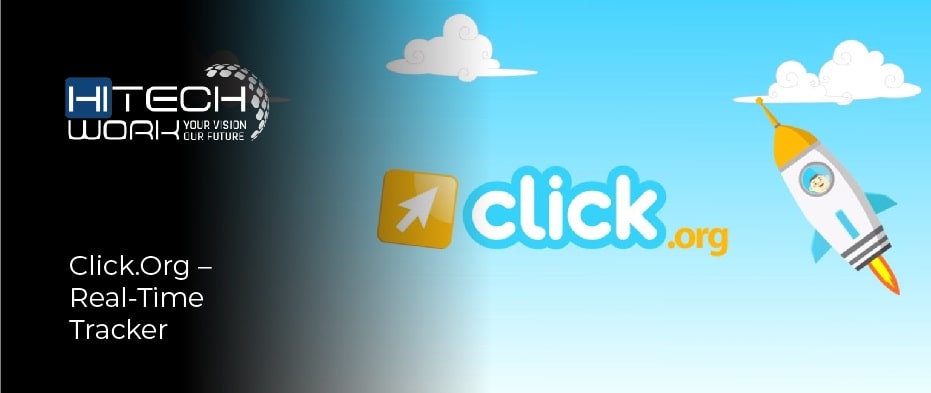 The secret weapon Click.org is a famous marketer's tool. One of the best click tracking tools offers advanced features and provides you with a real-time tracking facility. You can easily target and re-target your traffic to upgrade your business.
As a matter of fact, you can get an advantage from click.org for email marketing, affiliate marketing, CPA marketing, blogging, etc. Furthermore, click.org provides an advanced link rotation service while setting your maximum daily clicks for each link.
However, it offers more than 50 built-in tools to optimize your marketing campaign and trace or target your customer. To summarize, you have an exclusive and advanced click tracking feature using Click.org.
Key Features of Click Tracking Software
Trail your affiliate and marketing links
GEO targeting with tracking ID
Trace the email with its link
Can short URLs
Offer advanced shareable click rotation service.
Provide custom domain service.
Filter bot and fraud.
Do Optimization of your WordPress website
Come up with a 100% satisfaction guarantee.
Monthly Pricing
Basic: $9
Plus: $29
Pro: $49
Extreme: $99
Yearly/Annual Pricing Plans
Basic: $86
Plus: 4278
Pro: $470
Extreme: $950
3.   Voluum– Affiliate Click Tracking Software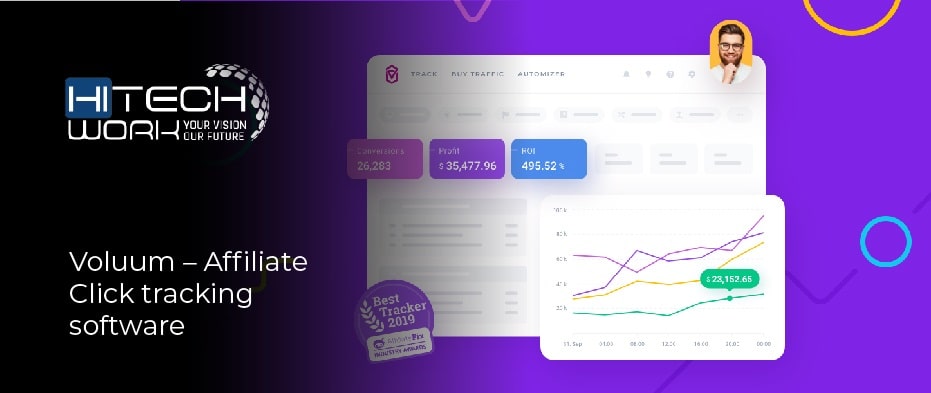 The software Voluum is the best URL tracking service that tracks domains with SSL (Secure Sockets Layer). It can work out for you to streamline your affiliate campaign management so that you can track, optimize, and hook into your marketing campaigns.
Recently, Voluum introduced a new feature known as Automizer. This feature enables you to connect Voluum and integrate all traffic on your website through API (Application programming interface). You can also use this feature to create auto-rules and pause/activate your campaign. You can take help from a built-in automizer to create a custom rule. The Voluum will take action whenever your perfection changes.
In short, many companies and entrepreneurs will highly recommend Voluum to increase sales and business.
Key Features
Utilize to get a direct tracking pixel.
Integrates with 40+ traffic sources, including Facebook and Google Ads.
Assure your domain with SSL
Immediately give you an extensive report
Track your expenses and earn in different currencies
Automatically run on A/B split tests.
Access anti-fraud kits.
Inviting your partners while collaborating on your Voluum account.
Auto-optimize ad campaigns with custom tools.
Pricing
Discover plan: $69/month
Profit plan: $129/month
Grow plan: $399/month
Agency plan: $999/month
4.   ClickMeter – Best URL Tracker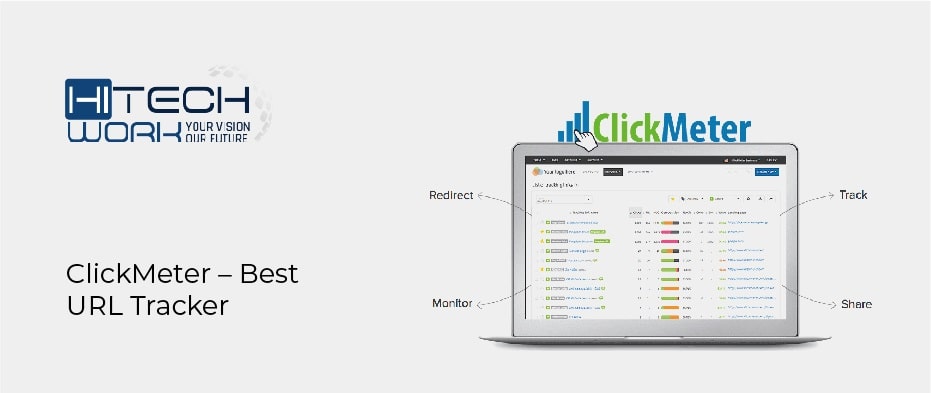 It is another popular tracking software in the current digital market, founded in 2012. Millions of companies and entrepreneurs love to use this software. Approximately 100,000+ businesses of all sizes used this best URL tracker, including Payoneer, iStockphoto, and L'Oreal.
It will help marketing teams to stay on top of their marketing links and increase their conversion rates. Via a single platform, marketers can keep track of metrics like views, clicks, and conversions, monitor broken links and optimize their links.
It assists you in redirecting and monitoring your external status link. Moreover, it will help to speed up your website. Therefore, customers don't face any speed issues, and your business will expand out quickly.
ClickMeter is a web-based software that is easy to use in your ads by creating a link and watching reports. Now there is no hassle in downloading or installing any software or app. Just browse the link tracker software.
Furthermore, you can also upgrade the events as per your needs. Thus, it is available at an affordable price, and you can upgrade, downgrade, or cancel your purchase plan anytime.
Key Features
Redirect and monitor your site
Adjust the event number
Fraud protection
One hundred sub-accounts in one plan.
Remarket and logo reports
A/B test rotator.
Vanity links.
Split-test optimizer.
Click Tracking Software Pricing
ClickMeter gives your money-back guarantee within 30 days.
Medium Plan: $29/month
Large Plan: $99/month
X-large Plan: $349/month
5.   Improvely – Click fraud monitoring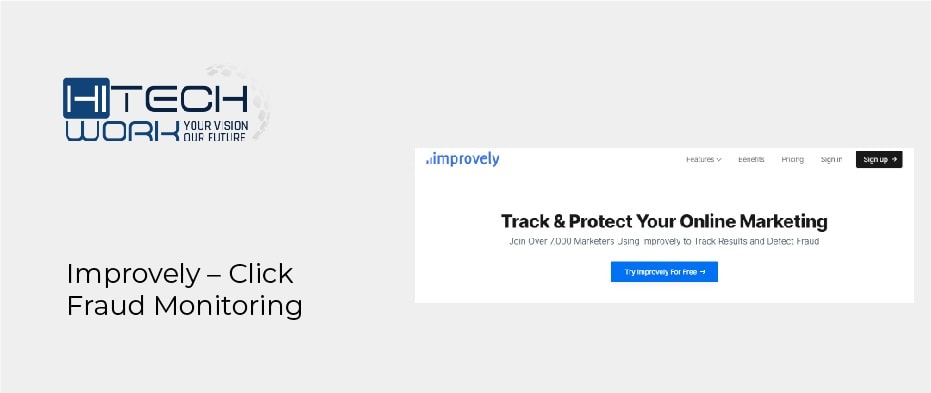 It is another click-tracking software that is 100% compatible with all the major ad networks, for instance, Google, Facebook, and Bing Ads. You can use it to track, test, optimize digital marketing campaigns, and detect fraud.
One of the best features is that its software automatically creates profiles for each website visitor and lists all their past visits and conversions. This way, you will find out more about when they converted, their lifetime value, and their location aiding you in notifying your most valuable customers.
Moreover, it will also show you where your conversions came from so that you can adjust your budget and target the channels that deliver the best results. If you find out more about losing your potential sales, you can check out the funnel reports that identify users' paths.
Key Feature:
Funnel reports
Easy control panel
Custom domain name service along with free hosting.
A/B split testing.
Real-time reporting.
Email notifications of new conversions.
Detect, block, and prevent bots.
Pricing
Offers four plans and a 14-days free trial period.
Freelancer:$29/month
Startup: $79/month
Small Agency: $149/month
Large Agency: $299+/month
6.   Bit.Ly – Link Branded Tracking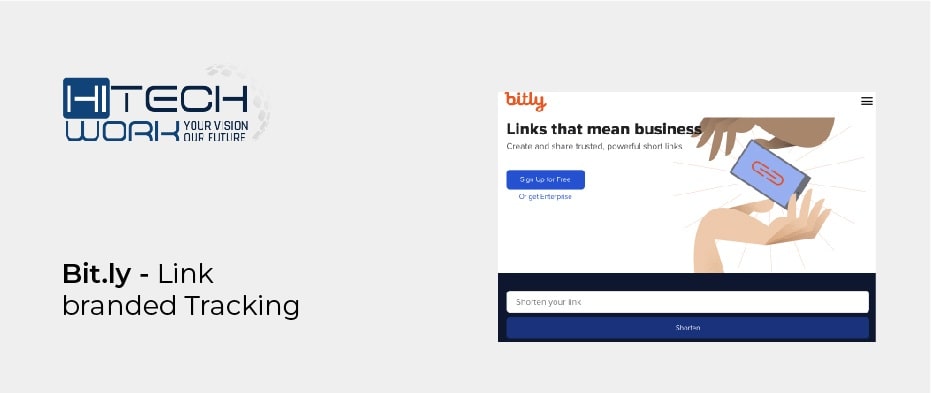 One of the top free marketing tools, Bit.ly, was trusted by big brands like ESPN, The New York Times, and Disney. It can use to shorten links via its domain and also track or optimize your digital initiatives.
Moreover, it has a unified dashboard in order to track the journeys of customers on each channel handily.With the help of real-time data, it will collect and share, and you can also know your customer much better while helping you create more relevant content for future campaigns.
Further, you can also track engagement metrics on organic shares.In short, it serves as an excellent tool to monitor the performance of links through analytics.
Key Feature:
Create branded and mobile links
Detailed analytics of click tracking with over 20 metrics.
Develop your API for integrating branded links
Access to over 700 business solutions and integrations for level-up productivity
QR codes
Pricing
Starter: $8/month
Basic: $29/month
Premium: $199/month
7. Linktrackr – Conversion Tracking Software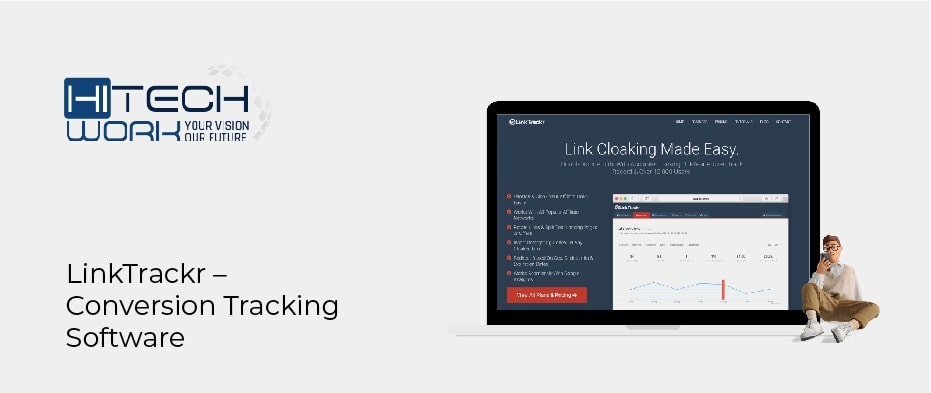 Of the proven track record of 10 years,LinkTrackr brags thousands of users. It provides real-time conversion data for your sales or sales funnel. It's easier for users to track their sales or leads back with a simple click. Be it a banner ad, an individual email ad, or your business website link, it will make it easy to recognize the source of the conversion.
Moreover, if a conversion occurs, its report shows your paid amount to get conversion and your return on investment. However, the most useful feature is its ROI and profitability reports.
Key Feature:
Link and conversion tracking accurately
Link cloaking for affiliate marketers
A/B split testing.
Filtering bot efficiently
Pixel tracking
PPC tracking for your paid campaigns
Divides incoming traffic by using URL rotator software
Pricing:
Basic: $17/month
Pro: $27/month
Hyper: $47/month
Super Affiliate: $77/month
7.   Trck.Me – Advanced Filter Tracker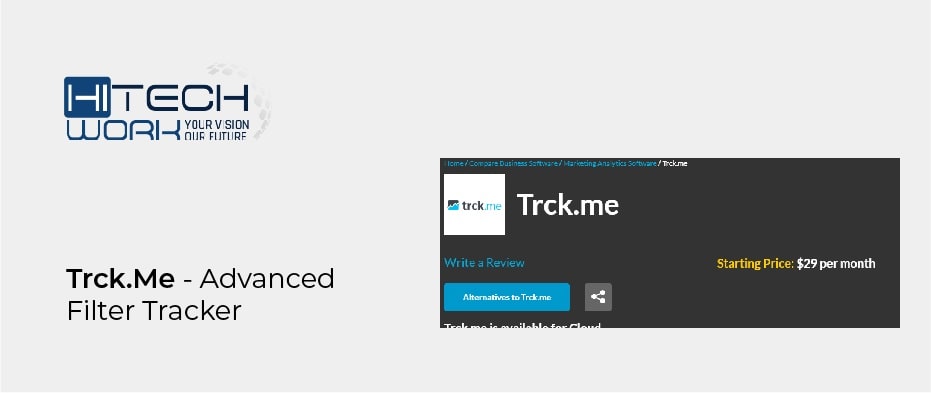 This web-based click tracking software can help you study your marketing metrics, monitor your customers' journey on every campaign link, and optimize your URLs in realtime.
Key Features:
Auto-tagging of links
Custom branding using link cloaking
Advanced tracking filters
Pricing:
Standard plan: $39/month
Enterprise plan: $99/month
8.   Snapt.Io – Easy-Going Software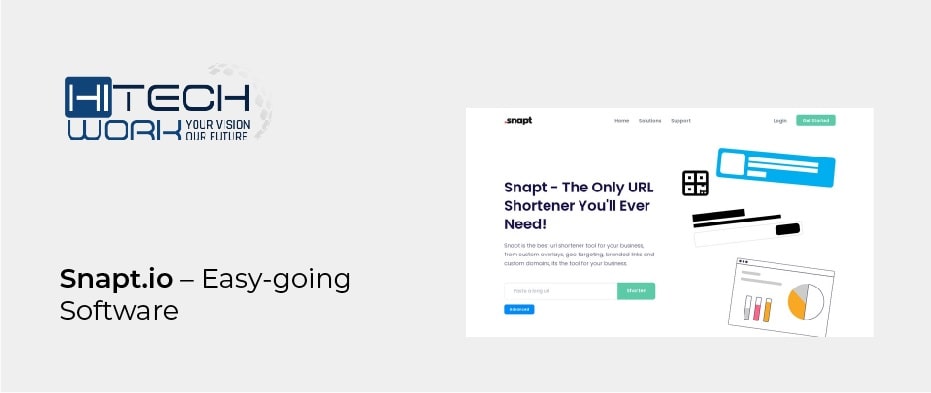 A  URL shortener, Snapt click-tacking software was trusted by nearly 2,000 users. By creating short links, you are able to collect loads of data about your audience and their behavior. This info will be very useful in order to improve your performance of your digital marketing campaigns and boost up conversions,
Moreover, you can virtually track everything with the help of the number of clicks. Additionally, you can add a pixel so that you can retarget it in your social marketing campaign.
Another useful feature is its overlay tool. You can use it to display a notification on the target destination, encourage a special offer, or communicate another important message.
Unfortunately, currently they are approving links manually. Therefore, you need to wait first for the approval of the link before you can start to use it.
Key Features
Integrates with Zaiper and Slack
Retargeting
Privacy control
Powerful dashboard
Easy-to-use profile builder
Statistics
10. Clixtrac– Friendly-User Software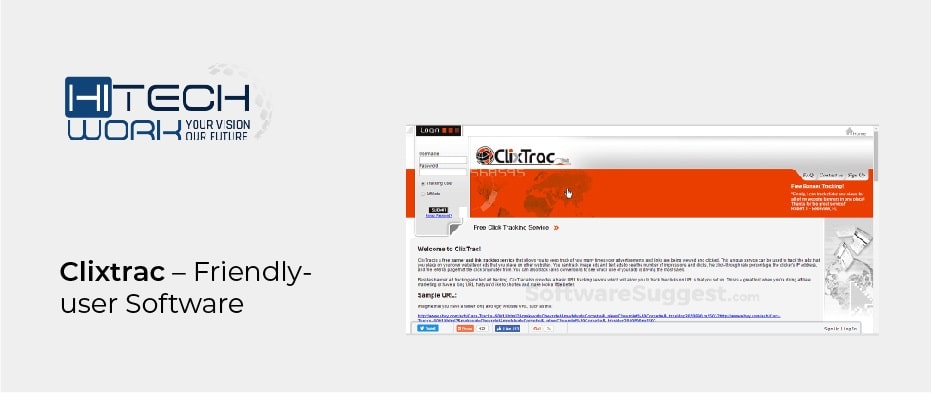 If you are looking for a free way to find out how many people are clicking your links, don't bother yourself further. Clixtrac is all free and simple, and you can access all the goodness of a click-tracking solution.
Maybe, it is not an ideal tool for marketing agencies, but it is for sure helpful for beginners as they get a fair idea of how their campaigns are running.
Key Features:
Manage ads without installing a link.
Dynamic affiliate links and cloaking features.
Friendly-user interface for beginner
Exportable data
Track banner ads, social media posts, site links, and newsletters.
Pricing:
Basic plan: free
Premium: $4.95/month
Professional plan: $9.95/month
Conclusion
In today's digital market, everything is web-based. Therefore, click tracking software makes it more attainable and reachable and boosts your business. You can buy one of the beginner plans of the tools outlined above to understand more features of link tracking tools.
However, you already know the benefits and best click tracking software. So, select the best one and expand your business.