Is your Marketing Campaign working? Are you also wondering how many people have seen it or which targeted people click your Ads the most? When you are running different promotion campaigns across various channels, it is essential to check which campaign brings the best ROI. But how can you see it? And the answer to finding all the results is using the right link tracking tool.
A trustworthy link tracker tool could be a huge thing that you have to use to take your campaigns to the top-notch level. So it's essential to use the powerful tool that will let you know where your traffic comes from and, more notably, which traffic source brings in the most paying customers. Basically, it tracks the total amount of clicks a link gets. Finding a software solution can be difficult because there are countless options. Don't get confused. I have created an excellent list for you on link tracking software for any website you may use. Here are the 12 best link tracking solutions that you can explore.
if you are working on a project then this guide is for You:  Software Tracking Tools For Project Management
How Does Link Tracking Work?
Tracking links is the most necessary factor for measuring the campaign's performance. I suggest you use a tracking link whenever you send traffic to a landing page or website from an external channel. But do you know how tracking links works?
When a person taps a link, the user connection first passes through a tracking service. This logs details about the click (such as device, time, IP, and location) and then forwards the user's browser to the final target. The process is quite instant and unseen. Unless you use vanity URLs as URL shorteners, the tracking links remain on that domain. This can help boost trust as well as increase CTR (click through rates) by ensuring that the user can determine the destination before clicking.
Hence, URL tracking is so important that it allows you to locate the best performing campaigns and prospect to the particular content responsible for the sales or traffic. There are various tools to track these statics. So let's move to the next section to look at the best URL tracking tools.
12 Best [Free+ Paid] Link Tracking Tools in this Year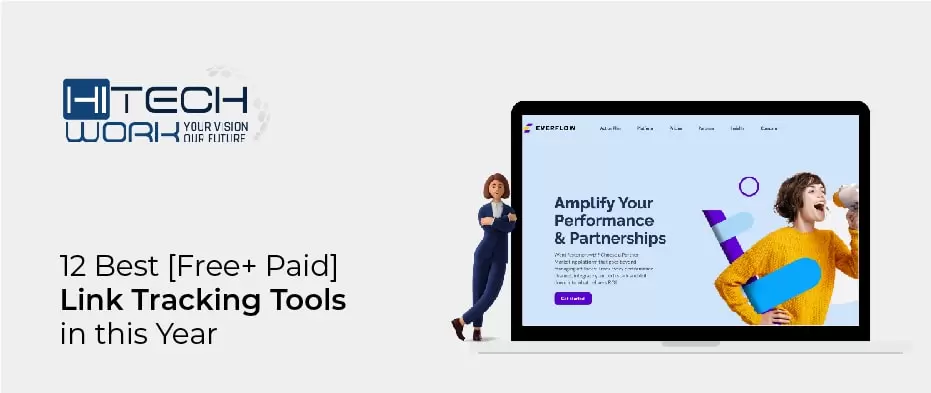 Here I will walk you through the top link tracking software's ruling to help you make smart decisions in 2022. Although there are various link trackers tools, some are free, and some are paid. Which ones are good? So let's have a look.
1.      ClickMagick: Recommended Software
This tool is one of the great tracking software & always among the top due to its grand platform that allows you to track clicks and optimize all your marketing campaigns simultaneously. Its Link Monitoring feature gives you the powerful ability to track dozens of sale funnels. It is well-suited to almost every advertising channel. And even better, the tool involves advertising campaigns as well.
Features
Optimize and Monitor an entire sales funnel with the funnel builder that scrutinizes all the steps.
Various marketing software and metrics provide you with a detailed analysis of how your campaigns are performing and where your most paid clicks are coming from.
Computerized bot filtering ensures that all the metrics and statistics are correct.
The advanced retargeting feature lets you increase conversion rates and exposure.
You can get a free 14-day trial; after that, you have to pay $37 per month, which is the starting price. However, to access its cross-device tracking features, which are quite helpful, you will have to buy the standard plan that costs $97/month.
2.      ClickMeter
ClickMeter is another tool that is pretty popular in digital marketing. It stands out from the others for having particular tools for publishers and marketers. It tracks a person's clicks and helps divide them by demographics. Hence, the software aims to help marketing teams stay on top of their marketing links and boost their conversion rates. So, by using this tool, marketers can keep monetizing the metrics such as likes, views, and conversions and optimize their links.
If you are using this software as an agency, it's great for optimizing your client's campaigns. The data gives youa better perspective of how the various campaigns perform. Hence, you can also share the campaign's outcome with your clients in actual time.
Features
Marketers can use the tool for monitoring conversions and sales and block click fraud activities.
Affiliate marketers can get an advantage from covering links to hide the destination URL.
You can target your link redirects by a range of variables like language, country, device, type, user type, and much more.
It provides three different plans, and pricing starts at $29/ month, and the large and X-large plans cost $99 and $349 a month, respectively.
3.      Voluum
Voluum is an AI-powered and cloud-based software with everything you want in a link tracker. It can give you any number of statistics you require to know where you excel and where you can grow. Hence, you can also monitor all your campaigns from one place, run various A/B split tests and monitor the traffic.
Like ClickMagick, Voluum can assist you in streamlining your affiliate campaign management. With it, you can optimize, automate and track marketing campaigns. It does not matter if you choose to display ads over email marketing because voluum allows you to track all kinds of online ads. What's more, you can track more than 30 metrics about visits and clicks in actual time.
The new feature in Voluum is Automizer, which allows you to link Voluum with your traffic sources through API. What makes this feature important is that you can use it to make auto-builds and pause/activate campaigns. For instance, if you check that a keyword didn't obtain any conversions in a day, you can make a rule to pause this specific keyword. Otherwise, you can opt to pause the whole campaign if you find that the ROI is too low.
Features
Optimize and monitor ad performance via A/B tests to determine which campaigns meet the goal. It also helps you direct your traffic optimization & collaboration features and allows you to work together.
It will help you locate the bots, bad actors, and spiders that can let down your numbers by spotting doubtful clicks and visits in your reports.
Voluum offers different plans for users. You can get an $89/ month Discover plan, which is perfect for beginners. The other plans are profit and scale at$149 & $299/ Additionally, it costs$1,999/ month for large enterprise businesses. However, pricing is a bit high for the low-budget teams.
4.      ClixTrac
It is another link tracking software that you can check out for free. If you need a simple and reliable method for checking whether people click on your site, you should not go any deeper than that! The application is simple and offers optimum tracking functionality to your site. Certainly, this tool isn't the most effective for marketers, but novices can easily understand the operation of their campaigns. Hence, it is pretty simple and lets you access all the goodness of a link tracking solution.
Features
ClixTrac tracks social media posts, site links, banner ads, and more.
It has a friendly user interface and manages ads without the barrier of installing a link.
It has a basic plan that is free for everyone. The premium and professional plans will only cut you back $4.95 or $9.95/month if you want more features.
5.      Bit.ly
Bit.ly is one of the most popular & top free marketing tools that you can use to shorten links through its domain. Additionally, to link shortening, you can also use it to optimize & track your digital marketing plans. With its amazing features, it also gives an incredible tool to track the performance of the links through analytics. This link tracker persists in ruling the marketing business with its benefits.
Features
Comprehensive link tracking analytics with almost 20 metrics, including referral details and locations.
API for incorporating branded links into automated workflows.
Additionally, if you wish to use a custom domain name, you will have to sign up for the paid plan, which you can buy at $29/ month, making it a low-cost solution. Further, to check the performance of your links for more than a month, you will have to sign up for its premium plan, which will cost you $199/month.
Moreover, Bit.ly lets marketers make a plan that best meets their needs.
6.      LinkTrackr
LinkTrackr provides marketers with an entire set of tools to help them with linking and performance analyses. Unlike some tools listed here, LinkTrackr might not be the as great platform as others mentioned. Although, LinkTrackr is the perfect solution to the problems of beginner and intermediate users alike.
The main aim of the software is to make it simpler for theuser to track their conversion, sales and leads back to the very first click. Either it's a banner ad, link, or an individual email ad on your business website. Hence, it makes it simple to determine the source of conversion.
Features
The useful feature of LinkTrackr that be worthy of special mention is its ROI and profitability reports. If conversion takes place, its reports will display how much you paid to get that conversion and your return on investment.
URL rotator software that segments incoming traffic into various links of landing pages.
PPC tracks your paid advertisements and promotions, along with Google Adwords optimization.
LinkTrackr basic plan is reasonable in the market, allowing a person to benefit from the significant perks of monitoring URLs for just $17/ month. If you choose to be billed yearly, you can save 57% plus.
7.      Redtrack.io
Cloud-based advertising monitoring tool helps to monitor and control all your campaigns and promotions. Besides this, Redtrack.io also offers an integrated tracking tool for advertising and offers a comprehensive analysis.
Hence, it gives insights into each step of the funnel, from checking when the link was clicked to how much the profit was; it gives loads of info that will help you understand the target audience much better.
Features
It provides reports on traffic sources, conversions, and campaigns.
Monitoring various URLs such as custom domains, impressions, click tracking, and more.
However, the pricing is quite high, with a starting rate of $149/month.
8.      Improvely
Improvely is a link tracking software that is 100% compatible with all the main Ad networks like Facebook, Bing Ads, and Google. Using the tool, marketers can point to the source of every conversion as well as notice the fraud-clicking activities.
If we compare Improvely to ClickMagick, then Improvely is more simple. Although, it is packed with features that are significant and useful for every marketer.
Features
The key feature of Improvely that deserves special mention is its customer profiles. Its software will directly make profiles for each website visitor that list all their previous conversions and visits. In short, it helps you determine your valuable customers.
It lets you know where your conversions came from, allowing you to adjust your budgets to target the channels that convey the best results. You can also find out about the funnel reports.
Hence, it is the most trusted link tracking service; you can use it to test, track and optimize digital marketing campaigns.
Improvely offers a 14-day trial, and pricing starts at $29/month. You can opt for the package that suits your business needs.
9.      Rebrandly
Rebrandly is amazing software that allows you to customize, shorten and track links. It is the best tool for social media management, with over half a million customers. It gives a free plan for individual users that lets you track 5,000 clicks each month.
However, for custom reports, it promptly becomes very expensive and will cost you $499/ month. Also, the disappointing factor is that its broken links management feature is only available in its enterprise plan (a feature already available in other tools at a cheap price).
Features
A cool link builder that allows you to make custom links with your own domain name or a subdomain.
With this tool, you can easily see and determine the performance of your campaigns in realtime.
Rebrandly contains a simple & easy to understand dashboard for every type of user.
It allows free access to get started, but you have to buy the starter, pro, or premium plan for additional features.
10. Click.Org
It is one of the great secret link tracking software for popular marketers. It has more advanced features and gives a real-time tracking facility. You can simply target & retarget your traffic to boost your business. Hence, you can gain multiple benefits from Click.org for affiliate marketing, email marketing, blogging, and CPA marketing.
Furthermore, it provides an advanced link rotation service. You can set your max daily clicks for every link. In addition, this tool gives you more than fifty built-in tools to target visitors.
Features
Track your marketing strategies and links.
It offers advanced shareable click rotation and custom-branded domain services.
This tool is budget-friendly and offers different monthly and annual plans. You can get an extra 20% by choosing the yearly plan.
11. Click gum
Clickgum is the top free affiliate link tracker software nowadays. It makes your site more profitable & speedy. Besides, it is also useful in affiliate and online marketing. You can get free access to this tool, but the free version does not contain all the features. So buythe package that suits your need. However, the pricing of this software is low compared to other tools.
Features
Clickgum helps you spread your site fastly.
You can block scammers & fraudsters by using this tool.
It lets you know which marketing campaign ads generate a commission for you.
It offers amazing plans cheaply; if you purchase annual packs, you can save 20%.
12. Google Analytics: Best Free Tool
Google Analytics is a trustworthy click tracking tool. It's the world's most famous web analytics servicer, launched in 2005. Hence, it is designed for small to large organizations & businesses. Alternatively, this software helps you gather data like B2B and track users' interests, insights and behavior.
Moreover, the goggle analytic campaign URL builder is a great free link tracking tool that allows you to create URLs with UTM parameters so you can easily track the performance of those links in Google Analytics.
Features
Google Analytics provides real-time, accurate statistics for you to track your activities.
The primary goal of this tool is to generate more ROI for your business.
This tool gives auto-generated reports for all your Marketing campaigns.
Funnel analysis is also the key feature of Google analytics that informs you about the progress of your campaign.
You can use it free but if you wish to be paid, then contact the support team.
Benefits of Link Tracking Tools
The Link tracking tools enable businesses to track the effectiveness of a particular advertising and marketing strategy. A retailer that is running a promotional promotion could attract many new customers. However, it is essential to identify where these people come from in order to understand a successful campaign. Does the customer find their sales through organic means? Fortunately, tracking links can be very useful in getting this information quickly. Tracking links can help determine your return on investment (ROI).
Using tracking link tools is crucial for improving traffic flow and calculating ROI. Also, it lets you see the direct impact of a marketing campaign or the growth of your business.
Conclusion- Choose the Best Tool For Your Marketing Campaigns
LinkTracking tools are the best to analyze & track campaign performances & user activities. You can purchase any of the starter plans of the tools listed above to know more about the tracking links. As you already know the benefits of link tracking tools, so choose the top one and grow your business. I suggest you start with the free trials and then buy their premium plan for more amazing features. Let us know which tool you would prefer.