The main difference between Chromebooks and other traditional laptops that users look for when selecting the best notebook necessitates careful investigation. Of course, seeking a great deal on the best Chromebooks or other well-recognized laptops excites technology-savvy users. However, we intend to include many ardent users in our discussion when reviewing the performance and usability experience. Therefore, the Chromebooks vs laptops review will be interesting for deciding which one to select.
I want to contend with the comparative analysis on setting each specification review apart to clarify our user feasibility. Then, based on the elaboration of each aspect of your desired laptop vs Chromebook selection, I must establish a reasonable and unbiased review that could help you build your opinion quite clearly. In other words, we are here to help make things to analyze quite concisely. But, first, let's learn the difference between both available options.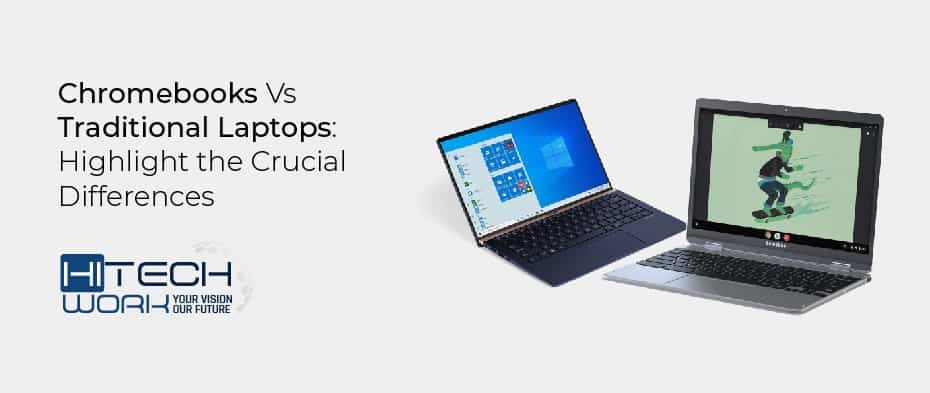 Chromebooks vs Traditional Laptops: Highlight the Crucial Differences
Delving our focus on the Chromebook offers 2-in-1 features that you get running on the Google Chrome operating system. Minimalistic design, a web-based chrome browser provides a different experience from Windows and MacBook. Furthermore, the Chromebooks are pretty affordable compared to the rest of the laptops. As a result, it has gained popularity for office professionals, students, or home-based users in recent years. So, what is a Chromebook? Why you should use it instead of Windows is still an open question.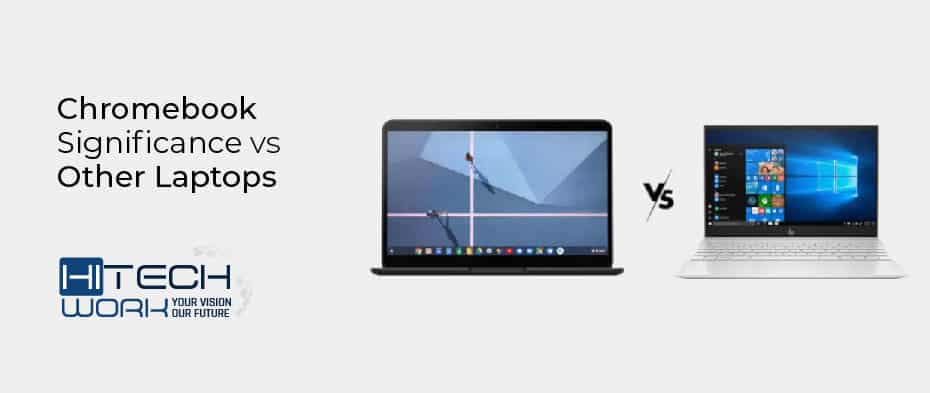 Chromebook Significance vs Other Laptops
In the realm of Windows and iOS, the Chromebook has tremendously built its significant standing by being lightweight compared to traditional laptops. It embarks on a journey to provide more accessible and interactive online learning for children and teenagers. Since its 2011 inception, the chromebooks vs laptops debate has raged over time in the educational circle.
The outstanding and well-built Chromebook design makes it an easy-to-use notebook worth the expenditure over other richly featured laptops. Highly compatible Android-based Chromebooks provide the best usability experience thanks to Google integrated apps, maps, Gmail, and Docs on the online cloud-based storage. It always facilitates synchronization with the Google account to get their work done efficiently without any disruption. Furthermore, Chromebook is automatically updated, so there is no need to download anything.
In short, the Chromebook is a well-thought design to accommodate the software and applications on a less expensive and much more compatible notebook. It also consumes little power and can be powered by Li-ion, NiMH, or AC adapters. In addition, improved compatibility with high-definition processors and sufficient memory make it a convenient option to handle almost every task effortlessly.
Features That Set Chromebooks Apart From Windows Laptops
The Chromebook offers a cheaper alternative to any laptop. It provides a pre-default setting with comprehensive security, so you don't need antivirus software. Moreover, they are more compatible with android apps, including MS Office. But, complacently speaking, the Chromebook is like a Windows laptop.
It facilitates its users with detachable keyboards, trackpads, touch screen displays, USB ports, and internet access through their browsers. Front-facing camera for video conferencing; convertible with 360-degree hinges mimics the appearance of a clamshell notebook. While getting access to and running the diverse range of apps from the Google Play store, it sets its destination according to users' feasibility.
Operating System: Google vs Windows
What distinguishes the Chromebook from other laptops is the different operating systems. Most laptops and even Windows built-in computers make Windows 10 the default operating system. In contrast, Google offers an effective alternative to Windows in the innovative Chrome operating system.
Some may find it similar in the overall operation. However, whether it is necessary to have it identical to the comprehensive operating system remains to be seen. As anyone would feel, the Chrome browser can serve as an open browser for personal or official use. You will also notice additional benefits like internet access, online procurement, consulting, social networking, and playing videos as its impactful merits.
Google OS Incorporates App Compatibility as a Stand-Out Feature
Analyzing Chromebook compatibility with Microsoft Office will definitely ensure the smooth running of the office suite with Word and Excel availability. You get two alternates considering your desire to use them using the Google Chrome Play Store app or android applications. It offers document creation, editing, or easy readability thanks to google documents, spreadsheets, or presentation templates for professional templates layout. It can be easily accessible, as you all know, on the Google play store free of cost. Unfortunately, Google operating system has no compatibility with Windows OS, while you can find Linux as a popular option.
Chromebook Offers a Portable Design against Traditional Laptops
A comparably smaller hard drive fascinates those who like the portable and lightweight operating system. However, when Google offers cloud-based storage capacity to accommodate Google Drive operations similar to Windows, a heavier operating system is required. Windows laptops comparatively have internal storage ranging from 128GB onwards to 1TB. Therefore, Windows users favor using internal storage.
The Chromebook's 16GB storage capacity will be insufficient for you because the Chrome operating system offers cloud-based storage, which reduces the need for additional storage. However, in the absence of ample storage, as for those who demand external memory storage, You can buy it separately from the internal storage device. The following portable features on the Chromebook make it a good option for students. As for those professionals concisely concentrate on internet browsing, word documents, audio, and video content. The student focusing on cloud-based storage can then store their files on the drive.
Chromebooks Competitive Prices Comparable to Other Laptops
Another comparative factor determining the Chromebook's usability over other laptops is its affordable price. Generally speaking, Chromebooks are much cheaper and more affordable than the rest of the laptops on the market. In addition, a faster and more powerful processor with increased memory will make it possible to perform demanding multitasking. However, it doesn't seem easy to recommend a Chromebook over a more versatile option. Nevertheless, users choose laptops under €1000, such as the Windows Dell XPS 13 or the Windows Surface 3, and they do so convincingly.
Competitive Chromebooks Processor vs Laptops
In comparison to laptops, a competitive processor for lightweight Chromebooks is available. The Chromebook offers a lower-performing graphic chip, making its weight lighter than the other laptops. While some of its premium Chromebooks also run on an Intel Core chip, the two-fold reasons for its inclusion are that it is lightweight and helps cut down on its cost. It precisely augments its CPU power compatibility with the robust casing for laptops intended for capable processors. In addition, Intel and AMD integration with discrete graphics in the latest version also influences its processor performance.
You can always augment your desired specifications with flexible processor compatibility like Intel or AMD. In addition, higher memory than 4GB with extendable hard drive capacity helps you gauge your system performance much more smoothly. Moreover, the high-definition display also enhances the user experience, ranging from 1366×768 resolution to a 1920×1080 pixel resolution display.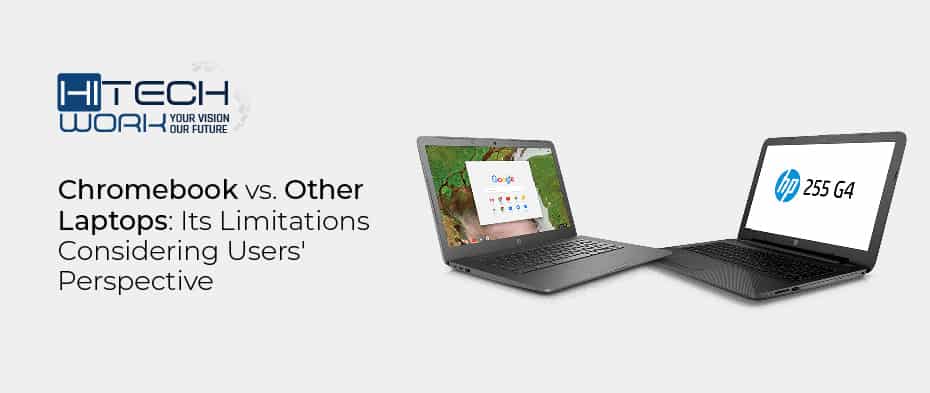 Chromebook vs Other Laptops: Its Limitations Considering Users' Perspective
Now, considering a few drawbacks that draw the user's attention away from the Chromebook, you can count on your fingers. First, its limited storage capacity is something you will realize as soon as you get your hands on Google Chrome OS. However, the most noticeable is that it is not ideal for audio and video editing. Due to a lack of high-definition features and tools necessary for video editing are not the high definition graphic and multimedia professionals.
Moreover, the hardware and other components of the Chromebook don't provide the same performance as other laptops, except for the Pixel Book. As a result, hardware specifications lag behind Windows and MacBook iOS systems. Another critical feature that troubles Windows users worldwide is incompatibility with the Windows app. Now, you can opt for accommodating and straightforward applications that, of course, work to better trade-off your deal with Chromebooks vs expensive traditional laptops.
Wrapping Up the Discussion
Concluding our discussion, we decided to buy a Chromebook instead of a traditional laptop. If you are looking for a fast, efficient, and multitasking notebook, then Chromebook presents you with options. But, on the other hand, a laptop with extensive compatibility and universal acceptance among its users serves to perform the advanced objectives esp for professionals.