Are you an EV driver or prospective owner looking for an easy way to locate Tesla Superchargers within any location? Well, you are in for a treat. This comprehensive EV guide will explain 4 methods you can use to find Tesla Supercharger locations, such as Electrly's Supercharger locator. Let's get started.
Also, you may checkout Tesla is About to Launch Big New Software Update With New Features & UI Upgrades.
A Closer Look Into Tesla Superchargers
Tesla offers three types of chargers for their EVs: mobile connectors, destination chargers (Wall connectors), and Superchargers. They differ in their infrastructure, charging speed, and energy requirements. Mobile connectors are the slowest and can be plugged into a 120V standard household outlet and add about three miles of range per hour. They are portable and are primarily used to charge Teslas at home.
Destination chargers require a 240V power supply and are installed by certified Tesla technicians. They are popular for home use but can also be found at offices, malls, hotels, and parking garages. They add about 44 miles an hour and are relatively free to use.
Superchargers are the fastest Tesla chargers and can add about 200 miles of range in 15 minutes. They require a 480V energy supply and are primarily used for commercial purposes. Unlike the destination chargers and mobile connectors, which use an AC power supply, Superchargers run on DC power.
Benefits of Using Tesla Superchargers
Tesla Superchargers are suitable for commercial and public use because they allow drivers to fuel quickly, save time and leave the slot for the next EV. They are especially ideal for long-distance travel or for people who use their vehicle for daily commutes but can't charge their car every day. With a Supercharger, you only need less than an hour to fill an empty EV battery.
However, Superchargers are not the only way to fast charge your EV. Companies like Electrly have developed DC fast chargers (Level 3) that can charge your Tesla, or any other EV, equally as fast. These chargers are a commercial solution, but the company also offers Level 1 & 2 EV chargers, which are more suitable for household use.
Types of Superchargers and Charging Costs
There are three types of Superchargers, V1, V2, and V3. They differ according to their capacity. V1 and V2 Superchargers offer up to 150kW charging speeds, while a V3 goes up to 250kW. Each charger can support two cars simultaneously, but the charging speed usually decreases when sharing.
At Tesla supercharging stations, you are most likely to be billed per kWh. While the price varies between stations and locations, the average cost is $0.25 per kWh. Some stations also have different rates for peak and off-peak hours.
The charging cost goes down if you are sharing a Supercharger and is also influenced by the speed of the Supercharger. Using a V3 may cost more than using a V1. You may be billed per minute in some instances.
Methods to Find Your Nearest Tesla Supercharger
There are several ways to locate Tesla Superchargers, but they depend on the type of EV car you drive. While drivers of non-Tesla EVs are allowed to use Tesla Superchargers, they can only locate them via third-party apps. The following is a list of ways you can use to find Tesla Superchargers: And, you may also checkout Tesla Wants $15000 for A Model S Plaid Performance Package.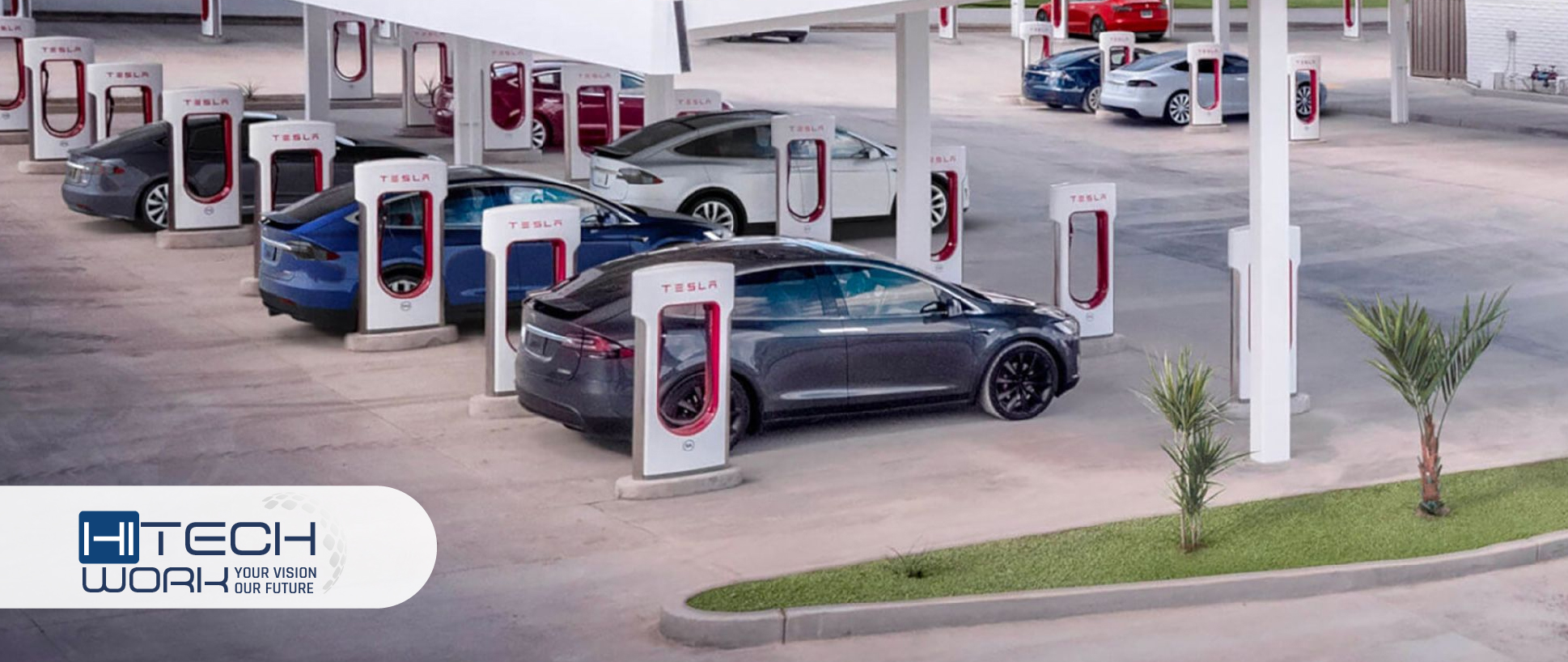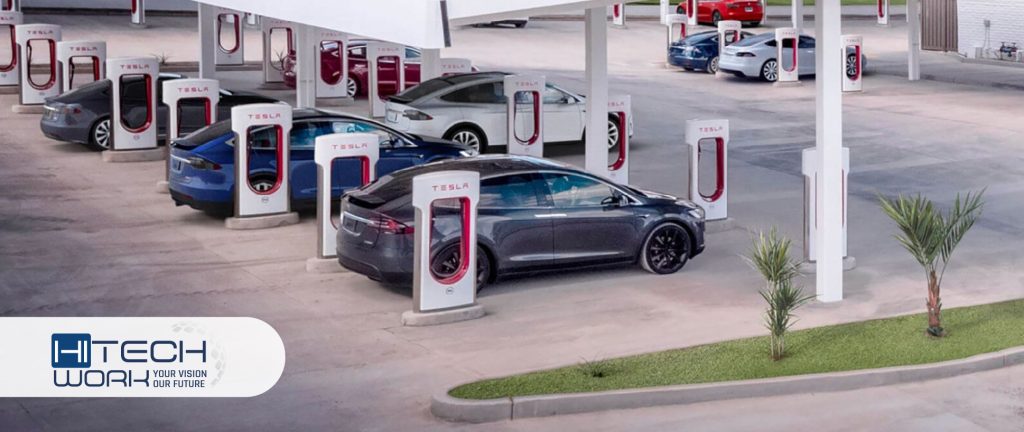 Electrly Tesla Supercharger Locator
Electrly is an EV charging solutions company that offers a wide range of fast chargers for household and commercial use. They are based in China but have supplied EV charging products to over 30 countries globally. Fortunately, they also maintain a Tesla Supercharger map on their website that anyone can access and use for free.
Steps:
Open Electrly's website.
Navigate to Resources in the far right corner and hover to display the dropdown list.
Select Tesla Superchargers Near Me.
Click on the Supercharger closest to your location, or enter your location in the search bar to find it automatically.
Note:
The map can help narrow your search by state, charger type, network and charging speed.
Once you select a Supercharger, you will see its contact information, operating hours, and exact location.
Using Tesla's Website or Mobile App
You can use the Tesla app or the Find Us feature on Tesla's website. However, the app only shows Superchargers within your proximity, while the Find Us map shows all Supercharger locations. The website map also helps you plan for a long drive since it can show all Superchargers on your route.
If you want to use the website map, go to Tesla's webpage, click Menu, and then select Find US. Since the resulting map also shows Tesla stores and service centers, select Superchargers or Superchargers open to Non-Tesla. Zoom in or enter your location to locate the nearest Supercharger, then click it to open more details about that location. Tap Driving Directions to display the route.
Steps on the app:
Launch the Tesla app.
Click Location.
Navigate to the bottom of the screen to view nearby chargers and click on one to see how many Superchargers are available at that location. Tap Send to Car to send the directions to your car. Alternatively, select a Supercharger location by zooming on the map, then send the coordinates to your Tesla.
Note:
Once you start driving your vehicle towards that location, it will automatically begin preconditioning for the charge.
Navigation Systems in Tesla Vehicles
For Tesla drivers, the onboard navigation system is the easiest way to locate Superchargers near you. Each Tesla's touch-screen comes with a pre-installed Supercharger map.
Steps:
Power up your vehicle to display the navigation screen.
Click on the Supercharger icon (lightning bolt) on your navigation screen's bottom left or right.
You will see a list of nearby Tesla chargers. The lightning bolt icons at the top of the list represent their speed. One bolt indicates destination chargers, while two and three bolts represent Superchargers.
Click on the two or three lightning bolt icons.
Select the Supercharger you intend to drive to, and your Tesla will instantly generate directions.
Third-Party Mapping Applications
There are tons of third-party EV charging apps and websites that provide maps to Tesla Superchargers alongside other non-Tesla EV chargers. These apps are detailed and provide information such as the number of Superchargers at a location, peak hours, charging costs, directions, and type of connectors available.
They include:
PlugShare.
ChargePoint.
EVgo.
Electrify America.
ChargeHub.
Some of the developer companies of these platforms also run their own EV charging networks. The apps and websites are often free, but some may require creating an account or subscribing. Below are the advantages and disadvantages of using third-party apps.
Pros:
Usable regardless of your EV car model.
They show locations to even non-Tesla fast chargers.
Provide multiple details.
Can help to plan your entire route's charging points.
Cross-platform support.
Cons:
Some may be malicious and used to steal your data.
You may need to subscribe to access the full range of features.
Considerations When Choosing a Tesla Supercharger
Selecting the nearest Supercharger can help you save time and maximize your experience. Thus, take the following things into account when deciding where to refuel: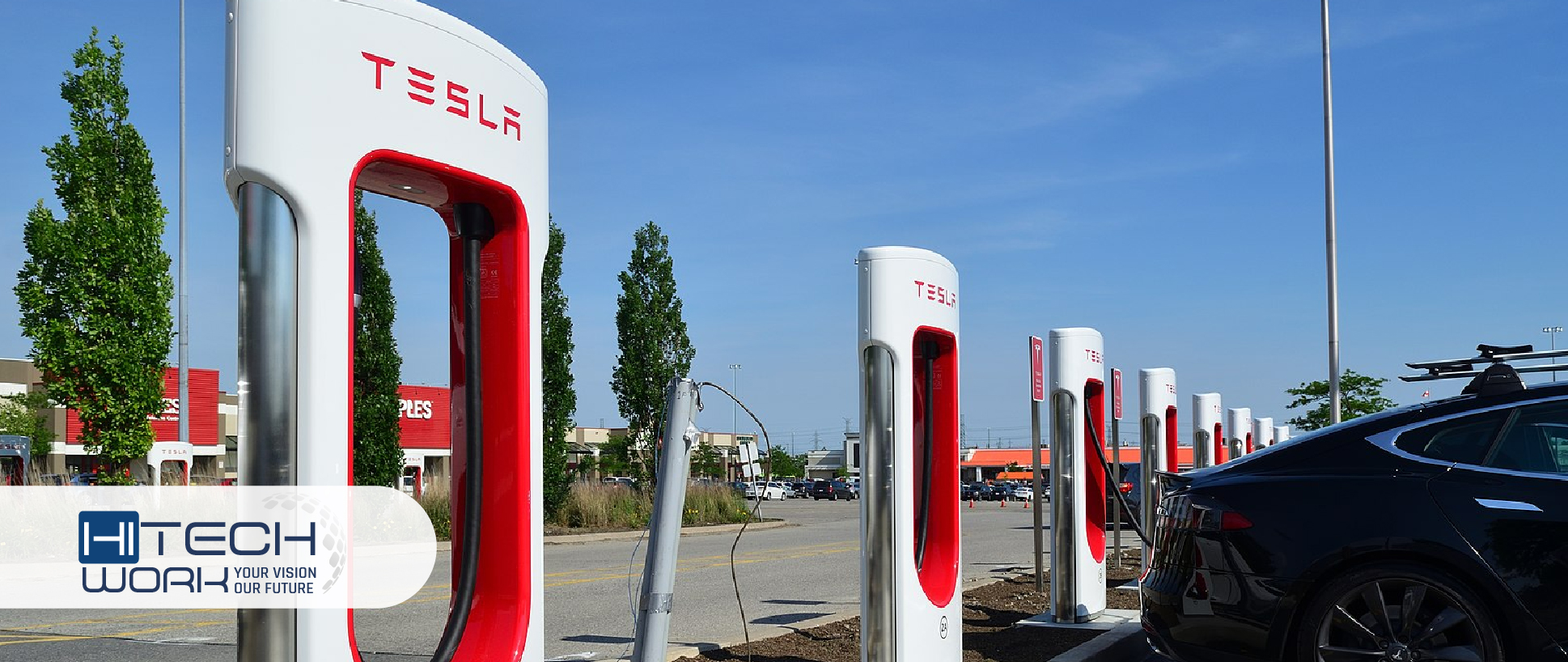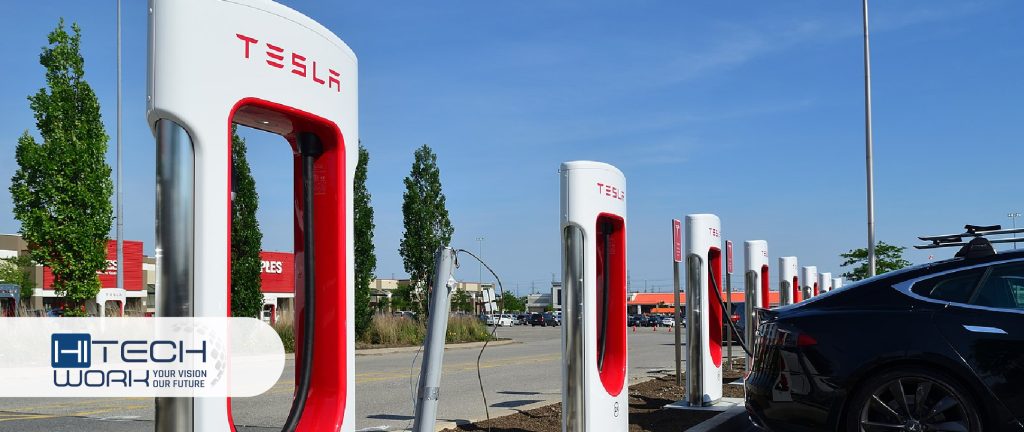 You need to consider how far away the Supercharger is from your location and how long it will take to get there. Consider factors such as traffic on the route and if you have enough battery left to reach that location.
Availability and wait times
Check if there are any free Superchargers at that charging station, and if not, how long you will need to wait for a free charger to be available. Also, prioritize stations where you don't have to share the Supercharger.
Amenities and facilities at Tesla Supercharger stations
Since you may need to wait for a little while, you can take that time to do some shopping, rest, swim, or even eat. Thus consider what amenities are available at or around the Supercharging station depending on what you prefer to do as you wait.
Planning for long-distance trips
When embarking on a long-distance trip, you need to map out Supercharger locations along your route so you know when and where you will recharge. If you don't, you may run out of charge before you can get to the next station.
Top Tips for Efficient Tesla Supercharger Usage
There are a few things you can do to smoothen your usage of Tesla Superchargers. They include: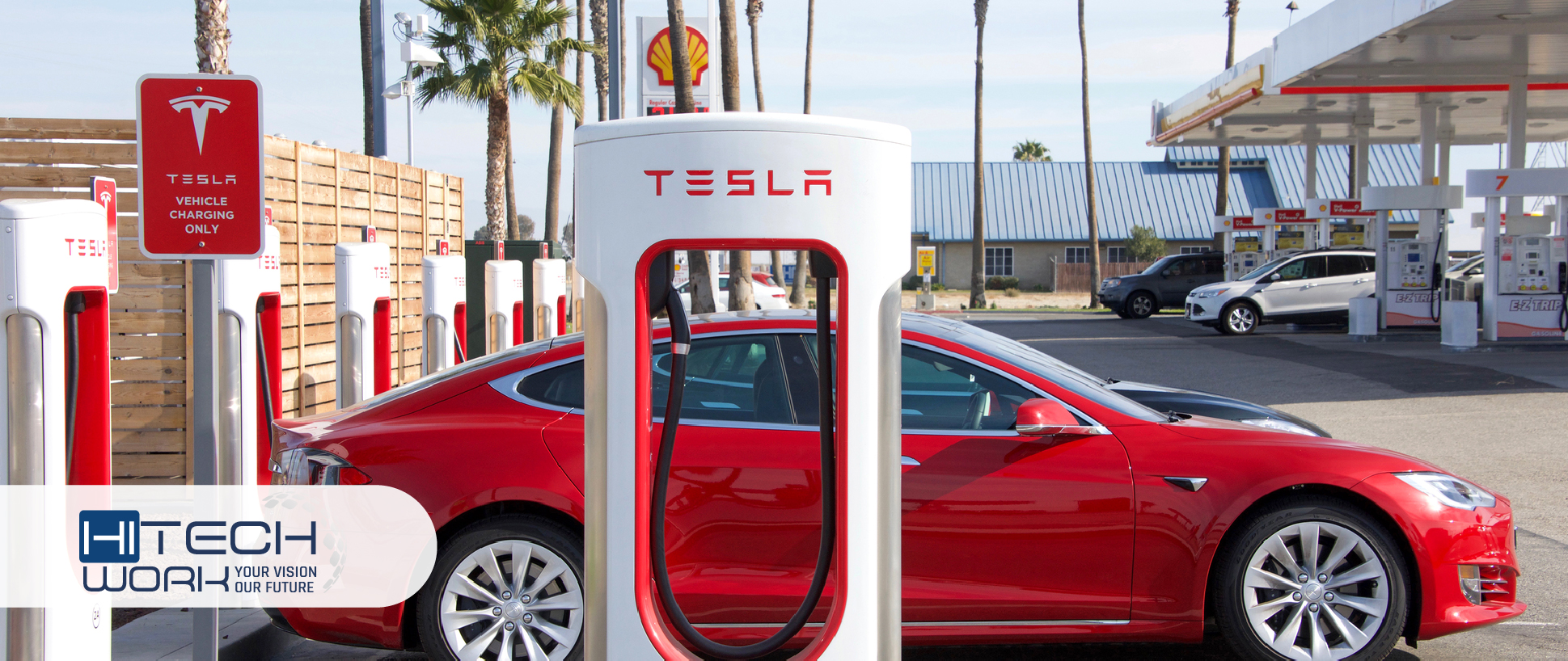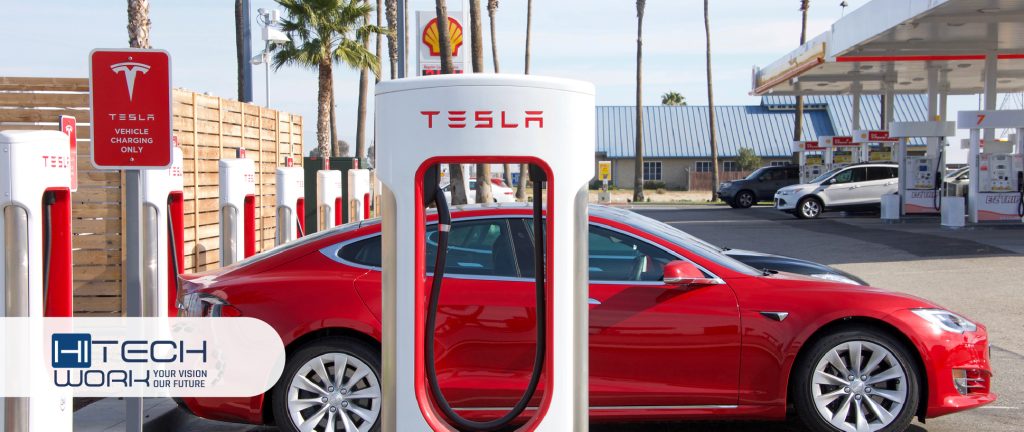 Understanding Supercharger etiquette
Supercharger etiquette is meant to enhance your charging experience and that of other users. They include:
Do not share a Supercharger with another driver when there is an unoccupied charger.
Follow the waiting line.
Do not park across multiple Supercharger spots or at a place designated for disabled people.
Monitor the charging.
Move your car to a regular parking spot or leave once it is full.
Maximizing charging speed and efficiency
Do not let your battery go flat or below 20%. Also, remember to precondition your vehicle before or when going to a Supercharger for faster charging. Whenever possible, charge your car in the daytime when it is warmer since cold affects the charging speed.
Planning charging stops strategically
Creating a schedule of when and where you will stop to recharge is important. For Tesla drivers, you can use the route planner feature so your car will automatically remind you to charge when you are near the next Supercharger. Planning can also help you determine if the trip is possible with an EV depending on the distance between chargers.
What's the Future Like for the Tesla Supercharger Network?
Currently, the Tesla Supercharger network consists of 45,000+ Superchargers globally. About 17,000 of these are in the USA, and Tesla has plans to double this number in the next few years. With Tesla sales projected to grow by 40% in 2023, Tesla is striving to set up more charging infrastructure. Thus, the number of Tesla Superchargers may triple or quadruple by 2030.
Closing Remarks
Tesla Superchargers are the fastest EV chargers currently, meaning you can save time by using them. However, we have seen that their speed varies depending on model and usage, so you need to carefully consider a Supercharger before selecting it. If you use a charger within your place, you can note it's off-peak hours and use it then. Fortunately, Tesla's charging network is expanding rapidly, so finding a Supercharger may become as easy as finding a regular gas station soon.