If you are on this page, you're apparently looking for the solution to fix Nvidia control panel Missing options. Nvidia control panel lets you customize your Nvidia graphics card properties, but now it's left from your notification tray icon, desktop context menu, and start menu.
This may bother many of you, but don't worry, we are here to give the proper solutions to this problem. This problem may arise mainly because of the corrupted graphic card driver, missing registry key issue; this problem may also occur from the new updates of the Nvidia graphic card. Still, as we said earlier, it is fixable. How to Enable Nvidia Low Latency Mode?
What is Nvidia Control Panel Missing Error? 
Users who have installed an Nvidia Graphics Cardoon on their PC have a particular option to change and adjust the graphics according to their liking.
Now, they require the Nvidia Control Panel to do these things. What happens is that seldom the Nvidia Control Panel is nowhere to be found. It just disappears, and that can be quite problematic for hardcore users. But don't worry. We have got you covered with some of the simplest, tried, and tested solutions that will solve the issue.
Before we proceed to the solutions, we need to take a look at what causes this difficulty.
What Causes Nvidia Control Panel Missing Error?
The graphics card on your computer controls many things, making it one of the essential components of a computer system. If NVIDIA manufactures your PC's graphics card and you come across the "NVIDIA control panel missing" error message, it means that your NVIDIA graphics card has gone wrong.
However, in some cases, this failure may be due to corrupt registry entries or Windows files. Despite of the cause of this error, here are some proven troubleshooting techniques to try out.
How to Fix Nvidia Control Panel Missing Error
Well, you have come to the right article. Today we'll help you resolve this issue with the methods that are tried and tested by us. And we are sure one of them will solve the problem for you.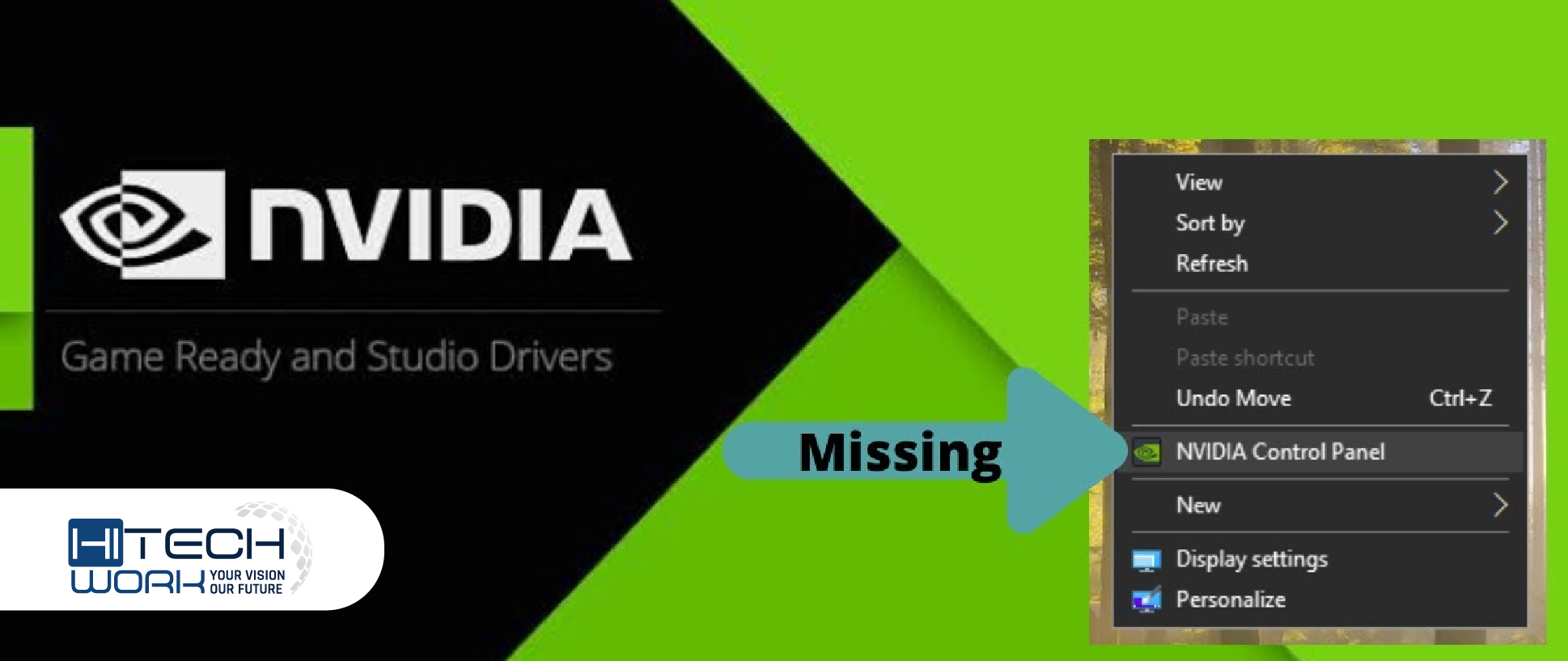 1 – Reboot 
This is what happened to me recently. The graphics card was missing, and in addition, the NVIDIA Control Panel was missing too. I obtained it when I opened up the laptop to apply the thermal paste and launched ThrottleStop to check the temperatures. Thankfully, I rebooted my pc before opening up the back panel again, and there it was.
2 – Don't Overclock
Overclocking the GPU often results in difficulties like these. I don't make it, nor do I support it. I recommend you change settings back to normal and reboot before checking again. Overclocking is dangerous, particularly if you don't know what you are doing.
3 – Unhide Nvidia Control Panel
Search for and begin the Control Panel.

Change the View by setting from Category to Big icons.
Can you find NVIDIA Control Panel listed here? If yes, open it, and under the Desktop tab, select 'Add Desktop Context Menu.'
Check again, and you should see the NVIDIA Control Panel option in the right-click context menu pop-up.
4 – Launch Nvidia Control Panel Directly
Here is a fast fix until you find the real issue.
Step 1:

Open the File Explorer and navigate to the following folder structure.
C:\Program Files\NVIDIA Corporation\Display.NvContainer
Step 2:

 Right-click on NVDisplay.Container.exe file and picked Copy.

Step 3:

Press Windows key+R to open Run prompt and type shell: startup before hitting Enter. 

It will open the below folder:
C:\Users\username\AppData\Roaming\Microsoft\Windows\Start Menu\Programs\Startup
Step 4:

You will paste the copied file shortcut here, right-hit on it, and select Properties.

Step 5:

 Select the Shortcut tab, click on the advanced button and check the Run as administrator option. Save all changes.
You have just created a new right-click context menu shortcut for the desktop. The folder above contains all context menu shortcuts, including NVIDIA Control Panel instantly.
I can't see the over file because I installed NVIDIA Control Panel from the Microsoft Store. It didn't come preinstalled. If you can't view it either, read the next point. It's all okay. You can still install and launch it right from the Microsoft Store.
5 – Get It from Microsoft Store
Do you even have NVIDIA Control Center installed on your system? Several users found out the hard way the software was never shipped with their Windows 10 installation. You can download it from the Microsoft Store.
Microsoft released DCH Drivers, which have been making some confusion for the past few months. I recommend you go through both the links I shared above for more details. Now, download and stick with the Microsoft Store version and install them entirely if they are missing on your computer.
If you have NVIDIA Control Panel installed, uninstall it utilizing Revo Uninstaller and then reinstall it from Microsoft Store.
6 – Update GPU Drivers
You can update or uninstall the drivers and reinstall them again to view if that helps. Alternatively, you can also visit NVIDIA's site to download and install the latest drivers direct. Use an app like CPUZ to find the graphics card model number and other details if you don't previously know.
Many gamers recommend using DDU or Display Driver Uninstaller to remove NVIDIA drivers entirely before reinstalling them.
7 – Restart Nvidia Services
Step 1: Search for and launch the Services application from the Start menu.
Step 2: Locate all services that include the word NVIDIA under the Name column. Right-click on one of them to select Properties.
Step 3: Make sure you've fixed the Startup type as Automatic. Now, click on the Stop button, wait a few moments, and click on the Start button to restart the NVIDIA service. Save everything and repeat the same method for all other NVIDIA Services.
FAQs
Q: How do I go to my Nvidia control panel?
A: Hit on the Start icon on the taskbar to bring up the Start menu. Hit on the Settings icon to bring up the Settings page. Click on Apps -> Apps & Features. Locate "NVIDIA Control Panel."
Q: Why is Nvidia Control Panel not showing up?
A: In most cases, NVIDIA Control Panel disappears because you are utilizing the wrong graphics driver or it is out of date. So you should confirm that your graphics adapter has the correct driver and update it if it doesn't.
Editor's Recommendation