GIFs are a part of our lives and we have been using them for decades now. They were one of the first graphical entertainments on computers. There are over 1 billion GIFs on GIPHY alone. With that knowledge about GIF, everyone wanted to learn how to make a GIF on iPhone. Since it was a Bummer in the '80s and 90's to make your own because you needed a computer and a program to do that. It now isn't
We'll look at some of the easiest ways you can make GIFs on iPhone within 50 seconds or less. Before we go on learning how to make them, let's reflect on why they are necessary in the first place and why have they been around ever since the '80s, regardless of all the technological advancements.
GIFs are small (just a few seconds) videos that you play on repeat. They're popular because they can show relatable emotions from different scenes depending on the GIF you see. They can snippets from a movie or funny characters. Whatever they are, they carry one objective, which is to communicate emotions. Let's learn how to make a GIF on iPhone/iPad or Android.
How to Make a GIF on iPhone With a Couple Flicks
Yes, it is available as a feature. Since the demand for GIFs isn't going down anytime soon (except when web3 takes its place) Apple decided to integrate this feature in all iPhones with iOS 14 and above. There are three ways you can do it without any third-party application so let's get it done!
How to Make a GIF on iPhone: Live Photos
Your live photos can be turned into GIFs. This has been integrated into iOS 14 or above, so only iPhones with a live photo feature in their cameras can have it. To check what update you have, follow the steps below.
Check Your iPhone Update
Go to your Settings App.
Click on the General option just on top.
Click the About option that you'll find.
You'll see the Software Version of your iPhone.
Another way you can check your iPhone compatibility with Live Photos is to go in your Camera App. Look for a circular icon on top that kind of looks like a sun. when you click on it, it'll turn yellow. It means you have enabled live photos. When you take a live picture, the camera captures 1.5 seconds before clicking capture and 1.5 seconds after clicking.
Baby Steps to Turn Live Photo into a GIF
Go into your Gallery.
Open the picture that you want to change into GIF.
Swipe up on your picture.
You'll see the description of that photo and swipe to see more.
Click on Loop
You just made a GIF on your Phone.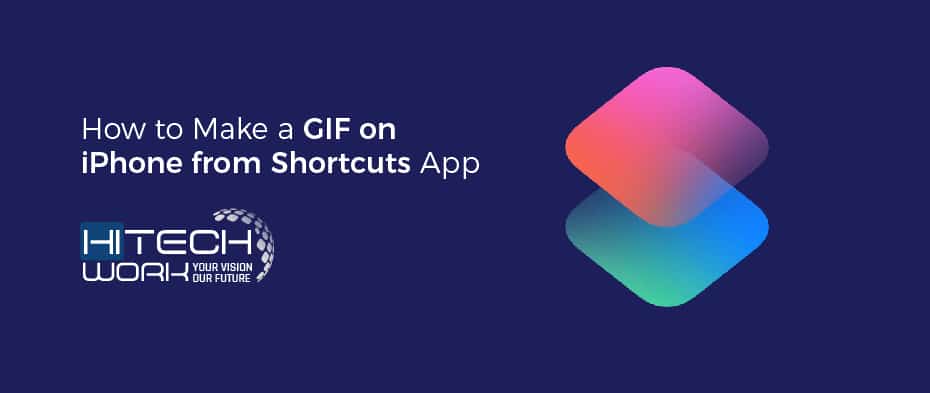 How to Make a GIF on iPhone from Shortcuts App
The shortcuts app allows you to do many fun stuff and one of them is making a GIF. There are two ways you can make a GIF on your Shortcuts app. Let's go over each of them in just simple steps on how to make a GIF on iPhone, which you can do in a few seconds.
GIF from Photo Burst.
GIF from Video.
Make a GIF from PhotoBurst in Shortcuts App
Open the Shortcuts app on your iPhone.
Go into starter apps and search for GIFs.
Install the GIF feature.
Search GIF in search feature.
Click on the option of GIF from Photo Burst.
Browse your photo burst and click on it.
Your GIF is ready to share and save to Gallery.
Make a GIF from Live Photo or Video in Shortcuts App
Open the Shortcuts app on your iPhone.
Search for the Starter Apps.
Search and add the "Create a GIF from live photo or video" shortcut.
On your home screen of the Shortcuts app, you'll see the GIF option.
Click on it and allow the Photo Access.
You can choose the video or live photo you want to make a GIF for.
You can now trim the video.
Cut the video where you like it to and from.
You have a GIF now.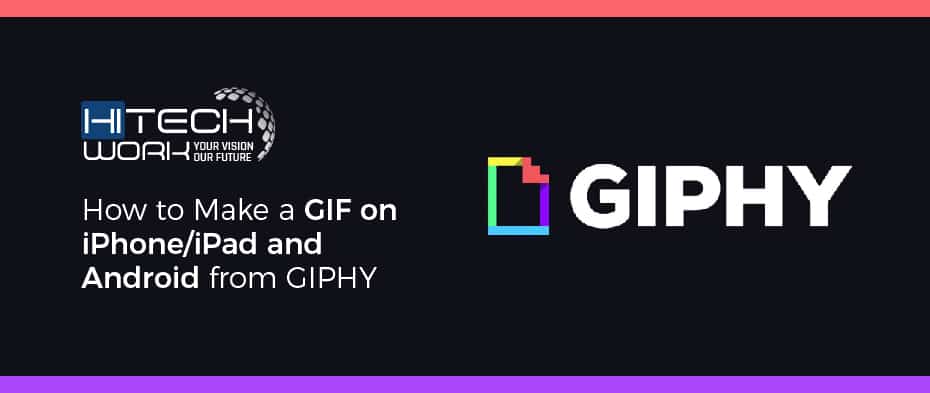 How to Make a GIF on iPhone/iPad and Android from GIPHY
Using GIPHY has a little inconvenience of having the app sit in your phone with no purpose unless you want to make a GIF. If you are using an older version of iOS or you are on an android. You'll need GIPHY to do the job for you. Let's learn how to make a GIF on iPhone/iPad or android with the GIPHY.
Open Appstore and install GIPHY.
Open the app and you'll be asked to log in.
Log into your Facebook account as you can't skip this step.
When you are logged into your account Click "Create" on thetop right corner.
You'll be asked to choose media. Choose video or photo.
You can use different tools to add text, stickers, or crop.
When you are done, you can share it at GIPHY and save it to Gallery.
Use Online Tools
You can also use the online tools to make a GIF, although it isn't very convenient, it stills saves the space you need to download the GIPHY app. Learn how to use the online tools and make your downloadable GIF in just a couple of steps.
Make GIF Using Samsung Galaxy's Built-in GIF Maker
If you have an android and not an iOS device, worry not. Samsung has got you covered with their built-in GIF maker. You can learn how to make a GIF using Samsung Galaxy's GIF Maker. Check out what Galaxy devices are compatible to do that for you.