Do you know what Imginn is? No worries; we will let you know everything about this app. Imginn recently upgraded its name to Imgsed. However, the app is a massive, user-friendly online platform for viewing & downloading Instagram videos, posts, stories, and reels for completely free.
Earlier, people found it difficult to download videos and stories of their favorite influencers from Instagram. But now, with Imginn (Imgsed), you can easily download videos and story highlights from Insta. It is such a fine tool that helps its user save their story on Instagram and lets you save and sort out your Insta stories.
The app has lots of benefits; you can use it for free and anonymously. The navigation on the site is also fast. And you won't be interrupted by advertisements. It has other amazing features, including the ability to see likes on Instagram posts and allow you to view users' Instagram account details.
Check out the alternative of Imgsed: Picuki.
Hence, it's perfect for secretive users who don't want others to see their activities. But maybe some questions bother you. So, let's learn more about the app, how it works, how to use it anonymously, and, most importantly, whether it is secured.
About Imginn (Imgsed) App
It is a great online platform that lets you use the well-known social media platform Instagram, even when you don't want to sign up for an account. It is a great option for you if you wish to do the following:
Download reels, stories, and videos from Instagram.
Save Instagram photos and videos online.
Generate Avatars of Instagram account users.
As a story and video downloader, it allows you to download pictures, posts, avatars, and videos of the public, enabling Instagram. The app assists users in viewing and downloading data from Instagram without letting anyone know who they are. The great part of this app is that it allows the user to use all its features without the permission of the user whose stories and pictures you are downloading.
Moreover, if you have several Instagram accounts, Imginn's liked feature will link to each of your accounts and make it easy for you to access all of your stories. With this feature, any person can use their user-friendly service. Even if they do not own their personal Instagram account.
Key Features of Imgsed
Easy-to-use interface
Convenient search bar
Stories download option
Free-to-use interface
Accessible from several accounts
View and Download anyone's Stories Anonymously
Allow saving Instagram posts and reels
How to Use Imginn (Imgsed) to Download & View Instagram Photos & Videos
Most users think it is challenging to use the app, but it's not tricky; you can easily use it. Apply the below steps to see the Instagram public profile.
Note: In these steps, we have mentioned Taylor Swift's Instagram profile as an example for you.
First, launch the Imgsed app; the site will prompt you to type the username of the Person you want to view.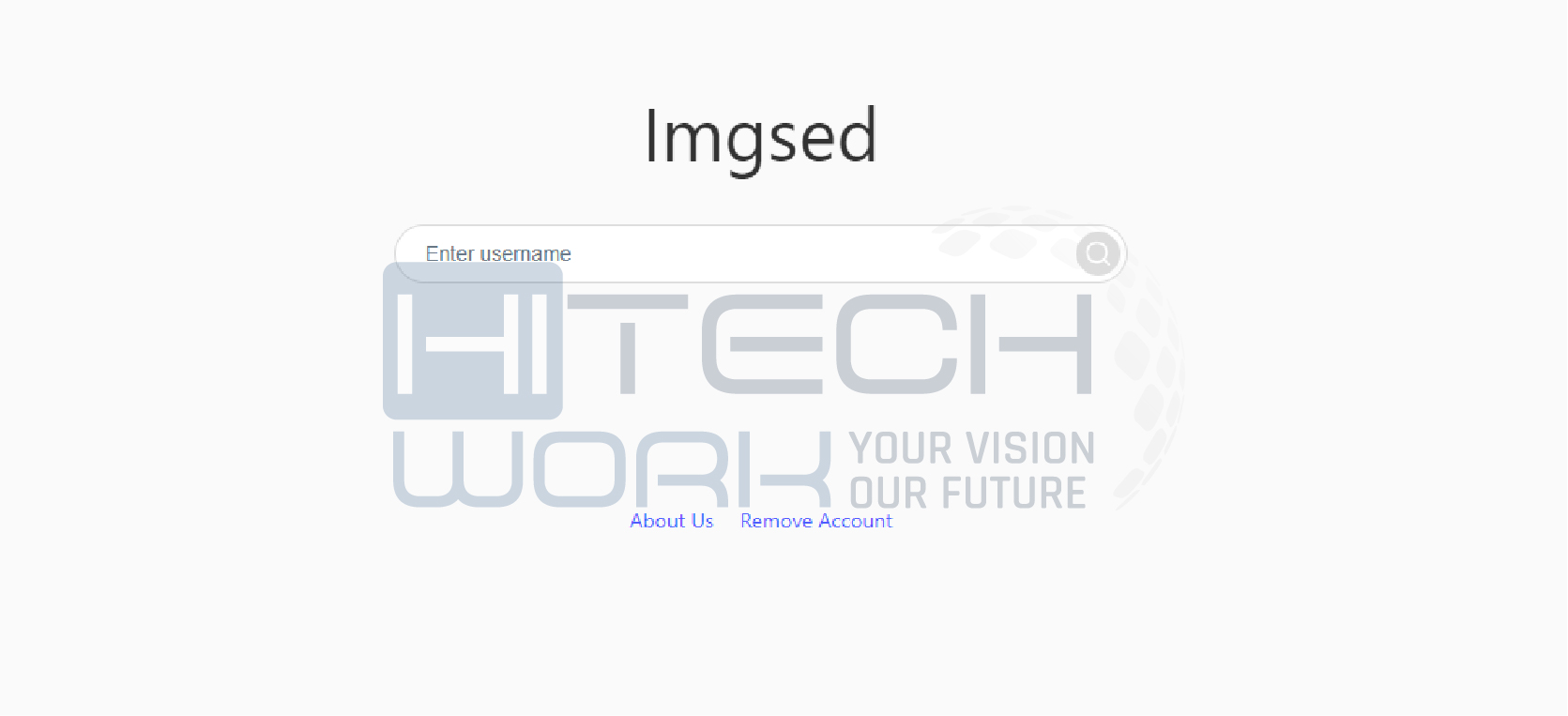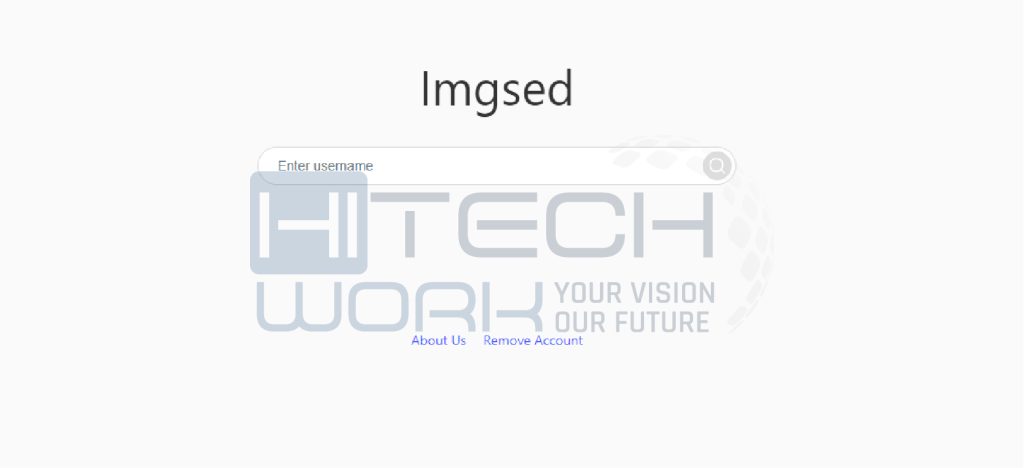 Type and enter the username in the search field of the person whom you want to see the posts.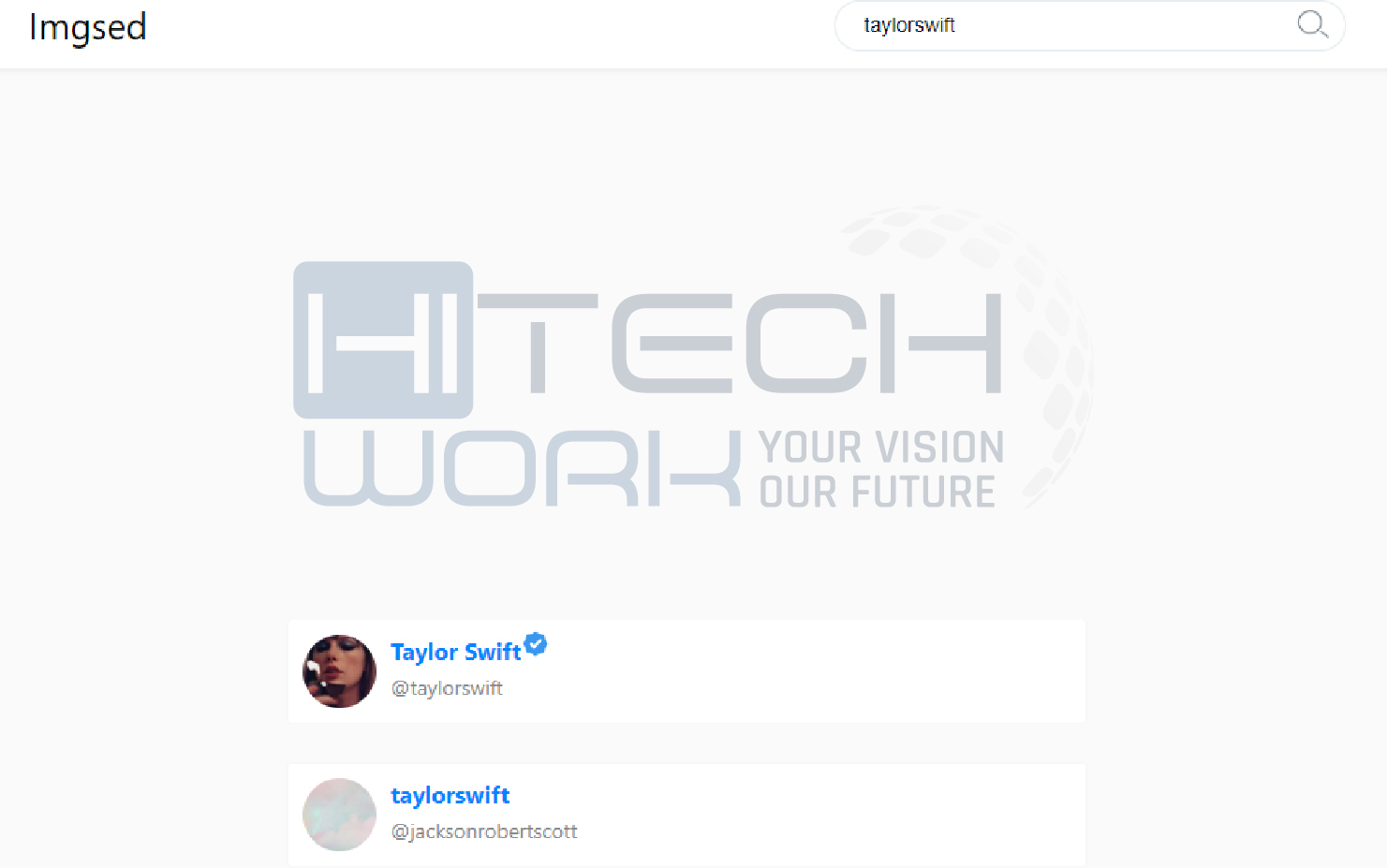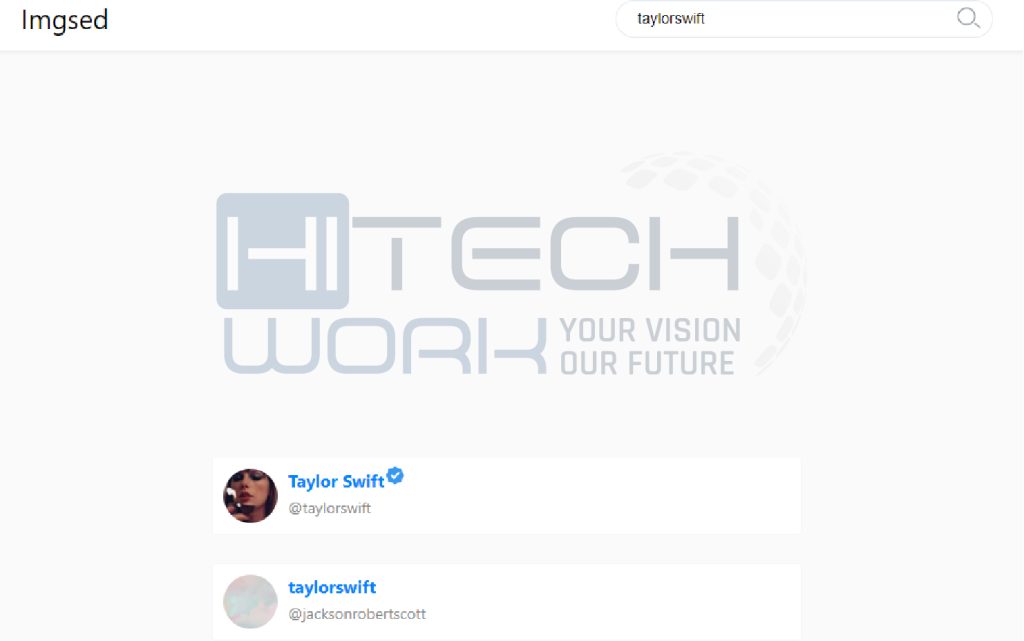 After that, you will be prompted to the page where you will see the person's Instagram profile.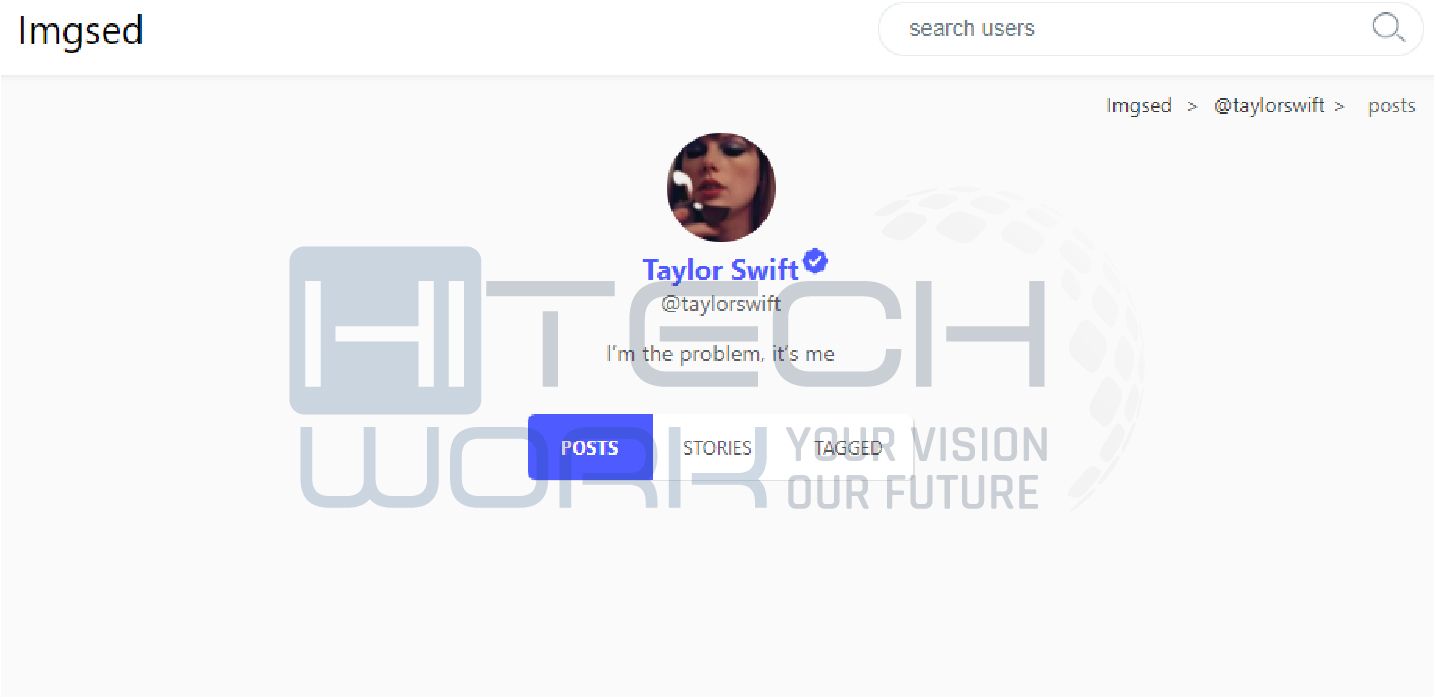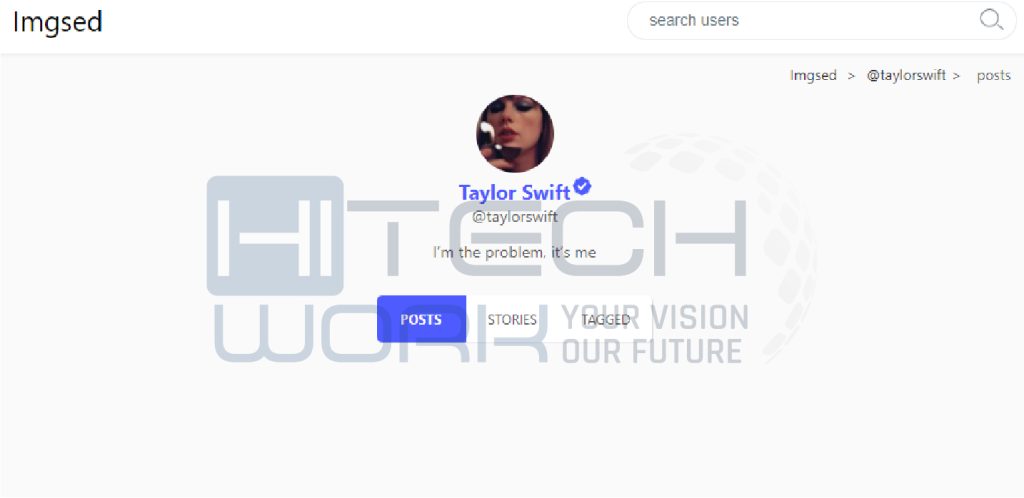 Just tap on the one you are interested in, and you will give the user's profile page links to download the video or photos. Hence, you can view their stories anonymously.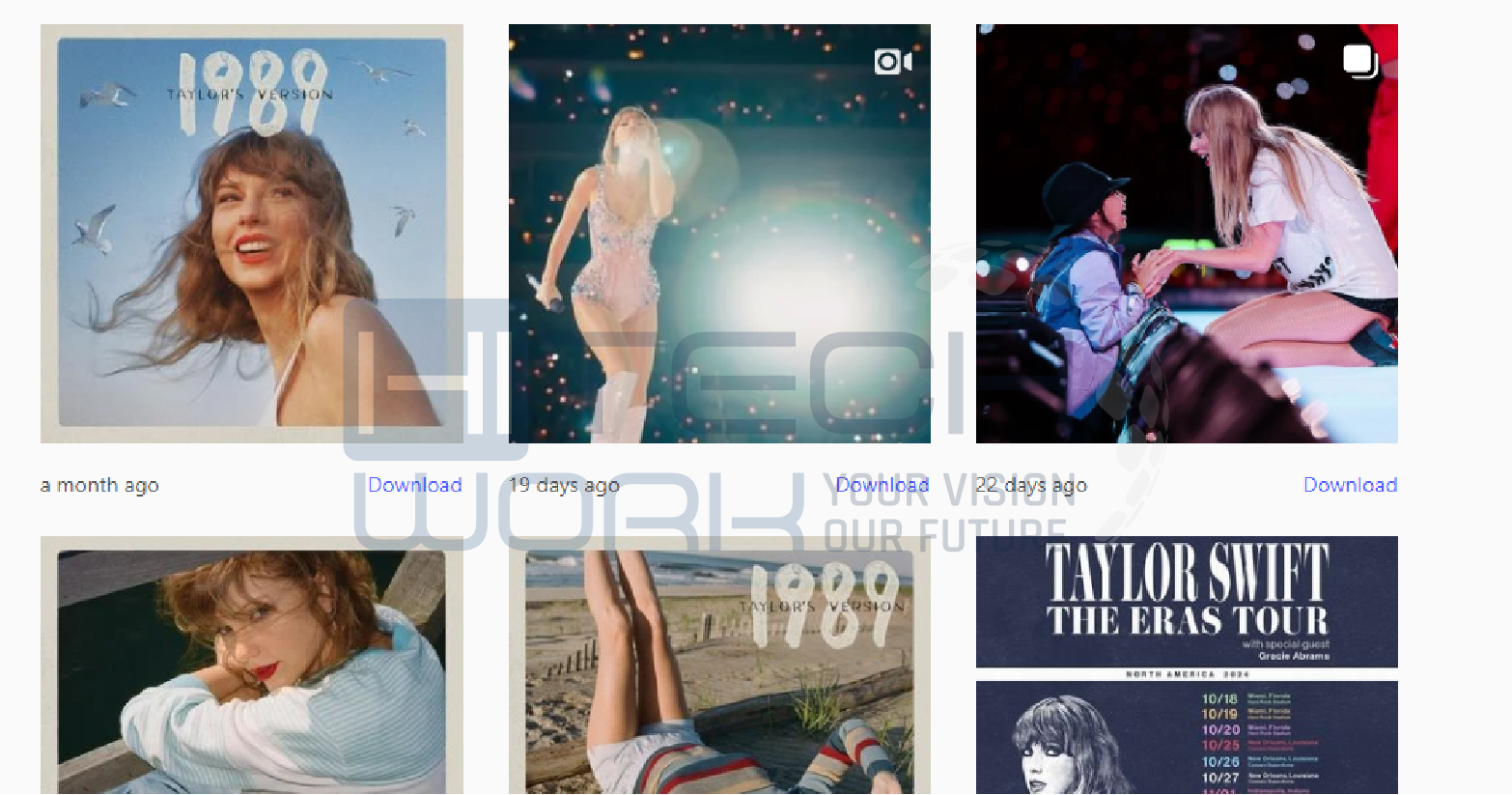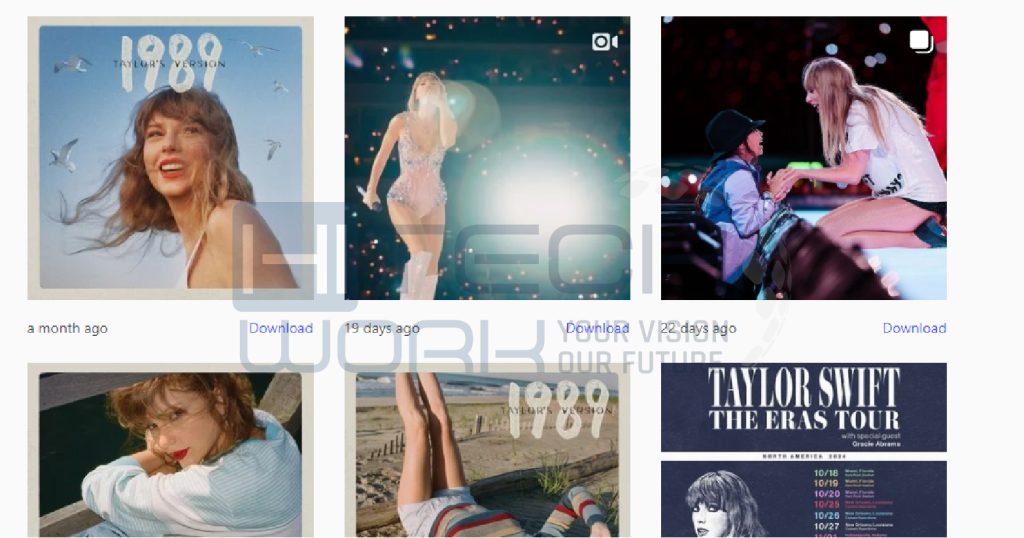 Now, tap on the Blue Download Text to install that specific video or photo.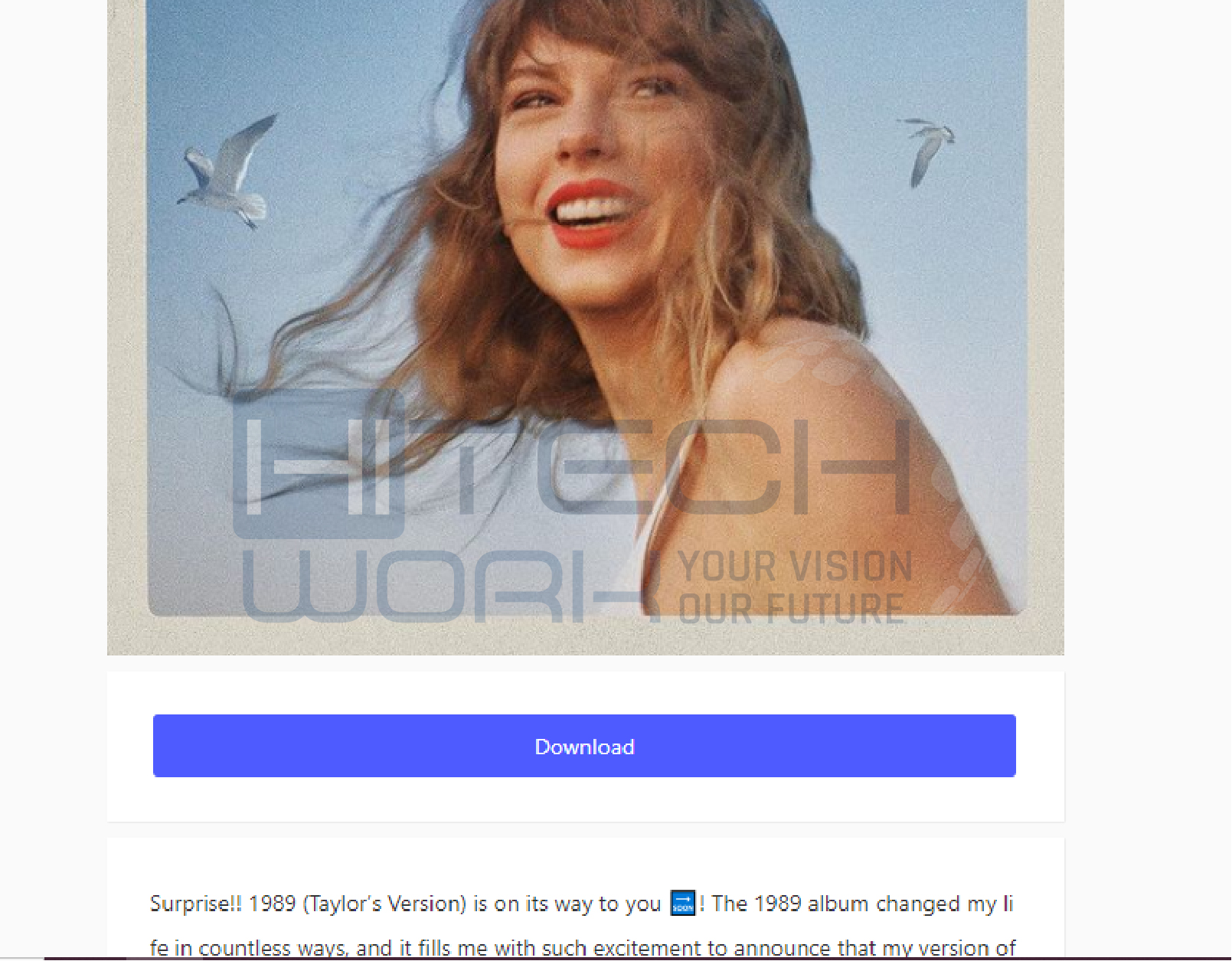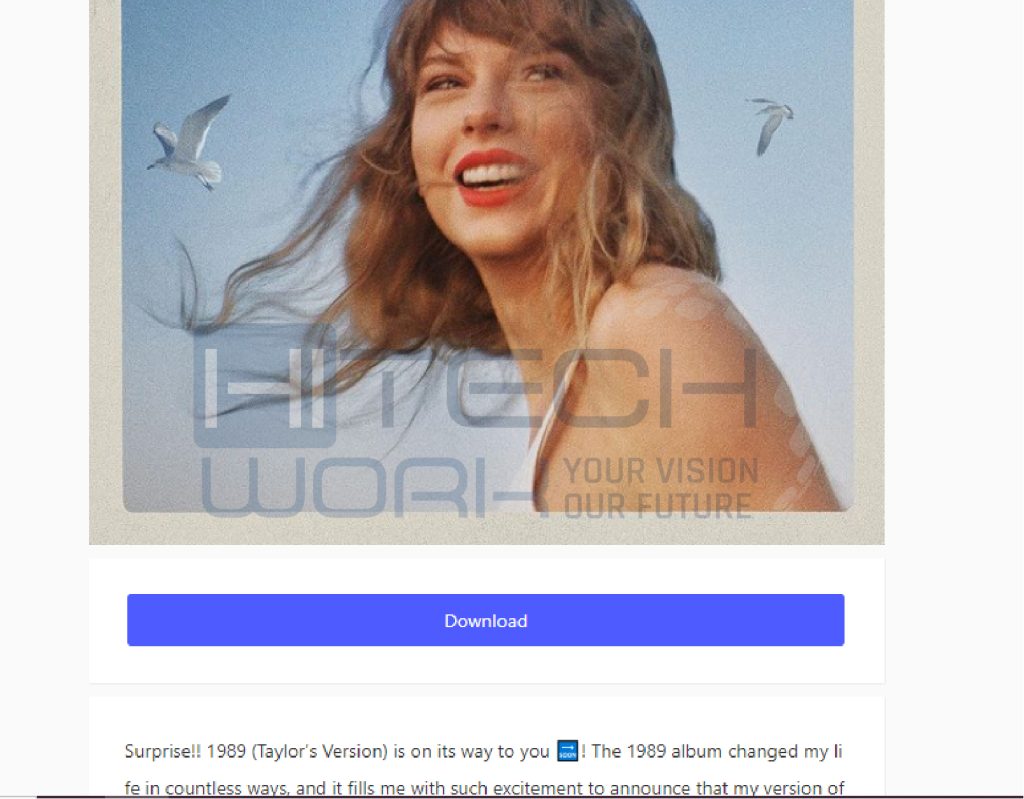 This is the smoothest way to download Instagram content to your system without any third-party services. This process is simple and free; it needs only the username to access their profile, photos, and videos.
Hence, the site is entirely anonymous and will let you see what your friends are up to. But there are some restrictions, though; if you wish to share someone's photos, you'll require their permission.
When you have downloaded the pictures, you can move back to your Instagram feed and enjoy the pictures and videos.
How to Remove an Account on Imgsed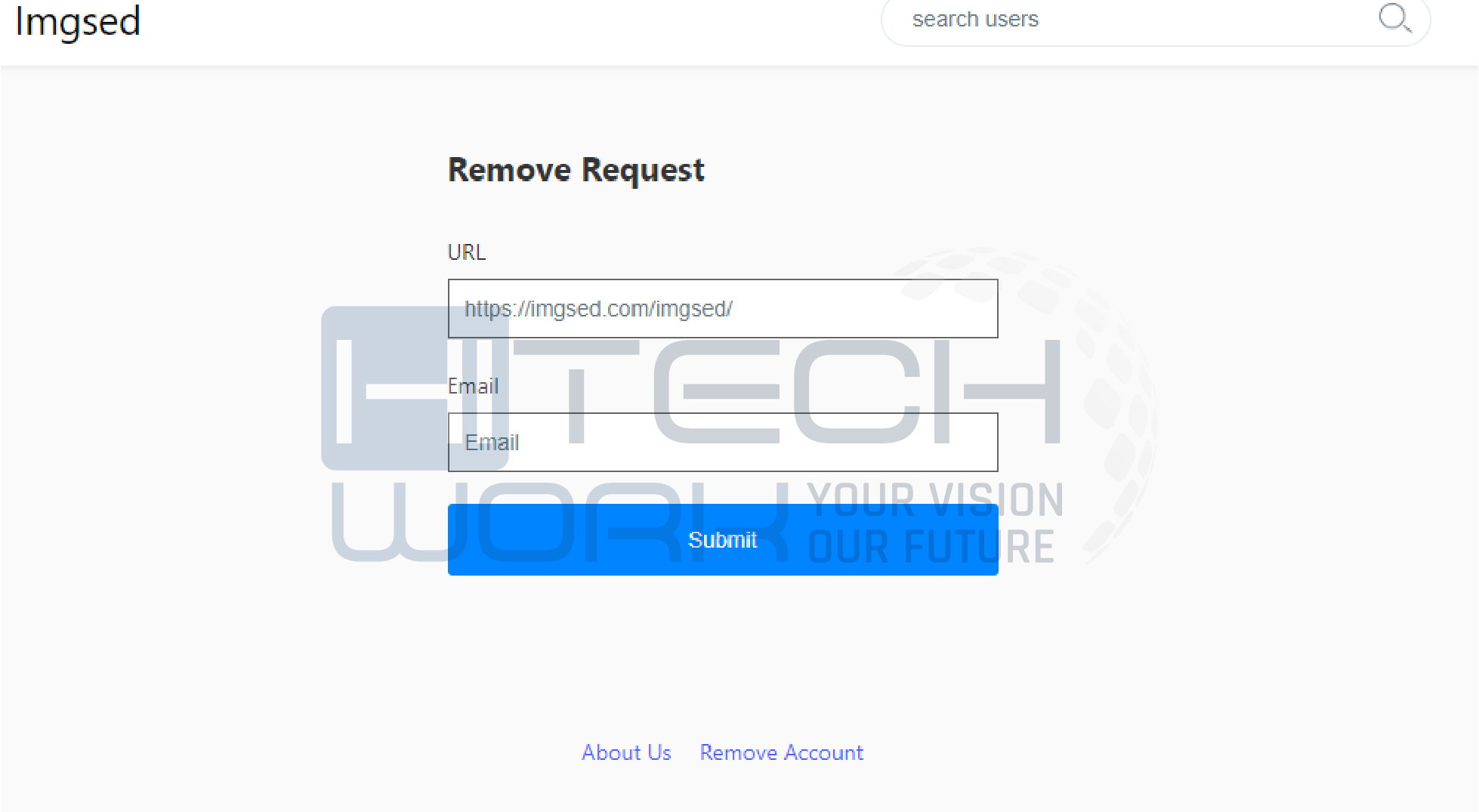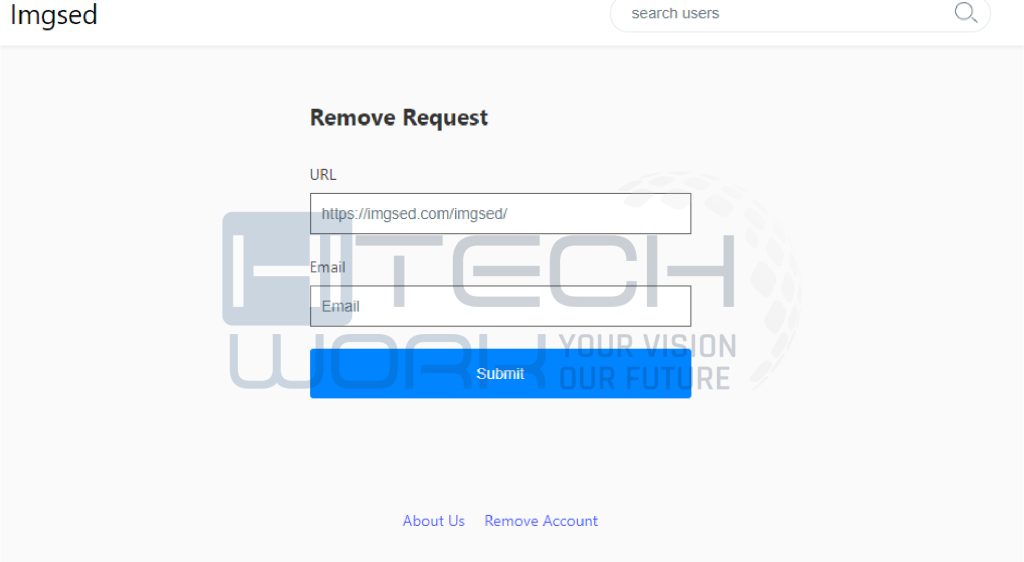 Suppose an insta user is abusing you, or you don't want someone to be on Instagram. This platform also allows you to remove their account from Instagram. To do that, you have to submit your request on Imgsed.
Here are the steps to remove an Instagram account on Imgsed.
Launch the Imgsed application and click on the remove account that you will see at the bottom of the home page.
After that, you will be prompted to the new page; here, add the URL of the user whom you want to remove from Instagram.
Then, add your email address in the email field and then click on the submit option. That's it.
Note: It will take 4 to 5 days to complete the procedure.
Is Imginn Free?
Imgsed provides you with free access to the content present on Instagram. It allows you to access to Instagram story downloader free of charge. When you visit the site, the following are the best points to notice.
There is no restriction on making another account to avail of its services.
You are not required to pay any charges.
Further, you can explore all the features of the Imgsed Instagram viewer free of cost. It also includes downloading stories, pictures, and reels.
Moreover, the app has a free-to-use platform, but unfortunately, the free version has some drawbacks. Users cannot see the identities of the users they are following. If you are curious about accessing Instagram data without being Caught, then this app is a great option. Not just secure but also free to use.
Imgsed Limitations
The first drawback is that it cannot be trusted to view your private Instagram accounts, posts, and stories. It is only designed to view videos, stories, and photos posted by public accounts. We cannot give you the authenticity of your online safety if you use this website. It's a third-party site that uses Instagram's public API for all its features. However, it uses Instagram's public API. We aren't certain if it is safe or not.
Does Imgsed Record All Search Queries?
Once you search for a profile on this platform, it saves all of your queries. It always remembers the accounts. Next time, you only have to enter the first letter, and it will display the related recent queries. It helps you save time and identify the profile you have visited before as an insta viewer.
However, you can delete the record from the Imgsed by clearing your web browser history. You have to delete the search history; next, when you visit the image, there will be no earlier record. So, no one will ever know if you ever saw the profile in the past to view and download content.
Is Imginn (Imgsed) Safe to Use?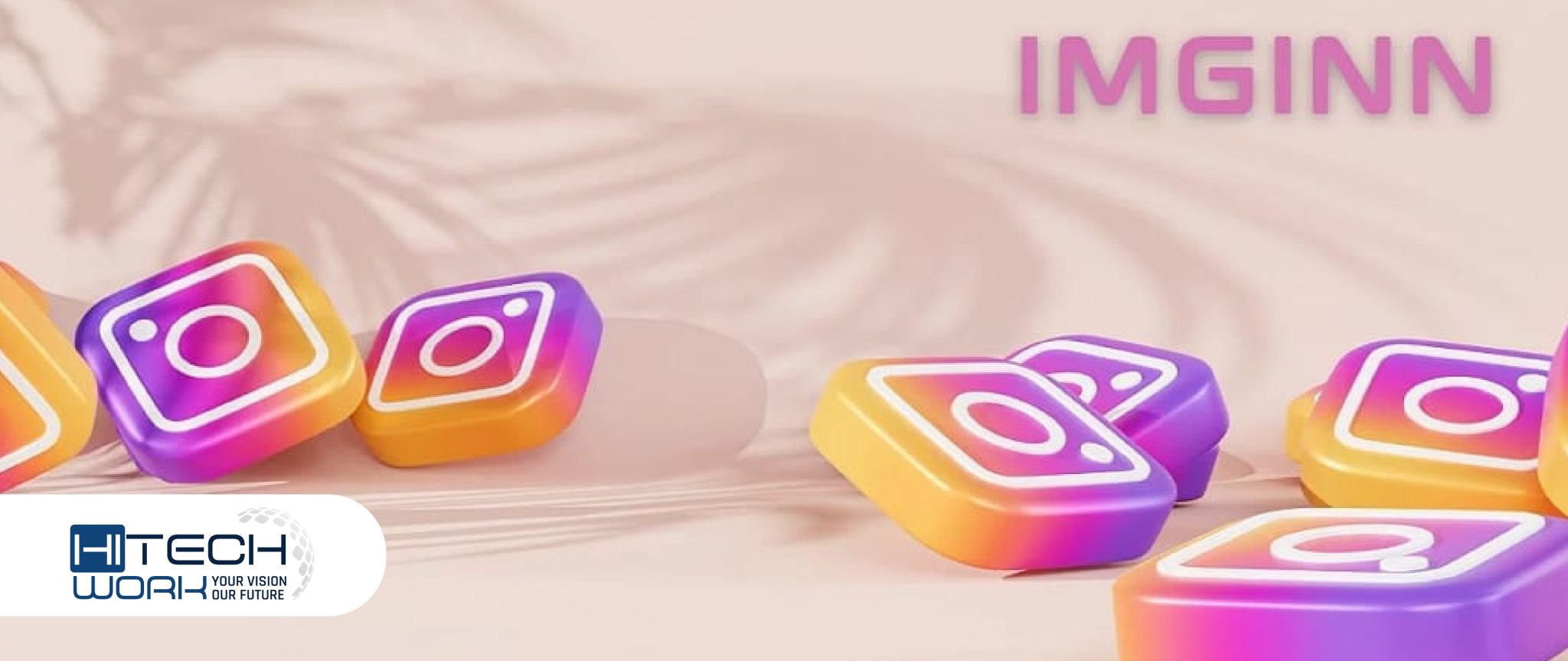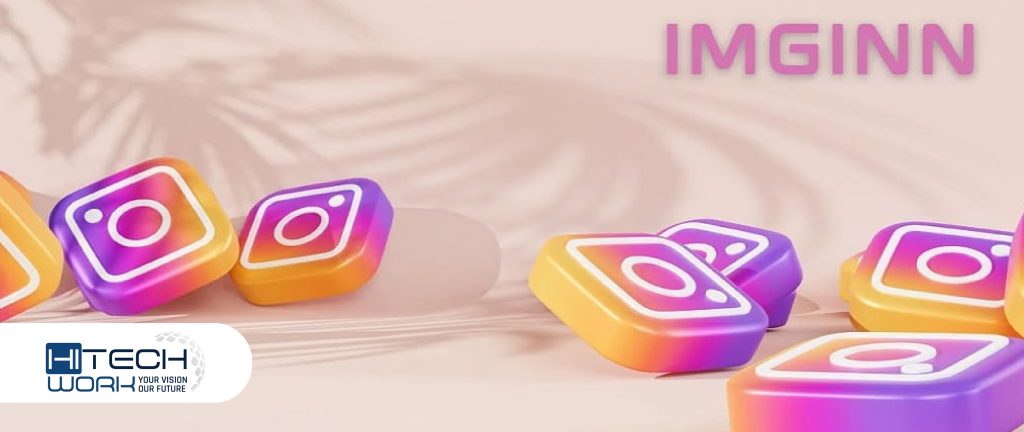 We cannot promise your safety as it functions with third-party websites. So, it cannot guarantee your safety online.
However, It uses Instagram's public API for all its features. But people claim that it is safe because it doesn't need registration and is entirely free to use. As a matter of fact, users don't have to offer their real name or credit card number.
Pros & Cons
| | |
| --- | --- |
| Pros | Cons |
| Fast downloads | Potential security risks |
| You can install anything secretly with this program | No customer support |
| It features an intuitive UI | Third-party ad interference |
| It's free to use, and registration is not needed | Not monitor Private account |
| You can search for anything related to Instagram using the search function on the main menu. | The risk associated with privacy, as the website doesn't have any privacy notes or copyright issues |
| Unlimited storage | ————– |
Top Imginn (Imgsed) Alternatives
Many other third-party apps help to download content from Instagram accounts. So here I will let you know some of the best app alternatives.
QoobStories
Qoobstories is a site that offers its users more features than Imgsed. It also lets you download content from a private account. You can now save and download posts, videos, and stories from the public as well as private accounts.
Dumpor
With Dumpor, users can browse and download real profiles, posts, and reels anonymously without logging in to an account. Users can even view and download the stories that have gone in a day from someone's insta profile. However, the Dumpor just lets you see the public stories, including followers' posts, stories, reels, and highlights, without alerting them.
Glassgram
This app provides access to unseen IG stories of target accounts. One of its noteworthy features is that it even provides GPS information for your respective account. The app is free to download and offers a free trial as well.
Storistalker: Imginn Alternative
StoriStalker is another alternative if you don't want to use Imgsed. This app lets you see stories without keeping track of your activity left behind. It helps you to protect privacy as the app does not store or share any info about its users or their activities in the app.
However, there are certain modifications if you want to access all its amazing features. But unlike Imgsed, you need to make an account on this app.
Instalkr
It is another tool that users can use as an alternative to Imgsed. It lets users anonymously access public accounts, videos, stories, and reels. You can benefit from all its features without paying any charges to the site.
AnonStories
Another prominent alternative to Imgsed is AnonStories: Anon Instagram Story Viewer, which lets its users view Instagram stories without opening their Instagram accounts. The app has a user-friendly interface that makes it easy for users to access this tool. Moreover, the app allows users complete anonymity and lets them not worry about being caught when seeing someone else stories.
FAQs
Is it possible to View Instagram without an account?
If you do not have an account but wish to find a person's profile, you must enter the Instagram website's URL and the account's username into your browser. For Instance, if you enter "www.Instagram.com/ [Person's username]. After that, you will be able to see the photo feed for that account.
Does Imginn (Imgsed) is capable of hacking data?
Not sure, but it is possible to be hacked depending on how you use the site. Moreover, the site has a low security score as we tested the app.
Do Imgsed Download Instagram stories from private accounts?
There are some restrictions to using this app. You cannot access an account with private settings. People will likely make their profiles private to save their images from outsiders on social media. As the users only let their trusted followers see their content. The site only allows access to the content that people post publicly.
How can I use Imgsed safely?
We advise you to use a VPN since it is common with any site that poses a risk to your security. Try to use a renowned and reputable VPN because you will benefit from the most premium services they offer in addition to safely browsing on Imgsed.
Wrapping Up
If you desire to browse other people's Instagram accounts without being noticed, then Imgsed is a great choice. You can use this app to view or download other users' profile content. You can avail of all its features, apart from a few limitations mentioned above.
So anyone who uses insta as a marketing tool needs to use Imginn (Imgsed). You can customize each campaign and deliver engaging content to your followers by having access to real-time customer data. Hence, it lets you download all your customer's tales into one side. Also, it lets you concentrate on expanding your company rather than playing catch-up on social media and offers all of its amazing features for free.
Editor's Recommendation