Are you looking for project tracking software? This blog will give you an overview of the top project management software to help you determine problems. These tools are used for examining the project, and You can use the project tracker tool to evaluate the actual & standard performance of the team. Nowadays, adopting new techniques and applying new tools and technologies would be good, as it has become the need of the hour. Software for tracking projects allows you to track productivity where you stand on the various aspects of a project based on data collected in real time. It helps with the planning and organization of your project while helping you complete a successful project. You'll likely get an accurate and reliable solution.
Using Project Management Software can be helpful in monitoring project progress. We'll let you know the top project management tools with time tracking. You can learn how to track your projects for free with Project Tracker. Let's get started
You can further check: A powerful Salesforce project management tool
About Project Tracking Tools
Project tracking tools offer managers & teams a suite of features for planning, organizing, execution and control to contrast actual project metrics, like schedules, costs, and staff to estimate during the planning phase. Managers then use this data to report to stakeholders on the project's success.
However, these tools are designed to boost efficiency by automating the data-capture process and are more high-level in organizing everything in one place. On the other hand, project tracking systems help managers monitor overall progress from total work completed and hours logged to budget expenditures.
Check our Sales tracking tool Guide.
Key Features
For a project, you require something that assists you in monitoring and planning project progress on each of your priorities separately. With the proper tool, you can monitor ongoing performance against key targets, making project success far more likely while making sure that nothing slips unnoticed.
Project Planning-the primary feature of any project tracking tool is the project planning feature. This is the phase where you have to check out what needs to be done. This feature lets you set project goals, objectives, and milestones by outlining key tasks and due dates.
Task Management- this feature lets the project team break up the work into manageable pieces and assign tasks to different members of the team, usually within a deadline, so every individual is clear about who's responsible and when.
Resource Management– it clarifies the manager and team working on when what, and how long. It means that you have arranged the right people and resources on your teams at the right time to expedite your project.
Track Time & Budget – it allows the team to monitor cost and time spent on the project and can divide into task or sub-task time tracking. This ensures everyone is accountable for their hours and lets project managers effectively lead the budget.
Project Dashboards- allow you to envision every project task's progress. When you are behind using the time and task tracking feature with monitoring tools, it will start reporting how much time your team is spending on a project.
Documents & Project Files- project management tool offers the feature to share docs, images, files, and spreadsheets as well as organize them all in folders, so they are simple to find.
List of Top Project Tracking Software For Marketing Teams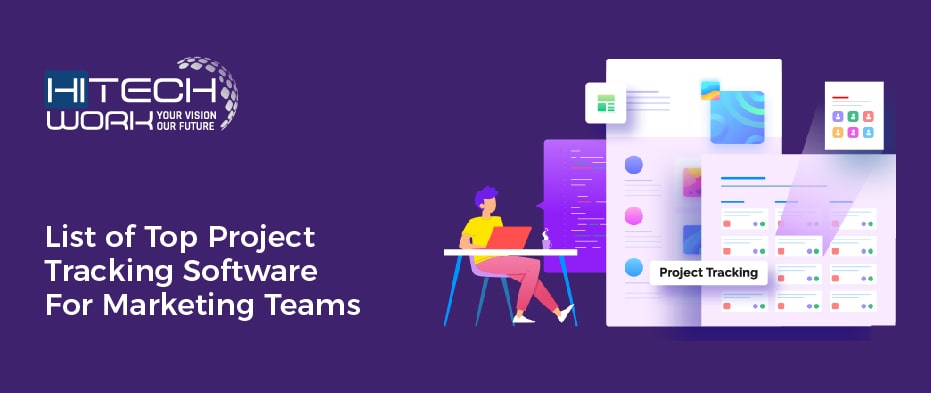 The project management tracking tool is a useful monitoring tool that lets you improve management efficiency and productivity in your organization. Hence, these tools save lots of time as well as money. For your convenience, I have created a list of project tracking tools to help you organize and manage the project.
1.      Wrike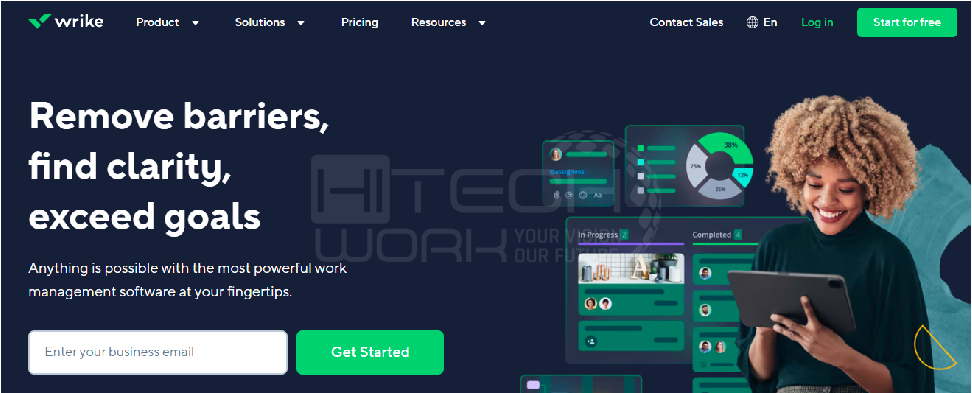 Wrike is the most recommended free project tracking software for managing teams and workflows. It is a cloud-based project management tool best for creative, marketing, and service delivery terms to run customized projects. Wrike grants internal and external collaborators to ensure project deliveries and requirements. Also, help you customize workflow and reduce the need for a meeting, status updates, emails, and more.
Moreover, it plans, organizes, executes, and generates project reports using custom request forms, Gantt charts, Kanban boards, time-tracking, actual-time updating, and performance details in one place. Hence, it provides 400+ pre-built native integrations.
Pricing- Basic Plan Free, Professional plan starts at$9.8/ month, with a 14-day trial.
Key Features
AI work intelligence
Advance Business intelligence reporting
Automation features save time in monitoring projects.
Live activity streaming
Internal & external collaboration
2.      Trello
Trello comes with features that make it easy and handy to manage tricky projects. You can use the tool to monitor the tasks of projects as they grow. It also increases multiple productivity metrics to track the performance of the team. You may also use secure and fast VPN to protect your projects crucial information.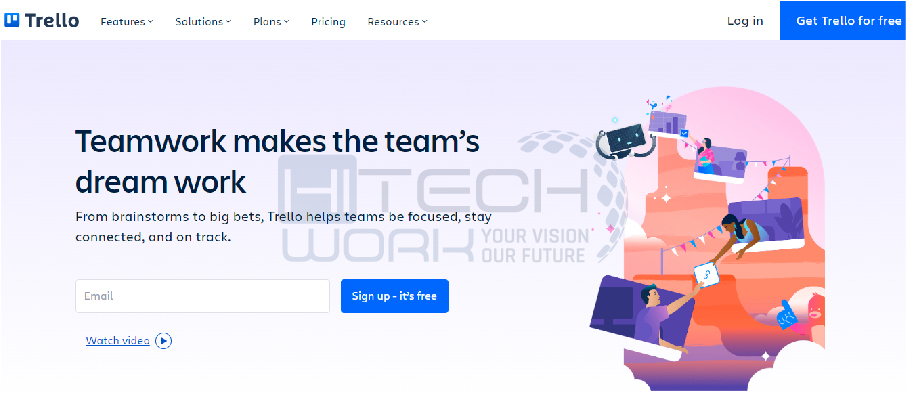 However, Trello is a hub of cross-team integrations no matter where your work needs to happen. Usually, best from marketing and sales to HR functions. Hence, Teams can use Trello to fit their special needs and work styles.
Pricing- Free plan, and the paid plan starts at $5/month per user.
Key features
Productivity metrics allow you to check project performance.
Generate tasks lists on the Trello board
Built-in AI automation
3.      Teamwork
Teamwork is an intuitive project tracking software that allows your team focuses on the work that matters. You can use the software for managing teams, clients, and projects from one place. The client management feature is special and allows you to collaborate closely with your clients.
Hence, Teamwork has everything you require to get high-performance outcomes, collaborate, and hit deadlines. Using features like filters, workload, board view, and time tracking will make your work easier and allow your team to execute, plan, collaborate on, and deliver work. Though, it is the all-in-one solution for delivering projects with advanced features.
Pricing- The basic plan is free, and the paid plan starts at $12.50 /month per user. In addition, you can also test the tool for 30-days free. It also offers a free-forever plan for up to 5 users. Contact teamwork directly for packages.
Key Features
Time tracking, invoicing, and billing features.
Pre-built templates.
Real-time collaboration.
Collaboration with 2000+ tools.
4.      Monday.com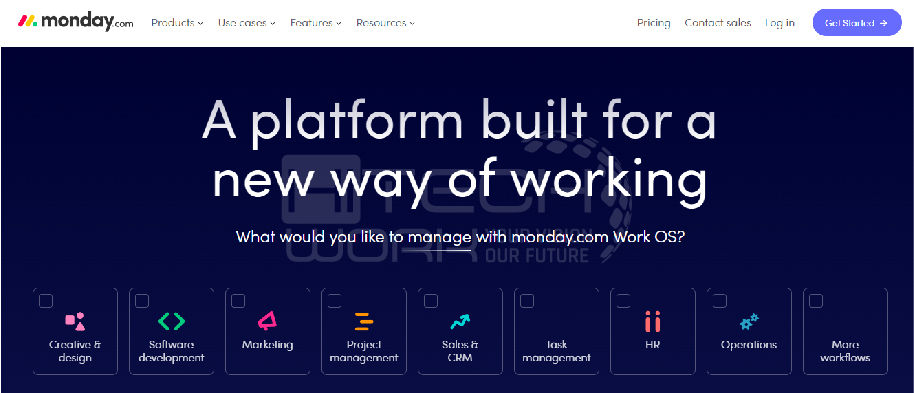 Monday is the most flexible and top-rated project management tool for tracking projects, marketing, and workflows. It tracks projects and functions like marketing, HR, CRM, IT, and others. Monday.com collaborates with lots of famous tools, resulting in a seamless project tracking experience.
This software allows project managers to modify their workplace to perfection, whether they start from scratch or use flexible templates. And when you set up the solution, you can maintain tasks, create goals, track projects and assess employee workload. Also, it allows managers to apply for effective work, helping their team members see which work they should work on at a glance.
Pricing– Monday offers a free plan for the individual user. Whereas the basic plan starts at $8/ month and the standard plan is just $10/ month.
Key features
Run and track projects from a single workplace.
Collaborate with 25+ apps.
Recurring tasks.
Envision works with calendars, timelines, Gantt charts, Kanban, maps, and more.
5.      ProofHub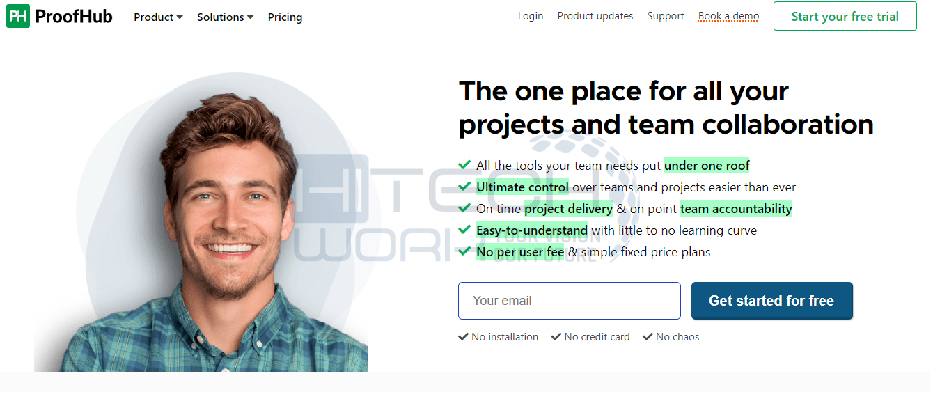 The proofhub is the best project tracking software that has made everything smarter, faster, and simpler. With proofhub, you can better control your tasks and communication to save time. As it is amazing for managing project-related documentation. And its file sharing feature helps you in organizing documents. Hence, it is amazing software with powerful collaboration features, and its easy-to-use interface makes it the handiest tool.
Moreover, you receive automatic timers which start recording your bills as quickly as you start work. With proofhub, you can also create manual entries, and the time data get stored in sheets you can later use for invoicing purposes. You can also get advanced features such as file sharing, group chat, online proofing, Kanban sheets, custom workflows, and more.
Pricing– Essential package starts at $50/ month and $45/ month if billed annually. You can also get a 14-day free trial. The ultimate plan offers infinite users and projects at $89 per month, billed annually.
Key Features
Time-tracking & real-time collaboration features.
Cloud-based solution for teams in large industries.
Advance project management features
Activity logs & data transport API.
Custom reports and workplaces.
6.      Basecamp
Basecamp is the project management software you must use if you have huge teams. It has basic features such as collaborative chats, huge file storage, and scheduling of tasks. This tracking software is best for running unlimited projects at affordable pricing.
Hence, it merges all the features teams need together in a single place, like to-do lists, documents, charts, file storage, message boards, calendars to arrange meetings, and
more. Hence, it is the perfect software to track each other's work and manages projects & team at a reasonable price.
Pricing- Basecamp has a plan which is $11/ month per user with a free trial.
Key Features
Team projects
Huge data storage
Unlimited users can use the tool.
Real-time chat
7.      Asana
It is one of the best SaaS project management apps that allows you to view every single detail of a project within an organization and let you assign tasks & collaborate with the team. Although, it's good for all-size businesses & flexible enough to adjust to you.

On the other hand, It gives a lot of productivity and collaboration while the many core project management functionalities are held through integration which may not be inspiring for all users. However, some people think that the Asana interface is simple and the system is too hard, but it has powerful task management and collaboration features. It is instinctive with various task displays, forms, and support custom fields.
It helps teams in running all kinds of tasks. Asana's vast features and flexibility give a remarkable experience that lets you see where your work stands, how activities are going on, and how to plan everything.
Pricing- Basic free and premium plans start at $9.99/ month.
Key Features
Best for mid-size and large enterprises for managing difficult projects.
Offers lots of project monitoring and scheduling features.
Make detailed progress reports.
A Gantt-style view about how projects fit collectively.
8.      Kissflow

This is the all-in-one tracking solution tool for project management. It is an ideal software option for functional project executives and people who are new to the project board. Hence, it checks all the boxes with a broad suite of project management features. A simple and aesthetic graphical user interface makes this tool solution for the entire project.
But the only drawback of this tool is the lack of integration with famous apps. Hence, the app is not suitable for managing tricky tasks.
Pricing- Kissflow offers 3 Pricing plans; the small business plan starts at $18/ month per user, while the corporate plan will cost you $20/ month per user.
Key Features
Drive in-depth data and create custom reports.
Customizable project management templates.
Numerous ways to visualize projects, such as matrix views, lists, and Kanban charts.
Ability to set a deadline & automatic reminders.
Conclusion
You have to consider your organization's needs carefully while choosing the project management software. Then choose the best one for your project requirements. Project management is intended to assist you with every detail of your project status in order to make better budgeting, resource allocation, and timeline decisions.
I have compiled a list of project tracking software [Free+Piad]; you can consider paid plans if you want more advanced features. If you have ever tried any project tracking software, then let us know which is your go-to project tracking tool. I hope the above list serves the purpose.