If you are running an online business, there is no question of whether you will need a Best VPN. VPN stands for Virtual Private Network. It's specially designed for the security and privacy needs of your organization. Best VPNs provide an impenetrable tunnel between your organization systems and your employees. End to end encryption prevents undesirable access into the organization's network. And – keep in mind that secure connections that VPN apps can provide you with are a crucial part of your company's digital transformation process.
If your business doesn't use a VPN, then your business data is exposed to different security threats. It is more important to protect your business using VPN nowadays, than it has been ever before. A VPN software protects your business data against cybercrime, malware, and privacy breaches. A VPN makes working effective because you are not obligated to have employees in your local area. They can work remotely on the other part of the country, and still access all of your systems. As if they were in the main office.
Differences to keep in mind between a VPN for personal use and a VPN for business use
The difference between those two is basically, that a business VPN protects the whole company, not just an individual computer.
Server reliability – compared to personal use of a VPN, that connects a lot of users to the same server, businesses use a dedicated This increases speeds and reliability. A dedicated IP address helps companies with multiple offices and remote employees. Employees can get to the company's private system safely, while they work remotely. They can be anywhere in the world and still access all the necessary information.
Multiple devices – allows all employees to connect at the same time.
Administration – controls the user's connection and settings through all companies. Employees use one universal account with the account manager being in the
Scalability – Scale up and down to support the company's growth.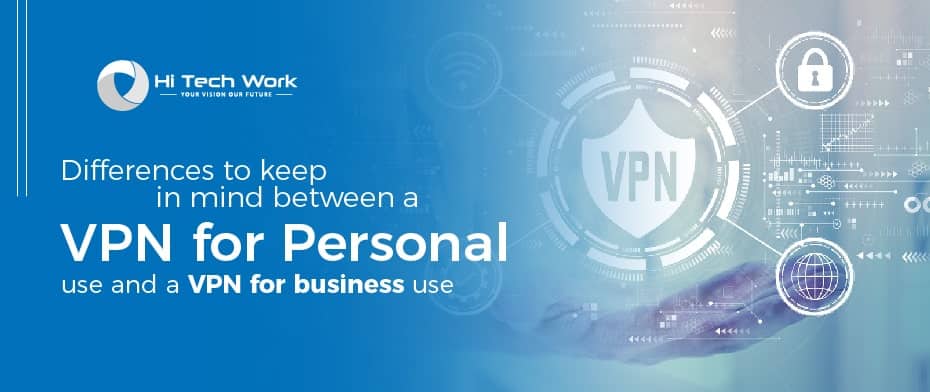 The reason you need a VPN
Businesses use VPNs for two reasons. First, to secure their Internet connections, and two, to connect to a company server where employees can access files and company resources. At any time. From anywhere.
Everyone from small to big businesses, private users, benefit from using VPN services. VPN secures data and protects against any theft. Without a VPN in place, everything you send over the internet is not protected. Hackers can see everything you send and trail your IP address. This can affect you directly if data is confidential, or indirectly to compromise your servers or devices.
If you are using a VPN app,  your internet communication is secured because of a VPN server request and connects instead of you. All your data is encrypted, and that ensures that no one else can read your information.
There are a few disadvantages to using a VPN. It can slow down your browsing speed. This happens because a VPN needs an extra step to encrypt your data and transmit it to additional servers.
Types of business VPN services
There are three types of VPNs that you can choose for your business:
This type of VPN is usually provided by network providers. It connects a branch office to the main office, so it can be a part of the corporate network. Many companies use fixed VPNs, but they are not especially flexible.
The second type of VPN needs a specialized server (or router) with VPN built in it.
The third option is the VPN service. VPNs are cloud-based and provide a secure tunnel through the internet between your device and their server.
The main focus on choosing VPNs for your business should be the way you'll use it. Business VPNs have to provide secure access to the company's resources by employees or business partners. Protect your sensitive online data while out of the office, and to avoid data collection by ISP. It should be easy to use, secure, and fast.
Three main categories of VPNs:
Remote access-connects users to a secure remote server in order to access a private network. The added encryption ensures privacy. The main benefit of remote access VPN, are easy setups. Remote Access VPN is useful for business users as well as home users.
A corporate employee, while traveling, uses a Best VPN to connect to the private network of the company. This way they access files and resources without making any mistakes that can disrupt your business flow.
Intranet-based site-to-site-providing multiple users in different fixed locations, with the possibility to access each other resources. In short words, you can easily share information between employees in different locations.
When different offices of the same company are in different geographical locations, they use a site-to-site connection. The communication between two routers starts only after authentication.
Extranet-based site to site-  Large scale businesses where secure communication is crucial. These are not easy to set up, and they require specialized equipment.
There are some features that can help you to select the most reliable VPN for your business
There are plenty of reasons why you need a VPN. The challenge is to research, investigate, and compare features from different providers. Which one is right for you can range from a budget pick with simple functions, to an advanced feature-rich app. To know which VPN is perfect for you, you will need to consider your needs and expectations. Still, there are some features to keep in mind while choosing the best business VPN.
Logging – avoid logging, so that no one can intrude on your operations. For the best security and speed, choose a VPN that has military-grade encryption, fast connection, and unlimited bandwidth. Opt for a strict no-logs policy.
Central management – key management that your company needs.
Activity management – control your employee's activity.
Tracking – some VPNs use your personal data. Investigate your provider's privacy policy.
Support – all the tech support that your company needs. It is important that you can contact someone who will help you with whatever problem you encounter.
Nowadays a VPN is necessary for your business!
To have a secure business requires constant vigilance. Hackers, corporate spies are finding new ways around security protocols. All businesses, big or small need a VPN, for security, remote access to company data, or cost-effectiveness.