Exploring to know how to use the google duo desktop feature for the web? In remote working and video conferencing, it is essential to have a platform that is accessible on both the web and mobile.
Google Duo is one of Google's software for audio and video calling that can be used on your phone and laptop. The Duo is relatively easy to use and supports group video calling with up to four participants.
Method to Use Google Duo Desktop Feature for Web 
First, open the Google Duo web version in your preferred desktop browser by visiting this link. Hit the Try Duo for web button in the top right-hand corner of your screen.
Note: If you are not signed in, Google will now demand you to sign in using a Google ID. When you are signed in, enter the next step.
If a number is linked with your Google Duo account, it'll automatically be picked up, and your contact list file will show up on your screen. You will then be asked to grant the website permission to send you notifications and permission to use your camera and microphone—Grant the necessary licenses to start using Google Duo.
Next, you will enter the home screen of Google Duo's web version. Click the Allow button on the top.
Hit the Allow button in the pop-up in the top left corner of the screen.
All your contacts will be loaded.
Hit the contact or number you want to place a video or voice call to
Hit the Voice call button to initiate a voice call. Else, hit the Video call button to place a video call.
Alternatively, you could hit on the blue button on the left-hand side — Start a Call.
Then add a number/email to start a call.
How to Make a Group Call on Duo?
Google Duo gladly allows you to connect to up to 31 people over a group call. And doing it doesn't need you to move mountains, as well.
To hold a group call, first head over to duo.google.com and hit on Try Duo for Web.
Now, on the left-hand panel, hit on Create Group.
Here, Duo will automatically make a link that you can share with your friends. Alternatively, you add up to 31 people from your contacts by hitting on the Add People button.
Finally, hit on Start to commence a group video call.
How to Use Google Duo Android App on PC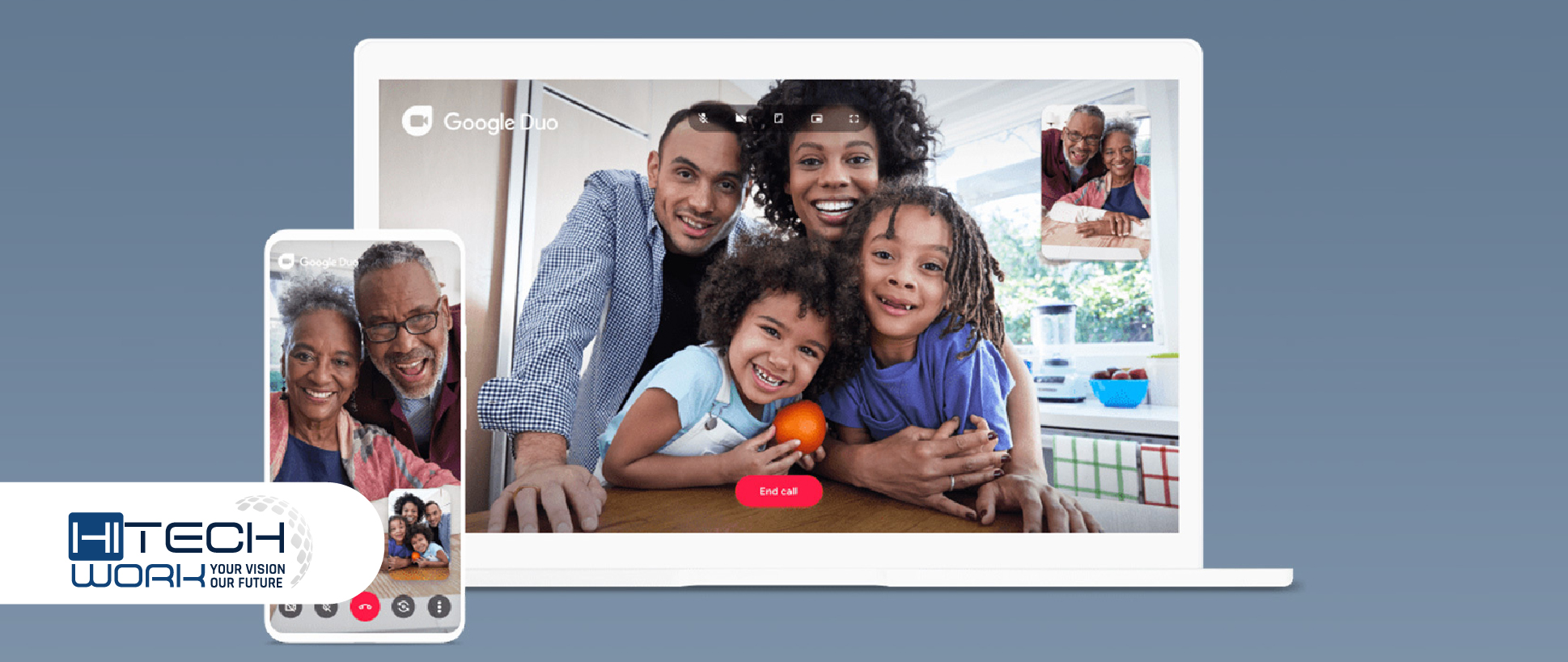 In this method, we utilize the Google Duo Android app on your PC, using an app player software called NOx.
First, Download and install both software on your Windows computer:
NOx app player software
Google Duo APK on your PC
Now, open/Run NOx App Player on your PC. When it's fully loaded, hit the Settings button in the window control bar (near Window close, maximize, and close button). Then, from NOx settings, allow Root access and let the program restart.
Once NOx restarts, add your Google account as you continue it on an Android device. Go to Settings > Accounts > Add account. Then, drag and release the Google Duo APK you downloaded in Step 1 to the NOx App Player window.
You'll see a pop-up window; prefer the Open APK folder option to open the APK file in a file manager on NOx. Click on the Google Duo APK file from the file manager window, scroll to the bottom, and hit the Install button to install Google Duo on NOx App Player.
Once Google Duo is installed, select open to open the Google Duo App on your PC. Setup Google Duo app by verifying your number. Use the on-screen keys to input your number, and else the Next button may not work. Also, keep your mobile number close as you'll receive a verification code by either SMS or by a call. If verification fails to reach you by SMS, hit on CALL ME.
Note: One phone number can only operate one instance of Google Duo. So if you've previously set up Google Duo on your Android device, make sure to use the different mobile number to set up Google Duo on PC. Otherwise, Google Duo will be unregistered on your Android device.
After Google Duo is set up, click on the video call button and choose the contact you want to make a video call.
Note: You can only do video calls to numbers saved in your Contacts. This is why we recommended you add a Google account in Step 5 above so that you'll have contacts from your phone synced over to your PC.
FAQ's
Q: Can Google duo be used on a PC?
A: Google Duo video chat app executes the jump from mobile to the web. Previously only available on iOS, Android, and Chromebooks, it is now available for all to enjoy on the net from any PC or Mac. To access Google Duo on the web, visit duo.google.com from any system.
Q: How do I install Google duo on my system?
A: Step 1: Open Duo. On your computer, open duo.google.com. Step 2: Verify your phone number (optional) importantly: If you skip this step and you don't confirm your phone number, you can only receive calls from people who you've previously called. Learn more about verified numbers. Enter your phone number.
Q: Can I use Google duo without a contact number?
A: Google has now done it possible to do Duo calls on the web without requiring you to link your contact number. You can only reach them if they appear within your recent or notifications list if you've called them recently.
Q: Does Google duo show up on phone bill?
A: Duo calls do not show up on your phone bill, but you shouldn't keep secrets from your parents. If you call a group or a person enough times, then Duo will demand to create a shortcut on your phone for your "frequent caller" group or person. Also, Duo is compatible with VoIP numbers.
Editor's Recommendation