Are you considering using Paraphraser.io for writing but are unsure if it would be the ideal choice for your needs? You've come to the right place. With more than 1 million users, this well-known AI writing tool has significantly impacted the market.
And for valid reasons…
Paraphraser.io is a fantastic tool for inspiring creative writing with its flexible features and forever-free plan. This Paraphraser.io review will closely examine the software and highlight the features, services, and other areas that can make or break your final decision.
Let's get moving!
Related: Paraphrasingtool.ai Review
What is Paraphraser.io?
Paraphraser.io is an online tool that uses advanced natural language processing.
(NLP) techniques to analyze the text and then with the help of GPT-3, automatically provide paraphrased versions of the given text. This freemium tool is designed to help writers, students, and professionals who need help rephrasing their content to avoid plagiarism, improve readability, or communicate their ideas more effectively.

Paraphraser.io is user-friendly and accessible, with a simple interface that allows users to easily input their text and select the level of paraphrasing they require. This tool is free to use with some limitations (we are going to discuss this in the upcoming heading).
So, this was the quick overview of this rephrasing tool, but it's not enough for what you're looking for, right? So, let's check out this tool a little bit more.
Paraphraser.io: Key Features
Here are some features that make this tool the smartest one.If you want to read more Hitech content: Try to understand related read What Is Paraphrasing?
1. Free to Access
As we have already mentioned above that Paraphraser.io is a freemium tool, which means you can also use this tool for free, but with some limitations. You will only be allowed to paraphrase 600 words each time, and some of its modes aren't accessible in the free version.
2. Multiple Paraphrasing Modes
One of the most useful features of this tool is it provides six different rephrasing modes, three of which are available for free, and the other three will be accessible after purchasing its premium plan.
Here is how each of its modes works.
Fluency: This mode is designed to ensure that the text is readable and free of errors (results are shown below).

Standard: This mode only makes some basic changes in the text such as swapping synonyms (results are shown below).

Word Changer: This mode is newly developed in this tool, which works similar to mode Standard, but it changes more words in the text (results are shown below).

Creative: This mode tries to enhances the text's creativity and engagement by replacing words with their associated synonyms and altering sentence structures (results are shown below).

Smarter: In comparison to the other modes, the Smarter mode make very smart and extensive changes in the text. It changes words in the text and alters the sentence structure to drastically reform the input (results are shown below).

Shorten: As a side note, this mode paraphrases but also make text short and concise (results are shown below).

3. Uploading & Downloading Options
This tool provides several options for uploading. You can copy/paste the text or can upload the file from your system storage.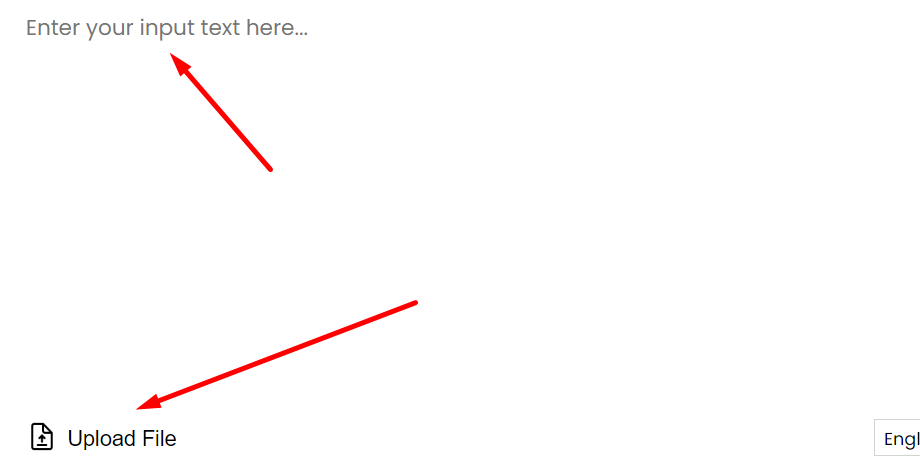 Likewise, you can also download or export the rephrased text in the form of a .doc file or copy the output to the clipboard.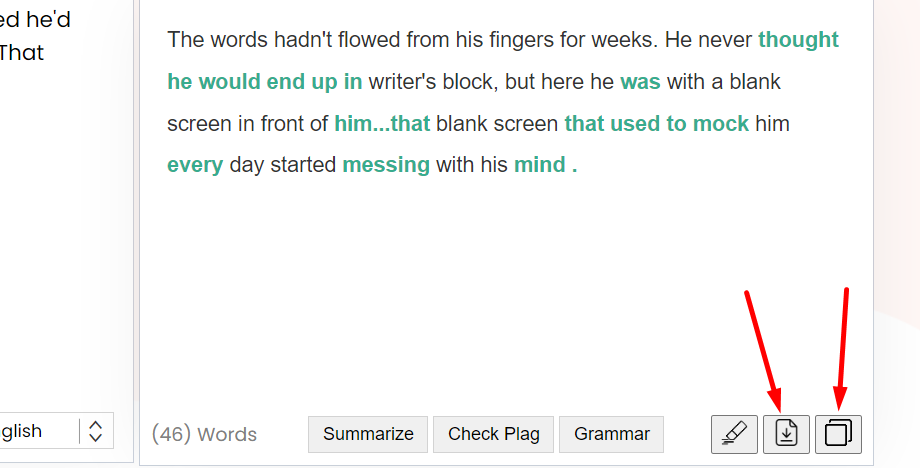 Keep one thing in mind, you can upload the file in .doc, .pdf, .txt, or .docx format, but you will only be able to download the file in .doc format.
4. Provide Suggestions
Another exclusive feature of this tool, which makes it the smartest one among all other tools, is it provides suggestions in the output text. It means you can change or replace any word in the text with its suggested synonyms. The use of this feature is shown below.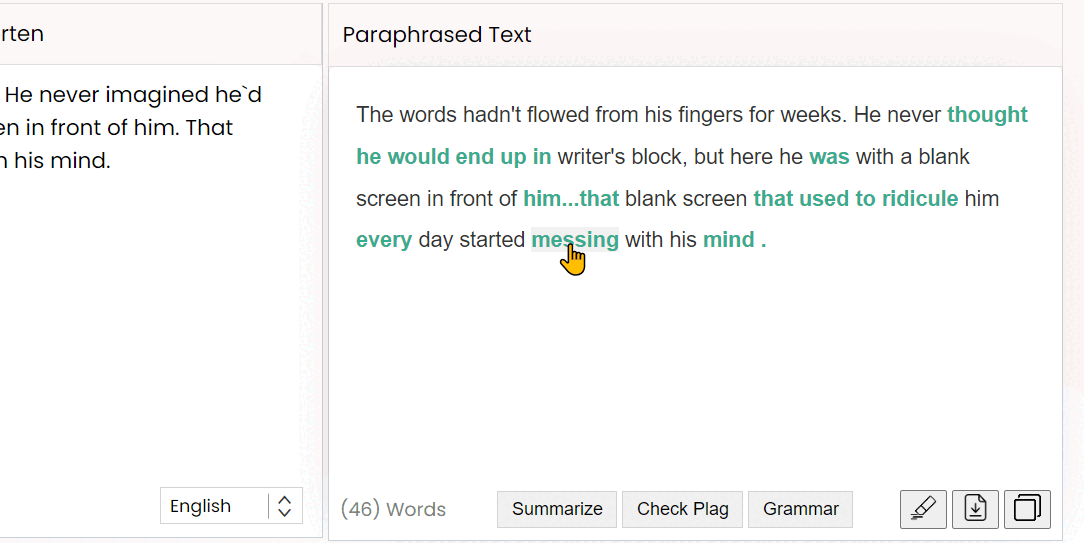 5. Multilingual Supported
This tool is available in more than 22 different supported languages, which means users all over the world can use this tool.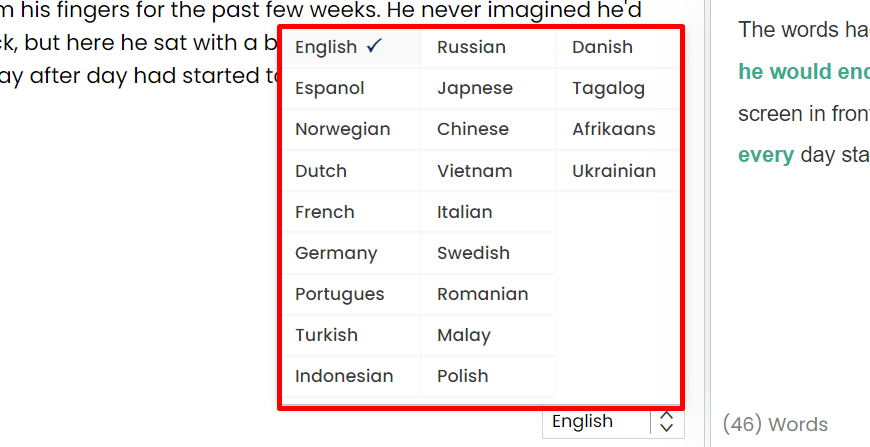 6. Availability
Paraphraser.io is also available as a mobile application for both mobile (iOS & Android) and desktop (MacBook & Windows) applications. This tool also provides its WordPress plugin with which you can easily rephrase your content in WordPress.

7. Grammatically Correct Output
Another reason why Paraphraser.io is the smartest tool for paraphrasing is it provides grammatically correct output results. However, some tools only work to rewrite the text without knowing that it's grammatically incorrect. But as previously mentioned, the algorithms of this tool are developed by using advanced AI, which helps this tool to analyze the text and correct grammar and spelling mistakes.

As you can see, the tool not only paraphrases the text but also correct the grammatical mistakes on its own.
Other Tools Integration
Another exclusive feature of this paraphraser is it provides integration of other tools, which means you can simply use other tools with a single click if you want to. It provides integration of plagiarism checking and summarizing tools.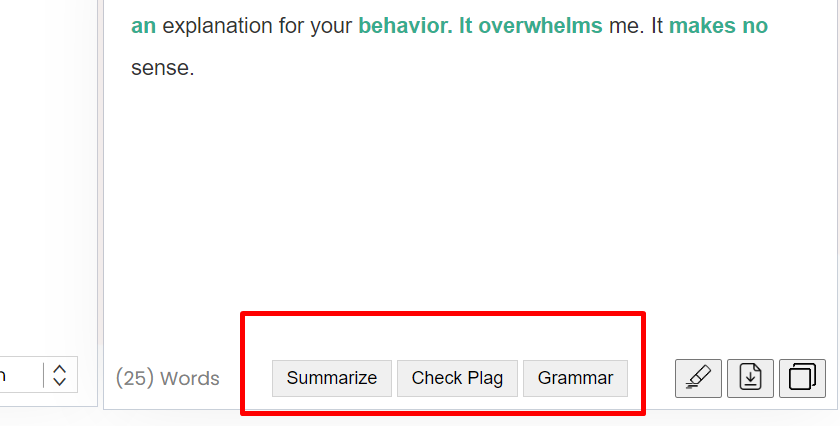 What We Like About Paraphraser.io (Pros)
Here is what we like most about this tool.
User-friendly interface
No sign-up required
6 rephrasing modes
Available for mobile and desktop
Give accurate and human-like results
The speed of paraphrasing the text is very fast
Very cheap and affordable pricing plans (we will talk about next)
24/7 live chat support is available
What We Don't Like About Paraphraser.io (Cons)
Here is the reason why we sometimes don't like this tool.
Too many ads on the tool's screen
Always requires captcha
Sometimes it gives inaccurate results
Paraphraser.io: Pricing Plan
As we have previously mentioned, Paraphraser.io is a freemium tool that also has a premium version, which comes in several different plans, according to your user's needs and budget.
Week: $7/weekly
Monthly: $20/monthly
Yearly: $12.5/monthly (on installments), $150 billed yearly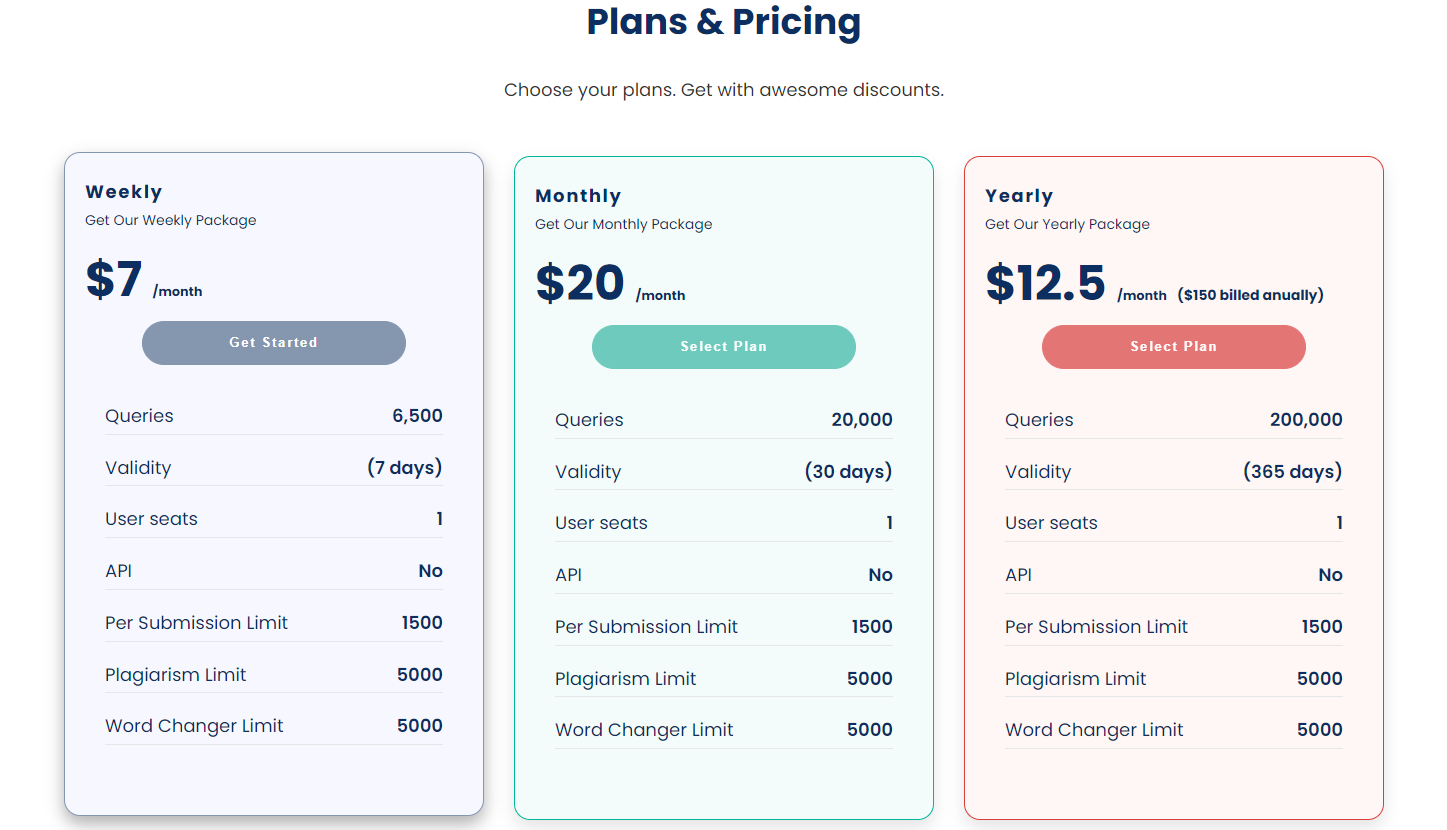 So… Is it the Smartest Tool for Paraphrasing?
We have reviewed Paraphraser.io, and in our opinion, this is one of the best tools for paraphrasing available online. As you can see, this tool can also use for free. Also, this paraphrasing tool provides six different rephrasing modes, and the output of results of each mode is… surprising.
The technology behind this tool not only rephrases the text but also corrects grammar and spelling errors in the text, which makes it a very useful, effective, and helpful paraphraser. Along with this, you can also replace the highlighted words in the output results so that you can make them engaging and unique.
So, according to our experience of using this tool, it's really the smartest tool for paraphrasing.
End Line
In this article, we have reviewed a well-known rephrasing tool called Paraphraser.io. We have checked everything about this tool, including how this tool works, its features, paraphrasing modes, their output results, and last, we have talked about its pricing plan.
We hope this review will help you to get the answer to what you were really looking for.
Editor's Recommendations