What are the steps to install Peacock TV on FireStick? This guide will work on all Amazon Fire TV devices, including FireStick 4K, FireStickLite, and FireTV Cube.
NBCUniversal's Peacock TV is an over-the-top streaming service based in the United States. It offers all the original content from NBC as well as tons of syndicated content. In addition, you can watch a lot of movies and shows on-demand. Additionally, you can stream live television.
You can watch Peacock TV on your FireStick or other devices, including Xbox One, Roku, Android TV, Apple TV, and more, at an affordable price.
Peacock TV has over 22 million subscribers in the United States as of October 29, 2020. For your FireStick, Peacock TV is a great streaming option. As such, we have also included it on our list of the Best Apps for FireStick.
Get a Peacock TV subscription
Firstly, you'll need to register online. Set up a Peacock TV account by visiting the website. You'll want to choose what makes sense for you from the options starting at free (really!) and going up from there. I don't have a computer or phone? You can also sign up for a subscription through your Fire TV or Fire TV Stick later – we'll get to that later.
Amazon Fire TV and Firestick compatibility for Peacock
You can find and download the Peacock app on a Fire TV in two different ways, depending on what kind of remote you have.
Using 'Find'. You can start by searching for Peacock using the "Find" menu.
Go to the home page of your Amazon Fire TV by turning it on.
Choose Find from the toolbar near the top, then scroll down and choose Search.
Search for "Peacock" and you'll probably see it on the list of recommended searches.
Select Peacock TV from the Apps & Games header and then click Get.
Fire TV Stick users can add Peacock TV to their homepage
To ensure that Peacock TV appears on your Fire TV device's homepage, simply use the app often. When you're at your Fire TV home page, it will typically show you the apps you use most frequently. If, however, you want Peacock TV to always be on your FireStick home page, regardless of how often you use it, you can add it to your home page by clicking the button to the right of the settings gear on the main menu: The button has three squares and a plus sign and instructs users to "You can view all of your apps and channels by pressing Select".
Choose that button, toggle to Peacock TV, press the three-lined button on your controller, and click "Move to front" or simply "Move," which allows you to move the app to the place you'd like it to sit on the homepage.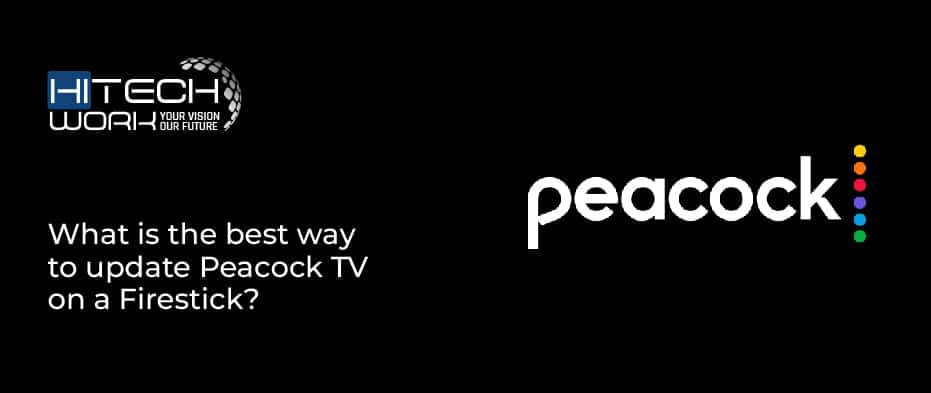 What is the best way to update Peacock TV on a Firestick?
Your Peacock TV app will be updated automatically if you downloaded it from the Appstore. Make sure that the Automatic Updates option is enabled in the Firestick settings:
To enable automatic updates, go to Firestick Settings > Applications > App Store > Automatic Updates. The setting is automatically enabled.
If your Peacock TV app is sideloaded, you will receive an error message, and it will request an update. Uninstall it then follow these steps:
On your Firestick remote, press and hold the Home button for a few seconds.
From the pop-up menu, select Apps.
Select the Downloader app and open it.
Enter "firesticktricks.com/peacock" into the URL text box using your remote control.
Wait a few minutes for the Peacock TV APK to download to your Firestick.
Click Install when prompted.
It will take a few seconds for Peacock TV to install.
Click the Done button.
The Peacock app is now the latest version.
Fire TV Stick: Sideload Peacock
To download the Peacock TV setup file, you will need a third-party application (called Downloader). The Downloader app is one of the best to have on your Fire TV Stick. It lets you download and install apps outside the Appstore for Fire TV and Android TV.
After clicking the Find tab, click Search.
Enter downloader using the on-screen keyboard and select Downloader or Downloader App from the suggestions.
In the "Apps & Games" section, click the Downloader app icon.
Tap Get or Download to install it.
You need to configure your Fire TV Stick to install apps that aren't from the Appstore before you can use the Downloader app.
Open the settings menu by pressing the Home button on your Fire TV remote and selecting the gear icon.
Select My Fire TV.
Select Developer options.
Choose Apps from Unknown Sources or Install Unknown Apps, depending on the Fire TV Stick generation you have.
You'll see a pop-up warning you about the risks of installing apps from unknown sources. Click Enable to proceed.
Return to the home screen and launch the Downloader app.
Press and hold the Home button on the remote to bring up Downloader if it isn't on the home screen. Choose Downloader from the list of apps under Apps.
Click Go after typing 77354 in the search bar.
By using this shortcode, you'll be redirected to Peacock TV's download page on APKMirror-one of the best sites to download Android (TV) apps.
Choose the download icon next to the latest version of the Peacock TV app in the "All versions" section.
Download the Peacock setup file to your Fire TV Stick by selecting the Download APK button.
The downloader should begin downloading the Peacock TV setup file from APKMirror. Click here if the download does not start automatically when you scroll to the "Your download is starting" section.
After the download is complete, the downloader will initiate the installation of the APK file. Click Install to begin.
Select Peacock TV and click Open.
If you don't have a Peacock TV account, select Sign Up to Start Watching or select Sign In and enter your credentials to start watching your favorite TV shows.
FAQs
Q: Why can't I get Peacock on my Firestick?
A: It is important that you have a strong enough connection to stream. You should clear the cache and the data on your device. If your device has a settings menu, you should be able to clear cache and data. Your device needs to be uninstalled and then reinstalled with Peacock.
Q: Where Can I Stream Peacock?
Apple products include iPhone, iPad, iPod touch, Apple TV 4K, and Apple TV HD.
Google products include Android, Android TV devices, and Chromecast.
Chromecast and Chromecast-enabled devices.
Microsoft's Xbox One line of devices, including Xbox One S and Xbox One X.
Q: Is Peacock available on Roku?
A: Peacock supports the following devices for streaming: Roku 2 (4210X model only) Roku 3 & 4 (model 4200X or later) Roku Streaming Stick (model 3600X or later).