Search Analytics Report in Google Webmaster Tool can help you to pull more traffic from google search result. Every Professional SEO expert uses Search Analytics Report to rank higher the client website.


How did they? He sorts and filters the "Outrank" or "Old Content" by using Search Analytics Report and optimize that old content to increase the overall efficiency of all the Site.
What we more can do in search analytic. Let me show you, Suppose you have two article and one of them getting traffic from a google search. Now you have to place the ads or affiliate links on it. How you can select which page is better for ads.
Here, Search Analytics feature come in acting. It has an ability to compare the Two content at a time and give you the graph of 30 days. you can easily check which page increasing continuously and which one decreasing with time.
So, Today we will learn the basic function of the Search Analytics and how we can filter out-dated content.
Search Analytics Report In Google Webmaster Tool
Before starting to learn the Search Analytic. first, we have to learn some metric that googles use in webmaster Tool. The following metrics are;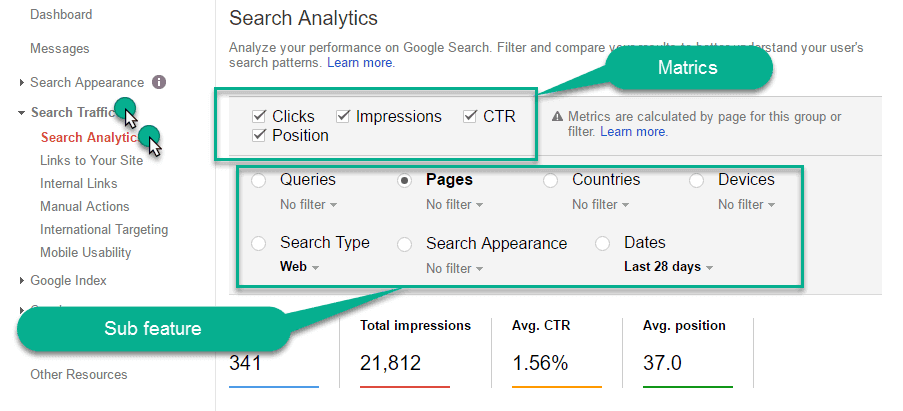 Impressions -How many times your article appear in search result. For example, when your article appears on the first page and user click on it or not, it counts as one impression. But when a user goes to the second page and clicks on another site then this do not count as an impression. Because your article is not on the second page.
Clicks – How many users click on your post when it appears in the search result. If one user clicks on two posts it counts as a two click.
CTR – Menas Click through rate. It is equal to the number of the click count divided by the total number of impression count. Maximum CTR is always good for the website.
Position – It is a little bit complicated and mathematical term. You can read more about it here. But for the sake of explanation, position means the rank of your article on google search result.
All the Option Under search analytic report is performed different-different task. But they all help you to check and monitor the content. So, Now we start the first option of the Search Analytics are;
Queries Report
Queries mean the words that peoples are using to come on your site.
For example, if someone searches "how to make coffee" and google put my article in front of his/her and he/she click on it and come to my site. That means "How to make coffee" is a query that brings traffic to my site.
Click on Search Analytics Under Search Traffic Option. You will see a List of Queries.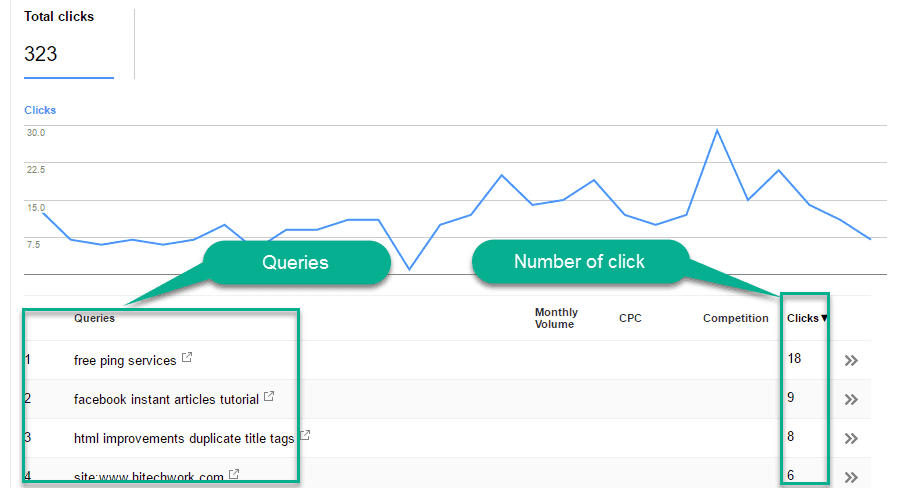 Note: – Monthly volume, CPC, competition search is not available because you not connect search console with webmaster tool. We will connect it later to check the volume of the content.
Now you have a List of Queries that bring traffic to your site. But how you can filter or check the best keyword that brings traffic to your site.
Click on "click,  Impression, CTR, and on Position" option to sort the queries.

Now the list of the queries is filtered and you get best queries on the top of the page. The top most queries, grabbing most of the click, impression from the search and have maximum CTR.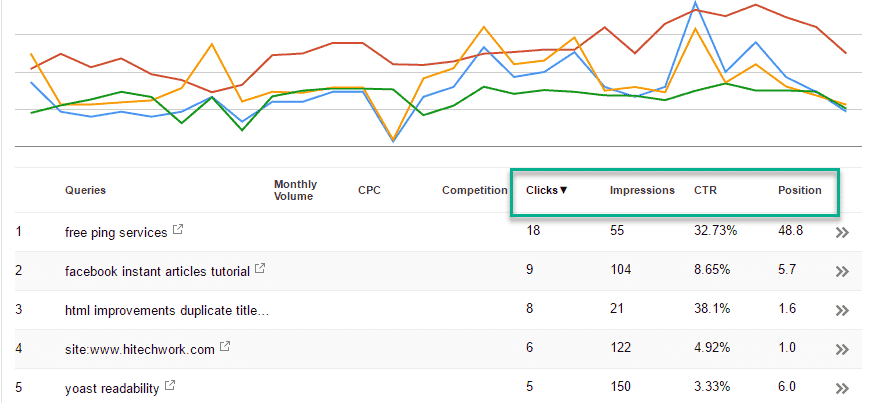 For Example: – Now see "HTML improvement duplicate title tag" queries have 8 click from search out of 21 impressions and have CTR is 38.1%. The position of my content is on the first page.
How Can I get More Traffic By Using "Search Queries"
With the help of Search Analytics Report, I Know which keyword bring traffic to my site, Now I Pick that keyword and write an article on it to grab more Organic Traffic.
Some of them query (keywords), you already use in your content as a long tail keyword. but there are a lot of other keywords waiting for you.
You can further click on it to see the more detail about particular queries.

Note: – Google Only shows the report of the last 30days. If you want to see the information of long period then you have to download the file time to time.
You can also filter the Queries. For example, If you have a lot of Queries and you want to filter out some of them, then you do this by click on filter.

You can also compare two queries to find which one is best. How was it performing in last 30 days.  Blogger uses this option for A-B testing.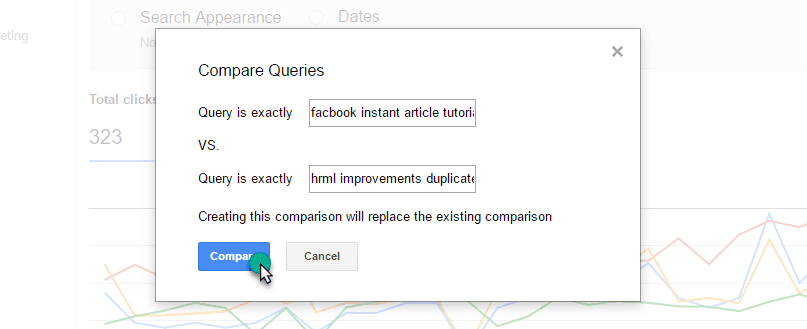 So this is the basic function that every sub-feature of Search Analytics Report have, You can filter, compare, reset according to your choice.
Page Report
In webmaster Tool page means your content (article). Page feature has the same function as in Queries but the difference is only that, In page report, you will see only your article, Tags and category.
You can check, which category grabbing more attention of the user.
Click on Page and also click on All Matrics ( click, Impression, CTR and Position) to check the Top Rank page on your blog.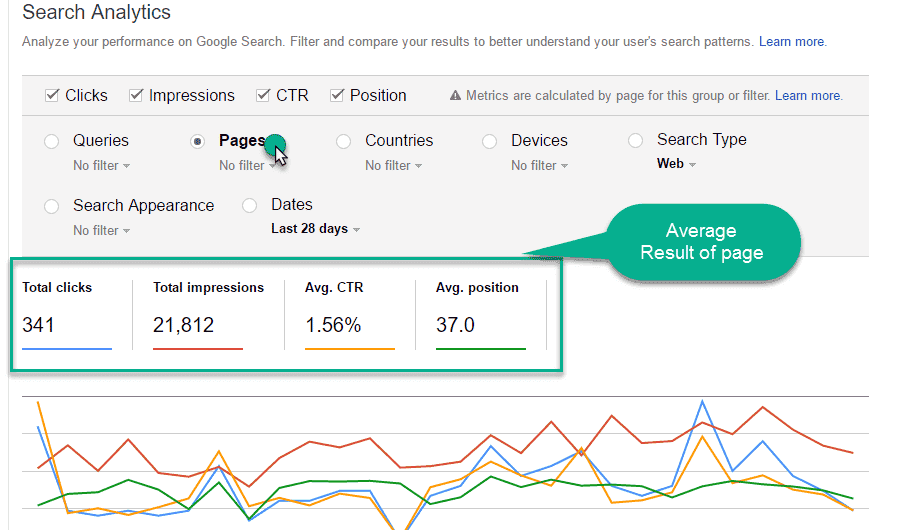 Alos use the Filter option to sort the content, Tag, and Category. For example, I want to check, how's my "Accelerated Mobile page" (amp) performing in google search result. So I, simple Click on the filter than URL Containing.

Now enter which URL you want to check in Report. For example, I know "Accelerated Mobile page" conation /amp/ at the end of the every URL. So I, type /amp/ in the filter box.

Country and Device
Under this Two option. You can check, from which country you get more traffic and which device they using to visit your site.
Click on Search Analytic and then country. Alos click on all metrics to filter country.

You can use the filter option to select a particular country. With the help of this report you can invest money in particluar country.
The Same feature you can use in Device to check which device they use.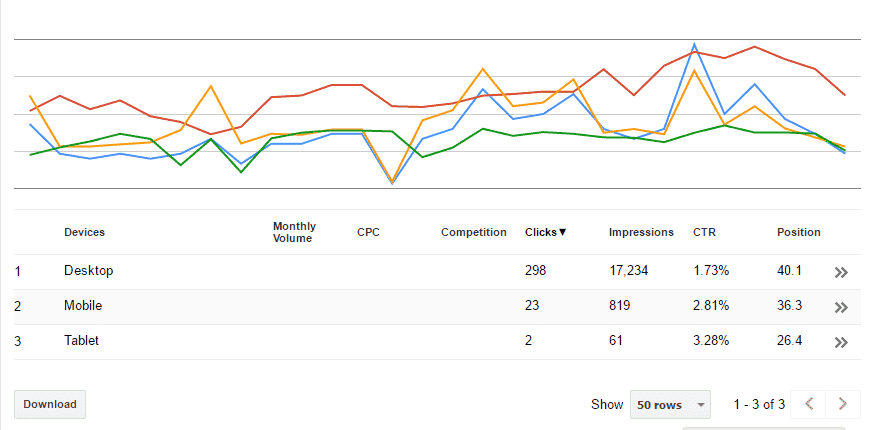 Search Types and Date
You don't know, What people are searching on your website.  It may be a video, text, image etc.
Search Types report is good for future planning. If you writing a content and people's search for video or image. Then you are wasting your time on writing content.

Now, You can sort your traffic according to time to check in which time period (month, week or day) you are getting more traffic from the internet.

Recommended Post
Conclusion
Search Analytics Report helps you to the plaining Future Plane and also help to check your present position. You can set a target and then apply new experiment on content and after 30days, you can compare the report to with your set target.
Remember to share this post with anyone who might benefit from this information, including your Facebook friends, Twitter followers and members of your Google+ group! And also Support Us By Liking Our Facebook, Twitter, and Google+ Page.
If you have any suggestion or problem about Search Analytics Report please feel free to comment below.