Apple Airpods is a great approach that can easily fit in our ears, with various features like noise cancelling. But what to do if we lose the one airpod? That's just happened to me.  When I lost the Airpod, I tried a lot to locate my airpod via Find My App, but nothing worked. Don't worry. You can also get the right AirPod replacement & different repair services from Apple. In addition, you can exchange or replace one or both of your AirPods or charging cases when you lose them or get physical damage.
However, the truth is that the AirPods do not actually break; their batteries will eventually discontinue charging or decrease their volume intensity. But, nowadays brands are starting to make changes that will have a meaningful impact. Read on further to know the different services of repair or replacement that apple support provides to its users in a case where your one Airpod not working or is misplaced.
You can also check our guide,  Left Airpod Replacement
The service sketch of the Apple Store
Airpods are the best Apple products because of their simplicity and flawless integration with the iPad, iPhone, Apple Watch, and Mac. However, Apple's Airpods aren't the cheapest option for going utterly wireless with intelligent features, but they may be the most straightforward. It's easy to see that customers prefer them to other brands because they provide consistent connectivity and a simple pairing method.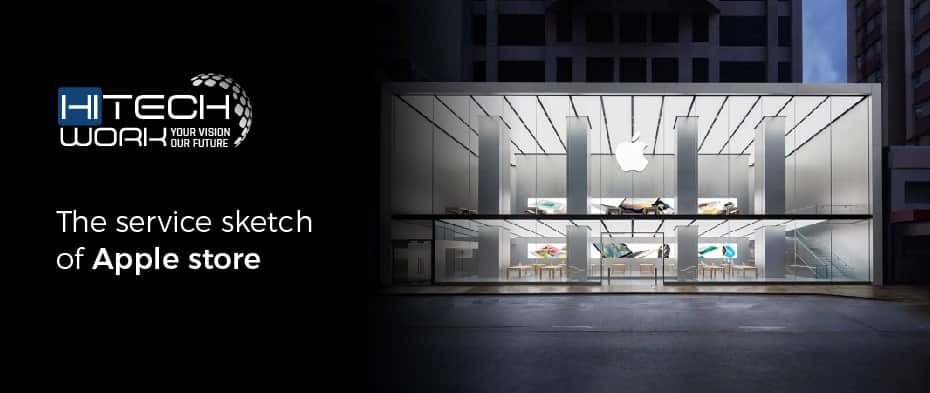 At first, Apple doesn't offer Apple support for the first or second generations of AirPods, but only offering the limited one-year warranty on all products. Moreover, if AirPods require service during that year, apple will do it with no charges. After that, Apple will charge some fees according to the damage or the right airpod replacement. An Apple Service Provider can service your product if you've accidentally damaged or lost one or both of your Air Pods or charging cases or if you need to replace the battery or ear tips.
Different Services for the Airpod replacement
Apple has given its users a customer service, replacing, and fixing policy for the AirPods. Let's discuss the services which Apple provides to its users.
1)      Carry-In Services
Visit the Apple store or an authorized service provider with your AirPods along with the receipt & original box of Airpods. You'll need your serial number as well as your original AirPods and a charging case.
2)      Mail-In Application Services
If you prioritize mailing your product to Apple service, make a call to apple support. Before contacting the advisor, check your device's serial number. It will take about a few days to get your replacement Airpods or charging case. Make sure to include your charging case with your AirPods.
3)      Notify Apple Support Service
contact an Apple Support representative to discuss the problem you have with your AirPods. while complaining also mention your airpods serial number.
Get the Right Airpod Replacement for Airpods Pro For Free
Under certain conditions, Apple offers a free service program only for AirPods Pro models with sound problems. In addition, it applies to only the products manufactured before October 2020. For affected AirPods Pro, volume problems may include popping or scary noise. Although they are practicing or talking on the phone, but the Active Sound cancellation is not working as it should.
Apple will repair or replace the Airpods pro at no cost. You just have to make an appointment and bring your Airpods into an Apple store or call Apple support to mail your airpods in for service. Once apple gets your product, it will first scrutinize to check whether or not the airpods are entitled to the program. Then, Apple will replace Your airpods pro with a confirmed noise issue. Although, the charging case is not affected by the sound problems and will not be replaced.
Note: keep in mind this program only covers affected Airpods pr units for just two years after they are purchased.
Charges of Airpod Replacement
Apple will fix your AirPods or case for a fixed cost if one or both of them are physically damaged or lost. However, depending on the problem you are facing with your Airpods or charging case, there may be a chance that you don't have to pay for it, as long the issue is covered by Apple's one-year warranty, consumer law, or AppleCare+. You just have to pay an out-of-warranty fee to replace a lost airpod or other services. The amount you pay will decide whether you have Apple Care and what needs to be repaired or replaced.
AppleCare+ for airpods extends from one year warranty to two years (starts from the date AppleCare+ is bought). Hence, it covers two incidents related to damage once a year and charges only $29 per incident.
1)     Airpods Max
When you lose your airpod max, the AppleCare charge for AirPods Max is $29 per damage, and the out-of-warranty fee depends on the type of damage. You'll have to contact an Apple advisor to get an estimate.
2)     Airpods Pro
Apple Care charged airpods pro per incident $29. Moreover, if you lost your airpod, then you have to buy a new one to replace it. Sadly, AppleCare+ for headphones does not cover airpods that have been lost. Although, the lost fee for Airpods pro is $89 each & $99 for a charging case. while the
3)     Airpods
The out-of-warranty price for an AirPod, a charging case, or wireless earbuds charging case is $69 per AirPod, $59 for a charging case, and $69 for a wireless charging case. All out-of-warranty expenses will cost you, including the shipping charges of $6.95 and tax.
Battery and repair services for right airpod replacement
Battery Issues/services of AirPods can also be repairable under one-year warranty, AppleCare+, or consumer law, but after that you have to pay for it. However, AppleCare products with a battery that contains less than 80% of their original capacity are an exception to this guideline. Apple will replace the Battery for free in such situations. Keep in mind this does not involve the batteries that have worn down from daily use.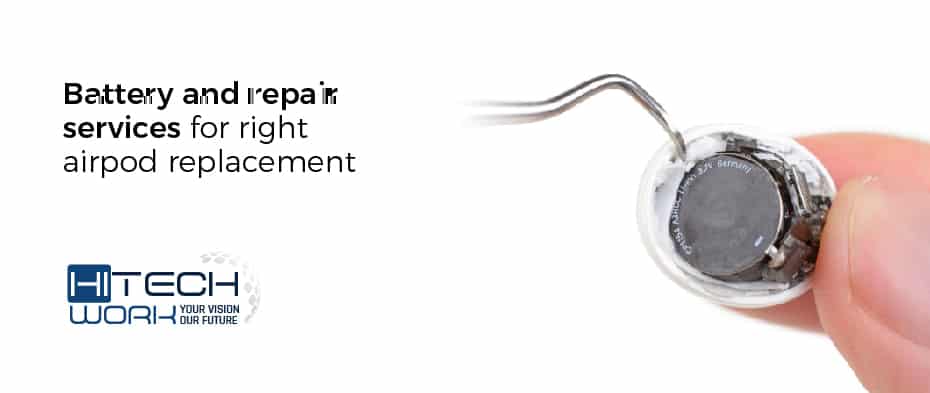 For AirPods Max, the battery service price is $79, $49 for each AirPod or AirPod Pro, and $49 for Charging Cases. In addition, a $6.95 delivery fee & the tax you will have to pay for battery service.
When the issue is resolved under the Apple Limited Warranty, then Apple will also replace the ear tips at no additional cost. If you lose your ear tips or want some extras, you can get them from the Apple Online Store for free shipping.
How to Setup the Right Airpod after Replacing
To connect the right replacement airpod with your existing Airpod, you have to reset the original one to function with the new one. Resetting will turn the new & old airpod into a matched pair, and then you can link the airpods to your iPhone. Follow the below steps to set up your replace Airpod once you receive it.
Insert both Airpods into their case & shut it.
Then check that the sensor light is flashing. In any case, if the light does not blink, ensure the case is charged, & take out your airpods and insert them back.
Next, open the case, and press & hold the Setup button on the back of the case until the status light should glow white. Then check the phone and the visibility of the charging case.
Then once the Airpod pairs, the setup will appear. Then choose Connect and then tap on Done.
Why Can't I Connect My Replace Airpod?
When you get a replacement of your airpods, it will not connect directly to the Airpod you already have. As replacements, Airpods are unpaired and won't function right out of the box. In order to link your replacement Airpod, you have to follow the instructions mentioned in the above section; put the old airpod with a new airpod in a case with your new Airpod, reset both Airpods, and pair them with your iPhone.
If your replacement Airpod still does not link, so try a factory reset of the Airpods.
Detach the Airpods from your phone, insert your Airpods in the case & wait for at least 30 seconds.
Then, view the charging case and hold the setup option until the indicator light flashes amber.
Now, repair your Airpods to your iPhone.
If your replacement airpod still does not work, then contact Apple support for further assistance. Sometimes, the newer firmware stops the connection. If that is the case, you will have to mail in your earbuds for repair.
How much Time & Money does Apple Support Require?
You could possibly get your replacement within a week, or they will inform you via email. The problem with AirPods or charging cases will shield by the Apple One-Year Limited Warranty or Apple Care, and there will be no fee.
However, Apple mentions the prices of the services for damaged airpods, battery service, and lost AirPods. But sometimes, the prices may changes. So you can check the Apple price list.
FAQs
Q1. How much is the cost of a replacement Airpod?
You can get a right or left Airpod replacement from Apple for just $69, and a replacement of Airpod Pro will cost you $89.
Q2. How can I get an estimated cost of the lost Airpod or replacement?
You can check the "Get an Estimate" tool to check potential costs if you get service directly from Apple Store. If you go to another service provider, they can set their own charges, so ask them for an estimate. For service covered by AppleCare, your fee per damage will be the same despite of which service provider you choose.
Q3. How can I return damaged Airpods for a replacement?
When you take your damaged Airpods to Apple, you have to ensure to bring either your original proof of purchase or the original Airpods Box it came in, along with your Airpods & charging case. You have the chance of bringing it to an Apple store or an authorized service provider.
You can also mail the Airpods in via a prepaid shipping box from Apple. Hence, Apple will replace or repair Airpods with a manufacturing fault for free within the one-year warranty or for $29 for accidental damage if you buy AppleCare+.
Q4. What can I do if I lose my Airpod?
Lost airpods are not covered in AppleCare+ or one-year warranty. Airpods Costs $69 each to replace, the charging case costs $59, and the Wireless or MagSafe charging case costs $79. Airpods pro costs $89 each to replace. While the charging case is $99. Before replacing, make sure to check your lost airpod from the Find My app.
Conclusion
Apple airpods are the most preferred wireless earbuds with amazing features. But sometimes users run into problems or lose their one airpods. So for this, Apple offers its users different repair or  replacement services.
Apple offers an after-service guarantee and supports replacing lost AirPods. Regardless of whether your product is still under warranty, any service or replacement executed on an Apple product is guaranteed for 90 days or until your Apple warranty expires, whichever comes first. Also, you can check out the prices list for repairing or replacing the airpod. If you face any queries, feel free to comment to us.