As a celebration of the release of the new iPhone 15 series and also the brand-new iOS 17 system, Passvers has prepared a special activity, providing a large 30% off discount to purchase both lifetime licenses of Passvers iPhone Unlocker and Passvers iOS System Recovery.
Every time Apple releases new device models and iOS system versions, there will be some unexpected problems occurring while users try to upgrade iOS system versions or process jailbreaks on new models. That's why you are recommended to get Passvers iOS System Recovery to help.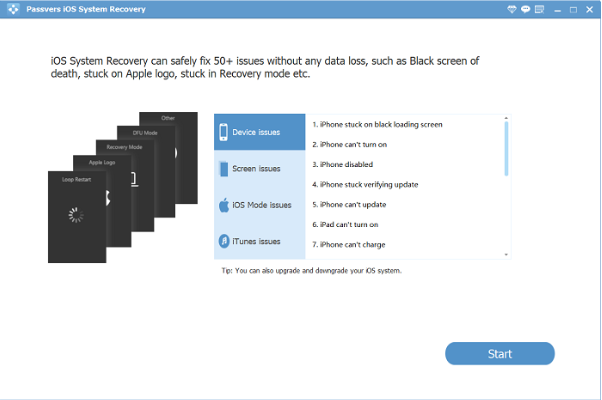 Promise to Be Compatible With Latest Models and Systems
Passvers would always keep enhancing at the same pace as Apple. The newly-released iPhone 15 series and also iOS 17 system will be added to the support list of the software, which will get ready to help you solve any unexpected system errors that occur in different situations.
Special Pricing During the Activity Period
During the 2023 September WWDC special activity, Passvers prepared a 30% off discount on purchasing the lifetime license of the software. Now, you only need to cost USD 55.96 (which originally cost USD 79.95 to buy) to get the right to use Passvers iOS System Recovery forever without needing to pay another fee!
Why Choose Passvers iOS System Recovery?
Passvers iOS System Recovery can surely bring the best service to help you repair all kinds of iOS system errors efficiently. You can check its attractive features below before getting started or purchasing the software in the near future.
Supports Recovering More than 50 System Errors
The powerful repairing function of Passvers iOS System Recovery can make it possible to detect over 50 kinds of iOS system errors, then offers a one-tap solution to help you fix it perfectly. No matter for the iOS system update failure, jailbreaking failure, broken device, black screen error, and so on, the software can work to repair for you without very complicated operations. You only need to follow clear instructions and process several clicks. The iOS system error can be directly solved.
Selects A Mode to Fix iOS System Efficiently
Passvers iOS System Recovery offers 3 recovery modes to help you fix iOS system efficiently. The standard mode allows you to process some basic fixes in a simple way. While for quick mode, the recovery process will be speeded up to save much of your time. As for advanced mode, although it erases device data, it will thoroughly scan your device to fix those hard errors professionally.
Offers Quick Speed to Perform Recovery for You
When Passvers iOS System Recovery is equipped with the advanced technologies to speed up the performance, the whole iOS system recovering process will be completed at a really quick speed. Also, it will lower CPU consumption to ensure a smoother experience for you. You will enjoy both a fast and comfortable experience while using the software to repair iOS system.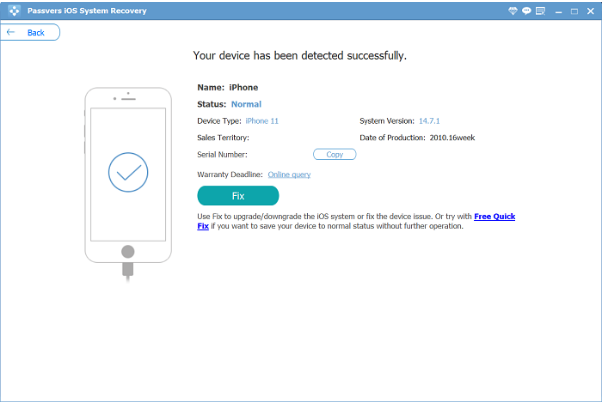 Is Passvers iOS System Recovery Safe?
Passvers iOS System Recovery ensures completely safe service, no matter for its installation or during the system repair process. It doesn't need to install any bundled software or extension to use its functions. Meanwhile, to keep data safe, Passvers iOS System Recovery also uses a powerful encryption method and won't keep any user data without your permission. In conclusion, the software is completely safe to use.
The Bottom Line
Passvers ensures safe, high success rate, and great compatibility to help you solve any sudden error while using iOS devices. Its high system safety and also instant customer support will both provide you with the best experience of using the software. Now, get the 30% off discount and immediately buy a lifetime license to get Passvers iOS System Recovery ready and welcome the latest iPhone 15 with iOS 17 system!