Social media platforms are useful, and people use them for multiple reasons, but not everyone knows their dark sides. TikTok is one of the most popular entertainment and fastest-growing applications. Whenever any trend comes up on this app, it gets viral and circulates over everyone's newsfeed. Kids risked their life when they copied TikTok Blackout Challenge, which is currently on top among children and teenagers. Many parents sued the file against TikTok after the app showed them videos of other people trying it. Let's discuss parents' concerns and the TikTok response over people who seem to learn about the kids taking part in the trend.
What is TikTok Blackout Challenge?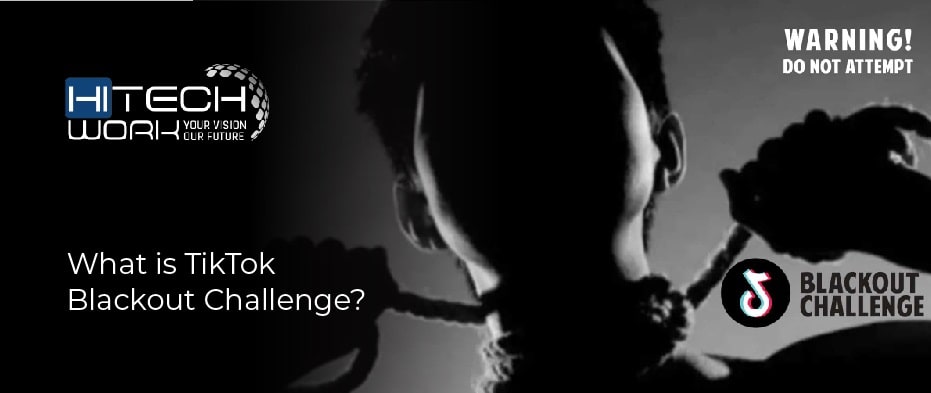 The TikTok Blackout challenge is a deadly attempt where the user is motivated to hold their breath until they pass out because of a lack of oxygen.
It can also be said as the "choking challenge" or the pass-out-dare! It's an extremely dangerous social media trend that has gained popularity in the past two years and killed at least seven different children while attempting the challenge.
The parents of allegedly dead children filed a complaint against TikTok, which says, "It encourages the user to choke themselves with a belt, purse strings and anything similar to obtain euphoric state or high." Consequently, death or serious injury occurs if the strangulation is prolonged. Kids who reportedly died were under the age of 15.
According to the Professionals, striving to cut off oxygen to the brain intentionally can cause moderate to severe brain cell death leading to permanent loss of neurological function, lifelong mental sickness, or even death.
Several cases have been reported worldwide on children who have died after participating in the blackout challenge, including a 12 years old boy from Colorado in the United States and a 10-year-old girl from Palermo in Italy in 2021.
Here are the children that allegedly died after attempting the TikTok Blackout challenge.
A 12-years-old in Colorado who reportedly died in March of 2021
A 14-years-old in Australia who reportedly died in June 2021
A 12-years-old in Oklahoma who reportedly died in July 2021
A 10-years-old girl in Pennsylvania reportedly died in December last year.
Case-1
Pennsylvania mother Tawainna Andreson sued the company with the allegations of pushing out exceedingly and unacceptably terrible challenges". Moreover, she wants to spread awareness among parents about monitoring their child's favorite online platforms activities after the tragic loss of her 10 years old daughter, Nylah Andreson.
Nylah's family rushed her to the Hospital when they found her unconscious, but she did not return. Her passing is the latest children's death linked to a viral challenge. "This pain would never fade away, it's stuck at the top of your throat, and I am so hurt," said Taiwana to 6abc Philadelphia".
Case-2
However, a boy named "Archie" was found unresponsive at his home in Essex in an incident. Hollie Dance, His mother, told him his son died on the 6th of August. The 12-year-old kid suffered catastrophic brain damage. She associates his death with a deadly online challenge and accused social media companies of not doing much to prevent harmful online content.
Case-3
Another case was reported after the Archie Battersby. Lauryn Keating, Leon's mother tells, one of Leon's friends, told me he was attempting the blackout challenge on Facetime with them after seeing it on TikTok.
She added, "My Leon thought he'd be the one to try it first. On the other hand, he and his friends probably took it as a joke. Unfortunately, Leon couldn't revive. It went terrifically wrong."
When did the Blackout challenge start?
The blackout challenge is not the latest one you think. It has existed since 2008 as a choking game, but it's now getting viral on TikTok again in 2021 and reaching people in a different mode. Experts warn young users not to try this wrong TikTok trend. It mainly contributes to more than 80 deaths, per a study conveyed by the Centre for Disease Control and Prevention.
Even the TikTok spokesperson told the public that "this offensive challenge" which people come to know about from sources other than the TikTok long predates our platform, and it's never been a TikTok trend. Further stated, we remain watchful in our commitment to user safety and would instantly remove related content if found."
Signs that your kid is involved in TikTok Blackout Challenge
Here are a few signs explaining that kids are involved in this disturbing viral trend.
Discussion of the game – including other terms used, such as "pass–out game" or "space monkey."
Bloodshot eyes
Marks on the neck
Severe headaches
Disorientation after spending time alone
Ropes, scarves, and belts tied to the furniture, doorknobs, or found knotted on the floor.
What TikTok team has said?
TikTok faced controversy and blaming statements for several deaths so far. Some families have also sued video-sharing app TikTok over the claims that the TikTok algorithm intentionally and repeatedly promotes the filming of other people performing the blackout challenge.
In response to most of the filed complaints, TikTok claimed in Washington Post that it had blocked all users searching for the blackout challenge. The user sees one of its warnings on their screens saying that" some online challenges can be dangerous, upsetting or fabricated, and get a page link in the app about assessing challenges and warning.
Smith and Arroyo newer suit blame TikTok for putting such viral challenging videos right in front of them on the app's main screen. They kept arguing that TikTok advertises and incentivize people to fulfill the challenges. While TikTok's "responsibility is to keep checking on the video and challenges shared, posted, or circulated on its app and platform.
Challenges are the main area of the TikTok app's experience. It's a spot where competitors have started creating videos; combine them to make them captivating to TikTok users. Most challenges include doing dance moves, whereas others are less benign.
On Leon's death, a TikTok spokesperson said: "Our deepest sympathies go out to Leon Brown's family during this incredibly painful situation.
TikTok asks people to Report whenever they see anybody participating in the blackout challenge. If anyone pushes you to participate, kindly report the account as soon as possible and do not answer it.
The team tells that we had not found any proof of content on our platform that might have encouraged people to do such terrible trends. We prioritize community safety first and take any claim seriously about a dangerous dare.
Parents' Concerns over the Blackout Challenge
Mostly, parents allege TikTok applications for showing such challenges to their children. A few related cases have been reported by the Social Media Victims Law Centre (SMVLC), a legal approach for parents of children affected by social media addiction and abuse.
Parenting expert Kirsty Ketley says it is important to talk to your kids about stress and what content they consume online without judgment. It helps them understand what is and isn't safe. So keep the communication doors always open for children.
The parents who have lost their children are spreading awareness by saying you don't expect your child to do it. Kindly, warn them as these online deadly challenges aren't worth their lives.
Final Words
It's a lesson for all to learn about how Social media consumption has been taking place to a great extent. So we must monitor what kids see on social media platforms and what not to follow. Also, educate them on the dangers of such trends.