Are you running your own website? Whether you manage an eCommerce website or lead generation site. It's essential to track who's on your site. For this, you need reliable real-time website visitor tracking software.
Visitor tracking tools give significant details about the people engaging with a site and how they behave, which are useful to both the marketing & sales teams. However, the ability to see what users are doing on your site gives you the idea to target them. Nowadays, website visitor tracking has become a vital part of marketing strategies and modern products, offering brands an in-depth knowledge of their customers.
If you wish to boost your website's performance, you need a proper website visitor tracking tool to monitor your user's behavior and make your business grow greatly. Hence, if you wish to know how users find your site & convert them into leads, then visitor tracking tools are the best ways to go ahead. So to help you choose, we have compiled a list of visitor tracking software that serves your needs.
About Website Visitor's Tracking Tools
The website visitor tools are important for getting key insights about the website. It lets you see who's on your website & what they are doing. Usually, these tools are used by the sales team to help locate & capture leads  to improved sales productivity. You can track all clicks, movements, decisions, paths, and other actions the visitor took while browsing your site.
The valuable visitor software offers in-depth details that the marketing & sales team can then use to process their efforts & acquire quality leads. You can also learn about the bounce rate, conversion rates, improvement, and performance with visitor tracking software.
Importance of Using Website Visitor Tracking Tools
Web visitor tracking tools help you in tracking & monitoring site visitors, their needs, and behavior. Hence, there are so many benefits to allowing tracking taken on your site, the most notably, software lets you to:
Check how many people have come to your site.
Determine which site users have visited (source & geographical location).
Also, let you know whether visitors have taken any action on your site.
Gather information to assist you in following up with users as potential leads.
Estimate and improve your sales & marketing strategy according to key data.
You can also check the actions of repeat visitors and recognize their preferences.
Gives real-time data categorized the way you wish.
Notify you when a high prospect lead visits your site or mobile app.
Assist you with targeted marketing and user profiling.
The important news is that these tools are not invasive and do not breach any privacy laws, as users approve of having their details tracked on a site when they admit your cookie pop-up. Hence, web visitor tracking is significant for running a business & understanding where to focus your resources and time.
10 Best Website Visitor Tracking Software to Use in This Year [Free+Paid]
The best tool is one that accomplishes your website needs, and there are so many tracking software options available on the market. But for your ease, I have compiled the best visitor tracking tools to help you choose the right one.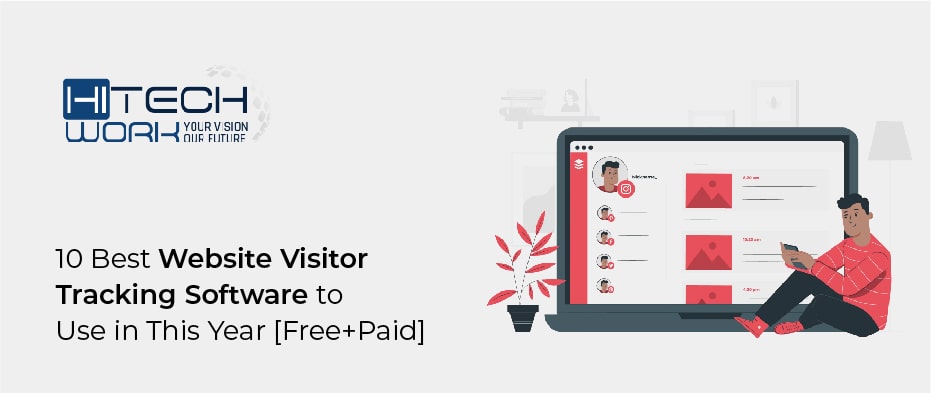 1.      Crazy Egg
Pricing- 30 days free trial, starting Package starts at $29/month.
Crazy egg help businesses track user behavior on their site so that marketers can gain important insights into their target audience. The tools consist of various advanced features such as overlay reports and snapshots to make analyzing user data simpler than ever before. Plus, you can also improve UI & UX by knowing what your users are most interested in.
Hence, this tool helps you dive deeper into understanding how visitors' actions influence your site metrics. As it gives heatmaps, movement heatmaps, scroll heatmaps, and attention heatmaps along with some advanced features. To get better site tracking, sign up and try Crazy Egg free for 30 days to better understand your site visitors.
2.      VWO Insights
Pricing- $169/month
VWO is the organization's solution for tracking people's behavior and optimizing the website to generate more quality leads. The VWO insights have features such as on-page surveys, conversion funnels, data quantification, data segmentation, and session recordings that can help you get to the heart of visitor behavior and the reason behind it. Additionally, you can use insights together with VWO's other products for a nonstop experience optimization tool.
Hence, you can opt for this if you wish to go beyond tracking & instead learn how to optimize your site like a pro. In addition, it will help in improve UI and UX to keep your clients engaged.
3.      MixPanel
Pricing- Free plans, Basic Plan starts at$25/month.
Mixpanel is a free analytical tracking tool that focuses on how & why users engage with your site so you can improve user interface and conversions. It is a feature-filled tool that helps marketing & products teams better know their users. It consists of various features to help you measure the success of new feature launches and instantly visualize the data. In addition, you can also optimize your marketing campaign to keep the audience engaged.
MixPanel metrics help you gain in-depth details on users. Also, let you track product statistics such as retention and activation. Hence, you can get a free plan of Mixpanel; if you want access to more features, try their different paid plans.
4.      UserTesting
Pricing– No free plans, Prices are not mentioned.
UserTesting is another useful visitor tracking software we suggest to marketers & B2B businesses who are looking for more qualitative website visitor tracking. The important worth mentioning feature is that you can connect with your audience and get whole session recordings as they go through your site and perform certain tasks. It means you can now know how your target audience goes through your site, so you can able to detect the flaws in your site that could be stopping users from converting.
5.      Hotjar
Pricing- Free Basic Plan, For Amazing Features Pay $39/month for the Plus plan.
Hotjar gives insights that show you data about visitors' behave and what they feel, so product makers can deliver real value to them. Hotjar is useful for product designers, managers, and UX researchers at small & mid-sized businesses to gain more details on how their users interact with their websites.
With Hotjar, features like visitor recordings, surveys, and heatmaps allow businesses of all sizes to track users, generate sales,  leads, and leverage data. And let you explore how many users convert into customers and increase sales.
The only drawback of this tool is that it no longer has an important funnel analysis feature. And it can instantly become expensive when your site visits increase.
6.      Kissmetrics
Pricing- No Free Plans, Only Offers Annual Subscriptions start from $299/month
Kissmetrics provides more advanced behavioral analytics features, built purposely for eCommerce and SaaS businesses, to boost conversions, engagement, and customer retention. This tool allows you to dive deeper into the user's actions and help you recognize hidden patterns and product performance. By using Kissmetrics, you can track new leads, unique users, engagement, and conversions.
Moreover, you can also track various marketing sales channels and see the results of your struggle in real-time. Hence it is the best option for any company that wants to look out why people don't buy their products or discard their shopping carts. It incorporates significant third-party tools like Shopify, Facebook, Marketo, Slack, and more.
7.      Leadfeeder
Pricing- Free Plans, Paid plan starts from $76/month.
Leadfeeder is a website visitor tracking and identification software that helps sales & marketing teams turn visitors into high-quality leads. This tool provides scoring, capture, and source tracking, segmentation of leads to increase your sales & marketing campaigns. It also combines with well-known CRM tools such as Hubspot and salesforce, so sales reps can easily update leads in their outreach process.
Moreover, it also lets you get better with your content using user insights. Its custom segmentation allows you to make demographic and behavioral filters to divide the leads with a high potential of converting. So if you wish to attract huge prospects at the top of the funnel, that's where this tool becomes handy.
8.      Google Analytics
Pricing- Free Service, Large Enterprise buy premium plan for Advance insights in $150,000/year.
It is a free, all-in-one web analytical tool that allows you to track where your visitors come from, how they are behaving, and how well your site performs on various browsers. When you connect it with Google webmaster tools, you will get more details about your SEO optimization and keyword rankings.
By using Google Analytics, you can monitor& track website traffic in real-time & find out the demographic details such as device, language, and location of your visitors. You can also estimate the success of your marketing or sales struggle, set a purpose, and monitor every step in the funnel. Also, look up your site's content based on its performance.
Read Our Guide: How To Verify Site With Google Bing and Yandex Webmaster Tools
Moreover, its funnel analysis feature helps you evaluate the customer journey to conversion & provide reports on metrics like page visits, bounce rate, average time spent, and much more. Hence it is the best for website visitor tracking for both B2B & B2C businesses.
9.      Clicky
Pricing– Free Plan, Paid plan starts at $9.99/month.
Clicky is a privacy-friendly analytical software that gives you real-time insights about your site traffic. It offers similar data to Google Analytics but more in-depth, as they have a bot detection tool that deletes potential spam users from showing in your analytics and heat maps. In addition, it focuses on quantitative analytics and gives more features such as heatmaps and uptime monitoring.
10. Ahrefs
Pricing– No Free Plan, Paid Plan starts at $99/month
Ahrefs is the best leading website visitor tracking toolwith lots of features such as keyword rankings, backlinks, broken links, and much more. Their software will crawl your site and then provide you with data that will help you in understanding & optimizing your organic site strategies.
Hence, Ahrefs has the ability to audit and explore top-performing content and more. Also, let you analyze the competitor's website to gain more insights into their marketing strategies. Hence, this will help you boost your marketing initiatives and stand out from your competitors.
End Note: Choose the Right Website Visitor Tracking Software
We have mentioned 10 amazing visitor tracking tools, each tool suited for various purposes and goals. So to get the most out of your campaign budget and drive business growth, you have to choose the right tool that can provide an all-in-one solution for your site. And track your visitor journey from awareness to close.
It will give you a comprehensive view of how well your campaign performs. Hope, the tools mentioned above help you a lot and provide a good insight. Do not miss a chance; use the power tools to increase your conversion rates.