Is your wifi keeps dropping unexpectedly? Wireless connections dropping are most commonly caused by your wireless router and network card. This article will teach you how to troubleshoot your wireless connection so you can get it back up and running – because we all know how frustrating it can be if your internet keeps dropping.
Why My WiFi Keeps Dropping? Here are the Solutions 
Set Your Router to a Specific Channel 
We have been asked, why does my internet keep dropping? A lot of Time Warner Road Runner customers have asked this question, so we've put it at the top of this article. The symptoms include a wireless connection that drops out quickly for several seconds at a time.
The following tip will help you stop your wireless connection from dropping out constantly. The wireless settings (typically under setup) of a router need to be set (especially for a dual-band router). Use a different channel than the default, and if you are using a dual-band router, make this change on both bands (2GHz and 5GHz).
If switching your router's channel does not solve the problem, you can try these other tips to help prevent your wireless connection from dropping.
Check Your Wireless Power Settings
The first thing you should check is whether your computer is managing your wireless card's power. Depending on the configuration, your wireless connectivity may be turned off after a certain period of inactivity. Be sure that wireless power management on your computer isn't set to power off your card if your computer is idle for an extended period of time when using system-specific utilities, such as Dell's Quickset.
Additionally, make sure your wireless settings in your device manager are correct. In Windows XP:
Right-click on "My Computer" and select "Properties."
Select "Hardware" and click on "Device Manager."
Select your wireless adapter under Network adapters, and then double-click it.
Check whether your card's automatic power management settings are not enabled, which might cause it to shut off prematurely.
Power Cycle Your Hardware
The second thing to try is to shut down all your hardware, such as your PC, modem, router, laptop, etc. – anything on the network. Turn them all back on in the following order: modem -> router -> PC (wired) -> laptop (wireless) and see if that fixes the problem. As part of this solution, you may need to reset your router manually.
How to Reset Your Router
Please make sure to back up all router settings such as network passwords before resetting the router. (These custom settings typically include: static IP entries, DNS settings, router admin password, wireless settings, port forwarding, routing, and DHCP settings). These will be lost during the reset. You can usually back up your router, but I recommend that you write things down on paper and pen as well.
Depending on the model, there will be a reset button somewhere on the router that you can push with the end of a paper clip. You will need to hold down the button for 10 seconds or so (the router lights will typically flash to indicate it worked), and that will reset the router. Check that the settings are back to when you purchased it by logging in to it.
After that, you'll want to log into the router and restore all of your settings, such as your WiFi password. If you were logging in through a web interface, just plug directly in (if the web interface has been disabled).
How to Reset CenturyLink Router
We have provided detailed instructions below for how to reset the CenturyLink router, one of the most popular routers that we get asked how to reset. The following is straight from the CenturyLink website:
Press and hold the reset button.
Once the lights on the modem start flickering (10 to 15 seconds), release the reset button.
If the Internet light doesn't turn green after 3 to 5 minutes, wait a few more minutes.
Try connecting to the Internet.
Depending on your account type, you may need to provide account-related information if you wish to reprogram your modem.
You may proceed to more potential solutions below if resetting your router did not resolve your WiFi connectivity issue.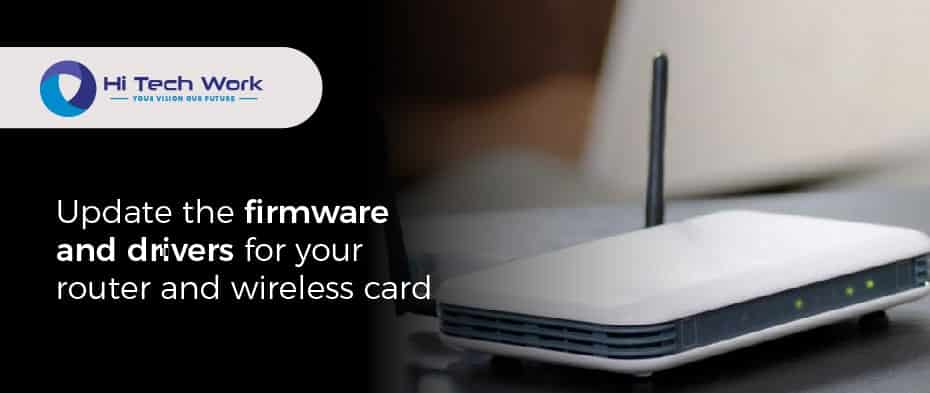 Update the firmware and drivers for your router and wireless card
If all of the above hasn't prevented your wireless connection from dropping, you'll want to update your wireless router's firmware, and you'll want to update your wireless card drivers. In most cases, the problem should be solved this way. With any firmware or driver update, please make sure you retrieve the update directly from the manufacturer's website.
Only Update Drivers If Necessary
In the case of drivers, you should not update them unless you are experiencing error messages and are told by the manufacturer that a driver update will help solve the issue. Additionally, ensure that you download the drivers only from the manufacturer's website and not from any third-party websites.
Stay Clear Of Driver Robot!
Software such as Driver Robot is quite well-marketed by Blitware, which helps people find and update drivers that match their hardware configuration. We have been informed that the software does not contain any viruses, however, it may install so-called adware which may slow down your computer and cause it to stop working properly.
A free version of Lavasoft's Ad-Aware is available for download if your system has already been impacted by adware.
Adjust Your Wireless Router Settings
(Usually found on the router's main/basic setup page) Increase the MTU (Maximum Transmission Unit) to 1492 or less.
Adjust the following advanced wireless settings:

  Reduce the beacon interval from 100 to 50
Reduce the fragmentation threshold from 2346 to 2306
  Reduce the RTS threshold from 2347 to 2304
If you do that, the problem of wireless connectivity should be solved and your wireless connection should last longer.