Creating a new post in WordPress can be done either from the WordPress toolbar or WordPresss Dashboard area. On the WordPress Post Dashboard, You will find a lot of Features.


Some of them are very useful and use on the daily basis but some of them are not.In this article, We will explore and check all the feature and make a organize our Dashboard According to our need.
In this article, We will explore and check all the feature and make a organize our Dashboard According to our need.
WordPress Post Dashboard Area
This is a screenshot of a Post Admin Archive Or Post Admin Area and it is found by clicking on All Post on the Main Navigation.


Here, You will see a Variety of information. Like,
Title: – Head Line of the post
Author: –  Who Write the Content
Category: – In which Category your content Organised
Tag: – Which Tag you Attach with the post.
Comment: – Number of Comment On the post
Date: – Date when you Published the content
From all of them, Only The title and Date can be clicked to order by that you can get alphabetical titles and inverted so that you can see oldest first instead of most recent first Respectively


You can also Hide some of these options. If you don't want to show on Post Admin Area.
Just click on screen option. on the top right corner of the WordPress Post Area.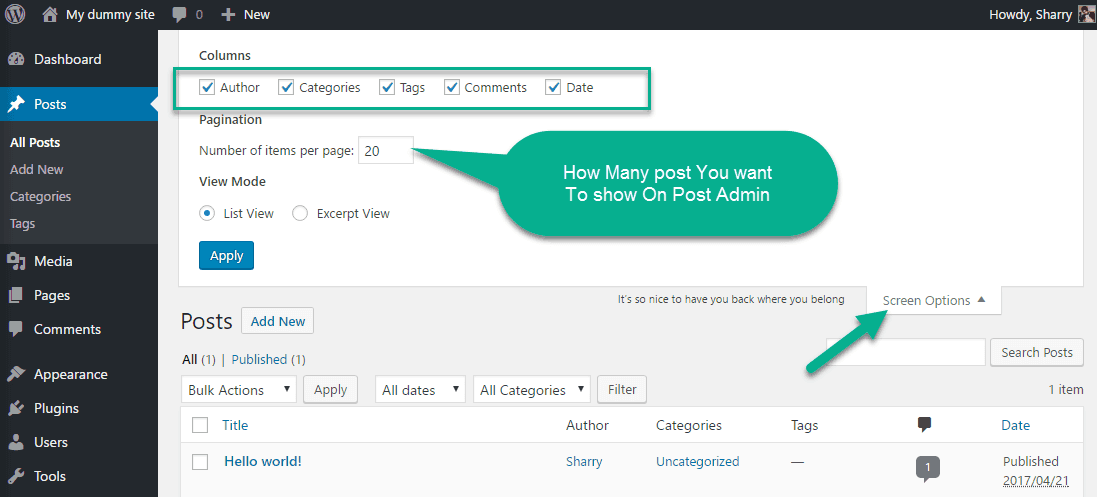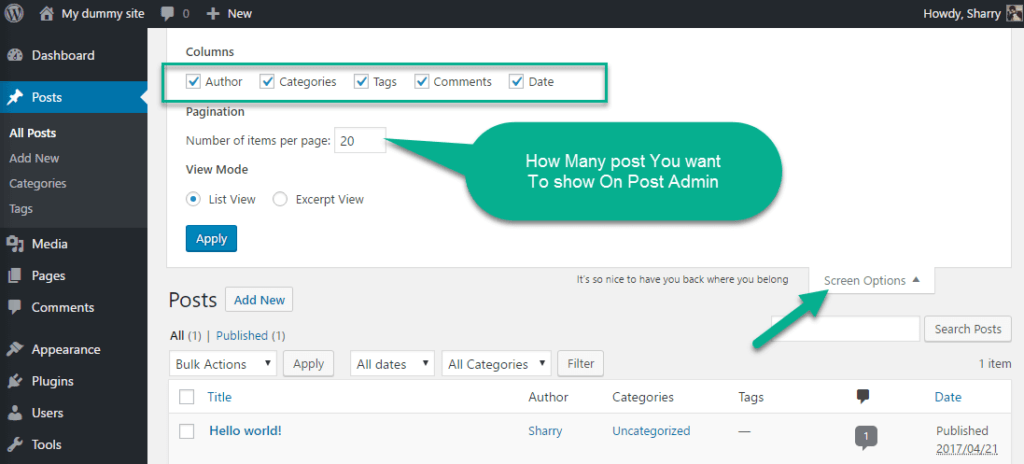 We have some more option on WordPress Post Dashboard to Sort or Apply action on content in Bulk Mode.
Click on Drop Down Box button and select the action you want to apply. And also select the post, where you want to apply.

For Example,
Tick the Post and select the Action and hit the Apply Button. or
Move Your Cursor on Post and click on Trash.

We can also Sort Content in the WordPress by month or category.
Note: –  Trash Article can be Restore from the Trash Box with In 30 days. After 30 days it is permanently deleted from the Trash Box.

Once you have a Dozen of Post then it is very difficult to find a post in the Post Admin Area. So you have an option to Search your post on the Top Right Corner on the WordPress.

Tips:-
If you are Running a single Author Box then you do not need to Author Tab in Post Dashboard Area.
Only add Important Option in the Post Dashboard Area to make it neat and Clean.
Remember to share this post with anyone who might benefit from this information, including your Facebook friends, Twitter followers and members of your Google+ group! And also Support Us By Liking Our Facebook, Twitter, and Google+ Page.
If you have any suggestion or problem about WordPress Post please feel free to comment below.