WordPress Widget is little-packaged programs that you can add to any widgetized area ( most likely the Header, Sidebar, and Footer ) within your site to change its appearance.
One of the greatest things about it, Is that you don't need to touch the single line of code.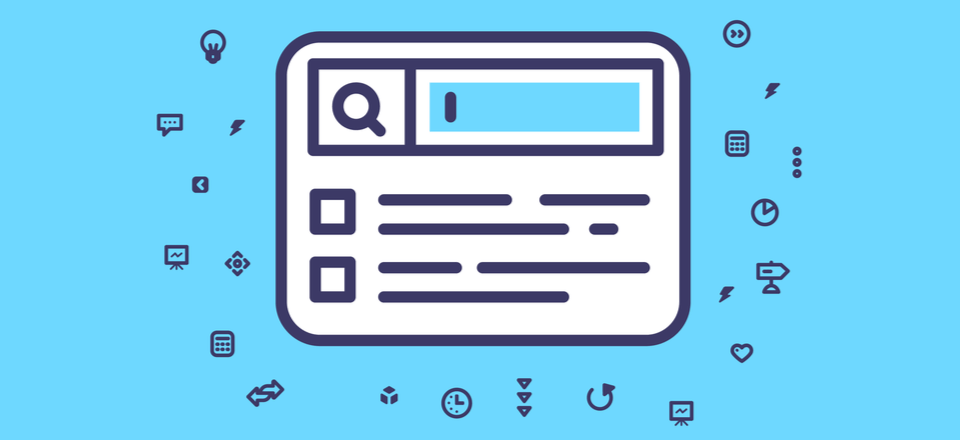 By default, WordPress comes with a lot of default widgets such as Search Box, Calander, Images, Archives, Post categories, Custom menus, Recent post, Text etc.
But Question is that!  What is the purpose of using widgets in WordPress? 
Have a look at default widget in WordPress widgets area.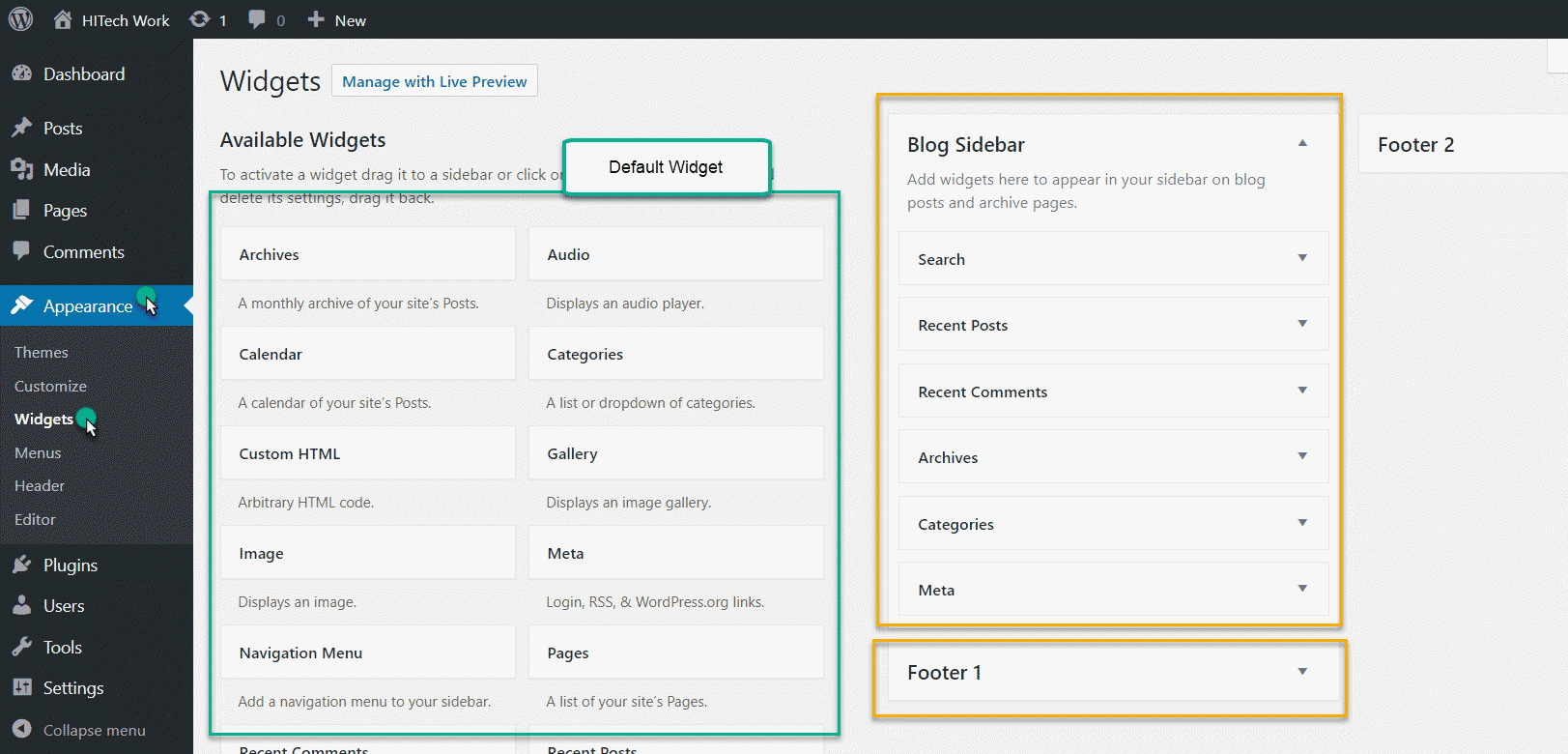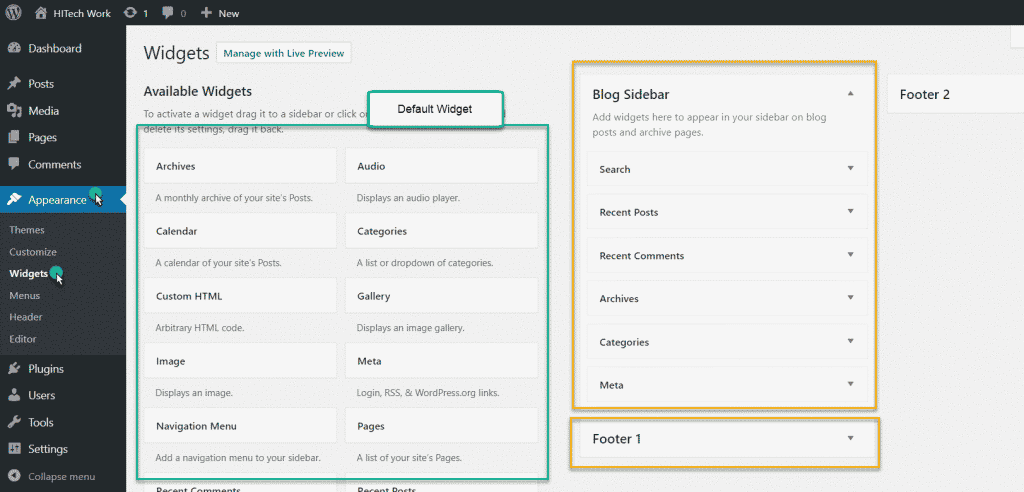 On the left side, you can see the list of widget available in WordPress and the right side, is the widget which is active by default when you install the WordPress.
Now, have a look at how it looks on the front end.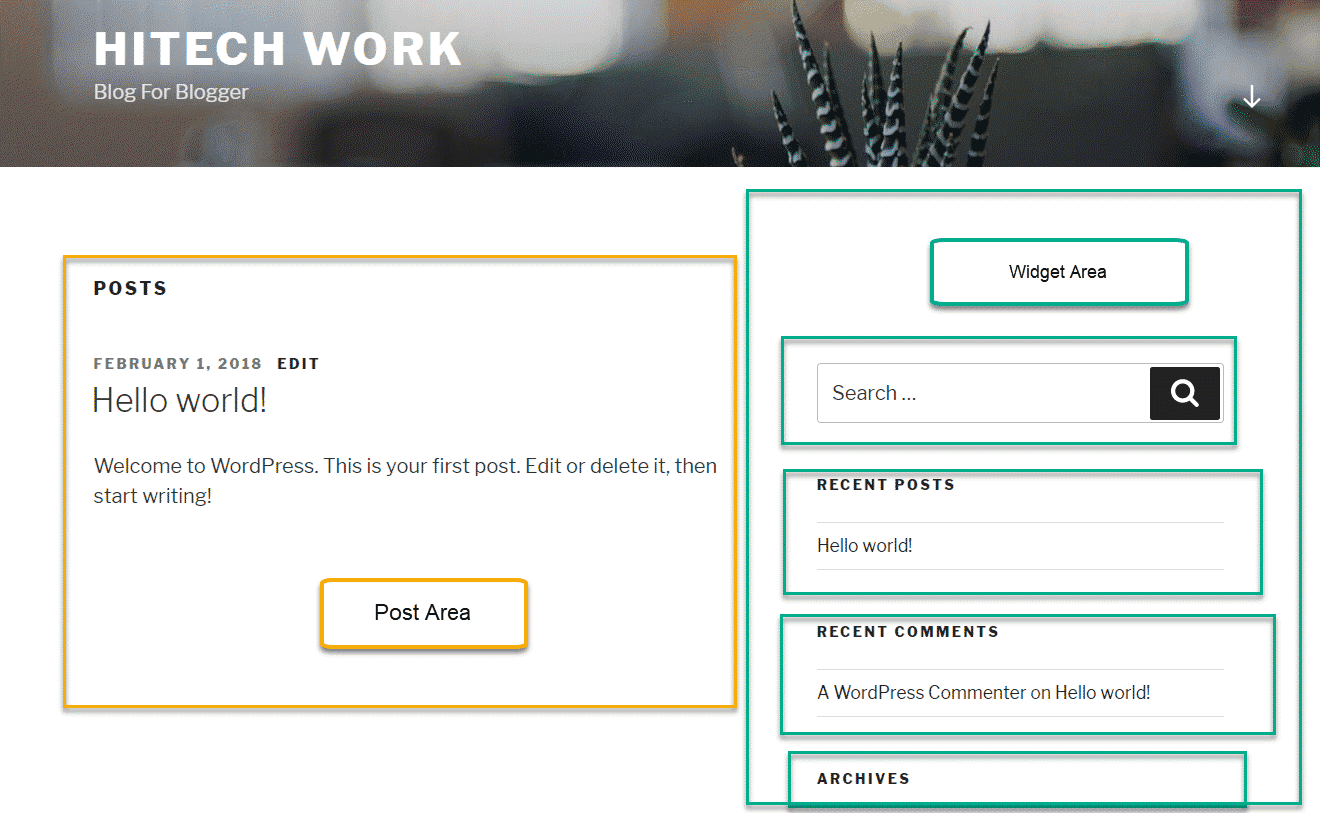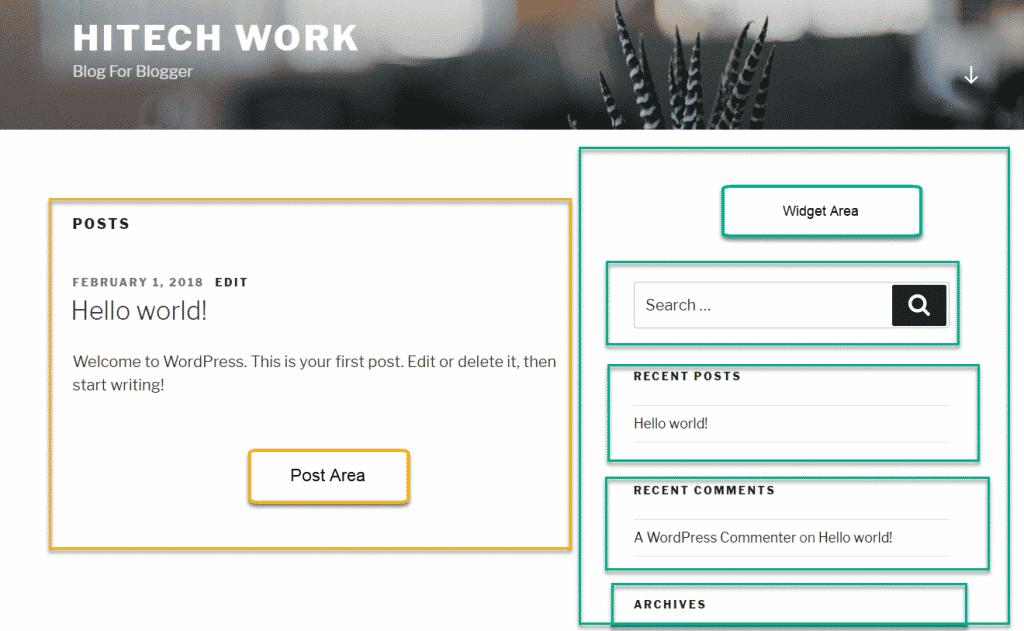 Did you notice that all the widget in "Blog Sider" is showing on the sidebar of the twenty-sixteen theme?
It is not only used to optimize the sidebar, you can also add widgets to the footer and customize your header ( WordPress navigation menu ) too if you theme to support it.
So, I think. Now you have a glimpse view of "WordPress widgets".
In this article, we will explore the following things
What Is Widget in WordPress?
How To Add Widgets in WordPress
How To Use Widgets In WordPress
How To Remove Widgets In WordPress
So, let start.
What Is Widget In WordPress?
A widget is a fancy word for tools or content that you can add, arrange, and remove from the sidebar(s) of your website or blog by easily dragged and dropped within the site.
It gives the liberty to the user to change or customize the sidebar of the site according to their need. By default, WordPress comes with few widgets but you can use add WordPress plugins to add more.
In addition to that default widgets, some time WordPress theme often adds their own widgets as well.
How To Add Widgets In WordPress?
To understand how we can add widgets in WordPress, let add a calendar to WordPress sidebar.
Login your WordPress as an Admin and click on the Appearance >>Widgets.
On the left-hand side, you will see a list of the widget.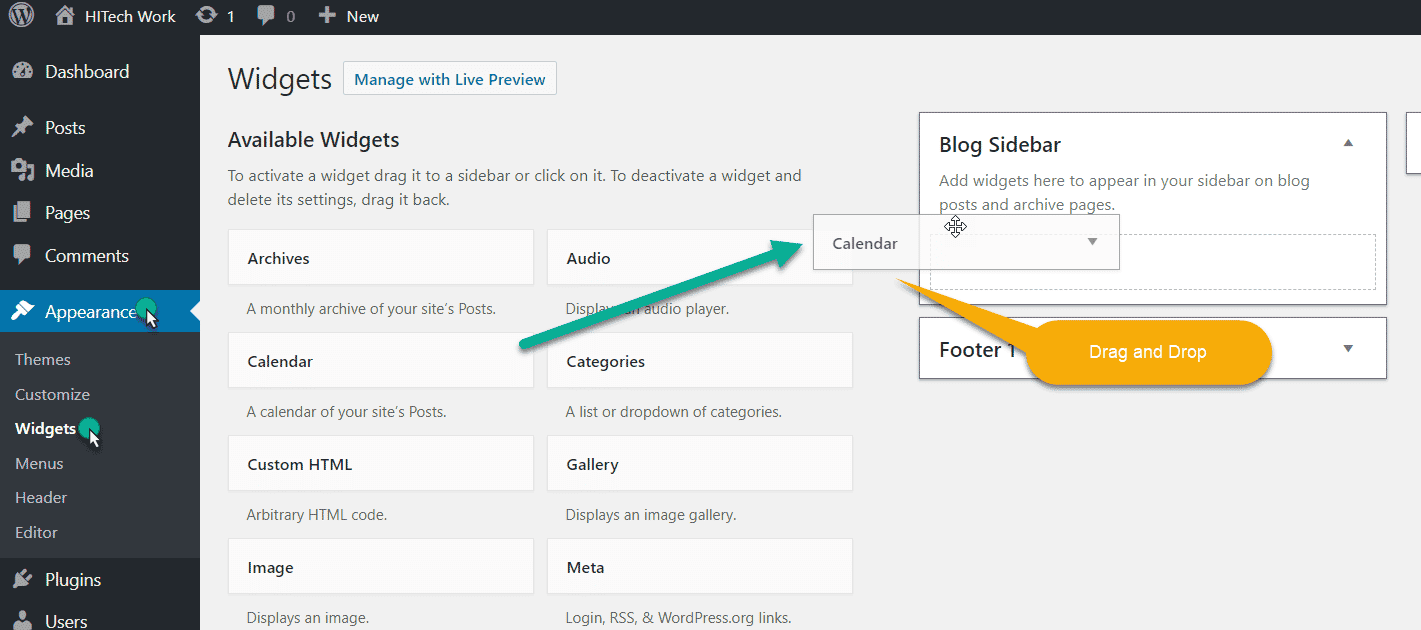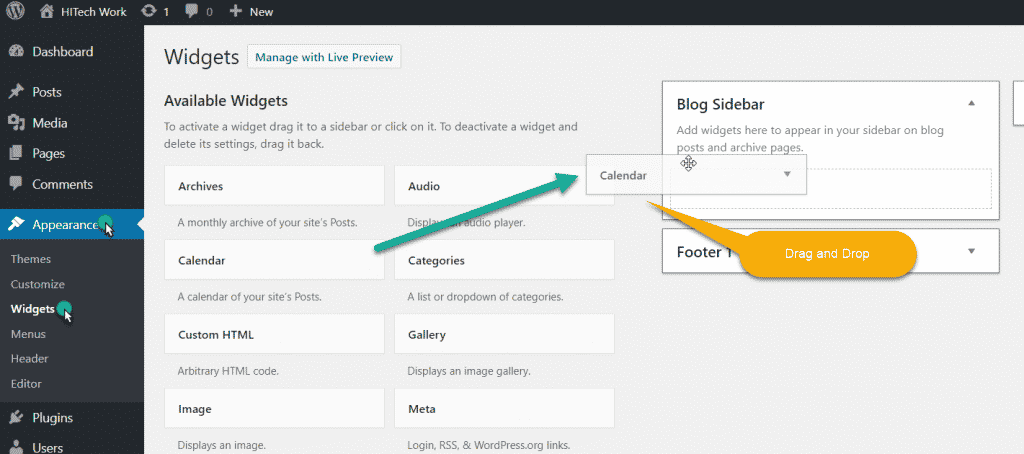 Just "Drag and Drop" the widget, where ever you want to place it.
Note: You can also click to the widget and select the location to add it. but I recommended to use a simple drag and drop feature.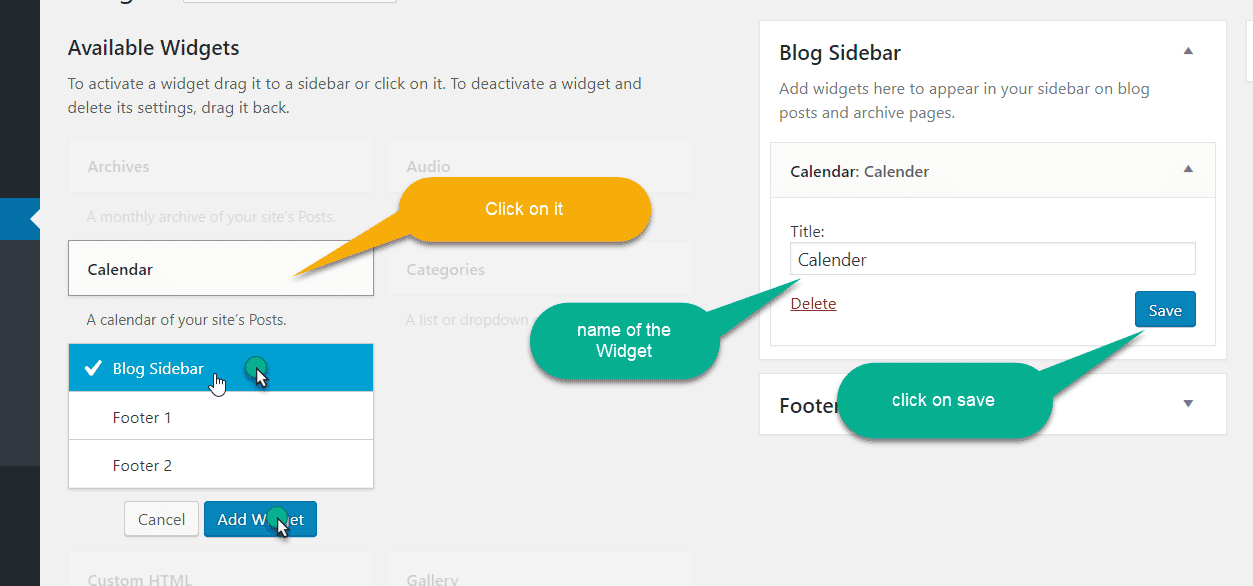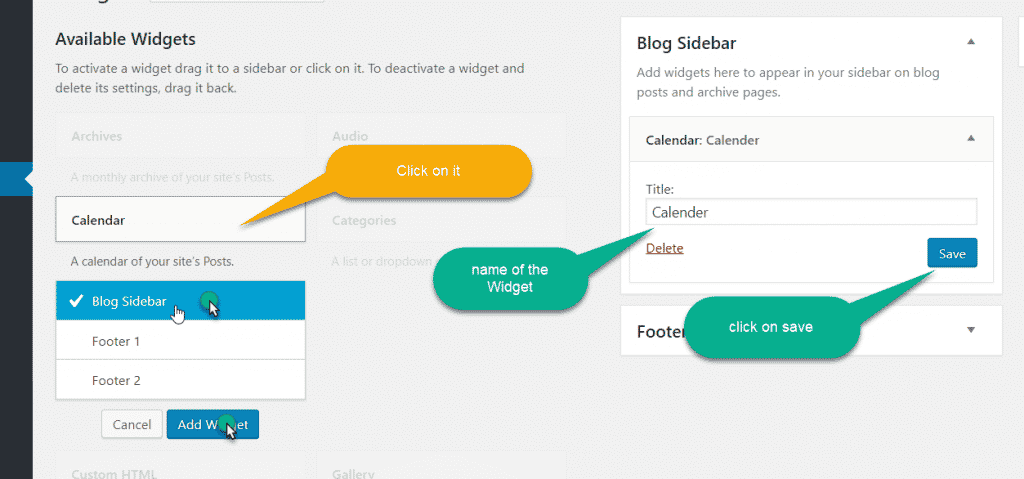 Give a title and click save.
Now, let's have a look at the fort view of the site.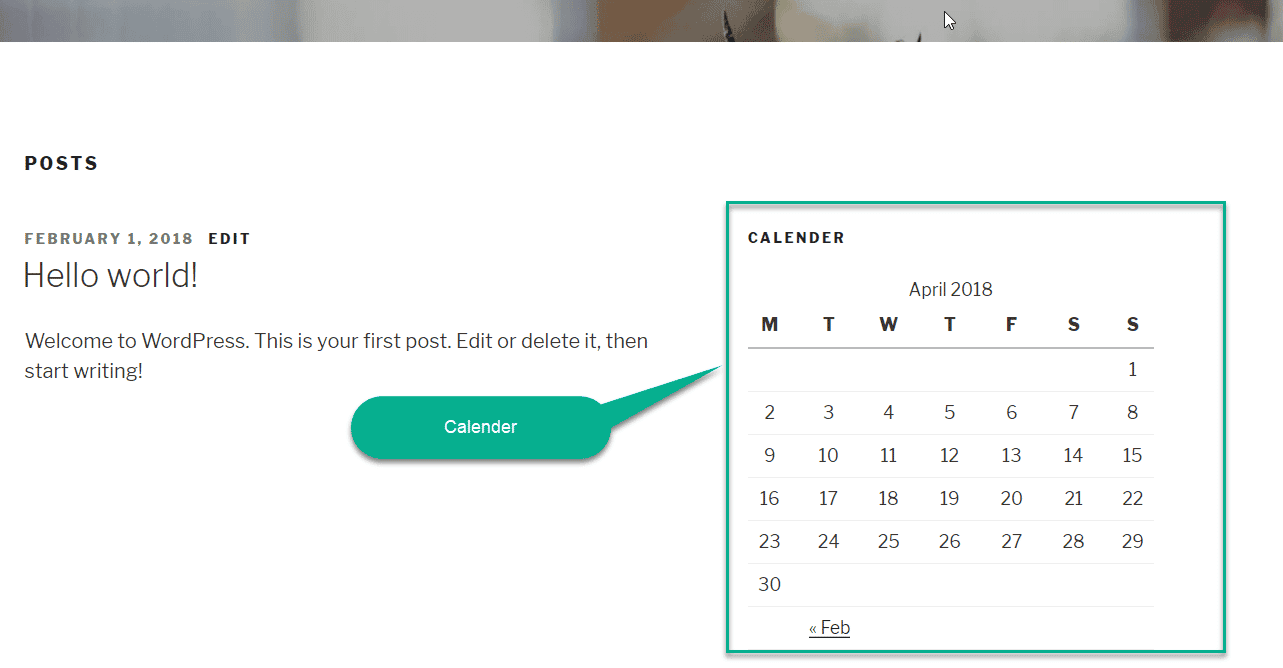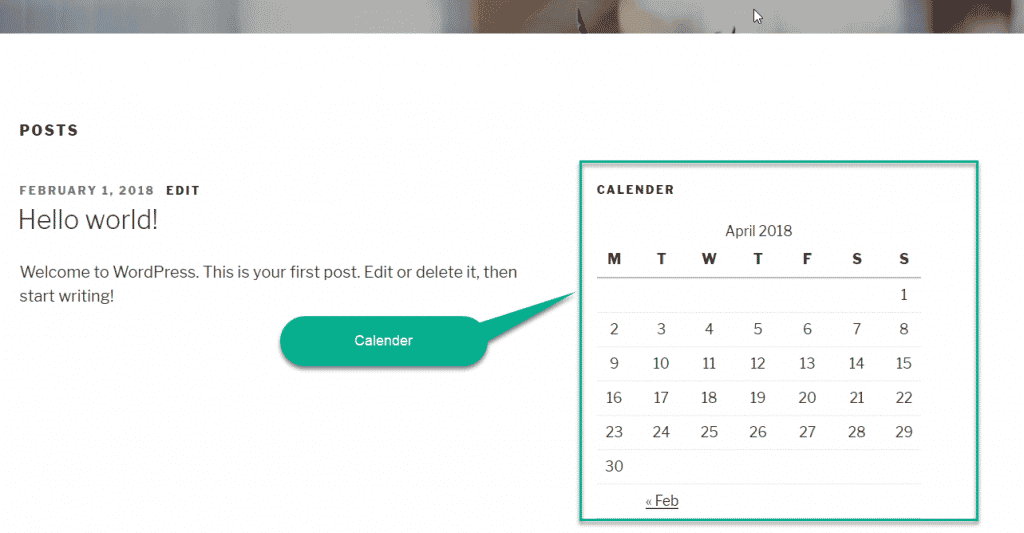 Without touching the single line of code you just add the functionality of calendar to the site.
This is just an example of  "How To Add Widgets In WordPress". but you can use it in so many ways, according to your site need.
The power of WordPress does not end here, you can even add a widget in real-time and check how it looks.
Click on appearance >> customize and select the widget.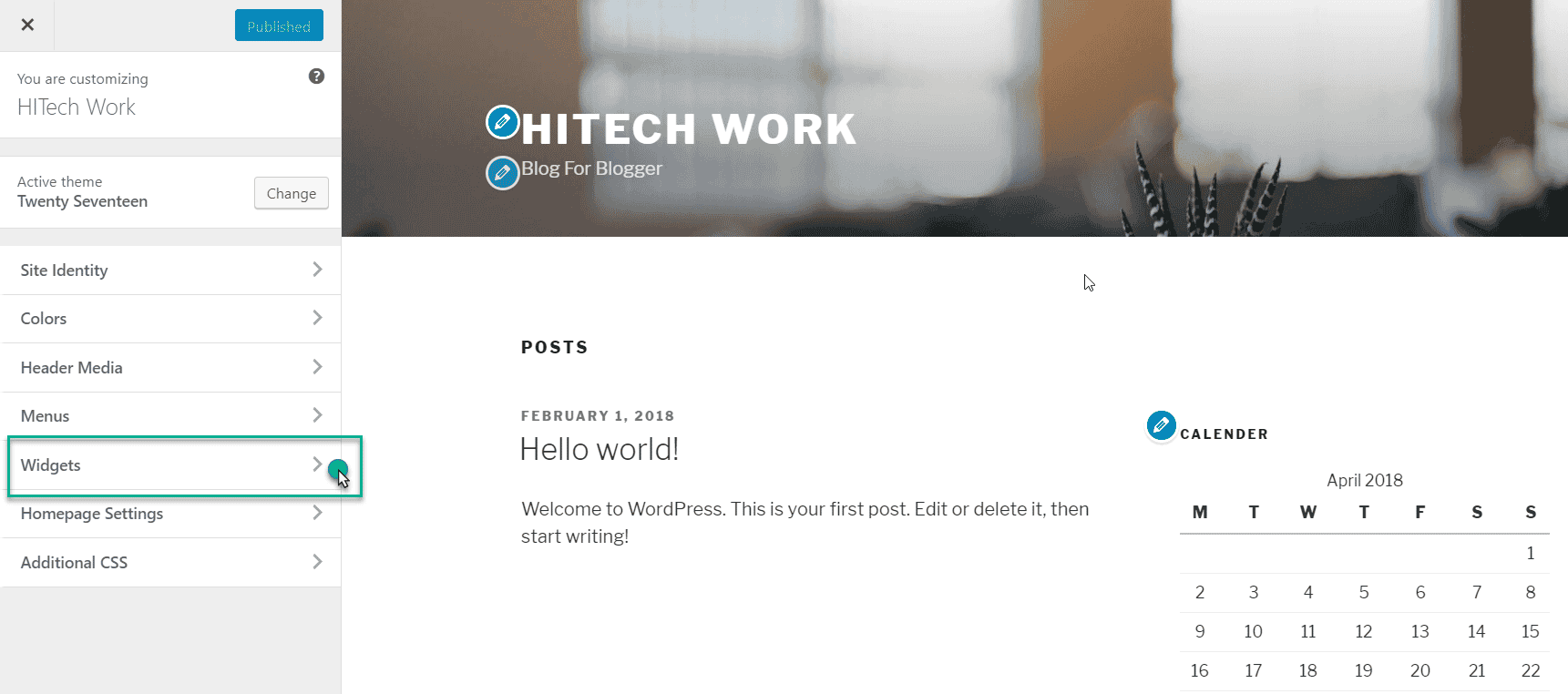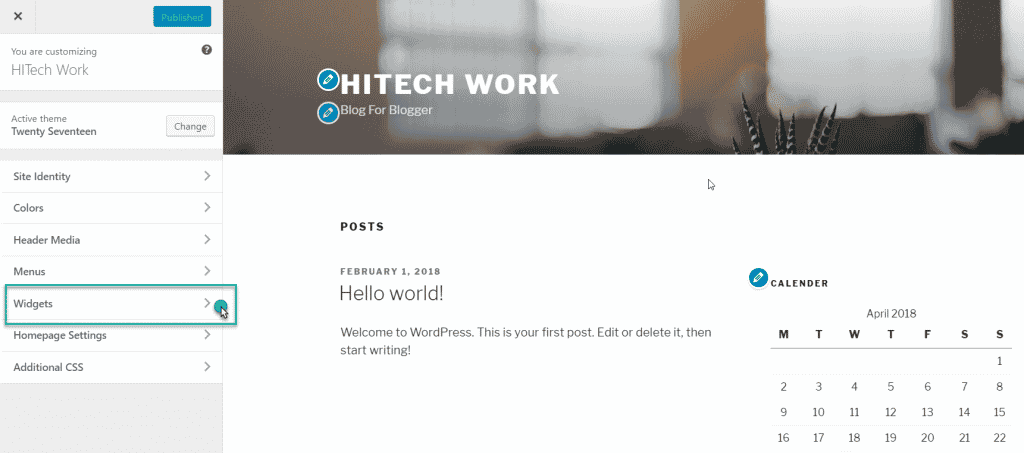 This thing helps you to see the change in real-time.
How To Use Widgets In WordPress
Here is a list of few useful widgets for websites to give a better and professional look to WordPress.
WordPress category widget:   To add a category in the sidebar or in the footer.
WordPress custom HTML widget:  To place Ads, custom tracking Ads, etc
WordPress iframe/video widget:  To place Video on the website.
WordPress image widget:  You can place the image and link it to your ebook, pdf etc.
WordPress links widget: To place a promotional link of other site or important link.
WordPress meta widget:  To add login logout and RSS button on your site.
WordPress news widget:  To place most relevant to latest news to your sidebar so that you can get the latest information.
These are just few most use WordPress widgets but there is a ton of widgets available. Check it in the WordPress directory.
How To Remove Widgets In WordPress?
Removing a widget is also simple as adding the widgets in WordPress.
Just open the Widgets page and drag back the widgets to widgets area or look for the widget that you want to remove and click on the widget title to expand it and click on delete.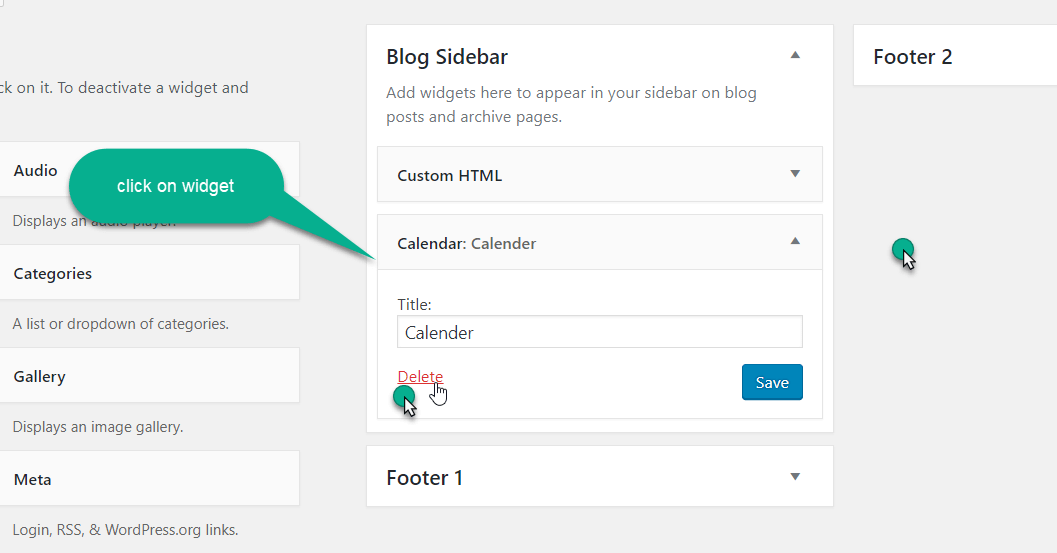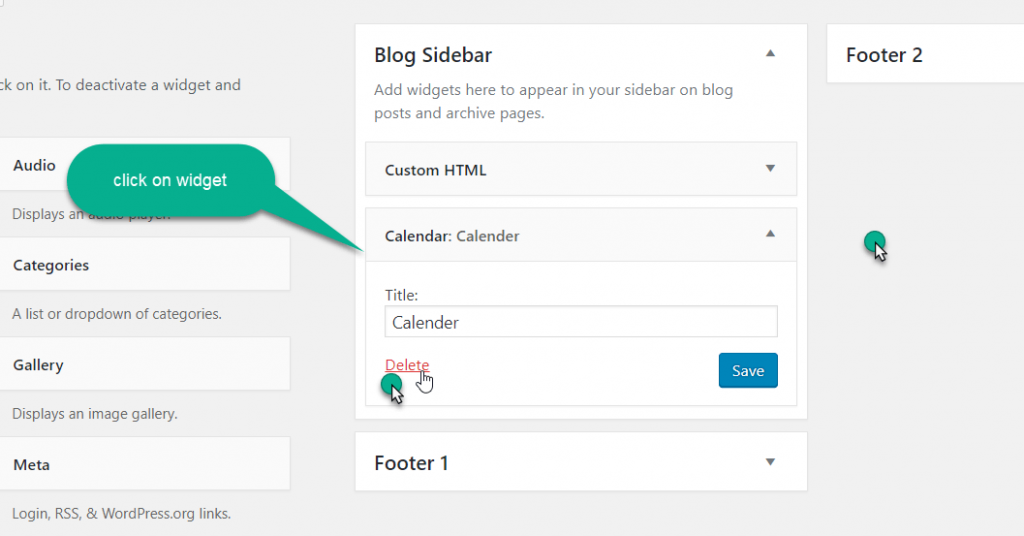 Deleting a widget will remove it from your sidebar and will also delete the widget settings.
Sometimes you want to hide the widgets for a few days. At that time deleting the widgets is not the best options. So, WordPress also has a solution for it.
You can drag back the widget to inactive widget place..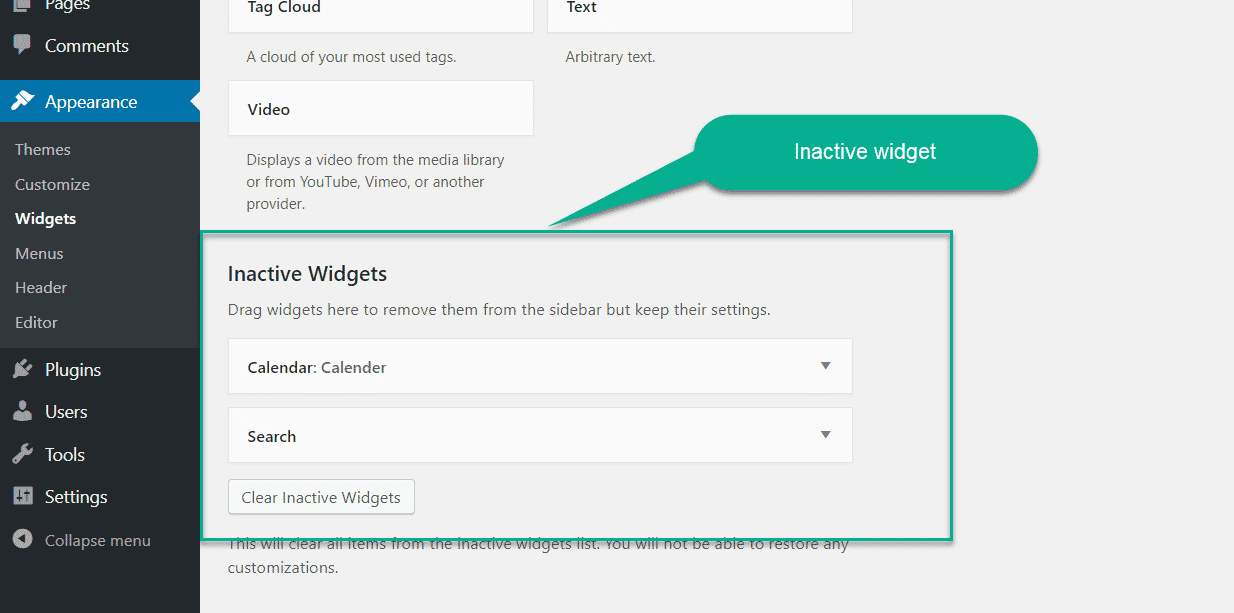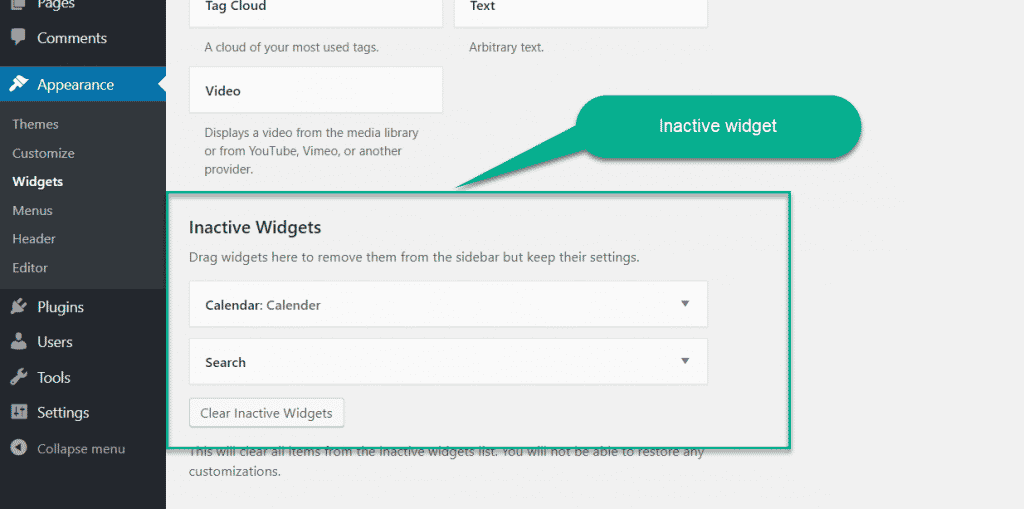 You can also delete/ clear the widget from inactive widgets area at any time if you want.
Remember to share this post with anyone who might benefit from this information, including your Facebook friends, Twitter followers and members of your Google+ group!
Also Support Us By Liking Our Facebook, Twitter, and Google+ Page.
If you have any suggestion or problem about What Is Widget In WordPress, please feel free to comment below.