WAV is the popular audio format developed by Microsoft. However, people prefer to use the MP3 format, especially when playing music on mobile phones or Mac. The preference given to MP3 format is due to its portability and the feature of taking less storage space.
Whatever the situation is, you need to have a WAV to MP3 converter to make this conversion happen. Moreover, choosing the right software or online tool from many is a bit tricky. That's why we are providing you with some recommendations.
Relatable: 123Apps: Audio, Video and PDF Tools & Converter
Here is the list of many software, including free WAV to MP3 Converter for Windows, Mac, and Online users. Let's talk about them!
1. EaseUS Video Converter
Compatibility: Windows
EaseUS Video Converter is an excellent WAV to MP3 converter for Windows users, and it lets you turn your WAV files into MP3 in a snap. Despite WAV to MP3 conversion, this powerful media converter can also help conversion between 1000+ audio/video formats. Even if you want to extract audio from your video files, it will let you complete it with the audio extraction tool.
To save your time, this MP3 converter for PC offers you high-speed conversion with its GPU acceleration system. The speed doesn't affect the file quality; you will get a flawless conversion in the end.
2. Switch Audio File Converter
Compatibility: Windows and Mac
Switch Audio File Converter is the stable audio converter for Windows and Mac users. Supporting almost all popular audio formats, it also works as a WAV to MP3 converter. The conversion process is fast and efficient, thus quickly converting the audio files.
The conversion process is also simple as you only need to comply with three steps of uploading files, choosing output format, and then conversion. Moreover, the feature of equalizing and normalizing the audio during conversion is also available.
Pros:
It supports 75+ audio formats for conversion
Extract audio from DVDs with ease
Good-quality output files
Cons:
The interface is a bit outdated
Not available for commercial usage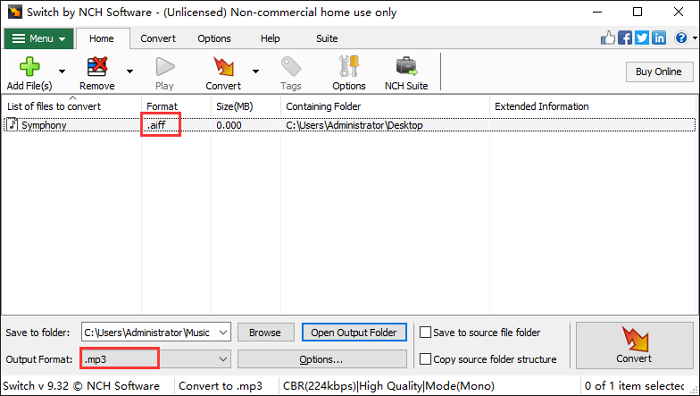 3. Movavi Video Converter
Compatibility: Windows and Mac
Whenever someone needs an incredible WAV to MP3 converter for both Windows and Mac, Movavi Video Converter comes into place. The software supports multiple file formats, including MP3, MP4, AVI, MKV, and many more, and it provides you with advanced options for changing your audio and video codecs.
The conversion process is straightforward with good video compression quality. Even a naive person can use it and efficiently carry out the conversion process. Plus, the converter also offers basic editing features like adding subtitles, AI upscaling, resizing, and cropping your video before conversion.
Related: How to Convert YouTube to MP3 – Best FREE Converter Tool
Pros:
Offer preprogrammed optimization and conversion profiles
It resolves incompatibility issues
Quick and easy conversion
Support many file formats, including DVD
Cons:
Not a good interface
It lacks clips' preview, unlike other converters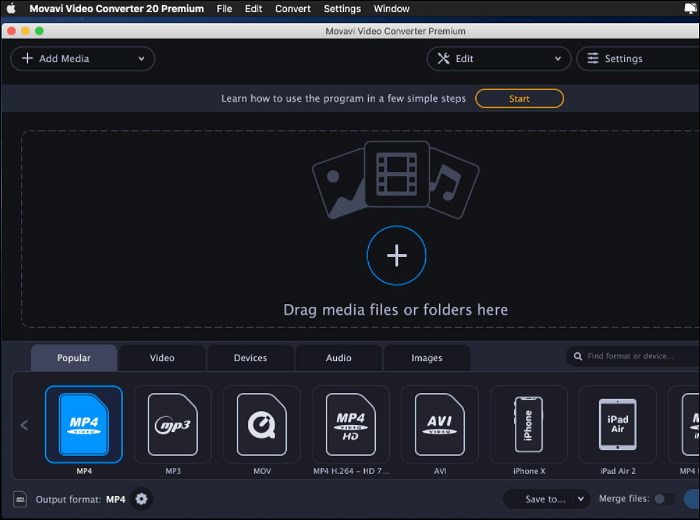 4. VLC Media Player
Compatibility: Windows and Mac
Besides Movavi, VLC Media Player is also a free WAV to MP3 converter that can work on any device. While converting WAV to MP3 or other formats, you can optimize your audio or video file with the help of available features.
In addition, the software also offers different streaming protocols. The fantastic feature is leaving zero-copy on the GPU with its advanced technology.
Pros:
Feature of installing extensions
You may control the converter with keyboard shortcuts
It supports a wide range of input and output formats
Adjust settings as per your requirements
Cons:
Find files from respective folders becomes complex, sometimes
Unable to use meta tags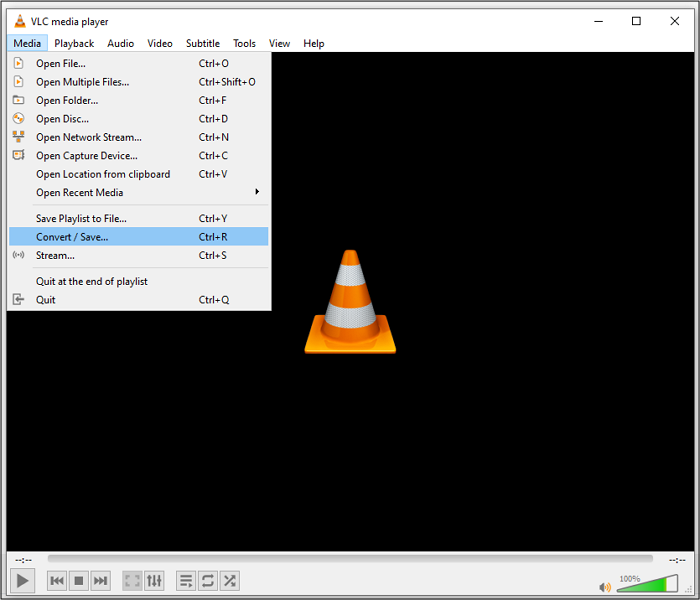 5. Zamzar
Compatibility: Windows, Mac and Linux
For the people who prefer online free WAV to MP3 converter over downloading software on their devices, Zamzar can prove to be an efficient one. It assists you in converting your audio file irrespective of your operating system. Completing the conversion process was never so accessible as with only a few clicks.
This online tool lets you convert your audio files over the cloud, so you don't worry about the device storage space. You can also avail of the service of uploading files via the drag & drop feature or URL. The credibility is kept by deleting the files from the servers.
Pros:
Convert your files in 10 minutes
It offers 1200+ file formats
Easy to understand interface
Convert your files directly from the URL
Cons:
The maximum file size limit is 50MB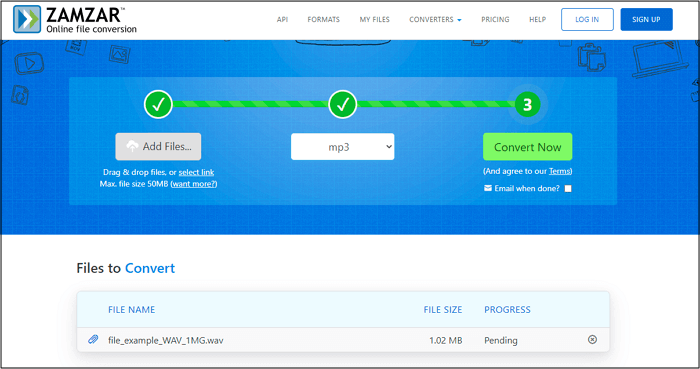 6. Audio Converter
Compatibility: Windows, Mac and Linux
Audio Converter Online is a free web tool that can aid you by functioning as a free WAV to MP3 converter. It supports over 300 file formats, including video formats. The process of converting your file with this tool is easy because it only needs uploading your file, selecting your desired quality and format, and then downloading the converted file.
Its advanced settings let you adjust your file, i.e., the bitrate, sound quality, channels, playback, frequency, removing one voice from the track, etc. If you want to download a song from a movie or video, you can also extract the audio-only by using this free app.
Pros:
Convert multiple audio files simultaneously
Tags are supported for different file formats
Files get deleted from the servers automatically
Import files from Google Drive, Dropbox, and URL
Cons:
A bit slow conversion process
Interruption in internet connection halt the overall process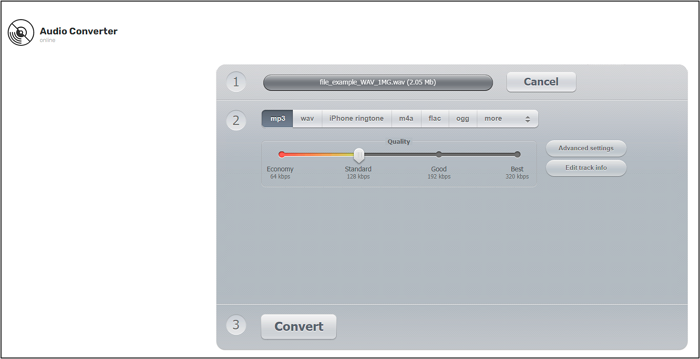 7. Online Converter
Compatibility: Windows, Mac and Linux
Online Converter provides you with free conversion services by supporting an extensive range of file formats. This universal, credible, and free WAV to MP3 converter proves to be a handy tool for both professional and personal work. Quality is also maintained during the conversion process.
It converts audio/video files, ebooks, documents, presentations, and much more. This is an entirely free converter with no need to do the installation. Being a browser-based tool, you can open it on any device and convert your files easily.
Related: iTubeGo: Free Online Video Downloader
Pros:
Free and easy to use converter
Multi-purpose conversion services
It keeps good file quality while converting
Completely secure and stable
Cons:
Ads displaying is a bit irritating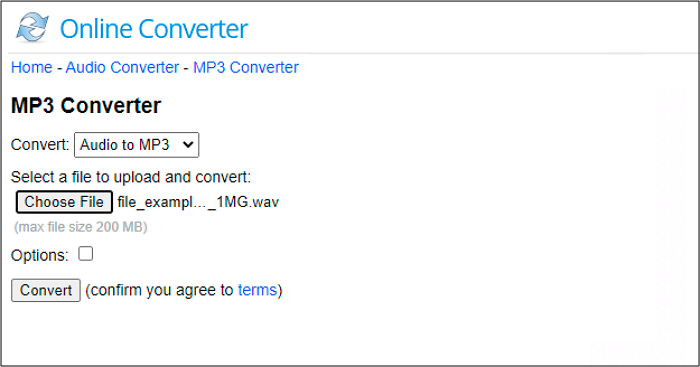 Conclusion
To overcome all the compatibility and storage space issues, there is a need to convert WAV to MP3 format. For this purpose, people will undoubtedly require a WAV to MP3 converter that is secure and efficient enough to be used.
Being an excellent WAV to MP3 converter, EaseUS Video Converter covers you from all perspectives in the best possible way. However, you can opt for any of the above recommended software.
Editor's Recommendations