Graphics cards and GPUs have become the beard of the modern gaming industry. As the gaming industry is evolving rapidly the requirements are also getting high. Normal CPUs can't do the job as they used to do in the past. This is the reason why GPUs and dedicated graphics cards have become a need and eye candy for gamers across the globe. In this article, we are going to discuss the best graphics card for gaming to provide an ultimately enjoyable experience.
Everybody in the world today wants the fastest and the reliable performance. There are several choices of graphics card for gaming are available that offers different performance level, features, and most important factor for some people the price.
While considering a graphics card for pc people look at all the aspects like price, availability, features, and the most important feature for professional gamers is efficiency.
NVIDIA GPU, however, is considered to be the best among the entire gaming graphics card family. But, still, there is a lot of competition in the market today like AMD Radeon RX 6600 XT, MSI RTX 3090 Gaming X Trio, and NVIDIA GE Force graphics card, you might feel overwhelmed what to select.
All of them are proving to be the best graphics for gaming and other stuff. Now without further due, let's now have a look and find out which one is the best and leave the final decision to you.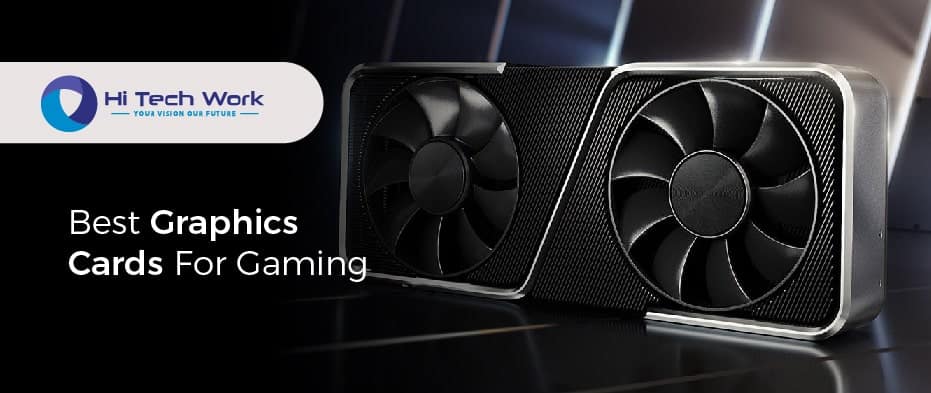 Best Graphics Cards For Gaming
Nvidia Geforce RTX 3060 Ti – Graphics Card For Gaming
NVIDIA is consistently challenging the world's top graphics cards and GPUs that used to be called the king of GPUs. NVIDIA GeForce RTX 3060 Ti, after its release it threatened the position of AMD and tried to dethrone AMD from the top. The RTX 3060was way above and beyond expectations. They delivered the performance that could give competition to any graphics card for gaming. The release made gamin in 1080 resolution was never fun and affordable before.
Specifications:
Processor: 1.41 GHz,
Memory: 8GB memory graphics card,
Memory Clock: 14Gbps,
Stream Processor: 4864,
Output: HDMI 2.1, 3x Display Port 1.4a
Power Connector: 1x PCI 8-pin.
Nvidia Gaming Card – Geforce RTX 3080
NVIDIA RTX 3080 is a 4k graphics card that supports high-end graphics for an unbelievable gaming experience. People were willing to spend thousands of dollars and pounds to play the game with an ultra-high frame rate. The RTX 2080 Ti provided these graphics which everyone wanted. But, the RTX 2080 Ti was way too expensive but thanks to RTX 3080 which successfully cut down the price to half and made the high-end graphics gaming experience affordable for everyone.
Specifications:
Processor: 1.44 GHz
Memory: 10GB memory graphics card
Memory Clock: 19Gbps
Stream Processor: 8,704
Output: HDMI 2.1, 3x Display Port 1.4a
Power Connector: 2x PCIe 8-pin
Nvidia Geforce RTX 3090 – Best Graphics Card
There are some devices that can do wonders. NVIDIA GeForce RTX 3090 is that wonder. It brought 24GBx of RAM it gives an enormous amount of processing capacity for heavy graphics that will not let any game or graphics face performance issues or lags. NVIDIA RTX 3090 can produce 8k video quality at 60 fps.
The NVIDIA GeForce RTX 3090 is the substitute for NVIDIA Titan and to enjoy the 3D gaming experience. NVIDIA as promised reduced the price significantly and made 3D gaming more enjoyable and affordable.
Specifications:
Processor: 1.40 GHz
Memory: 24GB memory graphics card
Memory Clock: 19.5Gbps
Stream Processor: 10,469
Output: HDMI 2.1, 3x Display Port 1.4a
Power Connector: 2x PCIe 8-pin
Final Words:
Gaming is something that once you get addicted to it you can never leave it. But, having hardware that can support heavy graphics without lag and performance issues. We discussed some of the best and the most demanded best graphics cards for gaming that are super fast and affordable for everyone.