Are you on the hunt for an excellent alternative to Facebook? While it may look like a daunting task, you can rest assured you're not alone. Whether it's because of private terms and conditions, data protection issues, or platform rules and regulations – the reasons for finding an alternative to Facebook are common, and more and more users are looking to bypass the Californian social media giant.
The market for related networks is massive, and there's a large selection of platforms ready to accept Facebook's digital refugees. In our guide to social media platforms, we've previously introduced some of the biggest and best-known social networks around. But despite whether you're using Twitter, Instagram, or Google+: Awareness and consideration about privacy and data protection are also essential factors in choosing to use any other social media giants.
One common complaint targeted particularly at Facebook is that the Facebook Newsfeed algorithms decide exactly what you do and don't see. Another problem is personalized advertising, which is only possible through accessing and interpreting personal user data. As you can view: the list of criticisms for the social network market leader is long. So it's good news that there are a few best alternatives to Facebook in the business. Some of these Facebook alternatives offer less advertising, others offer advanced data protection, and some even offer extended functions and features that aren't currently available for Facebook customers.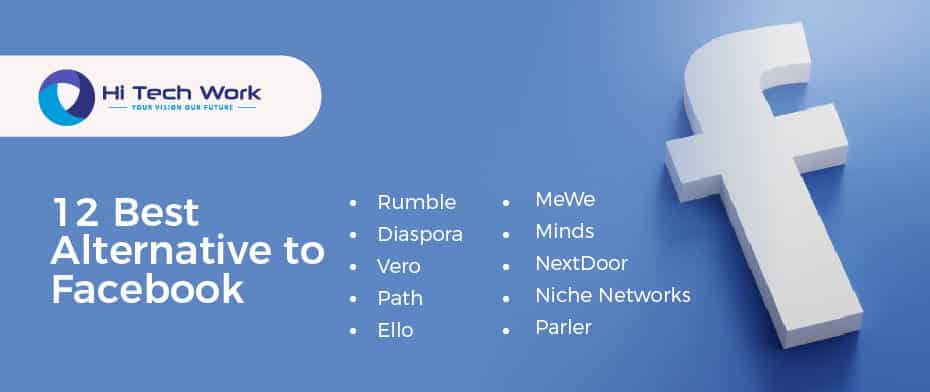 12 Best Alternative to Facebook 
Rumble 
Rumble, a conservative alternative to Facebook launched in 2013, has got 4.7-star out of 5 (among 57.6K ratings as of January 10, 2022) on the Apple App Store and utilized by millions of users worldwide.
This Facebook alternative not only lets you share your viral videos while preserving your rights but also lets you monetize them. According to the CEO of Rumble, Chris Pavlovski, the number of users is growing so fast, and the app has got featured on the list of the top apps at the App Store several times.
Diaspora
Diaspora was built in 2010 as a direct alternative to the centralized corporate mega-giant Facebook was becoming. Diaspora is based on three postulates: decentralization, freedom, and privacy. The platform comprises several different networks, called pods, created by the users themselves using Diaspora's free software.
To join Diaspora, you can either build a new pod or join an open one. There's no centralized server, no for-profit provider, and no ads also. Best of all, users maintain ownership of their data.
Vero
A subscription service, Vero's main selling points are that it's ad-free and doesn't classify your timeline using algorithms. Vero's been around since 2015 but has lately actually taken off, jumping from only 200k to over 3 million users thanks in large part to a limited-time offer of free membership for life.
The campaign was so successful that as of April 2018, it'd been extended indefinitely. However, the service does intend to return to paid subscriptions at some point. Vero's also only available in the application form and requires using your phone number to sign up.
Path
Created in part by a former Facebook executive but later acquired by a company in South Korea, Path was initially designed to help users focus on quality communication with a small group of close connections rather than trying to maximize their number of friends.
The limit of only 50, then 150 communications has since been removed. Although, Path is still considered a more intimate social networking alternative. Sadly, however, Path has had some Facebook-like problems with data protection in the past. It's also completely app-based, which isn't to some peoples' taste.
Ello
Ello markets itself as an ad-free Facebook alternative and commitments never to sell its users' data. It hadn't reached the mainstream but reached significant interest in 2014 when Facebook enforced its real-name policy.
Ello is a beautiful alternative for artists, photographers, and other creatively-minded individuals with a minimalistic design and focuses on content. However, it requires a private user-to-user chat function and some other handy Facebook features.
MeWe
Launched in 2016, MeWe is relatively new to the social networking scene. With the hashtag #Not4Sale, MeWe is a Facebook-like clone but with more important data security. With many of the same features as Facebook, the biggest user complaint seems to be the lack of other members.
Minds
Minds is a somewhat anti-establishment Facebook clone. The network is free-speech-oriented with no censorship. New users can take benefit of the migrate from Facebook function.
Saavy users can also generate income via social networking by getting monthly support for monetized posts and ad sharing.
NextDoor
If you're more involved in connecting with your local community than building a global web of contacts, Nextdoor would be a great social network to join. But, unfortunately, it's not available in Canada yet.
Niche Networks
There are also many niche social networks out there for people interested in career and hobby-related social networking. For example, Musical.ly is a spot for music fanatics, Digg is a feed for news junkies, and DeviantArt is a forum for artists and art lovers, to name a few.
Other niche networks are age-targeted. Snabbo, a.k.a Social Network Allowing Baby Boomers Only, is much self-explanatory. Parents might want to check out Lego Life. It's an Instagram-styled app for children under 13, designed to make them for real social networking as they grow older.
Parler
Launched in August 2018, Parler is a free speech Facebook alternative utilized by conservatives and conspiracy theorists. But, unlike Facebook, it cares more about your privacy and gives you all the tools to freely share your views without having a fear of getting your account removed.
In November 2020, Parler, Inc announced that it had over 10 million users, where 4 million users are actively using this "free-speech" social networking site. But, you should understand that some journalists have criticized the content policy of Parler. According to users, Parler, Inc's content policy is more definitive than it portrays. So, before utilizing this Facebook alternative, you should read its content policy carefully.
Final Words
That's all from us for this week. Whatever social network you prefer, you should always be wary of how your data could be used. Be careful about what sort of information you make available, and if you're unsure, it's always best to leave sensitive info away from your online social profiles. Stay tuned with hitechwork.com for more helpful tips and tricks!