Content scraping still haunts the entire blogosphere. No matter how hard you try to defend your creation. If content thieves want to steal your creation then they will always found a way to steal it!
Stealing content from the web is just a part of the world of Digital Content as Matt Cutt explain in this video. Unfortunately, content theft is way too common and there is hardly a site that hasn't been affected by the thieves.

One day, you will face the problem of "Stolen Content" on the web, then you realize that you should have to spend some time to Protect Your Content rather than publishing it on the web.
After reading, a 100 of the article and long Research on "How To Protect your content" and some practical on it. I experience that this process takes too much time and in practice makes sense to do only for important articles.
In this article. We will learn, how we can find the stolen content on the web, what to do to Remove the scraped content, and then how to protect your content from getting stolen again in the future. There is no 100% fool-proof way to protect your content from the thief but you can make it more difficult for content thieves to steal your creation.
Introduction
Google is trying really hard to deal with duplicates content and copy content. But now in a day google pretty smart to find the original source of the content. It is way too common to see stolen content rank higher than your original content. This is why it is so important to protect your content in any way you can.
After launching the Google Panda algorithm. It becomes more important for the site owner to write a unique content. Panda set a penalty for that website owner who just copies the someone content, by deindexing the website from the search engine.
Sometime competitor website steal your content and change the timestamp to trick Panda into thinking they're the original creators of the content. This means that your site can get penalized for duplicate content, even though it's all content that you wrote yourself.
Happily, you can ask Google to deindex any page that is stealing your content under the Digital Millennium Copyright Act.
How To Find The Stolen Content
There are a lot of tools to find the stolen content on the web. Here is 4 top stolen content finder tool to find the copy content and image.
1.) Copyscape: – It is a best and my favorite tool that I often use to find the copy content on the web. It searches the whole web just in a second and gives me a lot of results. Let me show you how this work;
Select any post that you want to check on the web. Copy the URL of the post and past in the Copyscape BOX.
Click on Go.

Now see the result, there is 3 post that is similar to my post. Check the result one by one.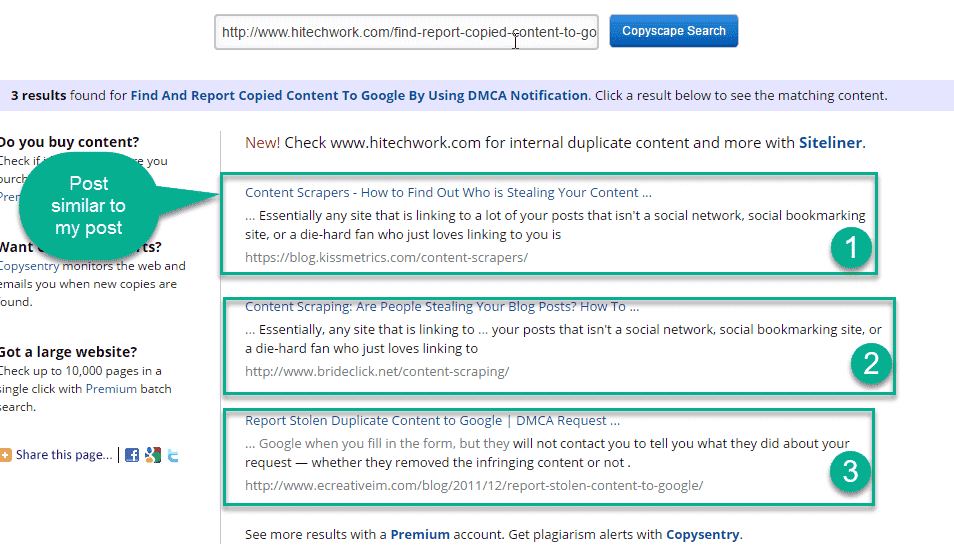 Copyscape shows you, how many words, the percentage of the content are similar to my content.
Even the words or paragraph that someone copies from your site are directly highlighted by it.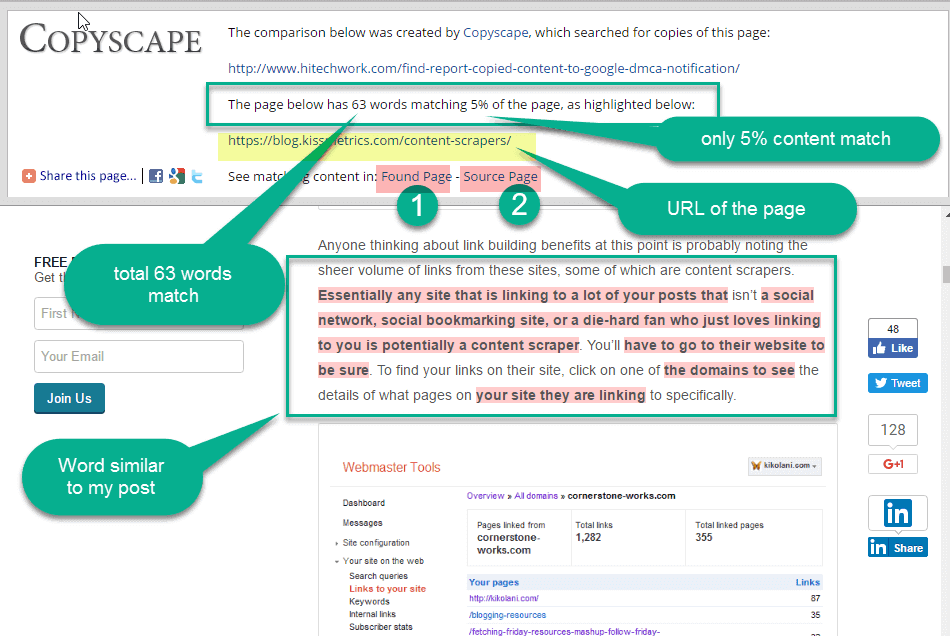 Click on Found Page to see where the paragraph or whole copy of your content is placed.
Click Source page to see, Where from the paragraph or whole copy of your content is copied.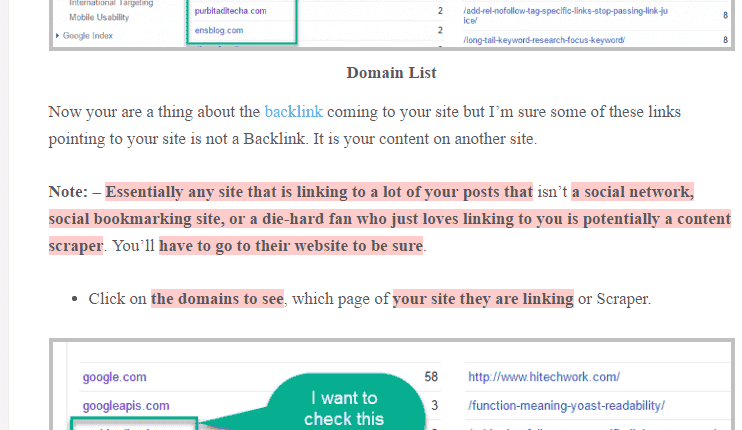 Note: – In the free version of Copyscape. You can only see the top 10 results. If you want a more robust report, you can sign up for the paid version. It searches each page individually not a whole website.
2.) Plagtracker: – It is a free and open source software for searching the stolen content on the web. It also checks the grammatical mistake in the content.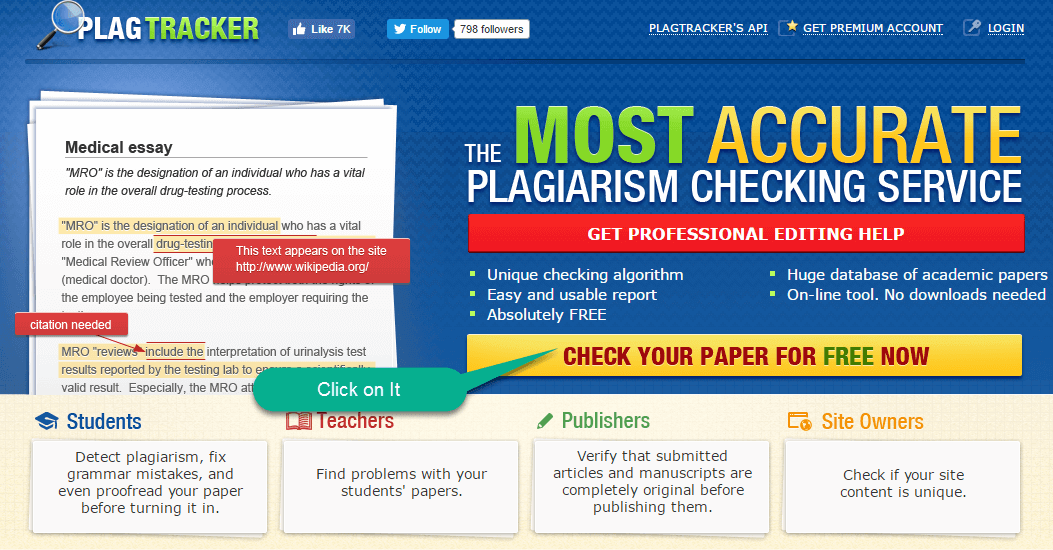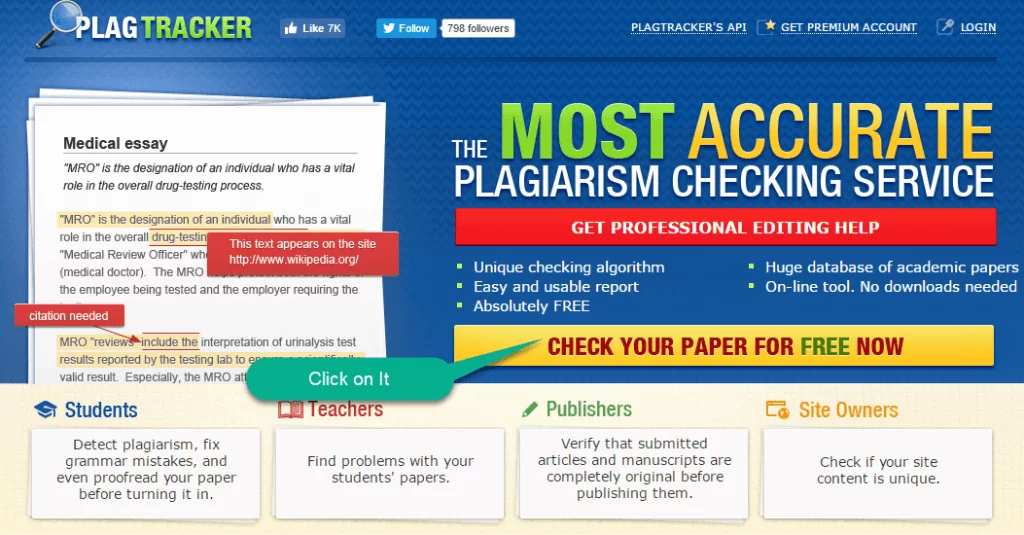 Click on"Check your Paper for Free Now" and enter the full text of your content, just copy and past.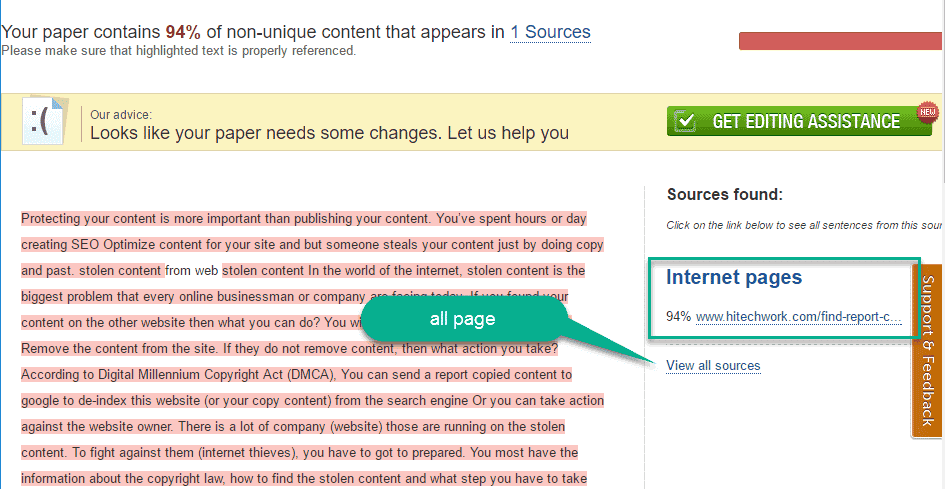 See, I found a page similar to my web page 94%. Actually, this is my website, this software is only for checking where from the student copy their assignment. But blogger uses it to find the source of the page.
For example: – If you write a content for me, then I can check, Is its original content or copy from the web.
3.) Tiny Eye: – If your website is based upon the photography than TinEye is the best option for you. Just upload a photo on it and you can easily find who copy your photo.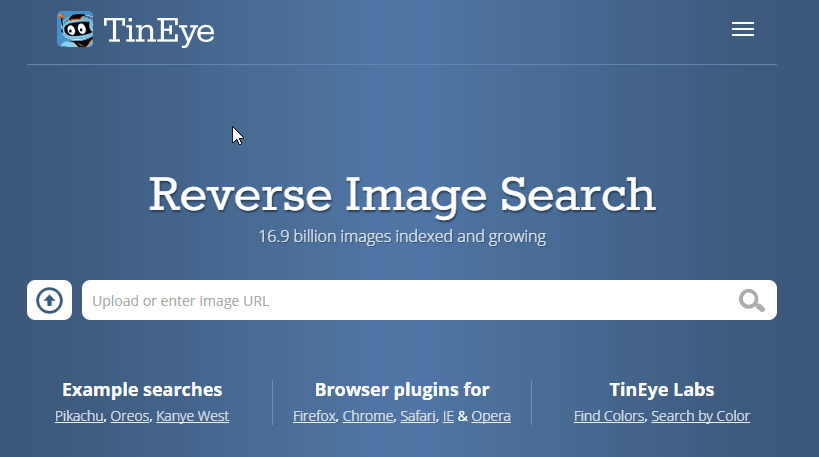 For the sake of explanation, let me search "beautiful girl" in the google search box. I download the image and rename it so that TinyEye cannot trace the name of the image.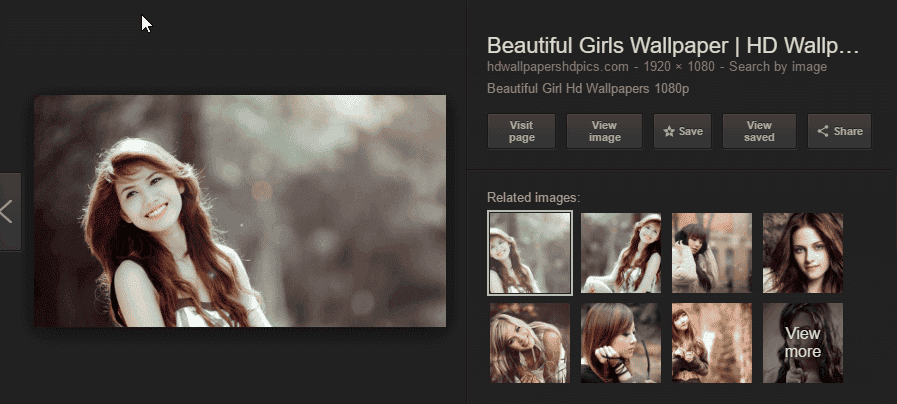 Now after changing the name. I just upload it on the tiny EYE. It just searches the image on the web and gives me a long list with URL of the page where the image is placed with a different name.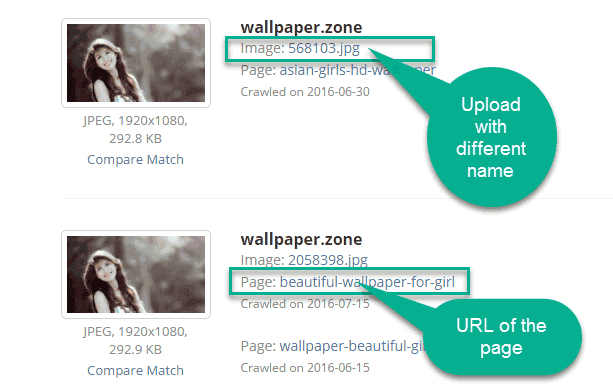 Note: – You can also use chrome extension of Tinyeye
4.) Google Image Search: – More targetable and easier to claim your photo in the google. You can easily find a lot of the Website that is using your image without your permission. This is the best tool for finding your infographic, Photos etc

I just upload the same image in google image search but you can also provide URL of the image.
Google give you a result within a second and also the real name of the image. ( because I change the name of the image before upload or sometimes give the keyword that someone uses to download the image).

See the list of the page with URL and also the name of the website where the photo is placed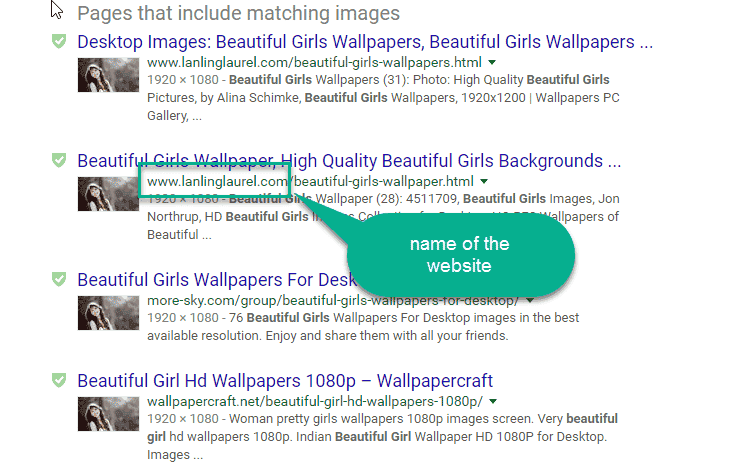 How Thief Copy Your Content
A thief can steal your content in a number of ways, some of them are;
Directly copy your post and publish it on another blog.
Just copy one or two paragraphs from one post or blog. You can find this type of stolen content by Copyscape
Using Software to scrape your content and replace the word with synonym words. The truth is, this form of plagiarism is the most difficult to tackle. Almost impossible but you can check it by searching your image in that article.
Protect Your Content From Being Copied
As I already told you, there is no 100% fool-proof way to protect your content from the thief but you can make it more difficult for content thieves to steal your creation and to punish them when they do.
1.) Place Copyright Notice: – When you place a bandage to your website, that means you are directly telling the thieves your content are private and you don't want to share with anyone. This will likely be enough to scare them away.

2.) Watermarks: – If you are a photograph then it is important to add watermark on the image. If someone copies your image and publish it on another blog then your watermark help to divert traffic to your site or you can claim that It is your image.
I did not recommend to blogger or website owner to place the watermark on the image because recently I just make 2 backlinks from my image.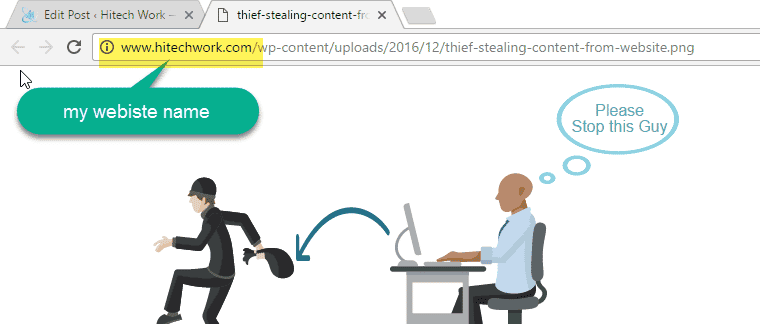 Someone just places my image on their blog post without my permission. But they don't know they actually provide me a backlink through the image. Before uploading an image to my site. I always SEO optimize the image,  so that I can rank better for the image as well.
3.) Block Right Click: – You will often see that the Bank website or transaction website where we do an online money transfer. The right click on that website is disabled. I often see some blogger also use this trick to protect own content. But it is a bad trick.
We write a content for the user, sometimes user needs to mark or highlight the area or want to check the source code. So this thing creates a negative point for your website. If your website is for security or some other where the information is more important then you can disable right click. Hire technical team to do it perfectly or you can use a plugin for this job.
4.) Restricting Access: – Do you have online information which is only for your clients, subscribers, the customer? Make a password protected area so that other can't user it. This action can prevent the loss of sensitive information to competitors and other groups looking to take your content and approach.
5.) Google Alerts: – Google alert is a simple e-mail alert you can establish by notifying Google that you want to keep tabs on certain keywords or phrases.

You can create a notification by simply adding your Tittle or focus keyword in the box. When google find something like this they will message you through email.
How To Remove Stolen Content
Many bloggers and webmasters owners have a contact page, social media profile, or email address on their sites, so you can use this email to contact them and ask to remove duplicate content. Many content thieves ignore this type of email then you can contact the Hosting provider to remove the content.
Search whois.com to find the email of the hosting provider.

Note: – Before email to hosting provider, Collect the evidence of Your scraped content like full page screenshot (use Url to pdf converter or Full page screenshot ), Publish date of your and scrape content,  save the URL of the scraped content in txt format.
Email Template: –
Hi "Name",
My name is "Your name" and I'm the Founder of "example.com".
I'm working on Duplicate content of my website and I found my "Your Article Name"  Content on Your site with name "Scraped Content name"
Your website links: "Where copy content place"
I'm kindly Requesting you to place Remove this content from your site
Note: – In future, If I found any of my content on your site, I will sticky take action against you, according to Digital Millennium Copyright Act (DMCA),
Thanks in advance.
Wish you all the best with your website
If you do not get any response within a 1 or 2-day from host provider then Report Copied Content To Google by Using DMCA Notice.
Want to learn more watch this Matt Cutt video about copy content.
Conclusion
Content theft on the internet always will be a problem. Thankfully, there are a number of things you can do to prevent, track, and deal with stolen content. The above-mentioned tools and tips can help you protect your content from being scraped or at least ensure that you get the credit you deserve for all of your hard work and careful research.
Remember to share this post with anyone who might benefit from this information, including your Facebook friends, Twitter followers and members of your Google+ group! And also Support Us By Liking Our Facebook, Twitter, and Google+ Page.
If you have any suggestion or problem about please feel free to comment below.