How to recover an unsaved word document? When you accidentally exit Microsoft Word, have an application crash, or have your computer run into an unexpected error, the Word document you're working on can disappear without being saved.
Data, time, and effort are often lost as a result. A Word document that has not been saved can sometimes be recovered by trying a few of these methods.
Hold on to your hopes! Your work may be able to be transferred back to your computer without too much trouble. Here, we explain every possible method for recovering a Word file that you did not save or were unable to recover due to an unforeseen event. Here's how we can get started right away.
The sections and instructions in this article apply to Word 2019, Word 2016, Word 2013, Word 2010, Word for Mac, and Word for Office 365. With different versions of MS Word, such as MS Word 2007 or MS Word Online, there's no identified way to recover a document or file that wasn't saved.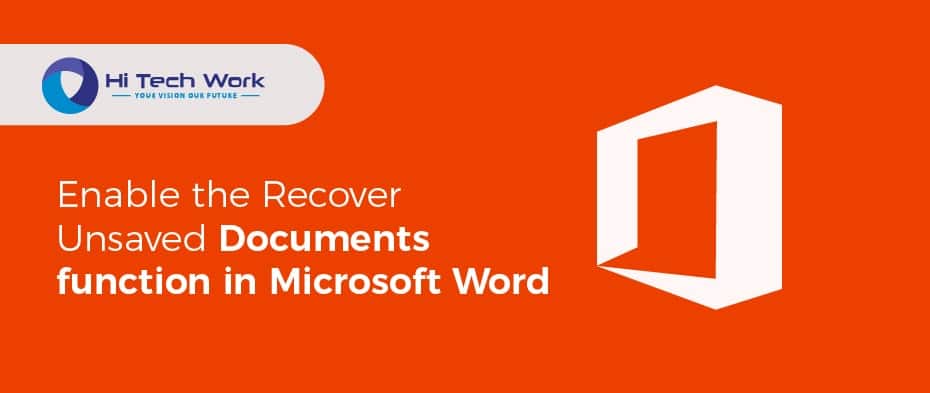 Enable the Recover Unsaved Documents function in Microsoft Word 
In a new feature, Microsoft has added the ability to prevent the permanent deletion of un-saved documents. By following the steps below, Word users can access this feature directly.
Use the header interface at the top of your window to navigate to the File menu in Microsoft Word.
To recover unsaved files, click on the Manage Document button to gain access to an expanded list of options, then select Recover Unsaved Documents. A separate window will open in which you can see a list of unsaved documents Word is aware of.
Click the Open button when you have selected the file you want to recover from the displayed list.
Once the file opens in Word, you can then save it using either the File menu or the Ctrl + S keyboard shortcut.
Recover an unsaved Microsoft Word document from the temporary folders or files manually
Several types of temporary files are kept on your computer by Windows to optimize your system. You can manually locate a copy of an unsaved Word document here, which you can move and save manually to restore the document if you don't want to use the recovery option directly from Word.
Navigate to the following folder in your File Explorer:
C:\Users\User\AppData\Local\Microsoft\Office\UnsavedFiles
Replace User with your local Operating system's username, or else the path will be wrong. The string can also be pasted into the Run application (opened by pressing the Windows + R keys at the same time).
As with the first approach, you'll notice all of the files or data that MS Word has automatically saved. You can choose all of the files you need to recover.
Select one of the chosen files and click the Copy option in the context menu. Alternatively, you can use the Ctrl + C keyboard shortcut.
Navigate to the location where you want to save your restored files. Press the Paste option when you right-click anywhere inside the folder. Ctrl + V is also an option.
The file copying process will take a few minutes. That's it! The unsaved documents have been saved to a safe location. They can be opened and worked with again without fear of being deleted.
Restore Erased Microsoft Word documents from the Recycle Bin
It's possible to restore a document accidentally deleted from Your Desktop Recycle Bin – but only if you haven't emptied it yet. The following steps explain how to check whether your document is in the Bin, and how to restore it if it is.
Go to your desktop and double-click the Recycle Bin to see if it has any contents. A new window will open that displays what's currently in your trash bin.
Select the accidentally deleted Word document if you can find its contents.
It's a good idea to use the Recycle Bin's search feature to locate files faster.
Keep holding the mouse button as you select your Word document. You can drag the file from the Recycle Bin to your Desktop (or to any other folder besides the Recycle Bin.)
The unsaved documents have been saved to a safe location. You can access them from the new location and work with them again without having to worry that they'll be deleted.
Prevent future losses with AutoSave and AutoRecover
In Word, you can always be sure your documents are saved and never go missing because of two useful features. It explains how you can enable these features to avoid experiencing an issue like this in the future, even if you encounter similar unexpected errors.
AutoSave 
AutoSave works when Office 365 subscribers select OneDrive or SharePoint as the destination for their documents. Your document is automatically saved as you make changes so you never have to remember to do it manually. This feature drastically reduces the chances of data loss and is highly recommended for people who work with Word every day.
Subscriptions to Office 365 are required to use this feature. By visiting Microsoft's official site, you can find out how you can become a subscriber if you wish to use AutoSave.
AutoRecover
Non-subscribers may benefit from a feature that can prevent future loss of data if used correctly. Using a Windows operating system, here's how to enable it:
Click the File tab, then select the Options menu from the left-hand pane. There will be a new window that displays all the options in Word.
Navigate to the Save tab in the left pane.
You can manually adjust the interval between each time you save the information by selecting the Save AutoRecover Information Every X Minutes check box. Most people recommend between 5 and 10 minutes.
Check the Keep Last AutoRecovered Version option if you close the application without saving it. You will be able to recover files or data in the future even if MS Word or the PC encounters a sudden error.
To finalize the change, click the OK button. Now that AutoRecover is enabled, you can use it in the future!