Have you ever experienced the frustration of not recognizing your fingerprint on your iPhone? It can be a real pain when you're in a rush and just want to unlock your device quickly. Well, I have some good news for you – you can change your iPhone's fingerprint in just a few simple steps!
I remember a time when I was on vacation in New York City and was constantly taking pictures with my iPhone. Unfortunately, my fingerprint was not recognized, and I had to enter my passcode whenever I wanted to unlock my phone. It was a real inconvenience, and I was worried that I might not be able to capture those spontaneous moments that make a trip special.
But then, I learned how to change my iPhone finger print, which made my life so much easier. Now, I can quickly and easily unlock my device with just a touch of my finger without having to worry about entering my passcode. In this guide, I'll show you how to change your fingerprint on your iPhone in just a few simple steps.
Compatible Touch ID Devices
iPhone 5S
iPhone 6
iPhone 6 Plus
iPhone 6S
iPhone 6S Plus
iPhone 7
iPhone 7 Plus
iPhone SE
iPhone 8
iPhone 8 Plus
iPad Pro 9.7
iPad Pro 10.5
iPad Pro 12.9 1st Generation
iPad Pro 12.9 2nd Generation
iPad (2017)
iPad (2018)
iPad Air 2
iPad Air 3
iPad Mini 3
iPad Mini 3
iPad Mini 5
iPad Mini 6
Tips for Scanning Fingerprints Touch ID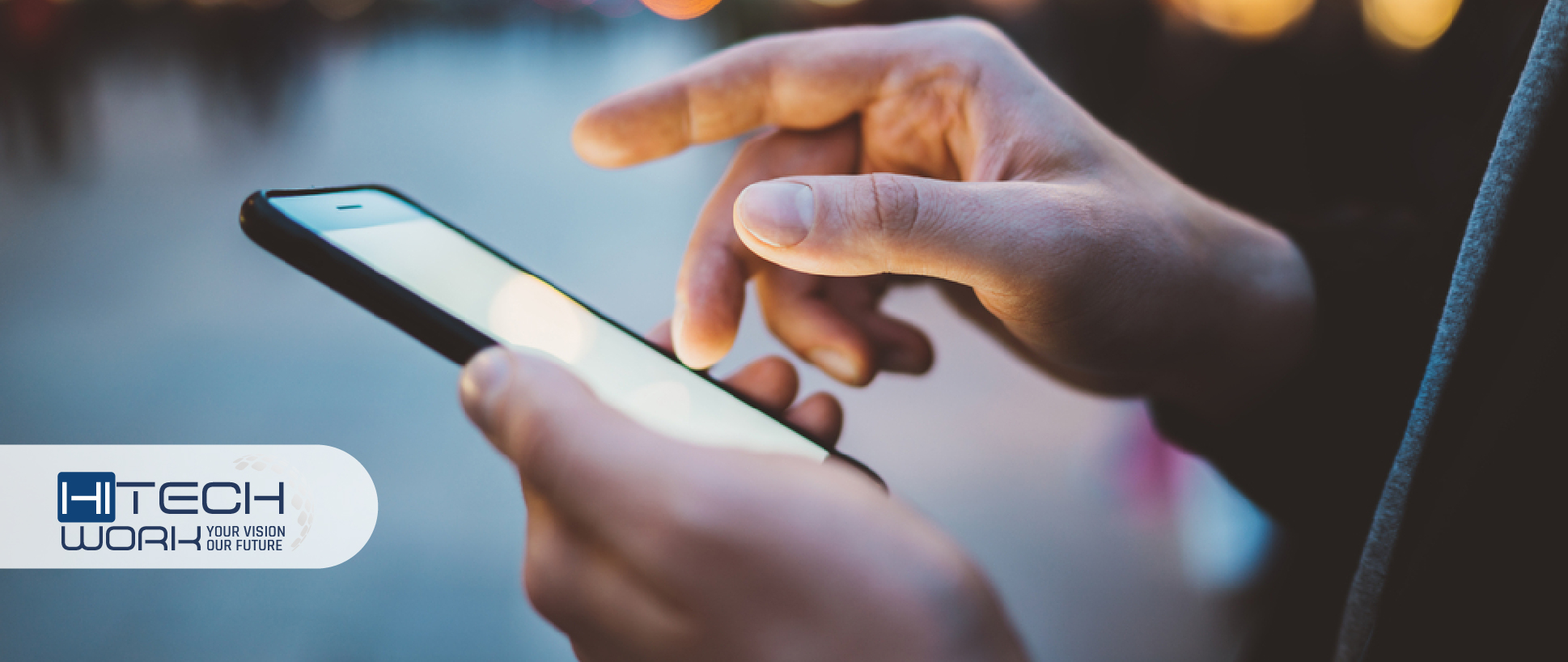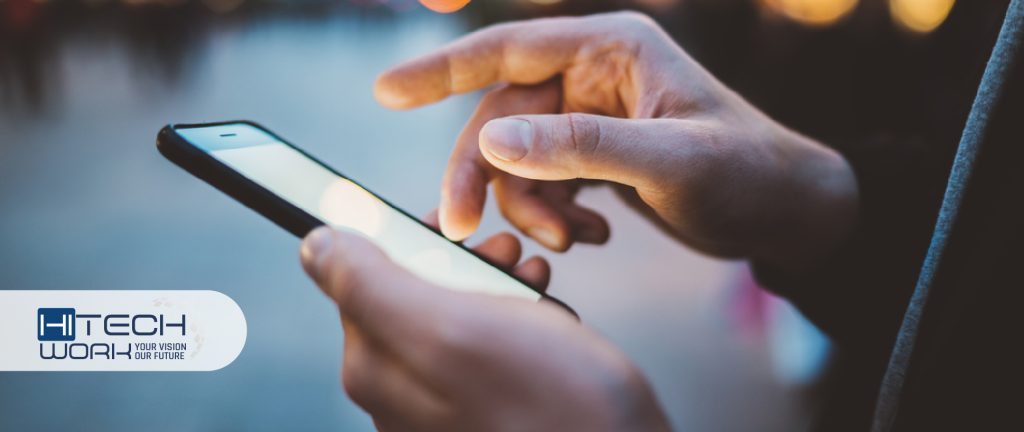 Follow the steps to get incredible tips for scanning your fingerprint for Touch ID:
Choose the right finger or thumb for scanning.
Put the fleshy part of your scanning finger on your phone's home screen button.
Don't press the home button; just slightly move your thumb or finger for scanning.
Lift your finger off the Touch ID scanner and gently press it down when your iPhone vibrates.
Each time put your finger onto the scanner and note your progress on the screen by viewing red lines. Your fingerprint screen lock will be set when the red line is converted into the green.
Don't make the scanning more complex with your fingerprint.
Upon completion of the initial scan, the iPhone prompts you to scan the edges of your finger. For the best scan, repeat the process using your finger's sides, top, and other edges.
How To Change Fingerprint on iPhone SE/6/7/8
The iOS fingerprint scanning system, also known as Touch ID, is a biometric authentication technology developed by Apple Inc. It uses a capacitive sensor located in the Home button of compatible iPhone and iPad models to read and verify the user's unique fingerprint. The system stores the fingerprint data in a secure enclave within the device's processor, ensuring unauthorized parties cannot access or copy it. (Valium)
Open the Settings app on your iPhone home screen.
Scroll down to "Touch ID & Passcode."
Enter your passcode (If you haven't set up a password for your iPhone, you must do so before setting up Touch ID).
Tap on the fingerprint you want to change or delete.
Tap the delete fingerprint option.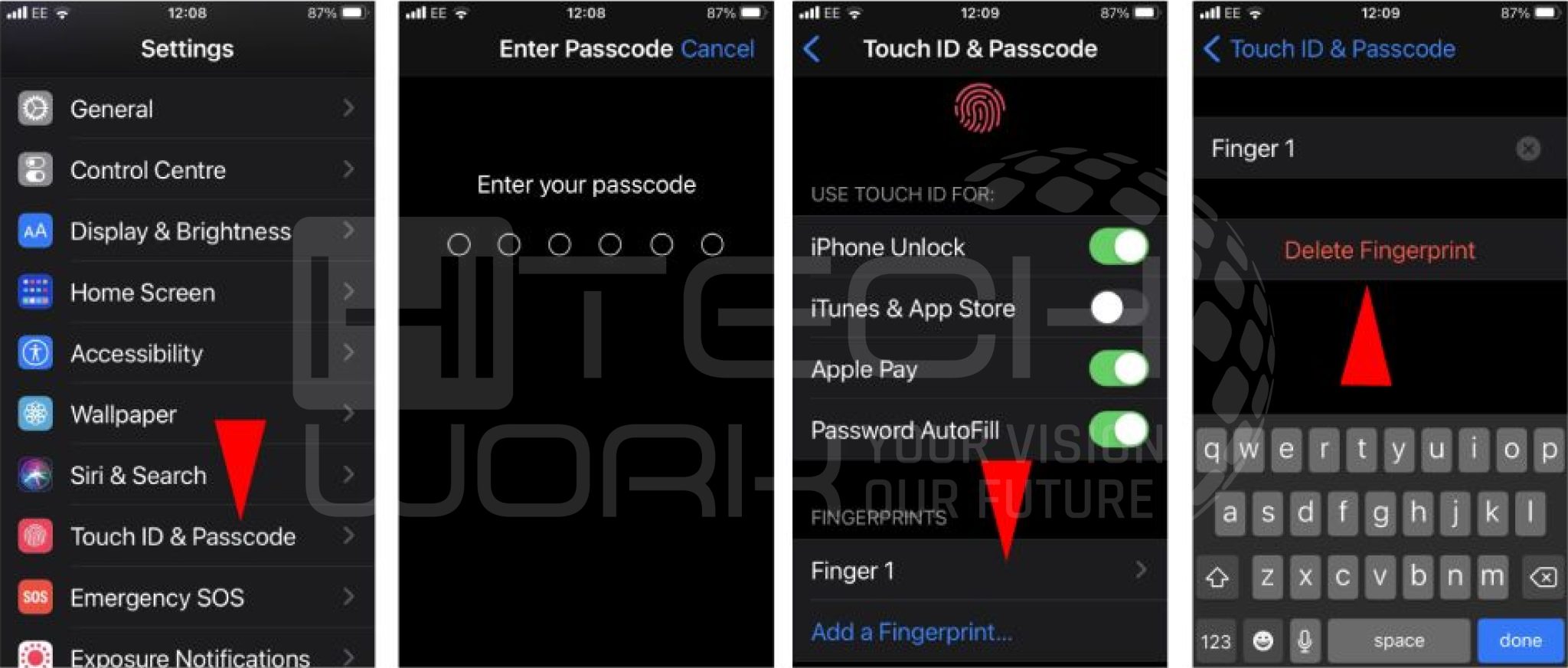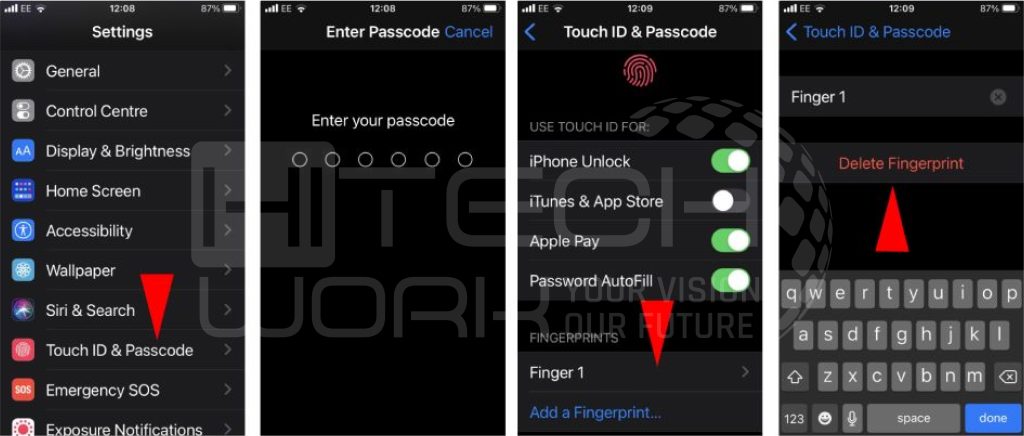 Note: After deleting the old fingerprint, add a new one to your iPhone to secure your phone.
Tap Settings app > Select Touch ID & Passcode.
Scroll down and tap Add a fingerprint.
Put your finger on the home screen button and slightly lift it.
Once your fingerprint scanning is complete, it moves to the next screen.
Hold your phone and unlock it by touching the home button with your finger edges (once your phone accepts the scan, it returns to the touch ID & passcode screen).
Select On/green by moving the toggle switch next to any of the four options you can control with Touch ID.
Note: You must enable Touch ID for the iPhone unlock function, but it may also apply to other aspects of your iPhone. It includes iPhone unlock, Apple Pay, iTunes & App Store, and password autofill.
How to Name Your iPhone & iPad Touch ID Fingerprints?
For a family iPad, naming fingerprints can be useful for identifying which fingerprints need to be deleted and redone if Touch ID stops working.
Tap on the fingerprint name within the fingerprint sections.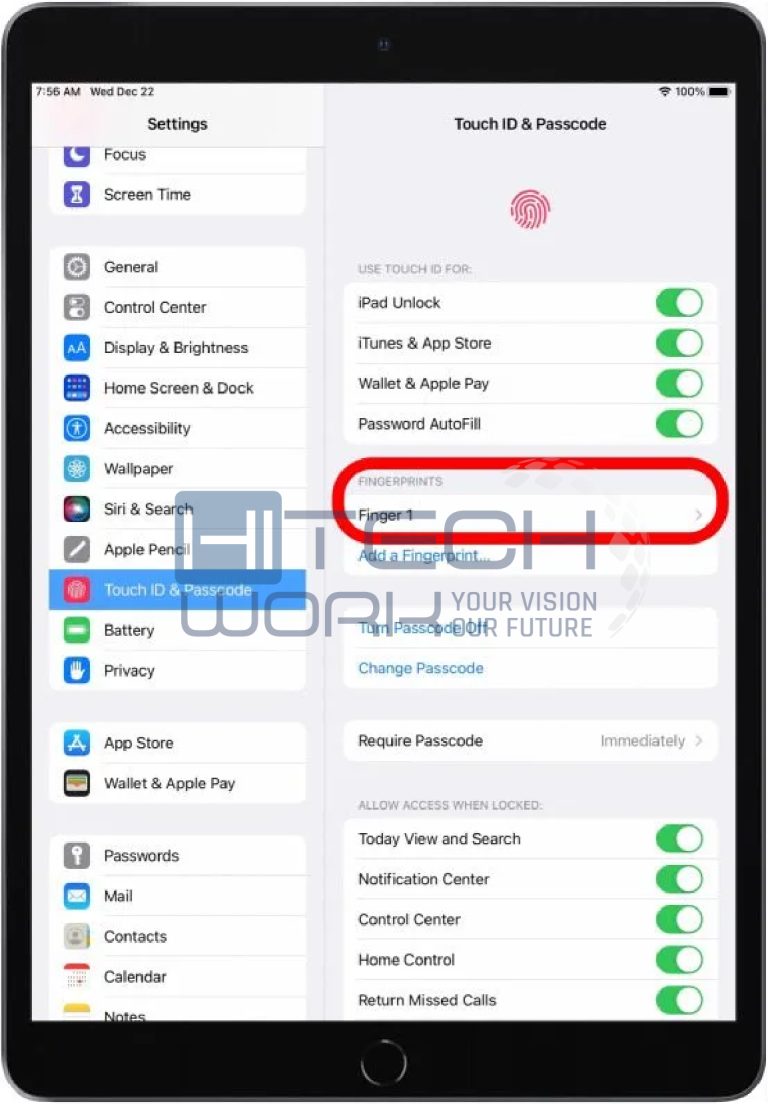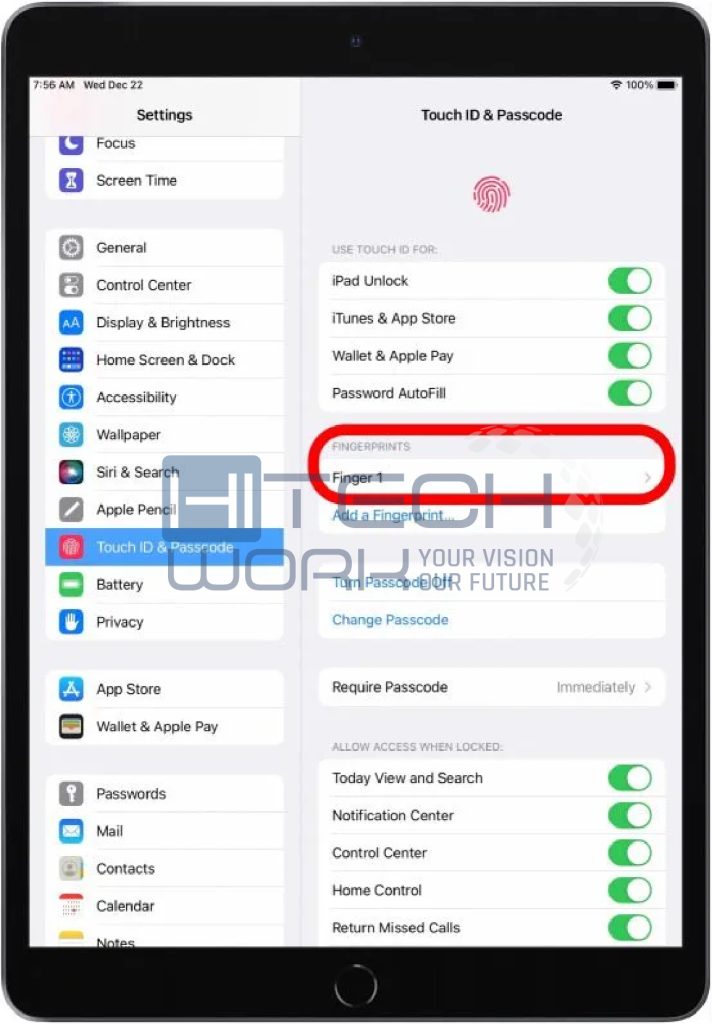 Type the new name in the bar.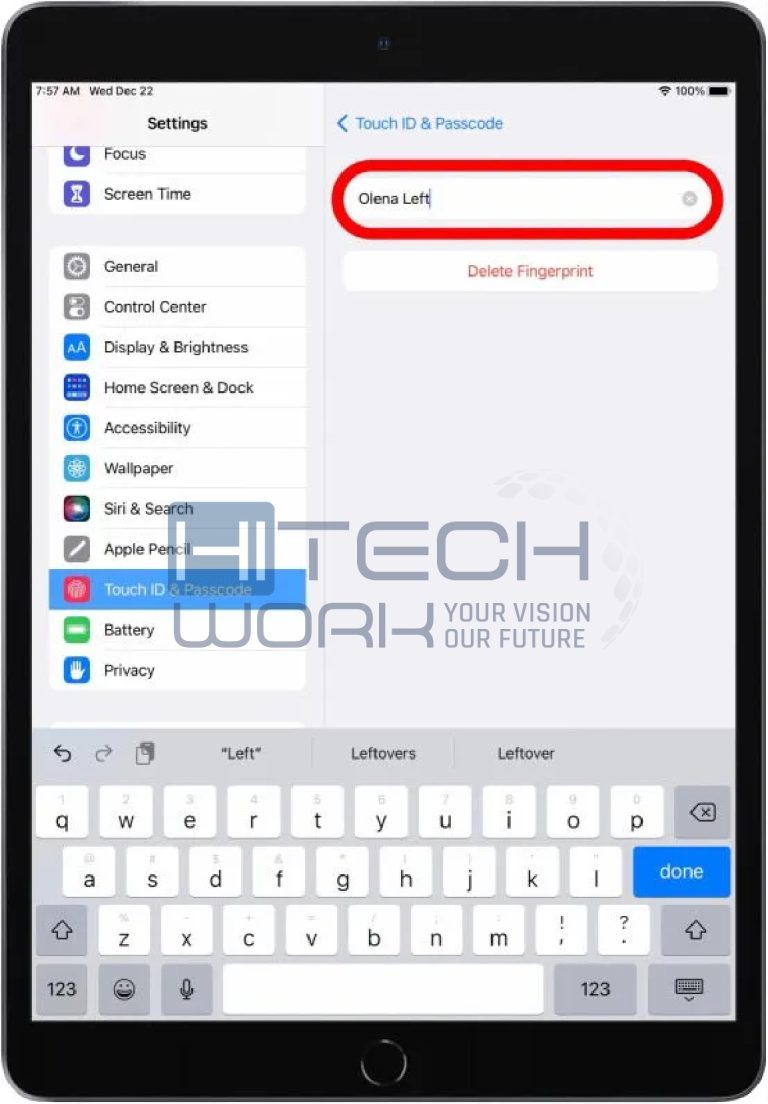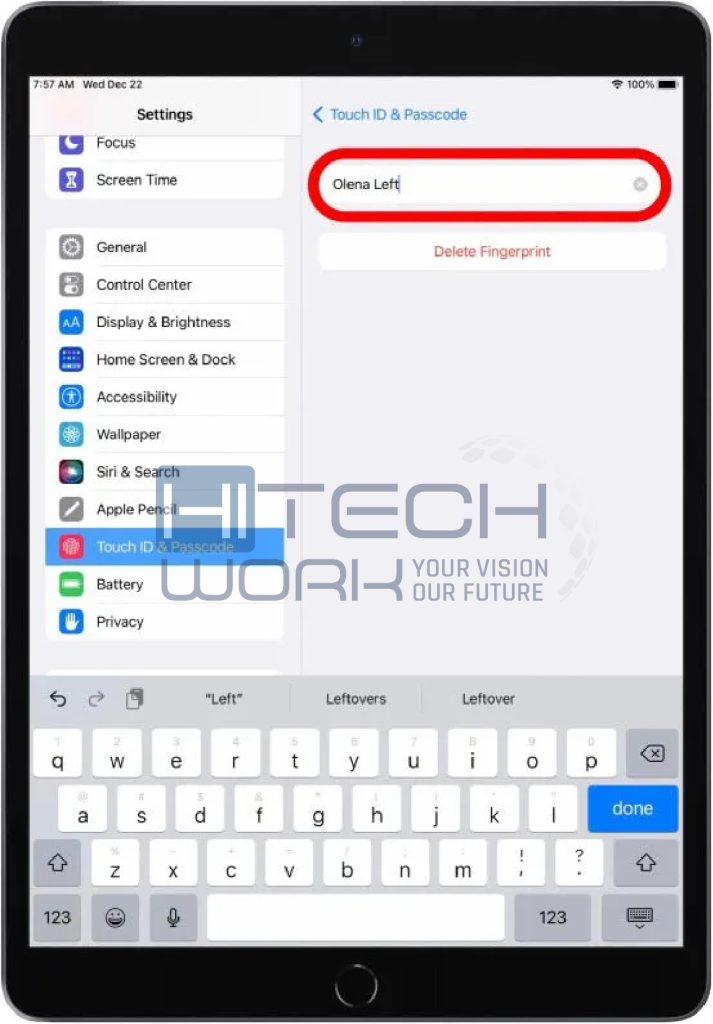 Tap done shows on the iPhone or iPad keyboard.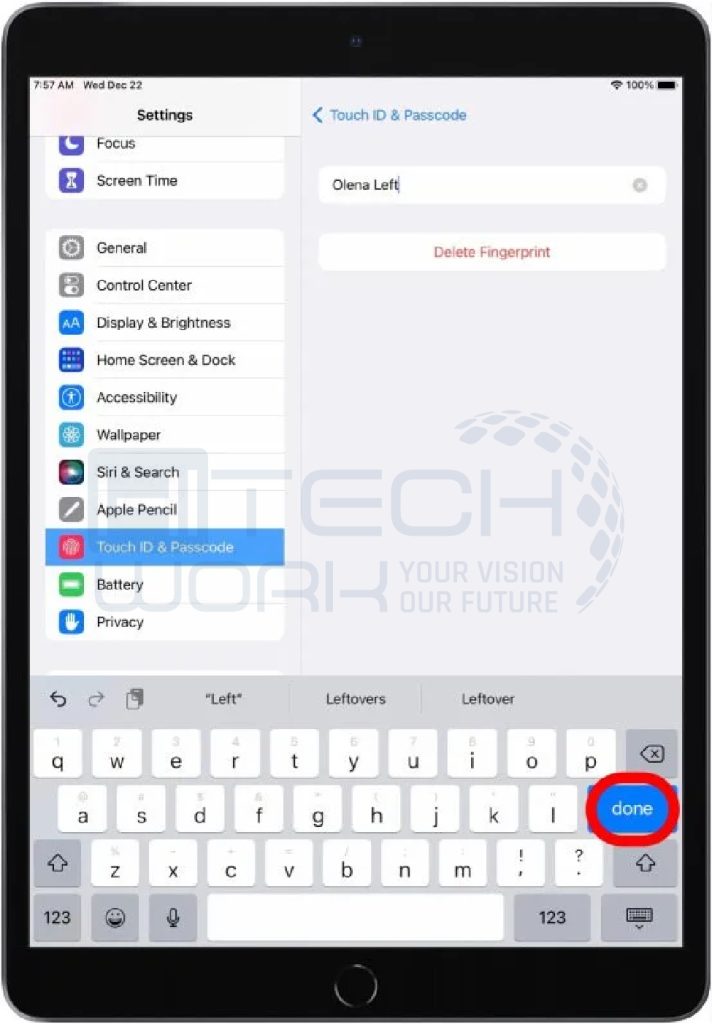 How to Delete Touch ID Fingerprints on iPhone 5S/SE/6/6S/7/8?
First, unlock your iPhone
Go to the settings menu
You have to scroll down and select Touch ID & Passcode
Tap on finger 1, and you will be prompted to the next screen.
Tap on delete fingerprint. Here you can repeat the process with the finger 2 option.
Note: You will be able to delete or set up the Touch ID fingerprint on iPhone 5S/SE/6/6S/7/8 or plus series.
What Do I Do if I Face Troubleshooting Adding a Fingerprint?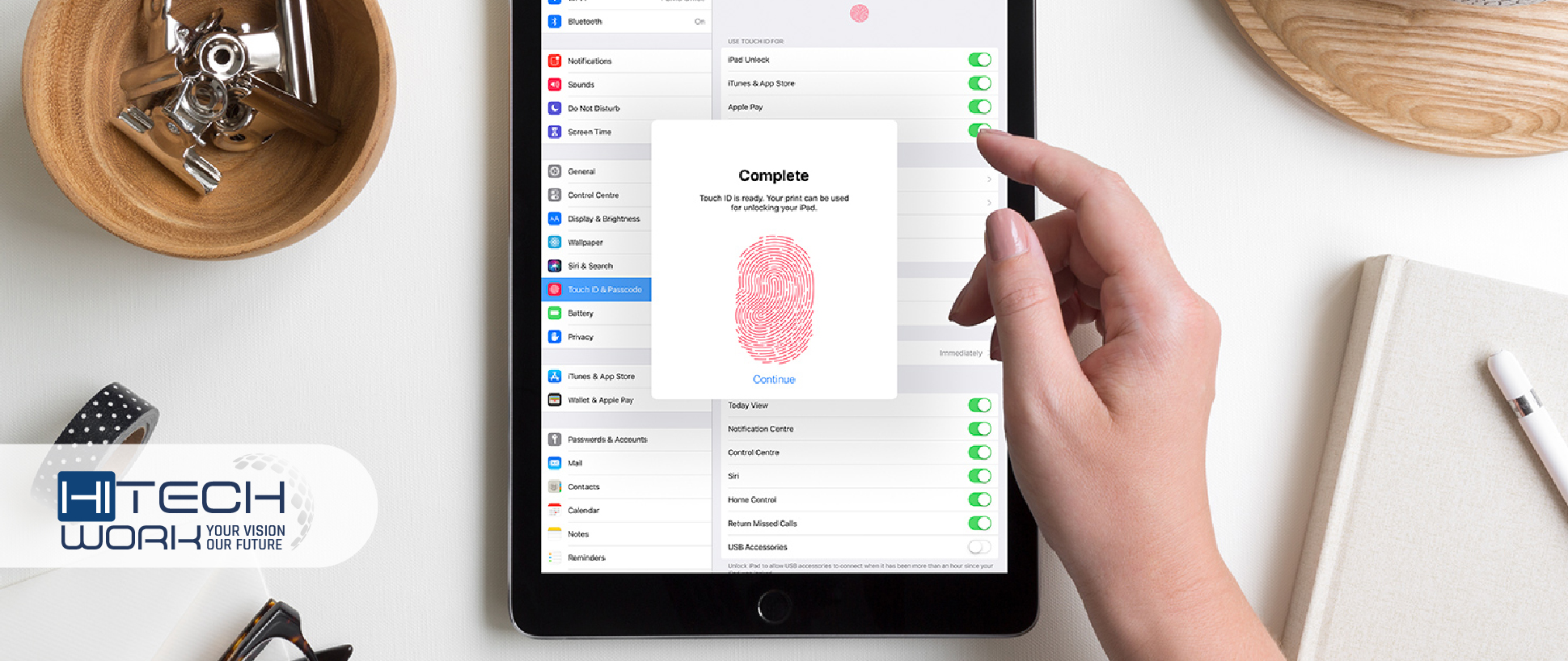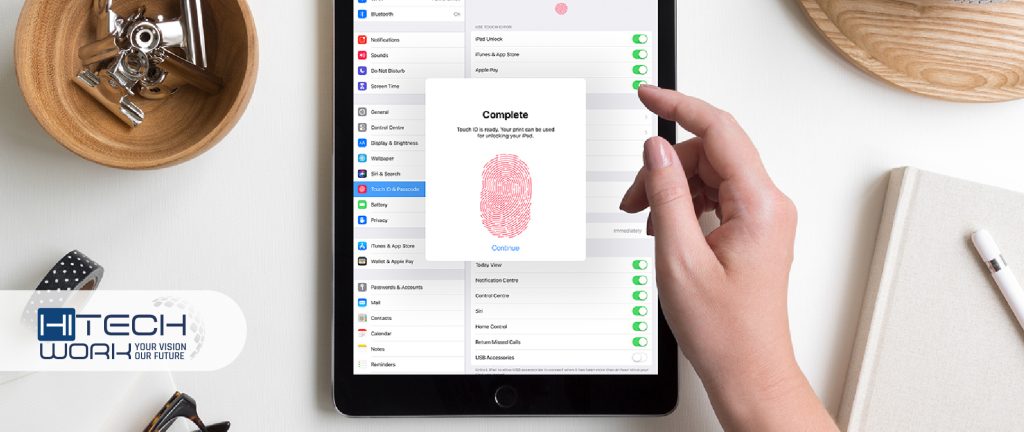 CLEAN YOUR FINGERS & THE TOUCH ID SENSOR
Ensure that your fingers are clean and dry and that there is no dirt or moisture on the Touch ID sensor. Use a soft, dry cloth to clean the home button and your fingers.
Try adjusting the way you hold your iPhone when registering your fingerprint. Place your finger flat on the sensor and make sure you cover the entire Home button.
Restarting your iPhone can often resolve minor software glitches and help improve Touch ID performance.
DELETE & RE-REGISTER YOUR FINGERPRINTS
If you continue to experience issues, try deleting and re-registering your existing fingerprints. Make sure you follow the on-screen instructions carefully.
Make sure you have the latest version of iOS installed on your iPhone. If you don't, update your software in the Settings app.
If none of the above troubleshooting steps work, you may need to contact Apple Support for further assistance. They can diagnose hardware or software issues and help you resolve them.
FAQ's
Editor's Recommendations