Do you have too many albums in your photo app on your iPhone? Whether you or an app created them. But no fret, you can easily delete photo albums on your iPhone. Most people don't know how to delete them. So Read out to find out how to remove unnecessary photo albums on your iPhone.
Photo albums are the best way to arrange photos from events or trips. However, every iOS device comes preloaded with a Photos app where you can place the photos or videos you have taken or downloaded. Yet, having too many albums can make your library a mess. But, when it comes to removing the album, it can get challenging.
Moreover, removing some albums may be impossible if you have linked your iPhone with iTunes or iCloud. Although albums formed by the user are easy to delete. So if you have an album within Apple Photos that you don't wish to be there anymore, or you have a selection of photos you wish to move to one place, we are here to assist you. Let's jump to the next section.
You can also check: How to delete all photos from iPhone
How to Delete Photo Albums on iPhone & iPad
If the Photos app on your iPhone or iPad is plagued with unnecessary albums, you can remove them from the gallery by following the given steps. But you cannot delete the default albums such as 'camera' photos and favorites. However, you can also remove the hidden photo album by deleting all the photos from it. Additionally, if you delete an album, it does not remove any images that are inside the album; the photos will appear in the recent album and other albums.
First, you have to open the Photos app icon from the main menu of the iPhone.

Open Photo Album App

Second, tap Albums from the bottom of the screen.

open the Albums

Third, opt for "See all" at the top-right corner of the screen to access all your albums & iOS photos.

Tap on See All

Next, tap "Edit" option at the top right corner of the screen. Here you can drop & drag albums
as you want to rearrange them.

Tap on Edit

Now, scroll your album list to locate the albums you want to delete. Tap the red minus
"-" sign option next to an album.

My Albums

Last, select "Delete Album" to verify & get rid of unwanted albums.

Delete Album
Tip: Removing an album will not erase the photos. If you wish to delete the photos, you must do it from the Library section of your app. open the specific photo album, select from the upper-right corner, choose the photos or videos you wish to delete, and click on Delete to confirm.
How to Remove Photo Albums on Mac?
The steps of removing a photo album from the photos app on Mac are pretty much easy than on iPhone. Apply the below steps to do this.
Launch the "Photos" app on your Mac. Now, open the sidebar and expand the folder "My Albums." Here, find the folder you wish to remove and then right-tap it.

launch photo album

Then, go for the "Delete Album" option from the context menu.

tap on Delete album

Now, you will see a message asking you for verification. So, tap on the "Delete" option.

Tap on Delete

It will delete the album from the iCloud photo library, and the later will be synced across all your devices. Although, it will not impact any of your photos.
How to Delete Synced Photos From iTunes?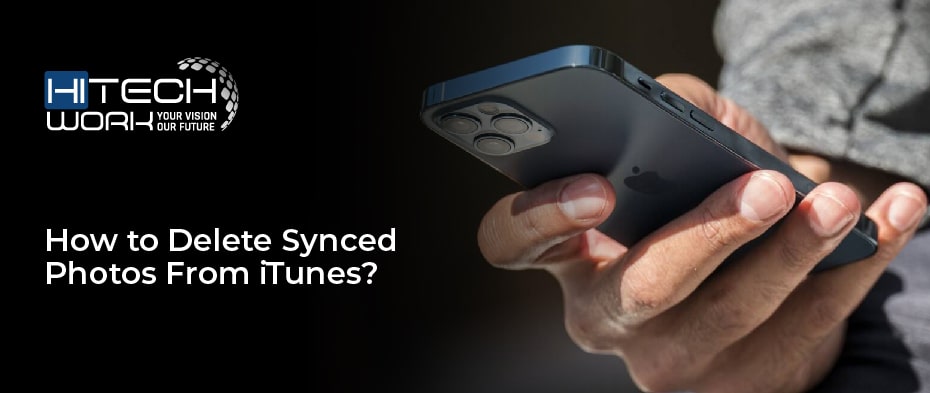 If your images are synced to iTunes, you will have to apply various processes to remove them. So you can apply the below steps to delete synced photos on your iPhone.
Link your iPhone to the computer & launch the iTunes platform.
On the left of iTunes, you will see Devices. So choose the name of your iPhone.
Click on Photos on top of the center panel. You will see the syncing options.
After that, next to the sync photos section, you will see menu options.
Now choose the source that holds photos that you wish to delete.
Then, tap on Selected Albums. The albums from the definite sources will be displayed below.
Unmark the photo albums that you wish to remove.
Tap on Apply.
Now, you can remove it directly from your photos app.

How to Delete Synced Photos From iTunes
What to do If you can't delete some Photo Albums on your iPhone
You may not be able to remove some photo albums on your iPhone. These include:
Albums that Apple makes available automatically, such as people, places, and favorites.
The photo Albums are linked from your computer using iTunes or Finder on Mac.
Photo albums that Apple directly creates are system albums that you will not be able to remove.
If the album was synced from your system, you would have to link your iPhone or iPad via USB to your computer, find your device in iTunes or Finder, open the photos tab, and uncheck the album that you wish to delete from your iPhone and then sync the device.
Hence, if you form the album on your iPhone or a third-party app, then you should be able to remove it by following the steps in the previous section.
FAQs
Q1. Is it possible to recover deleted album on an iPhone?
Sometimes, people remove iPhone albums accidentally or understand they miss the photos afterward. So you have 30 days to make up your mind after you remove anything from your iPhone gallery. Although, there's no way to recover complete albums. Despite this, you can recover pictures one by one or all removed images at once. Apply the given steps to do it.
Open the Photos app on your iPhone.
Then, Tap "Albums" from the bottom of the screen.
Next, click on "Recently Deleted." And then click on "Select."
Now, click on the images you wish to recover and click on "Recover all."
Last, click on "Recover" to verify your selection. You will see the recovered pictures appear in their initial albums.
Q2. Why can't I remove a photo albums on iPhone?
If you link your iPhone to iCloud or iTunes, chances are you cannot remove some photo albums from your iOS device. Albums that have been created by your phone's photos app, such as screenshots and camera roll, cannot be removed.
Q3. Can I rename my photo album name in the photo app?
You can rename albums to manage folders on your iPhone by applying the instructions below.
Launch the Photos app on your iPhone and click on the album tab from the bottom.
Then, click on the See all option to see all the albums.
After that, click on Edit to rename the album > Click on Album Name. So to alter or remove the name. But you cannot change the name of the default folders such as Favorites and Recents.
Last, select Done to save the changes.
Wrapping Up
The photos app on the iPhone gives the best solution for arranging personal photos and assists with organizing videos and pictures in albums. But sometimes, third-party apps that have access to your photo library may automatically create unnecessary albums, which creates a mess for the whole experience.
So, it's time to delete the unwanted albums. By following the above guide, you can easily delete photo albums on your iPhone. If you have any problems deleting photo albums, please comment below. Hopefully, this article will be helpful for you. Please share your thoughts with us.