After creating a YouTube channel and having an improved presence on the most popular video host platform, you want to know how to get verified on YouTube, right? In this step-by-step guide, you'll learn the methods for getting verified on YouTube and the required criteria for achieving this goal immediately. Interestingly, once you get YouTube verification, your channel will appear among the top-ranked Youtube channels, attracting viewers from all over the world. As the public prefers to consume credible and quality content, the verification badge on your YouTube channel may impact a wider audience. So, let's get your YouTube verification badge to stand out from the crowd!
What is YouTube Verification?
YouTube verification is a process that grants a verified badge to YouTube channels to confirm their authenticity and credibility. The verified badge appears as a gray tick beside the channel's name. It signifies that the channel officially represents the real person, brand, or organization it claims to be. Ideally, a YouTube-verified badge lets people know that channel is credible and legitimate.
If you're running a proper YouTube channel, you must know YouTube copyright policies that may save you from copyright claims.
YouTube Verification Badge
A verification badge is a small checkmark next to your channel's name. The channel with this badge defines that the owner is a creator, artist, public figure, or firm. However, unlike other creators, Musicians' channels and artists do not receive a grey tick. Instead, they get music notes as their verified badge.


The badge helps people differentiate between official and other channels with similar names. It's a great benefit for popular creators concerned about other YouTube channels pretending to be them.
You'll also notice a few channels with no potential real social identity and even having subscribers of less than 100000 but still got the verification badge on their YouTube Channel. Possibly, they got it before the system was put into place.
Who is eligible for YouTube Verification Badge?
Your channel must meet these eligibility requirements for the YouTube channel verification badge.
Complete Profile: You'll get verified if your YouTube channel is based on a public profile active with a banner, description, and profile picture. And you also have regularly posted content on your channel.
Channel Authenticity: Enter your age, name, or identity original. YouTube needs a claim from you that who you are. Your YouTube channel should represent the real ownership of the creator, brand, or entity.
No of Subscribers: Your channel must have crossed almost 100,000 subscribers
How To Get Your Phone Number Verified On YouTube Instantly?
There are no eligibility requirements to verify your phone number on your YouTube channel. Here are the easy steps that you need to follow.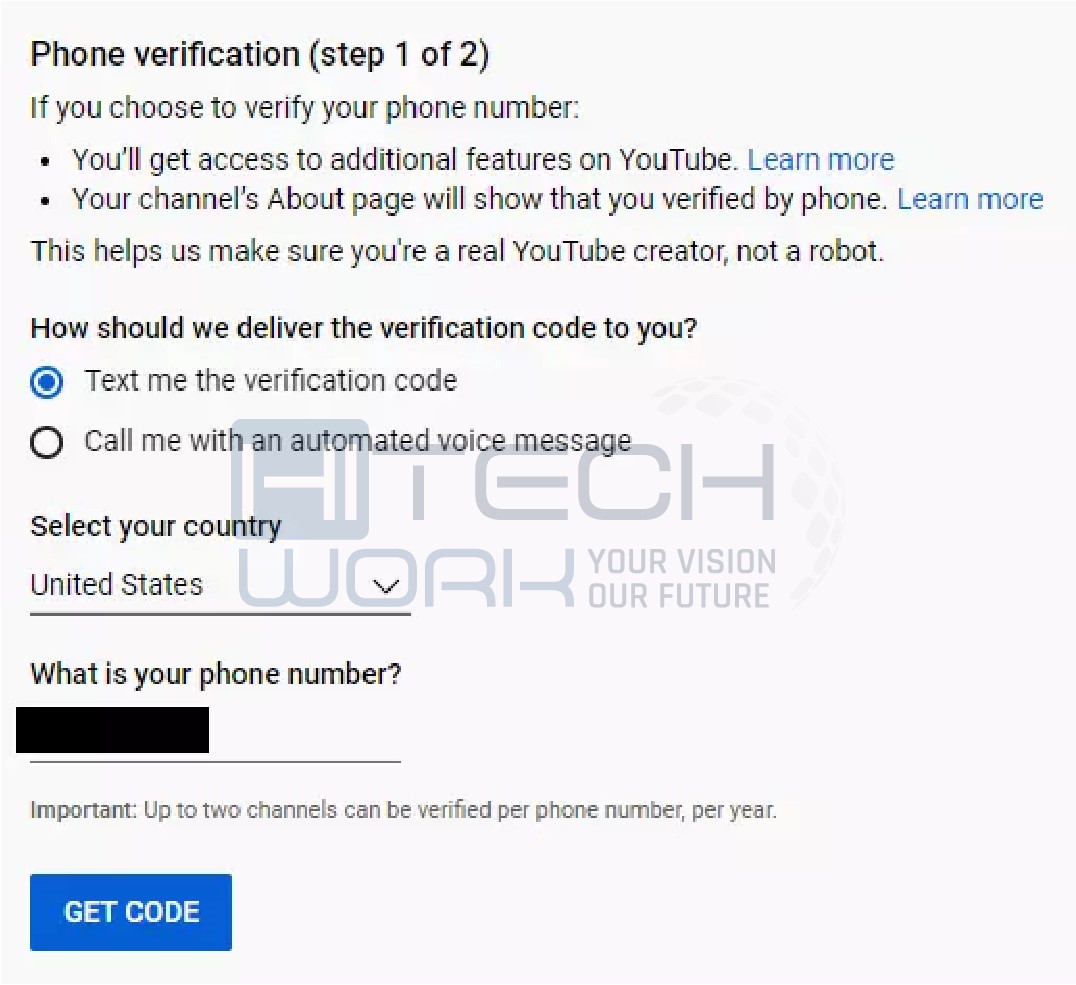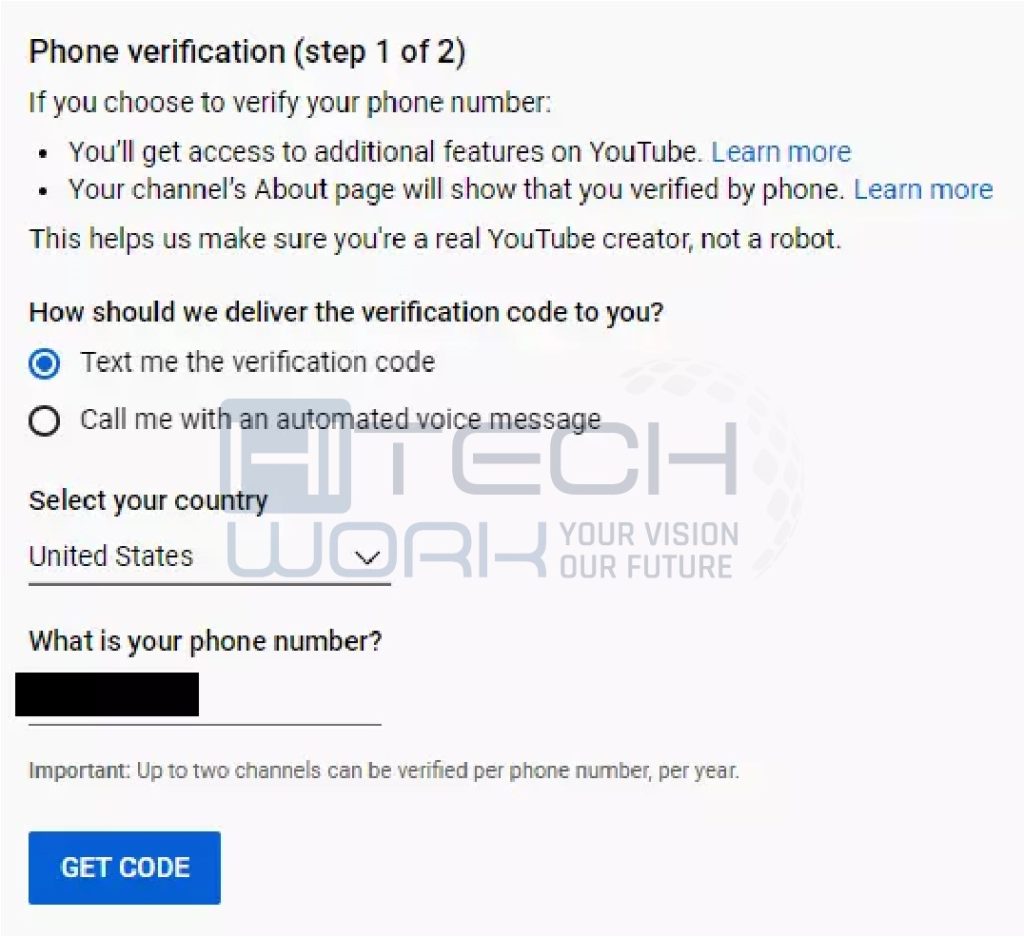 Choose your country and enter your phone number.
Click on the GET CODE.
Enter the verification code that you receive.


Click SUBMIT, and your account will get your phone verified.
To check out your phone number verification, go to Settings app> Account > Channel status and features > Channel > Feature eligibility. You will find Enabled written in green color right next to the Features requiring phone verification if your account is verified.
How to Get Verified on YouTube in a few simple steps
Once you reach 100,000 subscribers, you may apply for verification on YouTube. Follow how to do this.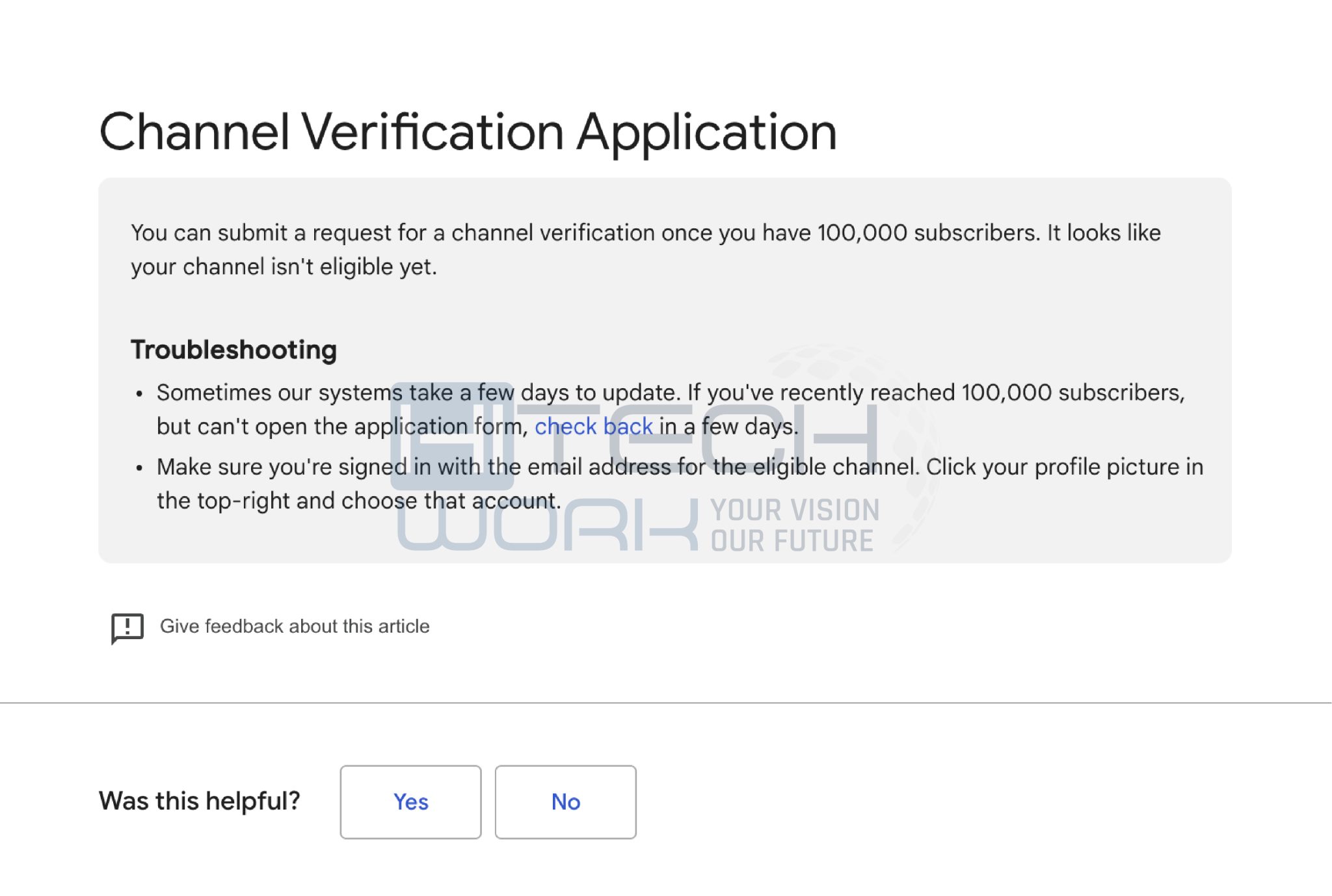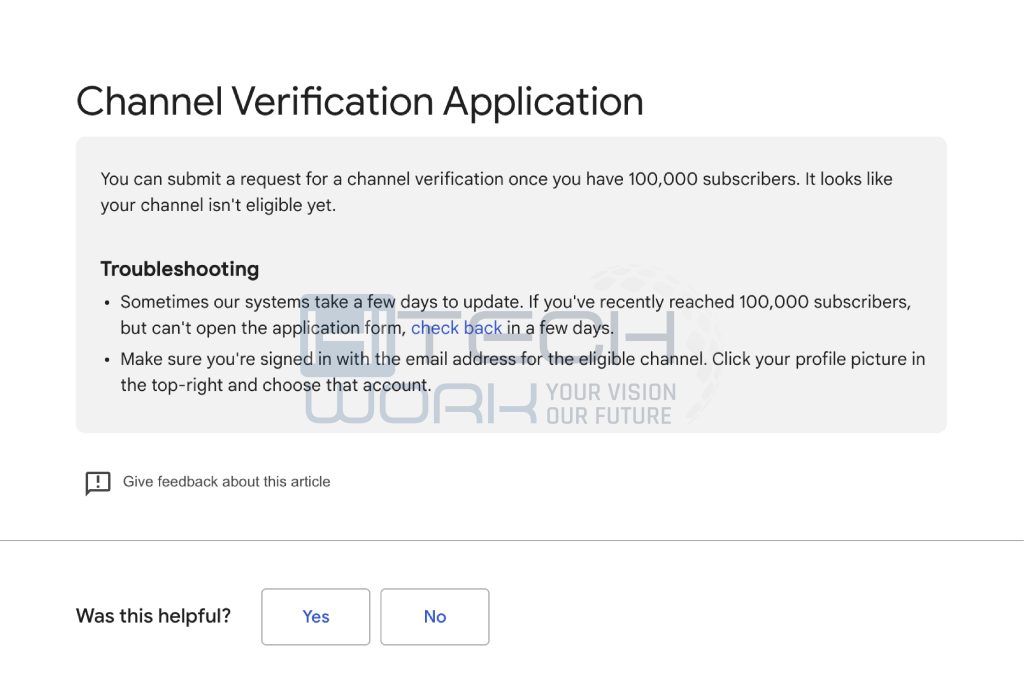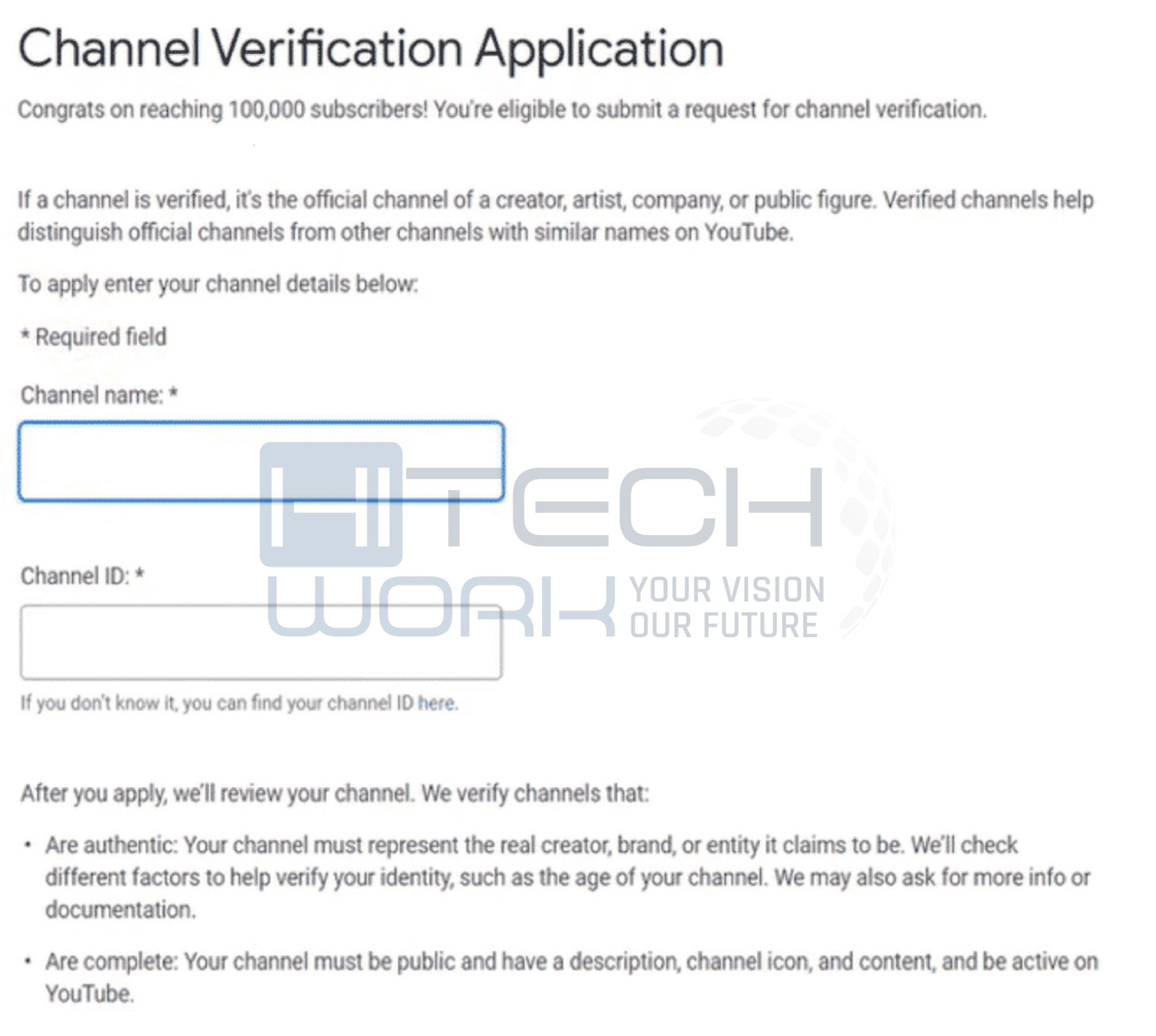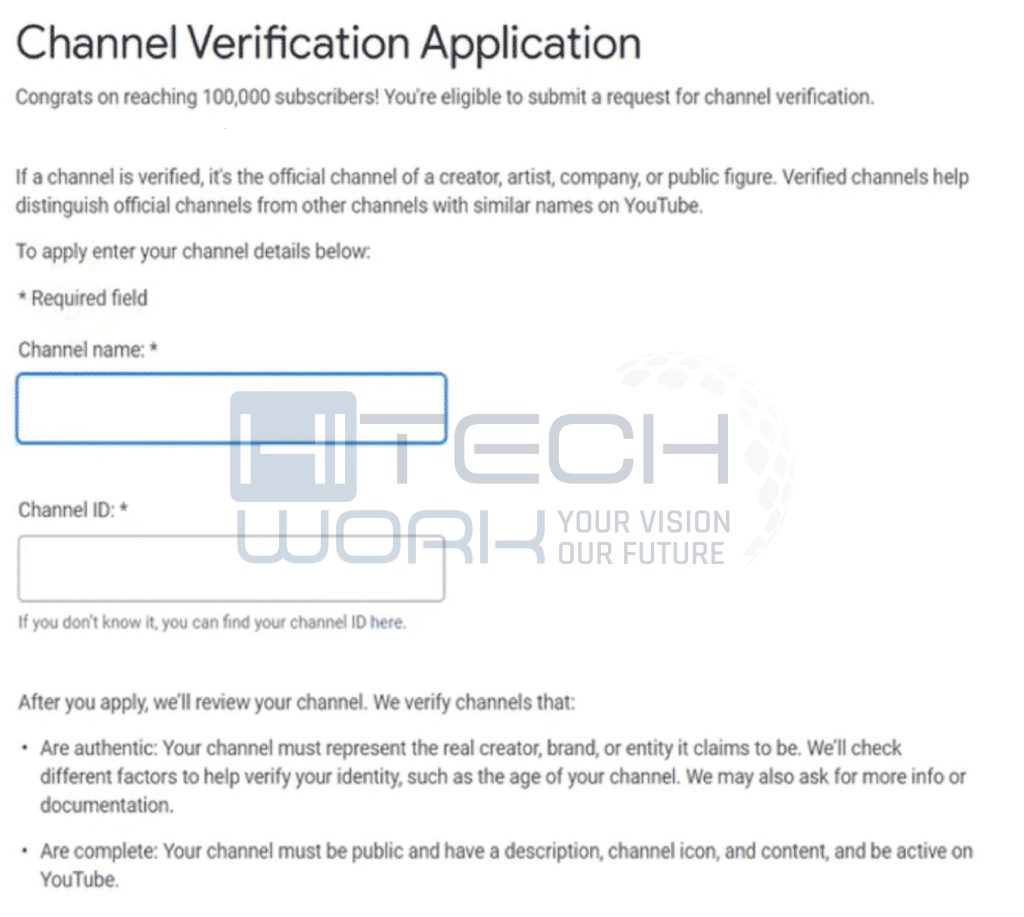 By now, wait for YouTube to review your account and provide you with the verification badge. Normally, the process for YouTube verification takes a couple of weeks as YouTube determines multiple factors to verify your identity.
When your channel gets the YouTube verification badge, it can only be eliminated if you change your channel name or if YouTube finds out you have gone against its Terms of Service.
Remember that you cannot view the application until you gain 100,000 subscribers. Otherwise, YouTube will instruct you to return to the form and fill it out once you hit the target of completing 100,000 subscribers on your YouTube channel.
Helpful Tips to Stay Verified on YouTube Channel
After getting the badge on YouTube Channel, it is essential to follow the following guidelines to keep your account in good standing and enjoy privileges for the long term.
In case you violate these guidelines, you might lose your verification badge!
Perks of Having YouTube Verification
Once your YouTube channel is verified, you will have an official channel with a verification badge. You will unleash several additional features that may help get more subscribers and extensively generate ad revenue.
Some of the benefits are:
Have the authority to file copyright claims.
Option to live stream content to grow social networks,
Option to add custom thumbnails to your videos.
Feature of uploading videos longer than 15 minutes.
How to Get Verified on YouTube Without 100k Subscribers
It's quite a rare case. However, YouTube may sometimes verify a channel with less than 100,000 subscribers if it is "well-known outside of YouTube." For instance, if the artist is popular on other platforms, YouTube might verify a musician's channel without a large fan following.
Final Words
Hopefully, you have now understood How to Get Verified on YouTube and learn managed to maintain the verification badge. Ensure your channel has 100,000 subscribers to qualify for the verification badge. Further, we highly recommend you consistently produce high-quality videos that stand out and showcase your expertise. This way, you can increase your chances of attracting attention from YouTube and potential verification in the future.