Indeed, Spotify is one of the fastest-growing music streaming services allowing its users to discover high-quality music and listen to music they love. The users with the Spotify application have a plethora of features and one of the interesting features called Spotify Blend. The blend feature was rolled out in beta in June as the latest way for two users to combine their musical tastes into one shared music playlist created for them, making it even more convenient for users to connect, explore and bond over the music they love with another. So if you also want to try out this feature, read the following methods about How to Make a Blend on Spotify. And if you want to turn off blended shuffle, click to find 3 Methods to disable shuffle mode on your Spotify.
Simple Methods to Make a Spotify Blend Playlist
Being a music lover, you would always want your friends to listen to music you like and combine their favorite songs with yours. You can consider Spotify Blend playlist as a collaborative playlist. Because using this feature, you can create and enjoy it with your friends.
Without further ado, let's invite a friend to share a playlist via Blend Spotify, which will add the songs you like automatically.
Make a blend Playlist on Spotify Using Search
To utilize the Blend Spotify feature, both users must have a Spotify account to make a blend playlist. However, no one needs a premium subscription. And the steps for iPhone and Android are the same.
Open the Spotify app, Tap on the Search tabs, and open the search bar.
Search in the bar for "Blend" and tap on the first result called the Blend genre.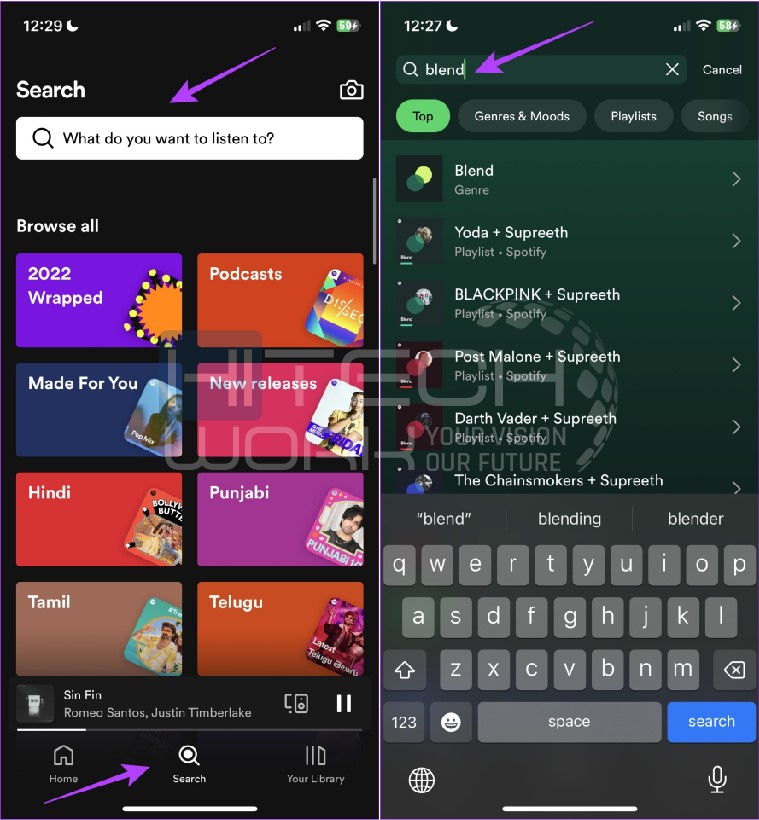 There's the "Made for Us" section. Press the "Create a Blend" option.
Tap on the invite to build a blend playlist with your friends.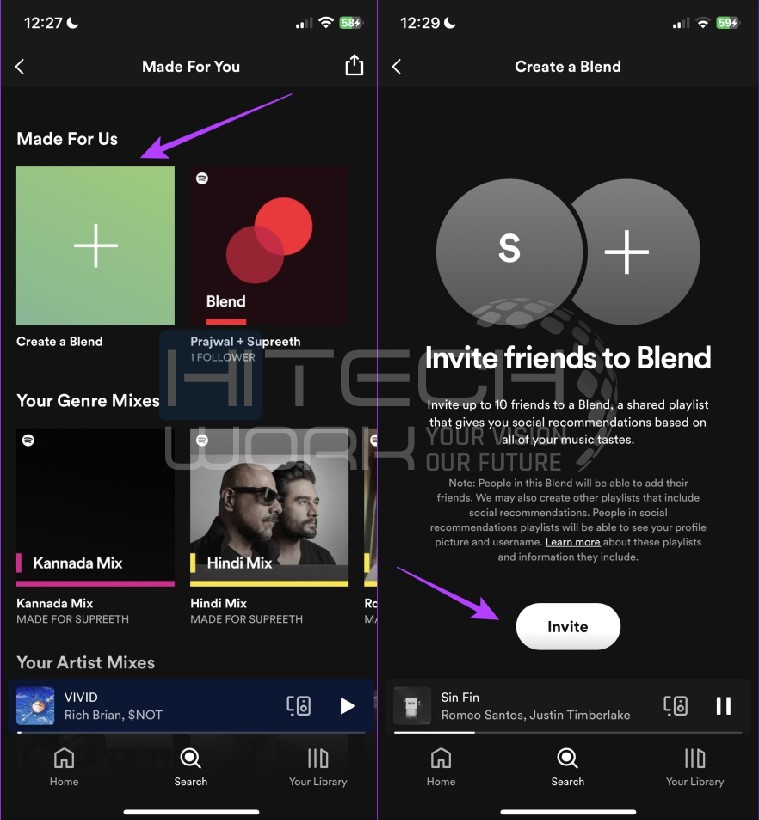 You will get multiple options to share the Spotify blend link. Select the option for sharing the link.
Once your friend accepts the link you send, you will see a blend below the blend section. And as mentioned above, you can have this section by finding the blend option.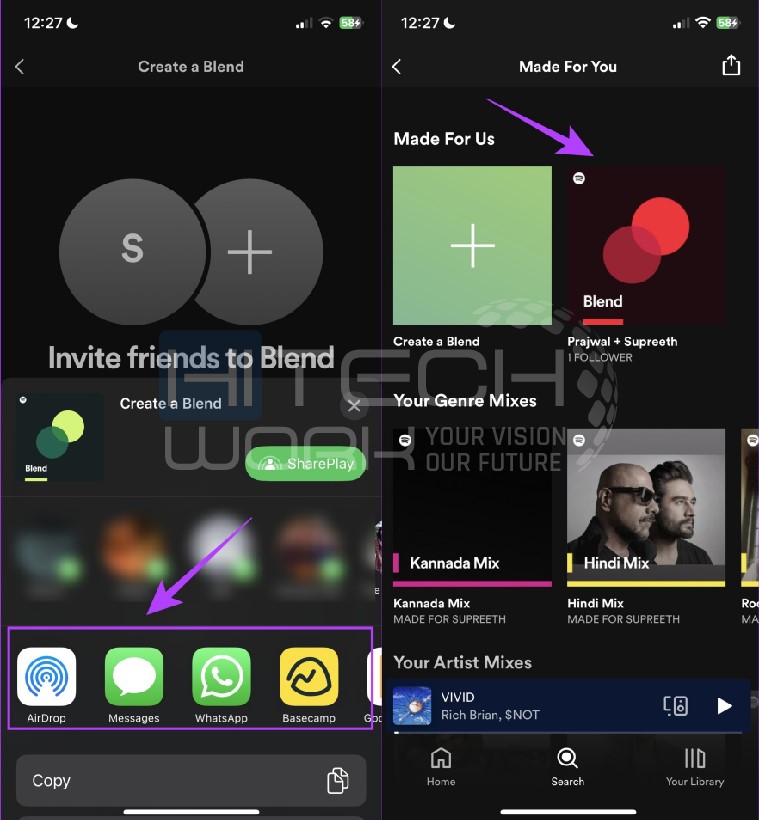 Another Way to Build a Spotify Blend
Try the methods below if the search option isn't working.
Launch the Search tab on the Spotify app.
Tap on the "Made For You" card shown on your display.
The "Create a Blend" option is available on its interface. Tap on it, although the other steps are the same as in the previous section.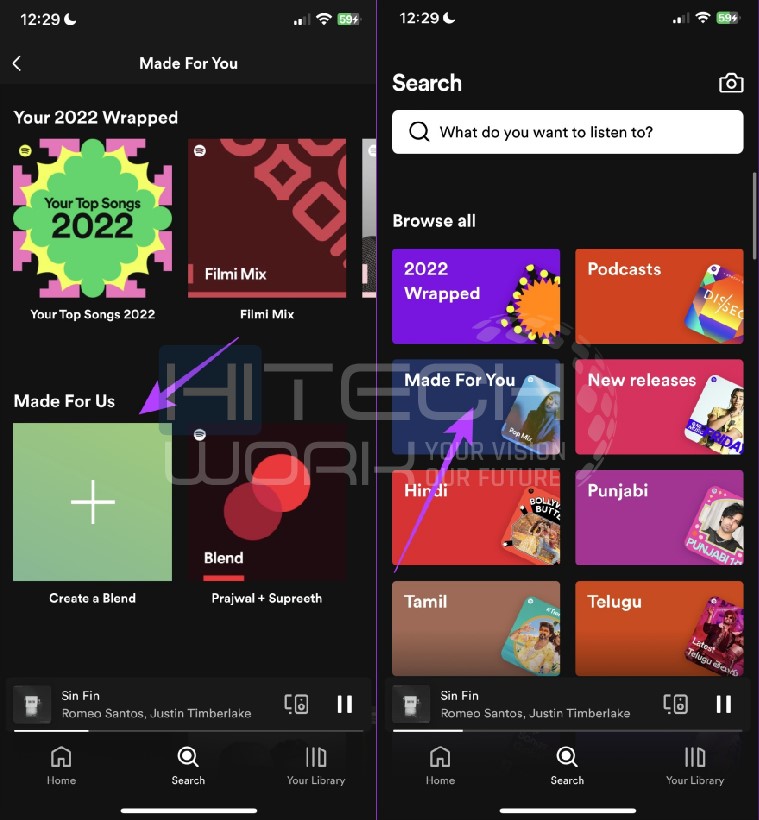 This is all about what you need to know about ways to make a Spotify Blend playlist.
Quick Way to Share the Link to Spotify Blend Playlist
Below are some tips to easily share the link to your Spotify Blend playlist.
Go and Open the Blend playlist on Spotify and Tap on the three dots icon.
Scroll down and find the Share button.
Now, you will have a list of options to share the Blend playlist.
That's all about making, editing, and sharing a Spotify blend playlist.
Conclusion
We highly recommend you start merging recent music with your loved ones and friends according to their recent tastes and changes daily, as it may save a lot of effort and provide you with an error-free shared musical experience. Further, you'll be provided a taste match score that permits you to know how same your music tastes are. Eventually, you'll end up vibing to all of your Blend playlists accessible to both users who have recently streamed.