Are you looking for how to make a playlist on Pandora? Well! We will answer your query.
Basically, Pandora is a music streaming service owned by Sirius XM Holdings in Oakland, California, United States. Over 55.9 million users had Pandora monthly subscriptions. Pandora is the world's most dominant music discovery platform, where artists find their fans and listeners find the music they love most. In 2021, Pandora had about 6.4 million subscribers.
Moreover, Chris Stapleton is the most listened-to artist on Pandora. Either you're streaming on mobile or desktop, you will need to be a Pandora Premium subscriber to create a playlist on Pandora's music service.
This article will guide you on how Pandora Premium subscribers can generate a playlist on the Pandora app or the Pandora website.
How to Make a Playlist with the Pandora App on Android or IOS
Pandora playlists allow you to merge songs or full albums into a customized list that plays according to your choice of order. Playlist functionality can only assist by Pandora premium subscribers.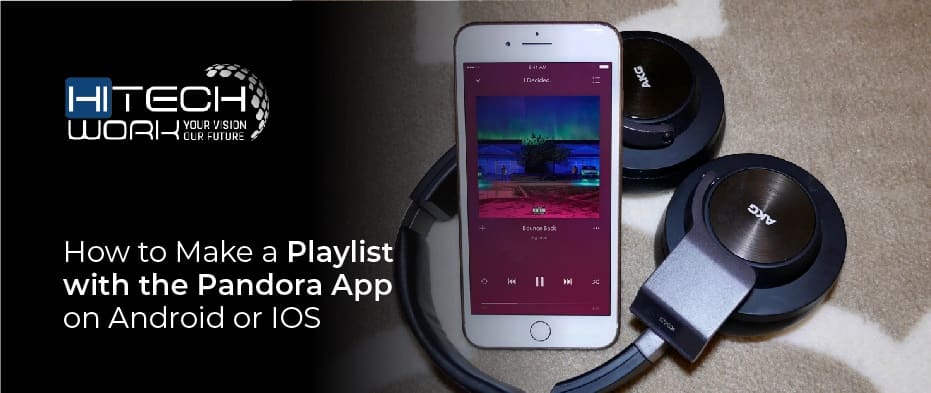 To make a personalized playlist in the Pandora app for iOS devices, follow the mentioned steps:
Install the Pandora app and click on the My Collection tab to make it active.
Click on Filter
Select Playlists in the appeared pop-up menu.
Tap the New playlist at the top of the screen.
Put a name for the new playlist, then click on the Next button.
Now, go to the search bar and put the name of a song, album, or artist.
It displays a list of results
Click the plus (+) symbol next to the song or album you want to add.
Moreover, you can repeat these steps until you are satisfied with your new playlist's content.
Tips To Add Songs to Your Existing Playlist
Click the ellipses (…)
After the pop-up menu appears then, click on Add to Playlist
How to Delete a Pandora Playlist from a Mobile
Go to My Collection for deleting a playlist.
Click the playlist name you want to delete.
Tap the Edit button below the album art.
Scroll down and tap Delete Playlist.
From A Website
Log in to Pandora.com and go to My Collection.
Find the playlist you want to delete and hang it over the album art.
Tap the ellipsis (three dots).
Tap the Remove from your collection.
How to Make Playlist from a Pandora Web Browser
If you wish to create a playlist on your computer, the given steps will benefit you. All you need to follow is: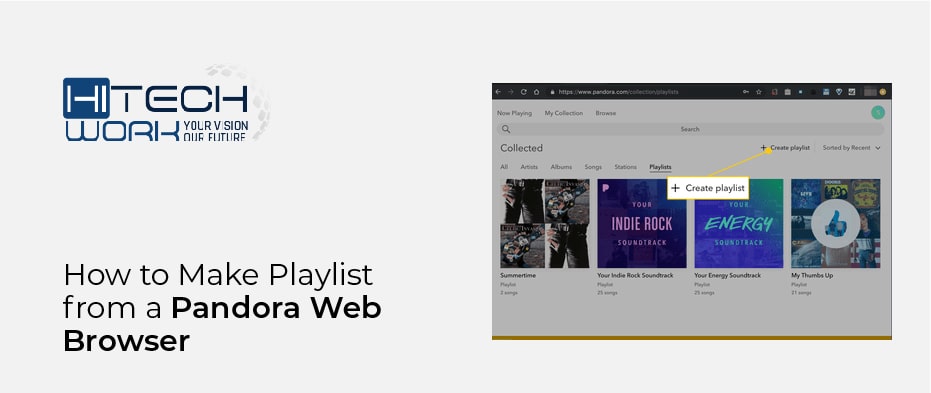 Open a web browser, go to Pandora.com, and tap login.
Put your email address and password in your Pandora account, then tap login.
Walk to the Playlists tab.
Tap on Create playlist at the upper-right corner of the website.
Write your new playlist name in the provided field.
Then, tap Find a song to add, and write the song name, album, or artist.
A recommendation list has been displayed.
Now, the choice to add to your playlist.
Repeat these steps until you get the desired content for your new playlist.
Adore Personalized or Curated Pandora Playlist
Pandora has curated or personalized for you. Some playlists are automatically generated, and a few will be added automatically to your account. These auto-generated playlists are constructed after the following:
You have generated Thumbed Up five or more songs on a radio station.
You have listened at the Premium level for a little while.
However, auto-generated playlists, like those created from your Thumbs Up, will be automatically included in your collection.
Moreover, under the For You tab, some personalized playlists to your individual moods will be waiting for you or Browse if you are using a computer or other devices. In contrast, auto-generated playlists cannot be edited because Pandora curates them. It will also update from time to time. Therefore, you can make a playlist copy so that you can easily add or remove tracks. (Tramadol)
Steps To Copy The Playlist:
Open the playlist and click the ellipsis (…)
Click Add to Playlist and create a new playlist for a perfect copy.
Add this playlist to an existing one, if you choose.
How to Download a Pandora Playlist?
Downloading playlists can only be possible from certain mobile devices. Here are the following key points.
To download content from My Collection, tap the download button below the song.
Most importantly, this button will appear only for eligible ones.
If you want to stop your downloading process, click the download button again, and Pandora will halt your download progress.
Pandora will save your spot with your partially downloaded playlists, albums, and stations if your network is unstable while downloading.
Further, when you get your signals back, it will start to complete the download process.
FAQs
How to Make a Playlist on Pandora Without A Premium?
Pandora premium subscribers can create of their favorite content playlists on Pandora. But free Pandora listeners and Pandora Plus listeners will only generate a playlist if they upgrade to Pandora premium or start a Pandora Premium Session. Otherwise, they are not allowed to create a playlist.
What Is Better, Pandora or Spotify?
Pandora Station is far better than Spotify Radio, while Spotify set up by having a better discovery algorithm. However, both Spotify and Pandora make great curated playlists.
How to Share a Playlist on Pandora?
To share your personalized playlist on Pandora, you must set on the public option instead of the private one. If you want to change your profile settings, go to app settings and switch your profile to public mode. If you face further issues, go to Sharing on the Pandora website.
Pandora App Conclusion
Now, we have come to the end of this blog, and we would be glad to answer you about how to make a playlist on Pandora.
Therefore, the premium subscription to the app will not be available in the free version. You can download, edit and save some of your preferred tracks from Pandora, which unlocks worldwide music quality for listeners.