When buying one of the best smartphones, the first choice can be the hardest: iPhone vs Android. It's not simple; both offer many great features, and they may seem the same.
However, a closer look reveals some key differences. Read on to learn more about these differences to help you decide whether an iPhone or Android smartphone is best for you.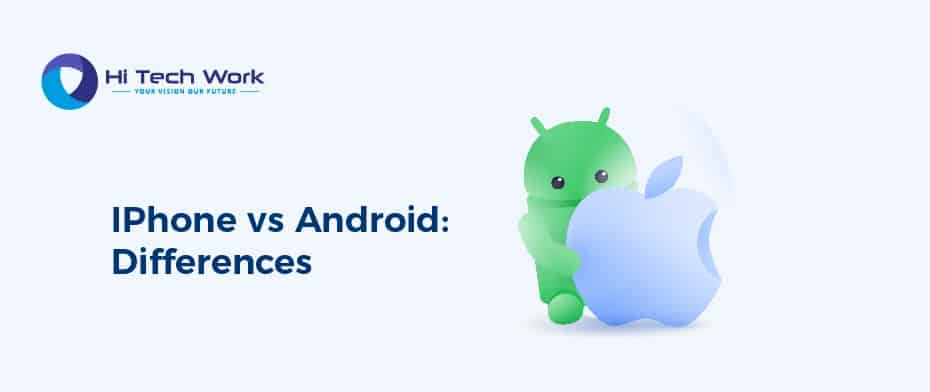 iPhone vs Android: Differences 
Interface
IOS and Android use touch interfaces that have a lot in common – swiping, tapping, and pinch-and-zoom. Both operating systems boot to a home screen, which is related to a computer desktop. While an iOS home screen only contains rows of app icons, Android allows widgets, which display auto-updating information such as weather and email. In addition, the iOS user interface features a dock where users can pin their most frequently used applications.
A status bar runs across the top on both iOS and Android, offering information such as the time, WiFi or cell signal, and battery life; on Android, the status bar also shows the number of afresh received emails, messages, and reminders.
Speed
With the A-series chips that Apple designs in-house, the company has a roughly two-year lead over the best Android phones, typically running Qualcomm's Snapdragon series chips. The iPhone 12 easily beats Samsung Galaxy 20 and Google's Pixel 5 in Geekbench 5 and 3DMark's Wild Life stress tests.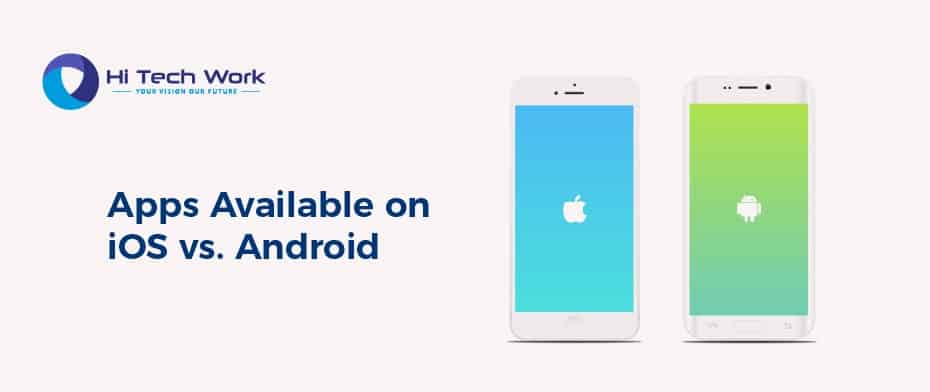 Apps Available on iOS vs. Android
Android gets apps from Google Play, which currently has 600,000 applications available, most of which will run on tablets. However, some Android devices, such as the Kindle Fire, use different app stores with a smaller selection of available apps. In addition, many originally iOS-only apps are now available for Android, including Instagram and Pinterest. Google's more open application store means other exclusive apps are also available, including Adobe Flash Player and BitTorrent. Android also proposes access to Google-based apps, such as Youtube and Google Docs.
The Apple app store currently offers over 1 million applications, about 30% of which are available for the iPad. As a result, most developers prefer to develop games for iOS before they develop for Android.
When comparing Google and Apple's app stores, the bottom line is that the most popular apps are available for both platforms. But for tablets, more apps are designed specifically for the iPad, while Android tablet apps are often scaled-up versions of Android smartphone apps. In addition, developers at startups often focus on one platform (usually iOS) when they first launch their smartphone app because they do not have the resources to serve multiple platforms from the get-go. For example, Instagram started with iOS, and their Android app came much later.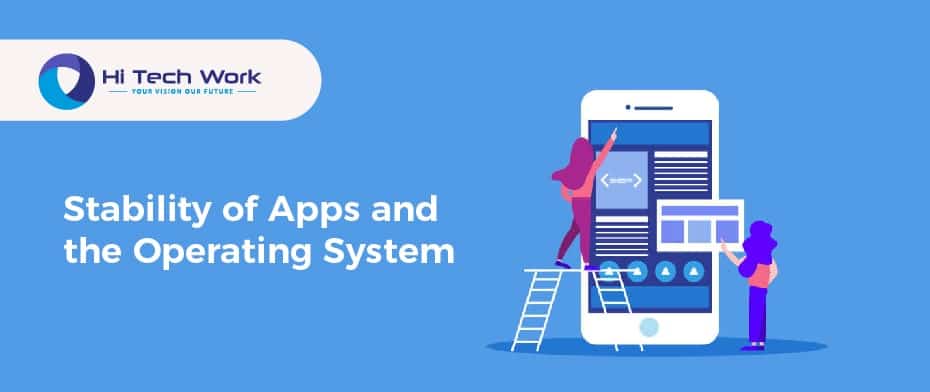 Stability of Apps and the Operating System
The Crittercism Mobile Experience Report issued in March 2014 ranked Android KitKat as steadier than iOS 7.1. Other findings from the report include:
Android 2.3 Gingerbread has the biggest total crash rate, at 1.7%. Different versions of Android — Ice Cream Sandwich, Jelly Bean, and KitKat — have a crash rate of 0.7%.
iOs 7.1 has a collision rate of 1.6%. The iOS 7.0 and iOS 5 are 2.1% and 2.5%, respectively.
Mobile versions of both Android and iOS are more stable than their tablet versions.
Crash rates for apps vary by category — games are most likely to crash (4.4% crash rate), and e-commerce apps have the lowest crash rate of 0.4%.
Device Selection
Many Android devices are available at many different price points, sizes, and hardware capabilities.
IOS is only available on Apple devices: the iPad as a tablet, the iPhone as a phone, and the iPod Touch as an MP3 player. These tend to be more costly than equivalent hardware using Android.
Call Features
Android enables the user to send one of several self-composed texts as auto-replies when declining a call.
IOS's phone app has many capabilities, including the ability to reply to a phone call with a canned text message instead of answering or to set a callback reminder. It also has a Do Not Disturb mode.
Messaging
Android enables users to log onto GTalk for instant messages. iOS does not offer a natural way to chat to non-Apple users. Users can message Apple users using iMessage or use applications from Google for GTalk and Microsoft for Skype.
Video Chat
Google Hangouts on Android can also be done for video chat, allowing users to chat over either 3G or Wi-Fi. IOS uses Facetime, which can arrange video calls over both 3G and WiFi. However, it only enables users to communicate with other Apple devices.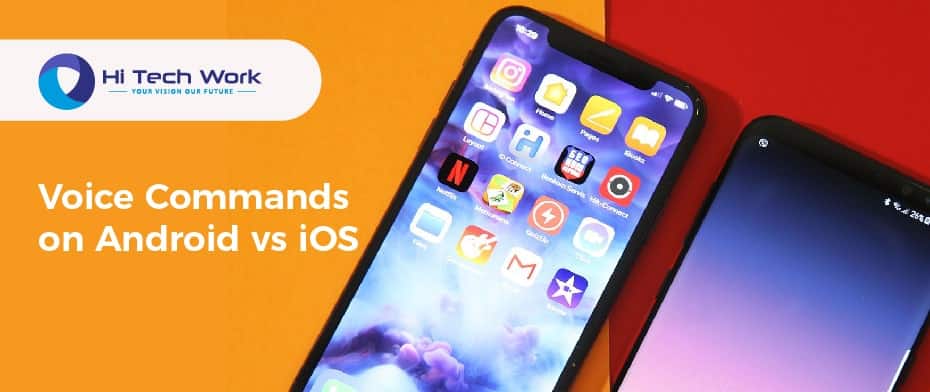 Voice Commands on Android vs iOS
IOS uses Siri, a voice-based virtual assistant, to understand and respond to both dictations and spoken commands. Siri includes many features, such as reading sports scores and standings, making reservations at restaurants, and getting movie times at the local theater. You can also dictate texts and emails, plan calendar events, and interface with car audio and navigation.
Android gives a similar assistant, Google Now, which features the above abilities, plus can keep track of your calendar and give verbal reminders when it is time to leave. In addition, it allows for voice search and dictation.
Maps
Applications like Google Maps, Waze, and Bing are available for both iOS and Android. When Google released its maps app for iOS in December 2012, the iOS version exceeded the version available for Android in terms of features, design, and ease of use. However, the Android version is not supposed to stay behind. Apple's mapping app, bundled with every iOS device, was broadly panned when it was launched with iOS 6.
Web Browsing
Android utilizes Google Chrome as its web browser, while iOS uses Safari. Both Internet browsers are similar in quality and capabilities, and Google Chrome is also available for iOS. Safari is not available for Android.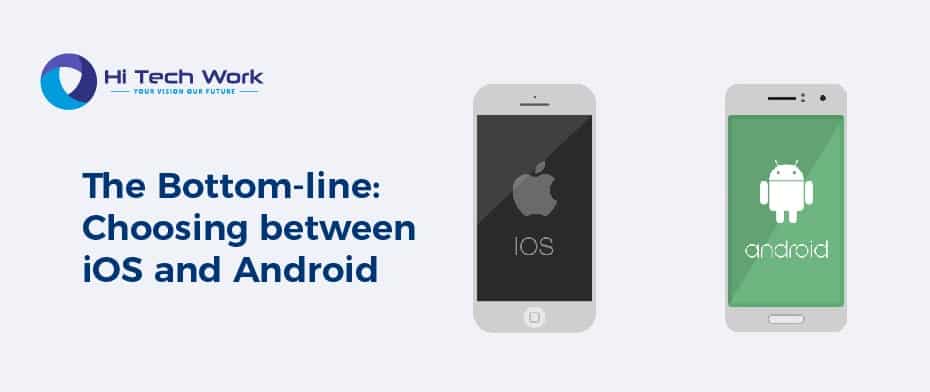 The Bottom-line: Choosing between iOS and Android
To review the key pros and cons of Android and iOS:
IOS: Pros and Cons
Massive app ecosystem: distinct use for tablet apps while on smartphones popular apps are usually available for both platforms
Deeper integration with Facebook and Twitter: it is easier to post updates and share on social networks using iOS than Android because of how deeply integrated these platforms are with iOS.
iOS-only apps like Passbook, FaceTime, and mobile payments app Square (available on iOS 3GS,4,4S, five and up, nut only for limited Android phones)
The interface is locked down: Limited customization options for the home screens; only rows of app icons are allowed. No third-party applications are pre-installed by the wireless carrier.
Software upgrades: Apple offers software upgrades to all devices with the hardware capable of handling the new software. This means appliances stay current with software features for at least two to three years.
Better privacy controls: iOS offers better control over the access apps have to users' private information such as contacts and location.
Android: Pros and Cons
Massive hardware selection: Many Android devices are available at various price points, with varying hardware capabilities, screen sizes, and features.
Highly customizable user experience: The home screen can be customized with app icons and widgets that allow the user to stay connected or informed. Other examples include SwiftKey, which modifies your Android smartphone's keyboard, and apps that emulate older gaming consoles. Google has fewer restrictions than Apple on what kinds of apps it allows in its Play store. Moreover, you can decide to install Android apps from places other than the Google Play store.