Wants to know how to restore the missing stereo mix on windows 10? Stereo Mix is a tool that allows the user to record the output stream of a computer such as broadcasting radio, speaker outputs, live streaming audios, also system sounds.
Though Stereo mix comes default with some sound cards, most of a portion of Windows 10 users don't enjoy it by default as it is disabled on their computers. If you want to allow the Stereo Mix on your computer, then go for these easy steps.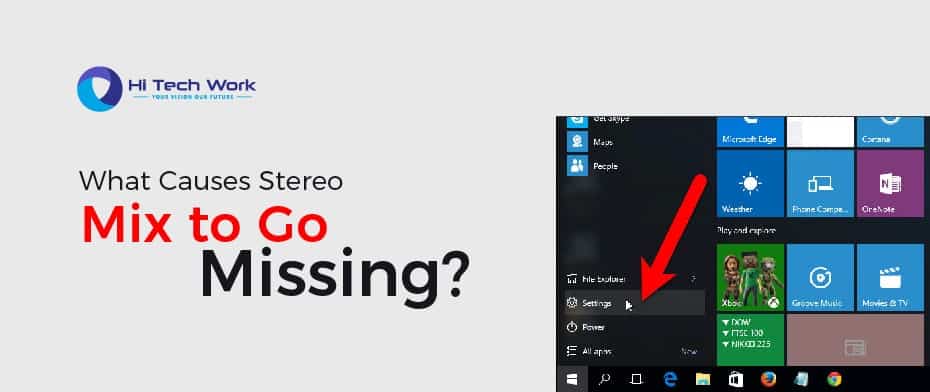 What Causes Stereo Mix to Go Missing? 
Windows is steadily getting rid of features they feel are unnecessary, and Stereo Mix may be another one. Still, Stereo Mix is also related to the audio driver you have installed, and it may be probable to restore it. There are a few different causes that can cause it to go missing, so check out the ones below for more info:
The microphone is unavailable– If your microphone device is not available for audio recording, Stereo Mix will be disabled as well. It would be best if you allowed apps to access your Microphone in Windows 10 Settings.
Stereo Mix is listed as disabled – Stereo Mix may be disabled as a virtual audio device in Sounds settings, so make sure you re-enable it to resolve the problem.
Audio driver – Stereo Mix is only available for drivers given by your manufacturer, and you will have to update them if you are using the default ones made by Microsoft.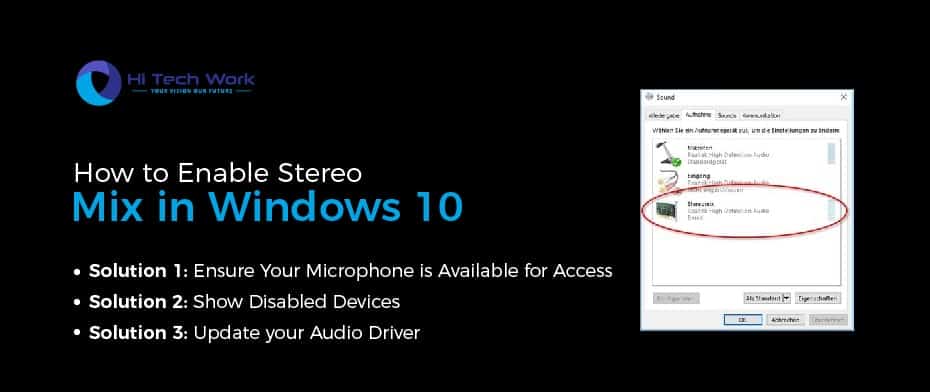 How to Enable Stereo Mix in Windows 10
Solution 1: Ensure Your Microphone is Available for Access 
This query can also arise if your microphone is not available for access. This automatically disables the use of Stereo Mix. This solution is the easiest, and it can save you hours of effort, so make sure you don't skip this method when troubleshooting the Stereo Mix missing problem on Windows 10.
Hit the cog icon in the lower-left section of the Start menu to open the Settings app. You can also search for it.
Scroll down until you see the Privacy section and make sure you hit on it. On the left side of the window, you should see the App permissions section. Scroll down until you reach the microphone and click on this option.
First of all, verify if the Microphone access for this device option is on. If it's not, hit on Change and set the slider to on.
After that, switch the slider under the "Allow apps to access your microphone" option to on and scroll down in the list of installed apps on your computer. Switch the slider next to the apps you want to provide access for on the list to on.
Restart your computer to see whether the problem still appears!
Solution 2: Show Disabled Devices
Windows 10 may have anyhow automatically disabled the Stereo Mix feature as a virtual sound device. It might be considered objectionable or might have been disabled by a third-party app. This is quite a big mistake by Microsoft, as protecting the device under recording devices was superfluous. Make sure you verify whether this is the cause of your problem!
Right-click on the Volume icon located at the bottom right of your screen and choose the Sounds option. An alternative approach would be to open the Control Panel on your PC and set the View by option to large icons. After that, locate and hit on the Sounds option to open the same window.
Move to the Recording tab of the Sound window, which just opened up.
Right-hit anywhere in the middle of the window and mark the boxes next to the Show Disabled Devices and Show Disconnected Devices options. Stereo Mix should now appear. Right-hit on it and choose the Enable option from the context menu, which will appear.
Make sure you try it out to see if it works!
Solution 3: Update your Audio Driver
Many users have reported that they managed to resolve the difficulty simply by reinstalling their audio device drivers. This is a simple method to perform, and it's definitely worth your time. Check it out below!
Hit the Start menu at the lower-left part of the screen, type in Device Manager afterward, and select it from the list of available results by simply clicking the first one.
You can also hit the Windows Key + R key combination to bring up the Run dialog box. Type in devmgmt.msc in the dialog box and hit OK to run it.
Since you need to update the driver for your headphones, expand the Sound, video, and game controllers section. Right-hit on your headphones in the list and choose Update driver from the context menu.
Choose the Search automatically for the updated driver software option from the new window and wait to see if the utility can find more recent drivers.
Check to see if your headphones look under Playback devices in sound settings!
FAQs
Q: What is a stereo mix?
A: A stereo mix is a recording option available on some sound cards used with Windows <a href="https://www.hitechwork.com/32-bit-vs-64-bit/">operating systems</a>. It allows for the computer's output signal to be recorded, capturing live streaming radio, for example, system sounds, gaming sounds, and so on.
Q: How do I get a stereo mix on Windows 10?
A: Go down to the audio icon in your system tray, right-hit it, and go to Recording Devices to open up the proper settings pane. In the pane, right-hit on a blank area, and ensure both View Disabled Devices and View Disconnected Devices options are checked. You should see a "Stereo Mix" option appear.
Q: Why do I not have a stereo mix?
A: Your audio chipset drivers may be outdated; that's why Stereo Mix does not seem in the list of devices. We suggest checking the device manufacturer if there are available updates for the drivers. Once you're finished updating the audio chipset drivers, check again if the missing device will seem.
Q: Is it good to mix in mono or stereo?
A: Well, it's generally much harder than mixing in stereo, but you'll get much better outcomes for your effort. The truth is that when you mix in mono, you can only separate different instruments by using differences in their relative levels and spectral content