Suppose you love RPGs, mortal kombat video games like Silent Hill 2, Pokemon, Final Fantasy XIV, Call of Duty, or Final Fantasy Games with Gold. In that case, you might have played the interesting game Cyberpunk 2077. While playing the Cyberpunk 2077 game, many players will fail to save Barry in a happy together side mission.
Related: How to Refund a Game on Xbox (100% Get Money Back)
In this walkthrough guide, you will learn you can save Barry's life from follow-up quests and all the unpleasant and nicer outcomes to keep Barry alive. But before learning to keep Barry alive, you must understand the Happy Together mission. It is basically a sidequests mission that aims to save Barry's life (the ex-cop). Click here if you want to know GTA 6 gameplay rumors.
How to Save Barry Cyberpunk in Happy Together Mission
Happy Together is basically a side job and a quick optional mission in the Cyberpunk 2077 game. Players can pick this mission very early as it does not have challenging fights. However, this side job may require being in Act 2 as it leads to the outside of Watson in the night city.
The happy together mission initiate in Megabuilding H10 in Japan town in Westbrook; here is V's apartment. On the floor below your (V's) flat, you will see a yellow mission icon above the 2 police officers, Juan Mandez and Nadia Petrova, knocking on the door of apartment 0613, which is the Barry Lewis apartment.
Now you must talk to the cops to save Barry in Cyberpunk and know why they are knocking on the door. Then they will say they are concerned about their friend or your neighbor Barry. He broke down after his best friend Andrew passed away, and they are bothered he might do something stupid.
After that, cops will ask you to see what is happening with Barry as he refuses to respond. Then you have to knock on the Barry Door. At first, Barry will not answer for player V so you will need to open the main menu and skip time in front of the apartment for three hours to update the new objectives of the happy together mission.
Also read: FINAL FANTASY Pixel Remaster Series Brings Classic Gameplay to PS4 & Switch on April 19th
NOTE: If skipping time in front of Barry's apartment does not work, just play another mission in Cyberpunk and return later. Or hover up the stairs in your flat, sleep for a few hours, and get the XP buff.
Dialogue Choices to Save Barry Cyberpunk 2077 Happy Together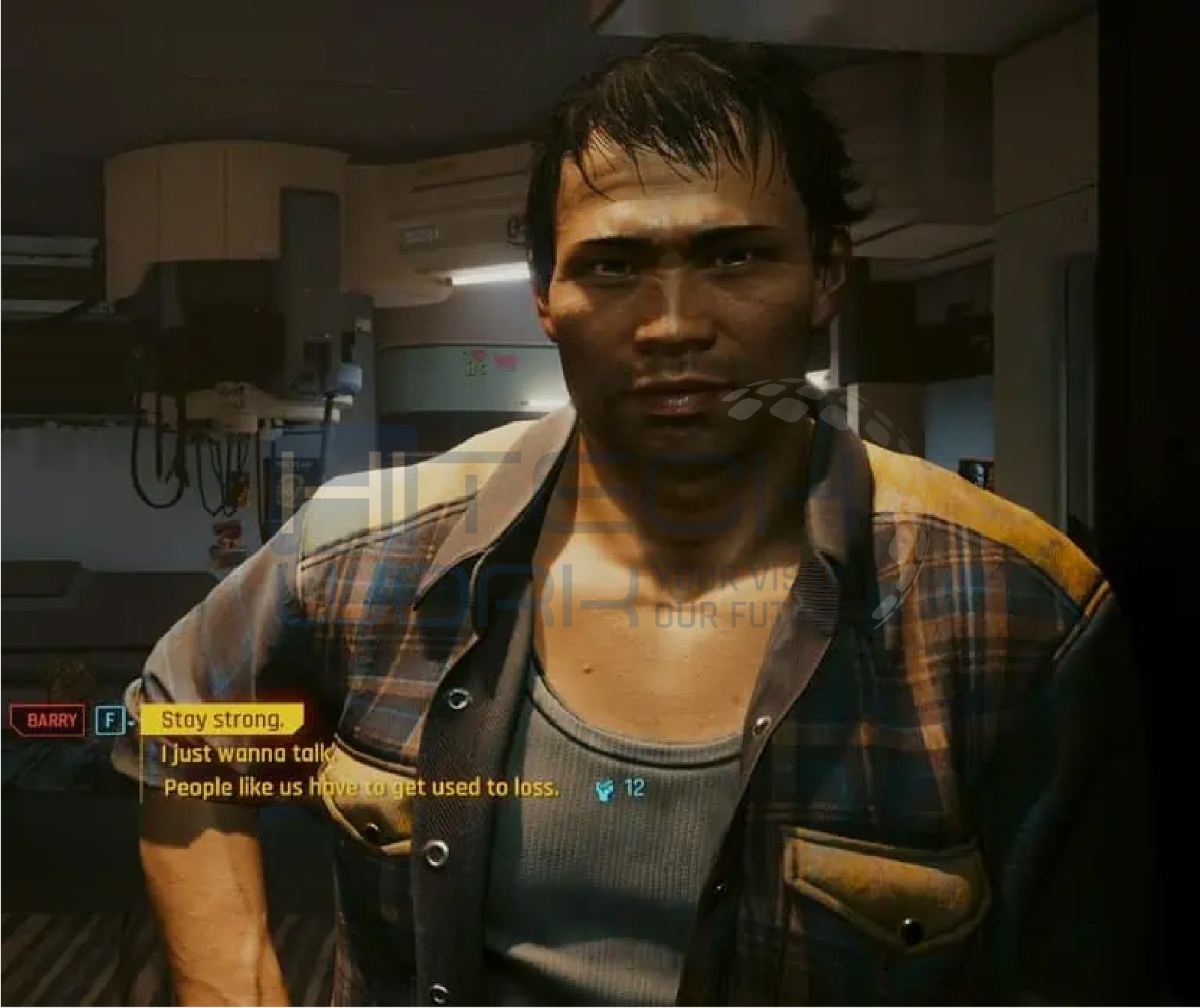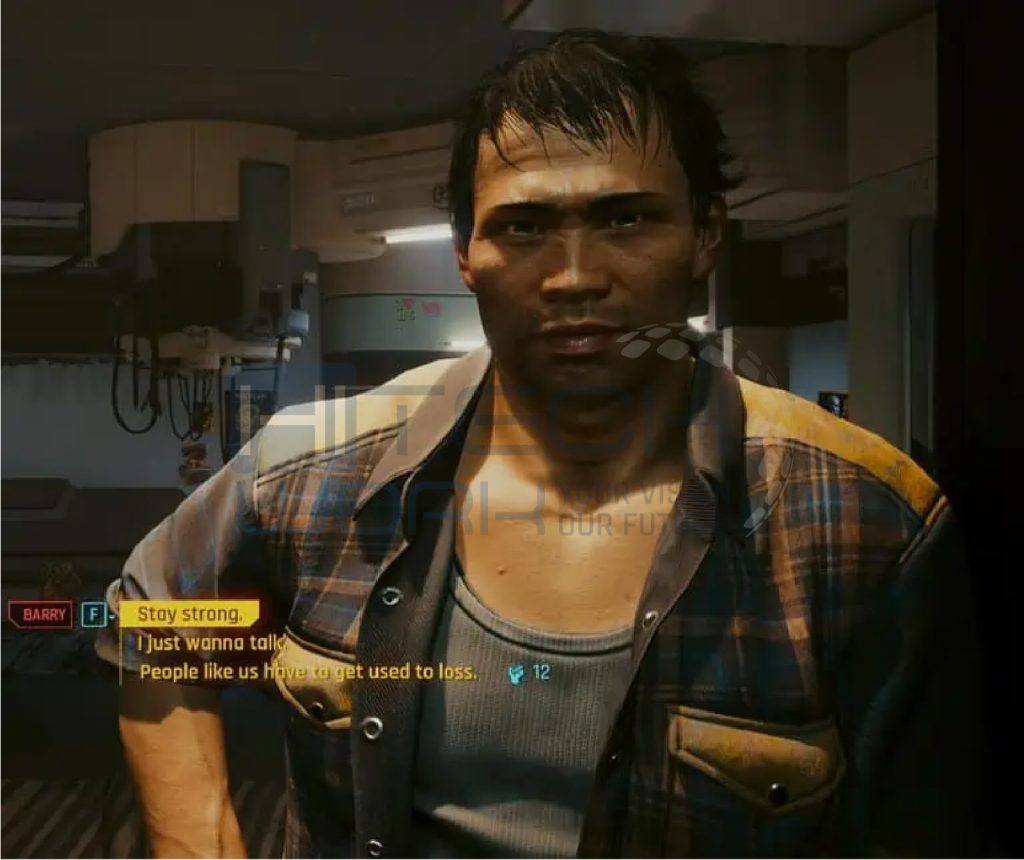 Knock again on Barry's apartment door when the Happy Together mission's objective is updated, which is the right thing to do. Now Barry will let you in, then talk with him about his troubles. He will tell you that Andrew was the only person he could talk to without ever being judged, but the 2 cops outside Petrova and Mendez did not understand. However, in this discussion, you will find that Barry is sad about losing his friend Andrew.
After that, you must select the dialog options to save Barry's life in the cyberpunk happy-together mission. Remember that if you pick the main dialogue (everyone has their limit, or we have to forget the dead), as shown in the image below, you will report to the officers outside the door and tell them your findings. Then Barry takes his own life, and it becomes a bad ending.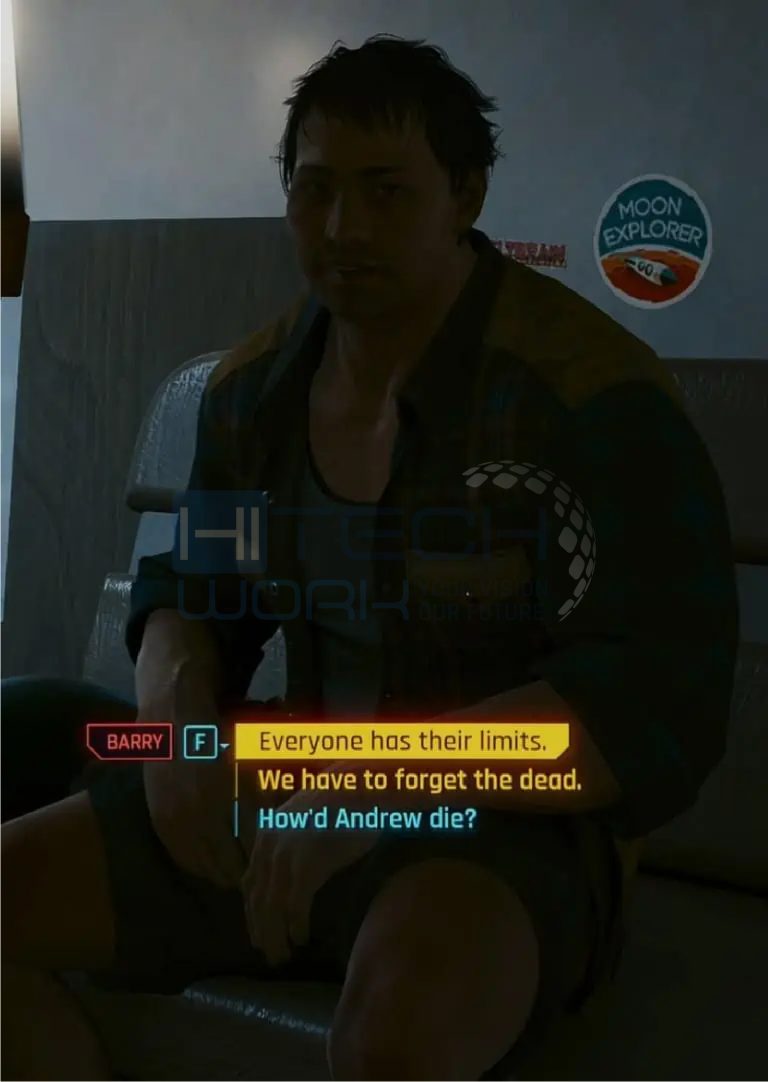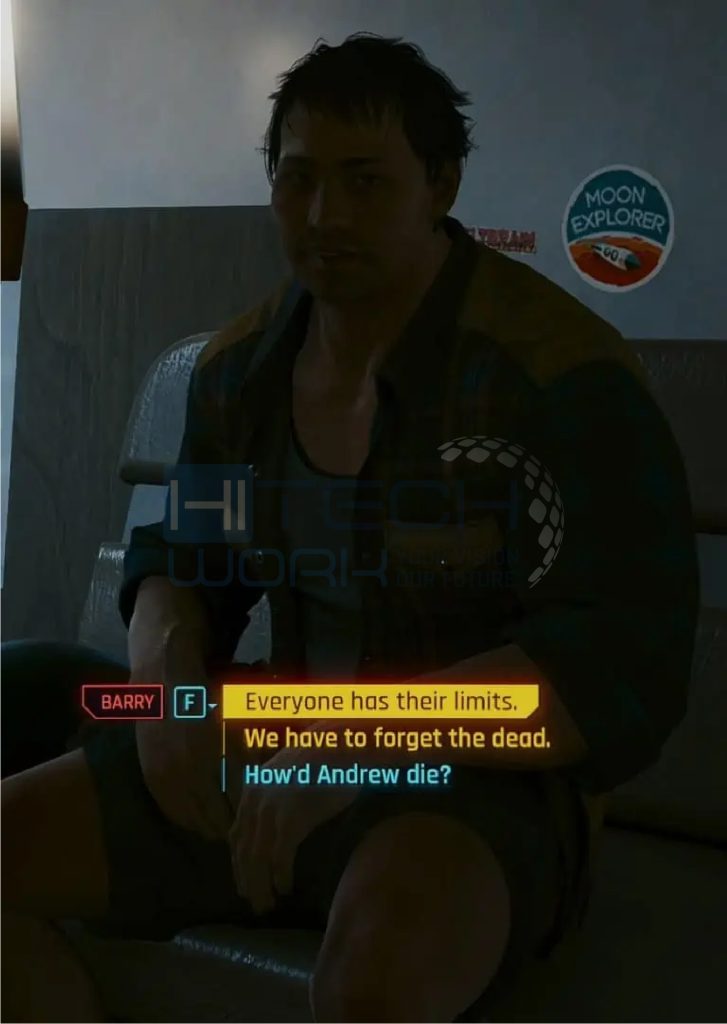 That is why you have to display attention in Barry and select the optional dialogue shown in the image above. And ask Barry how Andrew died and compare the old friend to a grandfather figure.
Then Barry will tell you (V) that Andrew died of old age. After this discussion, you have 2 new aims, which are
Talk to Cops
Find Andrew's niche before talking to Cops
So you have to save Barry in Cyberpunk to do that; pick the second objective first, which is an optional dialogue choice and leads to a good ending. But if you select to talk to the cops, Barry will commit self-destruction, which means a bad ending.
Find Andrew Niche Cyberpunk before Talking to Cops in Cyberpunk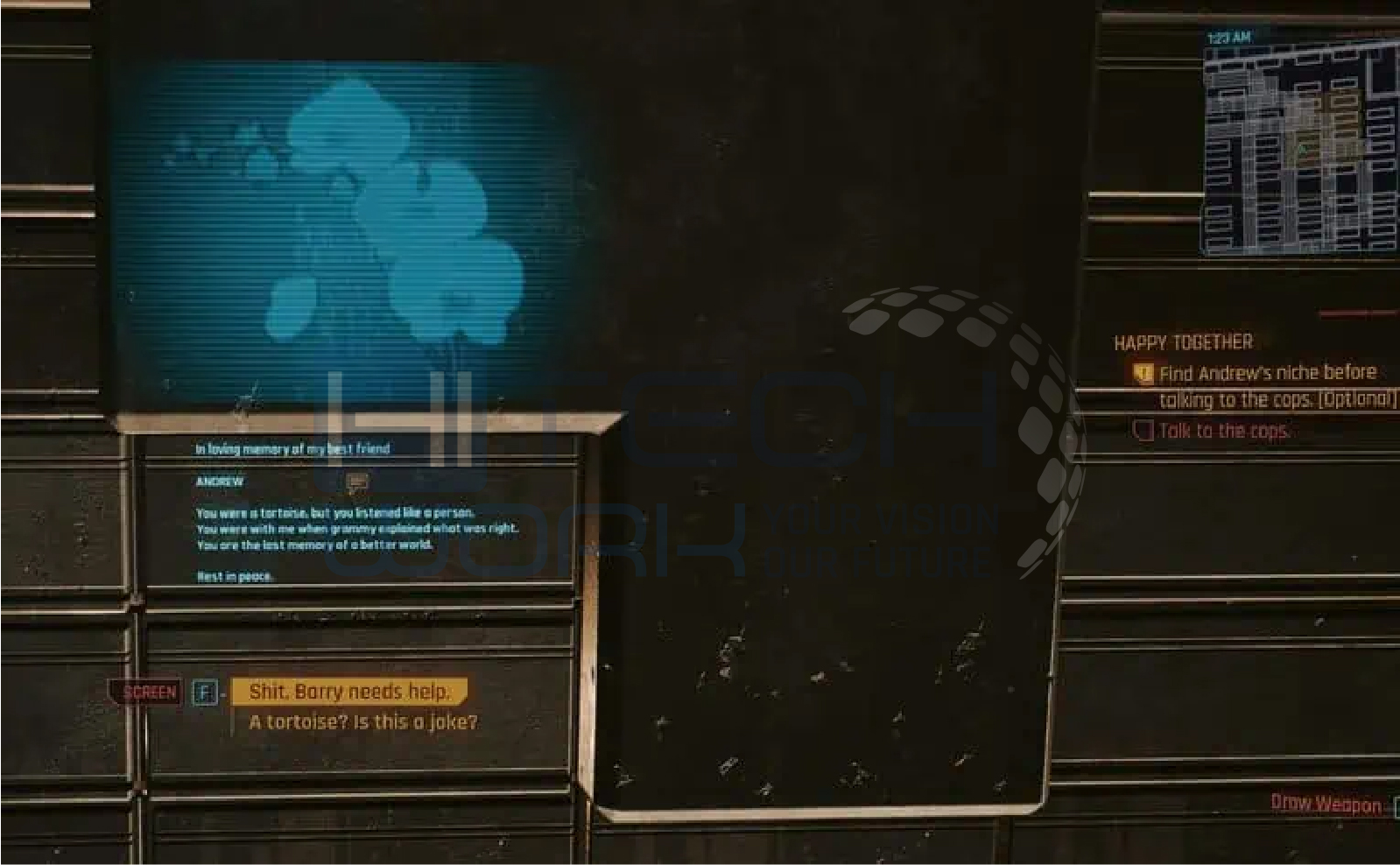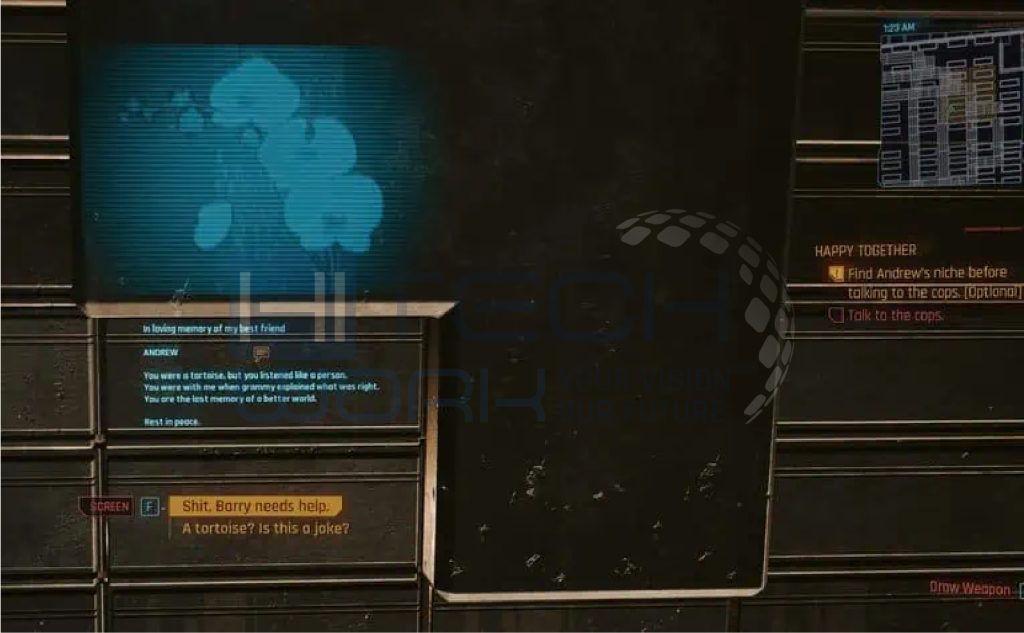 Once you select the optional objective (find Andrew's niche), tap on the map icon to launch the map of Night City. Here you will see the objective, which is your next destination, Columbarium in North Oak Westbrook.
When you arrive at the destination, you will see Johnny Silverhand. Look at the text on the wall that says Andrew is a pet tortoise! The whole text is shown in the below image.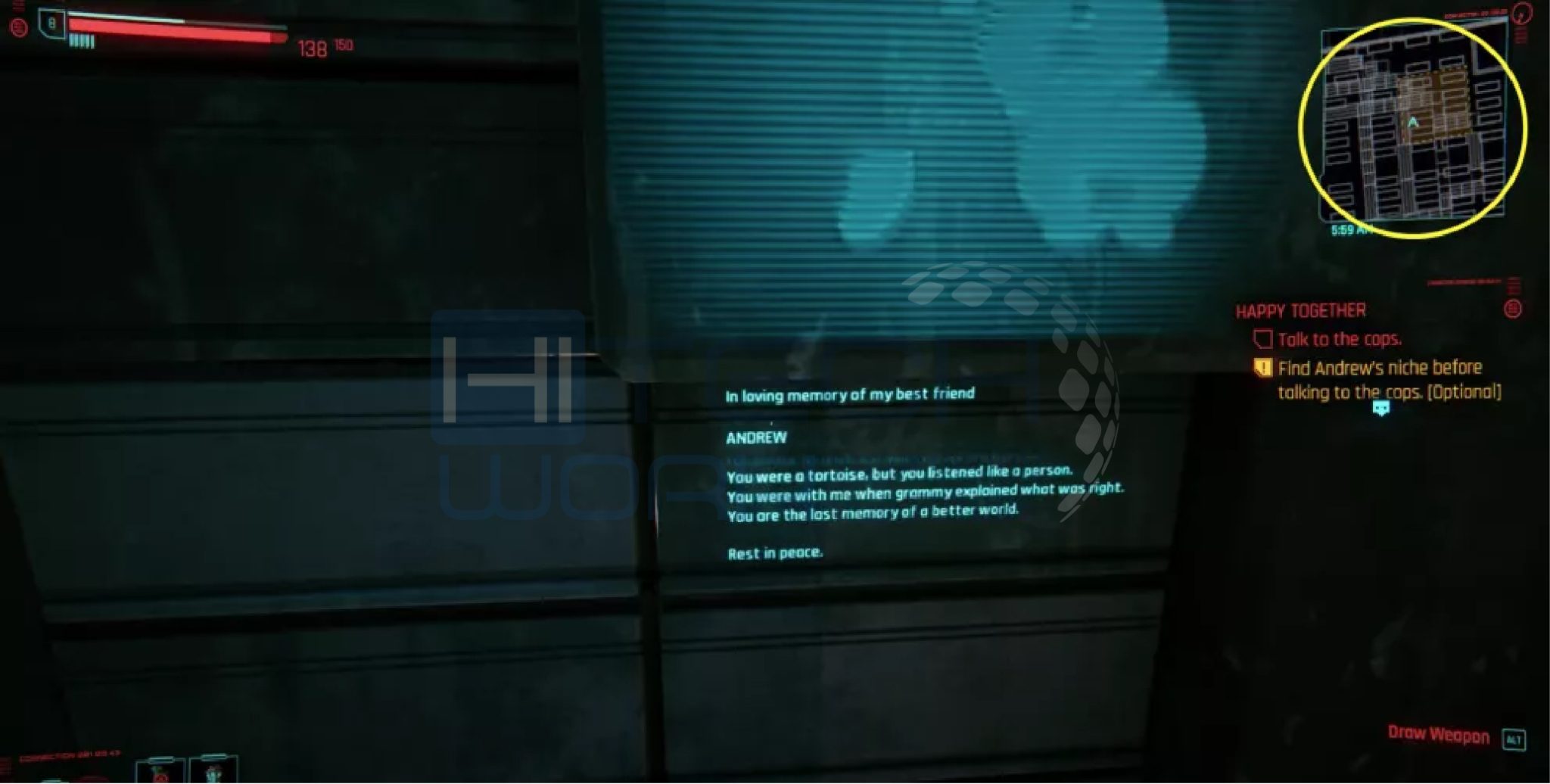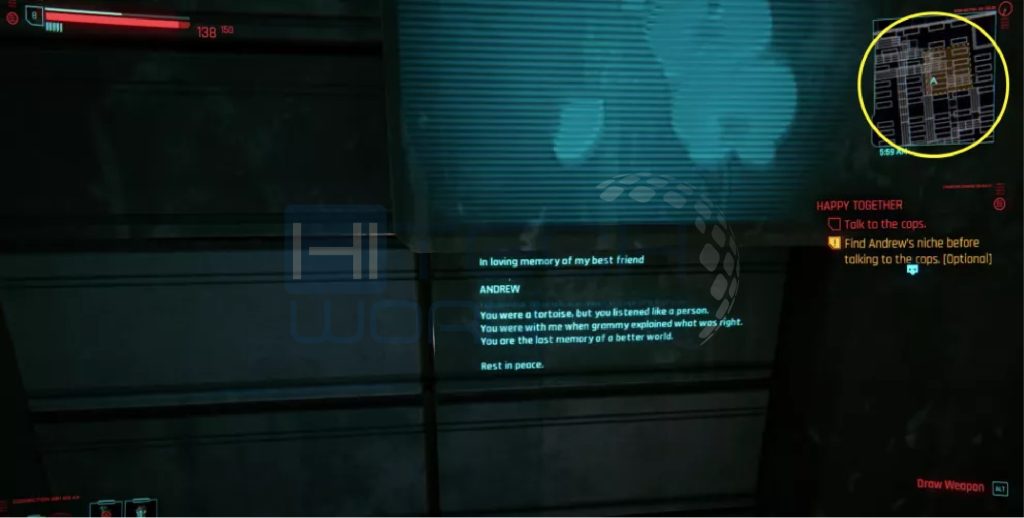 Talk to NCPD Officers to Save Barry in Cyberpunk 2077: Happy Together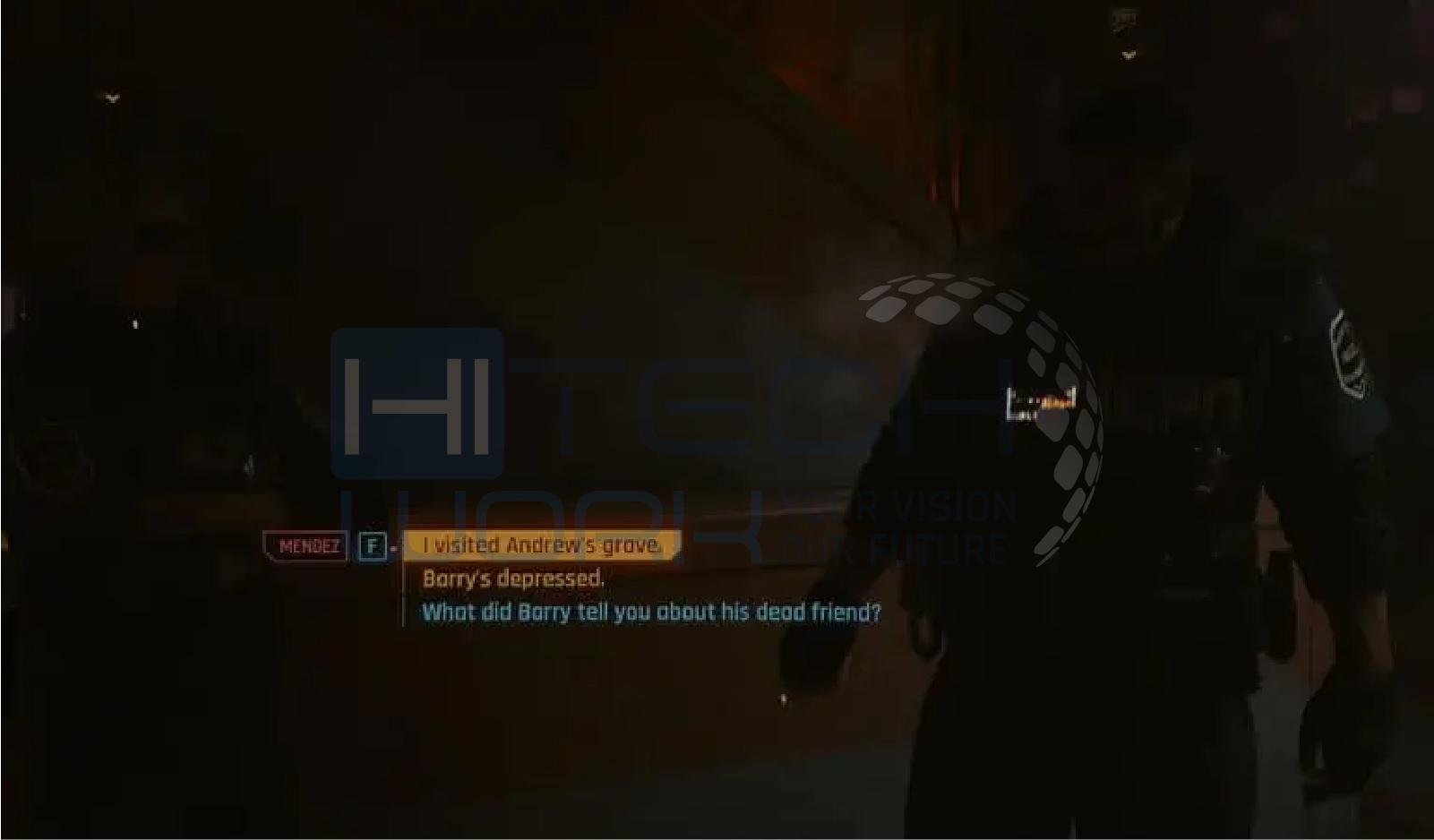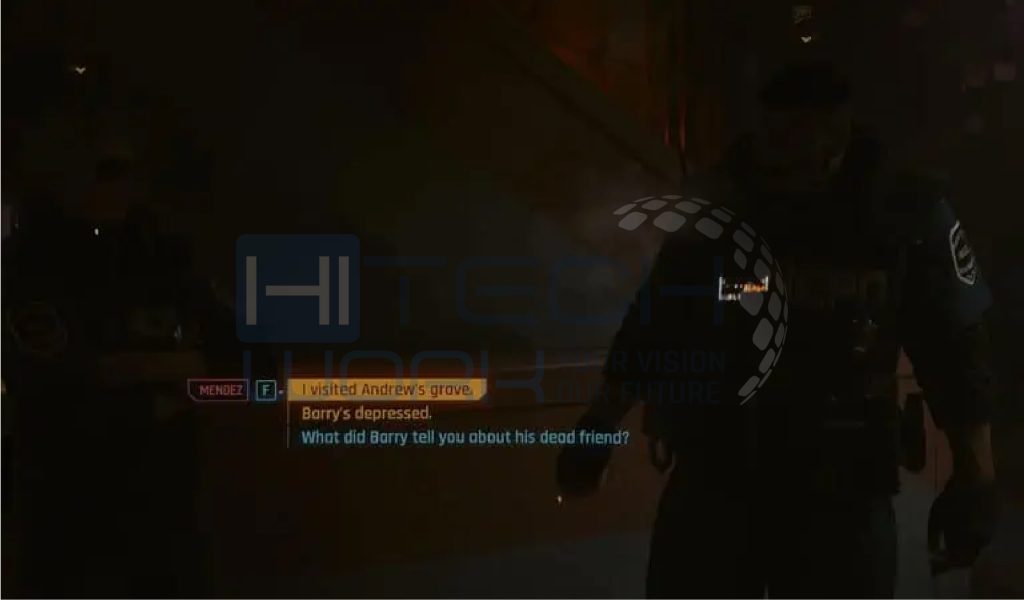 Now you have to return to the NCPD officers, stick up at Megabuilding H10 and talk to them. Ask the NCPD officers what Barry stated to them about his friend Andrew. Also, choose the I visited Andrew Grave dialogue option to save Barry's life, which is the only way to save him.
Share your information to cops that you discover that Andrew was a pet turtle and a reminder of his grandparent. However, if you choose the other option Barry's Depressed, then you will fail the happy together side mission of Cyberpunk, you will not save Barry's life, and he will end up committing suicide.
After your conversation with the cops ends, they will navigate Barry's apartment and talk to him. This completes the Happy Together side job that saves Barry in Cyberpunk 2077, and you will get 680 eddies rewards.
FAQs
Editor's Recommendation