Wondering how to turn a Photo into Pdf on iPhone? Nowadays, capturing & sharing photos has become quite simple. Sometimes, we have to convert our photos into a PDF format for several purposes, like creating a document, sharing various photos all at once, or submitting a form.
Although, there are so many potential benefits of using pdf and one can easily convert photos into Pdf directly from iPhones. In this blog, we will let you know how to turn an image into a Pdf using iPhone built-in features.
Let's get started…!!
Why Should we Convert Image to PDF?
A PDF is broadly used and can be shared and opened across various apps, hardware, and operating systems. Additionally, they maintain the quality, formatting, and properties. So, it's no surprise that converting photos to PDFs can also be useful when sharing high-quality images.
So in the next section, we will walk you through how to convert pictures to pdf so you can share them.
How to Convert Photo to PDF Using iPhone Printer
It's quite simple to turn photos into Pdf via an iPhone printer. Once you know how your phone's printer work, you can easily convert JPGs to PDFs. Here's how you can do it.
Choose Photos on your iPhone and click on Albums.
Then, select one or multiple photos.
Click on the Share icon.
Tap Print from the share sheet.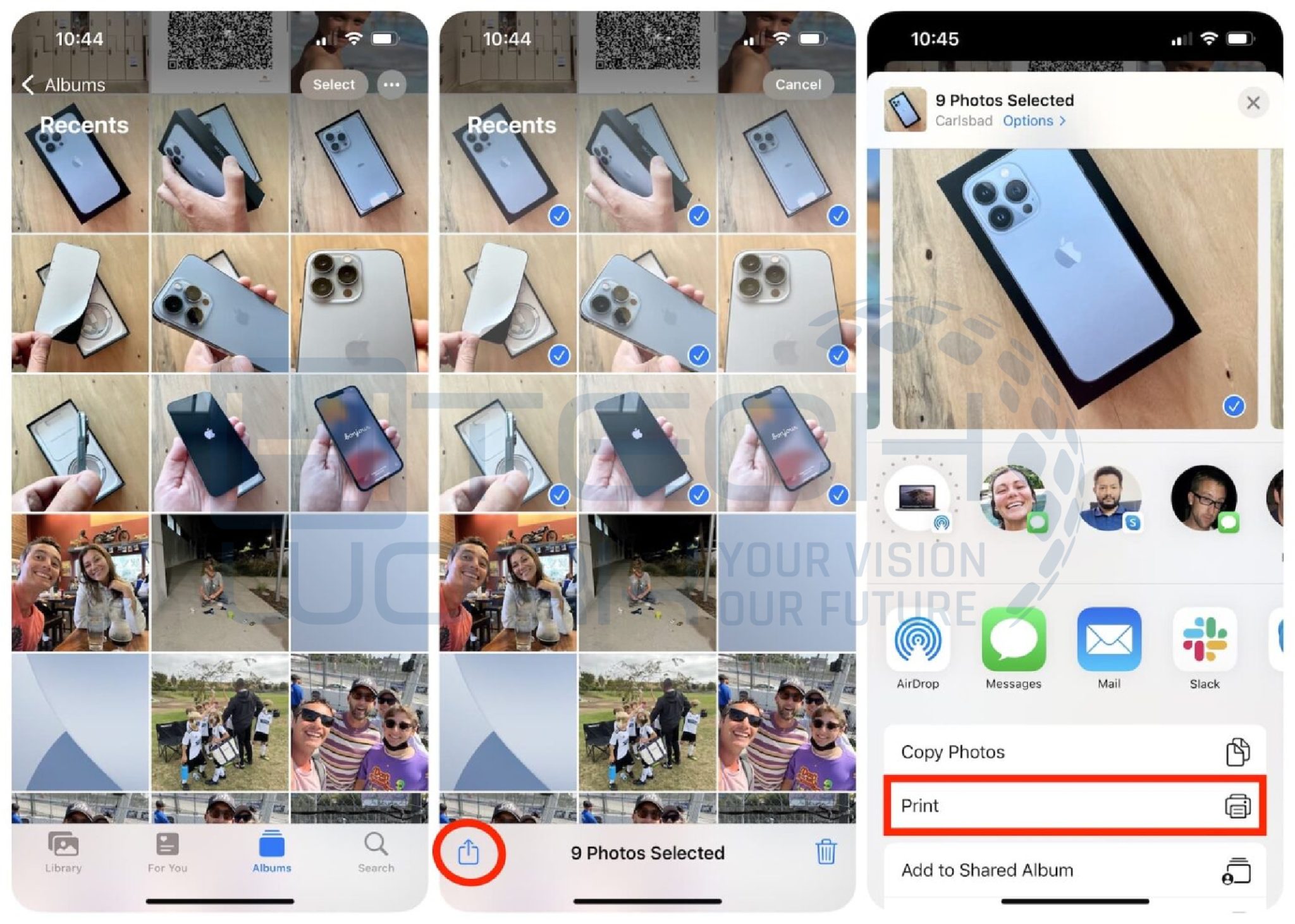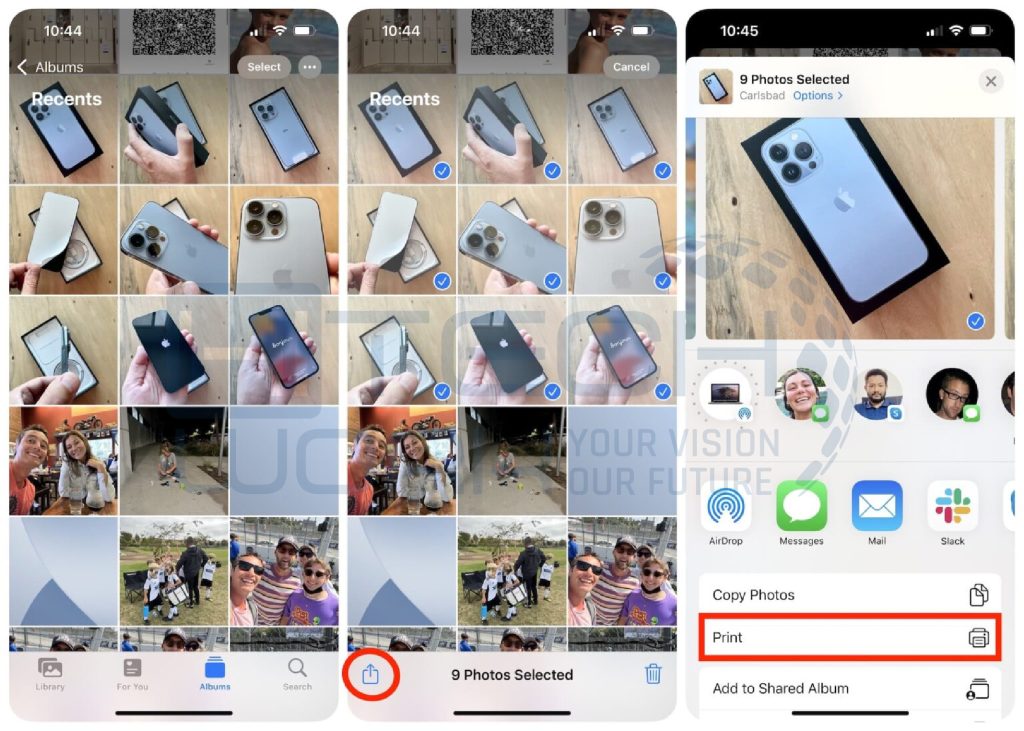 Use two fingers on the Photo preview; squeeze outwards to save the photo as a PDF.
How to Turn a Photo into PDF on iPhone Using Files App
Files let you quickly generate PDFs. Although the image must be saved under files, if you have images in the files, follow the steps.
First, select your photos and hit the share button, followed by the save to files option.
Second, open files and look for the photo there.
Then, make a PDF file from a single photo by doing a long press on the photo and choosing the Create PDF option.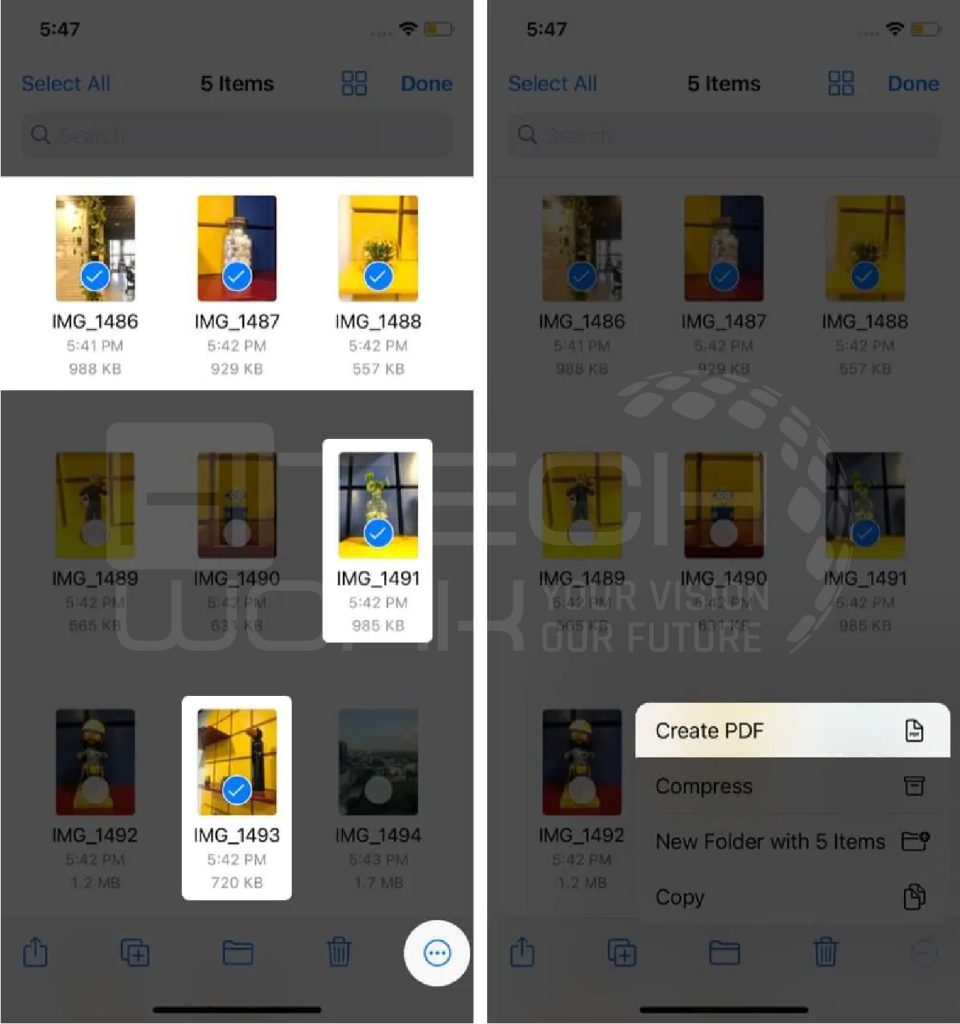 In order to turn multiple photos into Pdf format, the selection can be accessed by clicking the "More" option (it looks like three dots inside a circle) on the upper side of the screen.
Choose a few more photos now. Once it is finished, choose to create a PDF by clicking the More option.
It will be saved in the same files where they were saved originally.
How to Convert JPG to PDF on iPhone by Sharing to Books
This is the quickest method, as it doesn't allow for any form of personalization of the end result. It will make every selected photo into its own page within the Pdf document.
Choose the photos & click on Share.
Select Books on the share sheet, and swipe straight on the row of app icons.
The images will automatically convert into a PDF file and view in books.
You will locate the Pdf in the books app and the "books" section in the files app.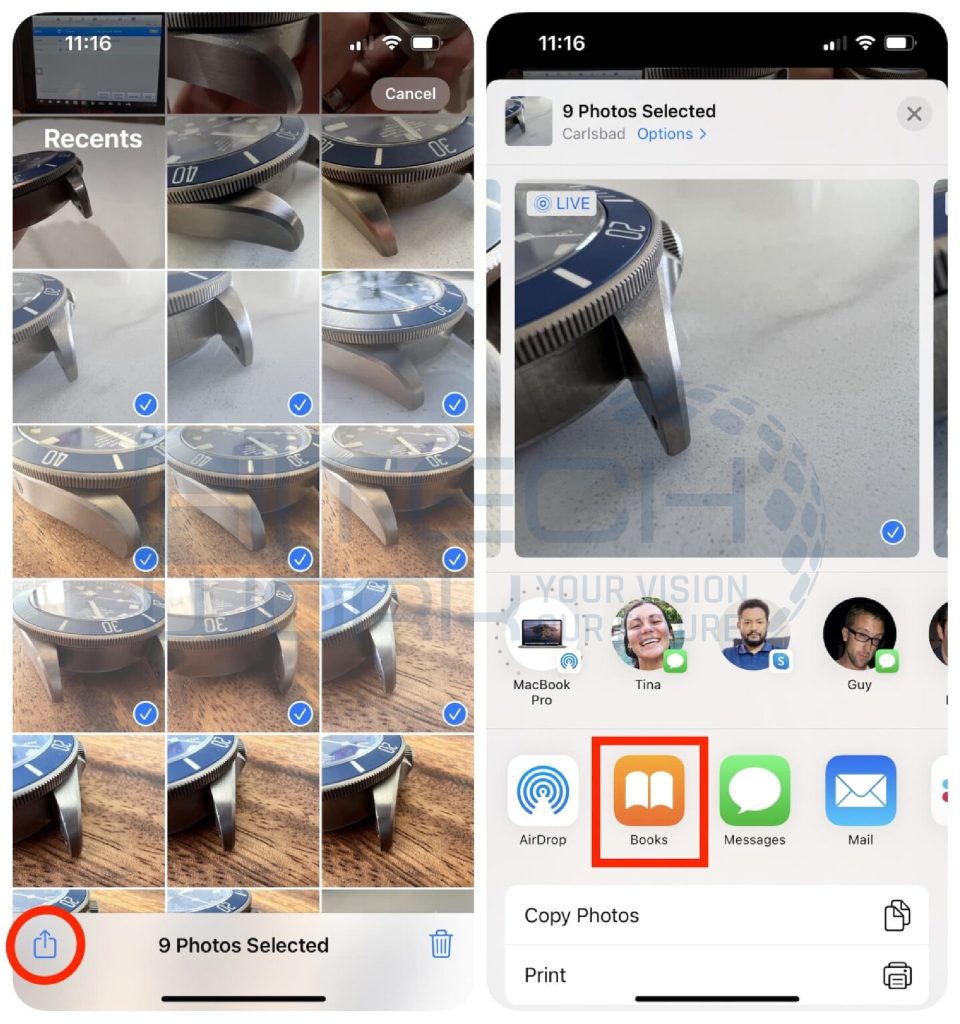 Useful Third-Party Apps to Convert JPG to PDF on iPhone
Many iPhone pdf scanner apps are available on the apple app store that helps you convert images to pdf. Here is a list of third-party apps you can use to turn jpg into pdf on your iPhone.
1) PDF Expert (iOS)
It is a professional Mac & iOS PDF editor with various features, including PDF editing, signing forms, reading pdf, and converting pictures into pdf. All you have to do is add the file to the PDF expert iOS app, open the more options, and tap on convert to pdf.
However, you can use this app for free and easily upgrade to the Basic or Pro plan with a simple in-app purchase.
2) Adobe Acrobat (iOS)
It is a powerful PDF editor for your iPhone. However, it's quite expensive, but it's worth it if you do a lot of PDF and document work on the move. The main features of this app include PDF reading, printing, viewing, sharing and collaborative commenting, and much more.
3) Scanbot
This is the most common scanner because of its quality which gives out while scanning. With the intention of scanning, when you point the phone's camera at what you wish to scan, it automatically scans without any fuss.
4) ScannerPro
It is one of the best apps for quickly scanning & saving a digital version of a paper document. Scan any papers, ranging from a receipt to multi-page documents. ScannerPro will directly spot borders and correct distortion and geometry. The app will cost you $3.99, and you can share and upload your perfect scans. It also lets you use OCR to convert text.
5) Microsoft Office Lens
This app is also an amazing scanner for iPhone users to scan PDFs and other documents. You can save files as PDFs and save them to OneDrive and OneNote. It also offers an avenue to edit pictures, one of the key elements of a top iPhone PDF scanner.
FAQs
How to convert image to pdf in Google drive?
• First, upload the picture to Google Drive by tapping the "new" option and selecting "file upload." You can drag the image and drop it into your Google Drive.
• When the picture is uploaded, right-tap on the image and choose "Open-with from the context menu.
• Choose "Google docs" from the open submenu. This will view the image file in a new Google Docs document.
• Tap "File" in the upper left of the Google document and choose "download" from the drop-down menu.
• In the "Download" option, choose "pdf document (.pdf)" and tap the download button.
• The picture will be converted to a pdf document.
How to convert picture to pdf on iphone without app?
You can easily convert pictures to pdf on your iPhone without using any third-party app. we have mentioned three different methods in the blog to turn images to pdf on iPhone. So check out the methods.
How to convert jpg to pdf on windows?
There are various ways to convert images to pdf on windows, such as using Microsoft word, Adobe Acrobat Reader and Online Tools.
How to share pdf with others on iPhone?
There are different ways to share pdf with others on iPhone. You can just tap the share icon and send the PDF using iMessage, Airdrop, email app, and another channel.
Final Words
Now you know how to convert JPG to pdf on iPhone in different ways. Every method is simple, but we always preferred the Books app to turn photos into pdf on iphone, which generates the pdf faster and safely saves the file. Further, you can also use the third-party app mentioned in the article.
Editor's Recommendations