Camtasia software is video editing software that supports most of the major and most used media formats for videos. Camtasia is mostly used for creating and editing videos for every purpose you need like education, video tutorials, reviews, or any other kind of video. Camtasia does not require any kind of introduction that is famous for its amazing features and tools for video editing.
Today, as education went online in most parts of the world the screen recording feature became the most used one for delivering lectures and recording practical plus your video explaining what is going on.
Camtasia software cannot only create videos but also edit, and share on different channels like YouTube, Vimeo, ScreenCast, and Google Drive as well. Camtasia software is famous for video editing features like creating animation, adding titles, adding highlights, making transitions, adding audio to the background. Not only this, there is an amazing feature of converting PowerPoint presentations into videos, you can create quizzes, edit them and use them for professional use.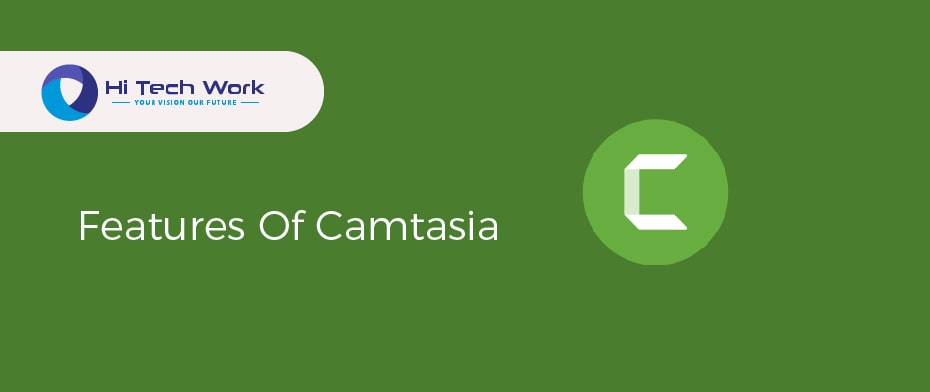 Features Of Camtasia:
There are almost unlimited features in one software like screen recorder, video maker, and the most important video editor.
The video recorder and the video editor work simultaneously. If you do not know how to use Camtasia then you should watch the Camtasia tutorial to make it more productive. The video recording feature enables you to capture video right from your desktop and the editor is the main selling point of this software that lets you efficiently edit and manage multiple videos clips with the timeline feature simultaneously.
Camtasia software offers many other features that are for both beginners and advance users.
Personal Webcam: lets you capture and record personal videos.
Media Quality: It lets you import and uses high-definition videos of up to 4K quality and images.
Voice Narration: it lets you add context and subtitles to your videos for better understanding.
Green Screen Feature: using cutting-edge technology to appear in the video as you are the part of the video.
Interactive Feature: you can directly interact with the audience by adding quizzes and questionnaires for an interactive session with other people.
Pros Of Camtasia:
Easy To Learn: it has a clean setup and user-friendly interface for every type of user (Beginner to Advanced), Camtasia is developed especially for beginner level video-editors.
If you do not have limited or no experience in video editing then Camtasia software is probably the most suitable software to start with. The interface for effect buttons is designed and developed and labeled clearly. To add effects all you have to do is drag-and-drop and the effects shall be added to the video. The automatic snap feature makes editing even more clean and straightforward. Adobe Premiere Pro can also be used for this purpose but Camtasia will do the work for everyone.
Screen Capture: The screen capture feature of the Camtasia can blow away all the competition in no time with the best screen capture feature.
Camtasia offers top-quality resolution the screen capture feature is always active and the icon is added to the top toolbar. To capture the screen and start the recording you just have to click the button.
Cons Of Camtasia
Crashes And Bugs:  One of the biggest drawbacks of Camtasia software is the constant crashes and consistent bugs. Some of the users move to other Camtasia alternatives due to this one con of Camtasia. Camtasia's price is not so high but still, it feels awkward like wasting money for no reason if the software is not performing well.
Fewer keyboard commands: Adobe has provided a lot of keyboard shortcuts for easy and fast usages.  Camtasia software, however, does not provide much of the keyboard shortcuts. This sometimes irritates the users.
TechSmith Camtasia should add some keyboard shortcuts for speedy and efficient editing and other operations that require fast and quick action.
Conclusion:
Camtasia software is a wonderful and amazing video recording and editing software today. However, it has some pros and cons but still, if you are a beginner and want to have good video recording and editing then Camtasia software is the best.