If you're a music lover worrying about losing your favorite playlist, you have come to the right place as we will discuss a few workarounds to Transfer Apple Music to Spotify in a Few Minutes. Unfortunately, transferring Music isn't a built-in feature of Apple Music. Therefore, you require third-party services determined to help you transfer Music from Apple Music to Spotify.
You have two popular options Soundiiz and Tune My Music. Both services scan the metadata from songs in your playlists and match it to Music in the databases of the streaming service you picked as the destination for transferring the tracks. Remember that when you move Apple Music playlists to Spotify or any other app, this transferring service needs access to both accounts, which might be relevant if you never share your passwords. Well, the good thing is that parties only get access to particular data, and you can cancel the permission at any time after using them. Without getting late, let's start transferring the playlist hassle-free.
Simple Steps to Transfer Apple Music Library to Spotify
In this blog, we picked Tune My Music as a third-party service. It is free and supports a lot of streaming service platforms. Below are a few compulsory prerequisites to undertake the process. And after transferring Apple Music to Spotify, we are going to listening songs, but sometimes it shows an error. Therefore we should learn How to Fix Spotify Web Player Not Working Error?
First, you should have an active Apple Music subscription plan. Second, you enable Sync Library in Apple Music. You may also check if it's on or off by opening the Settings app >Music> Sync Library.
Now let's follow the steps and get your most liked artist's songs playlist into the new app, Spotify.
Open the Tune My Music App and Select Let's Start. Select Apple Music from the available services list on the next page as your music source. If you are not signed in to your Apple Music in your browser, a new window will open to activate you to do so. Log in to your Apple Music account, and enter your Apple ID and password to verify your recognition.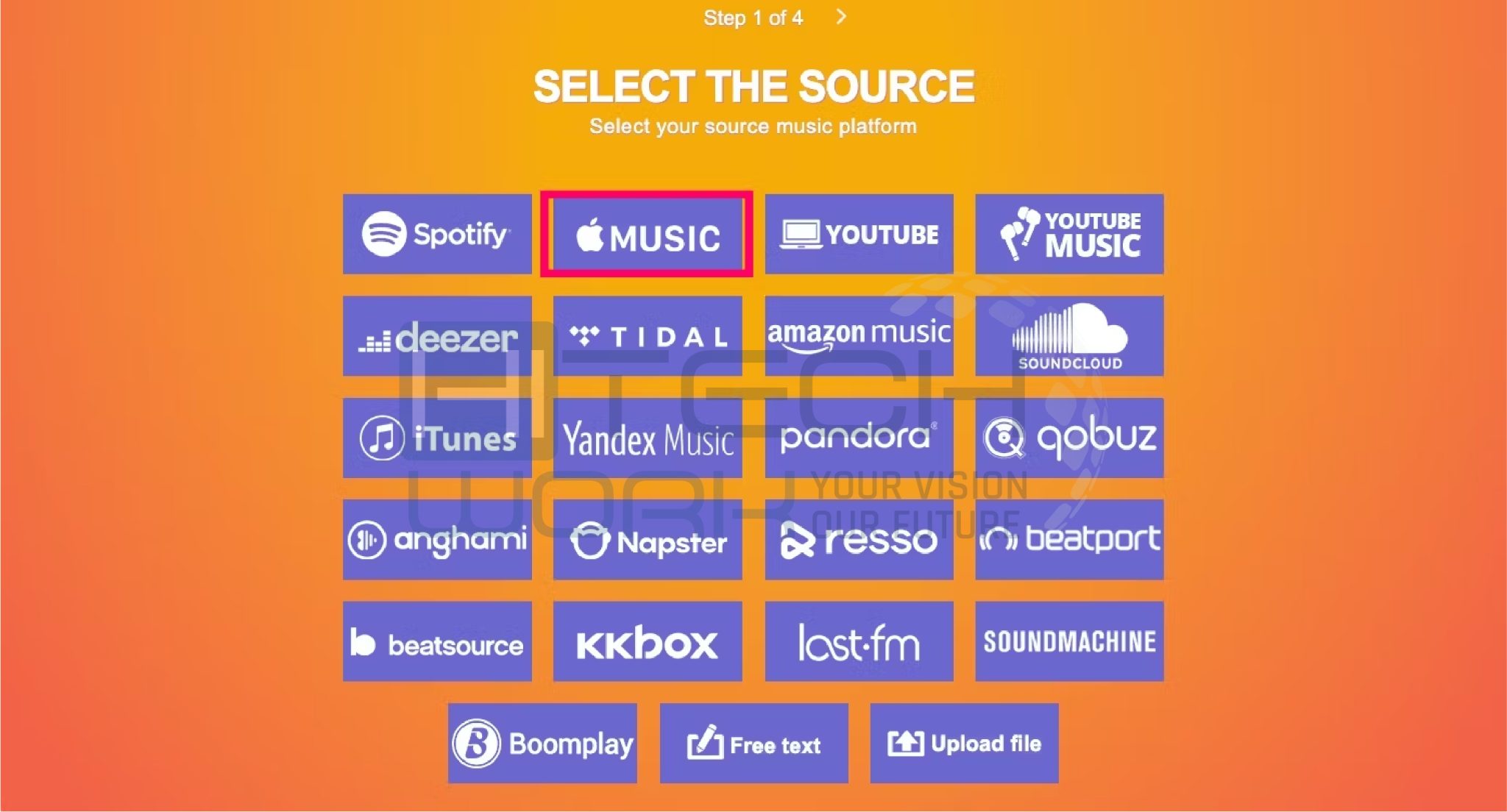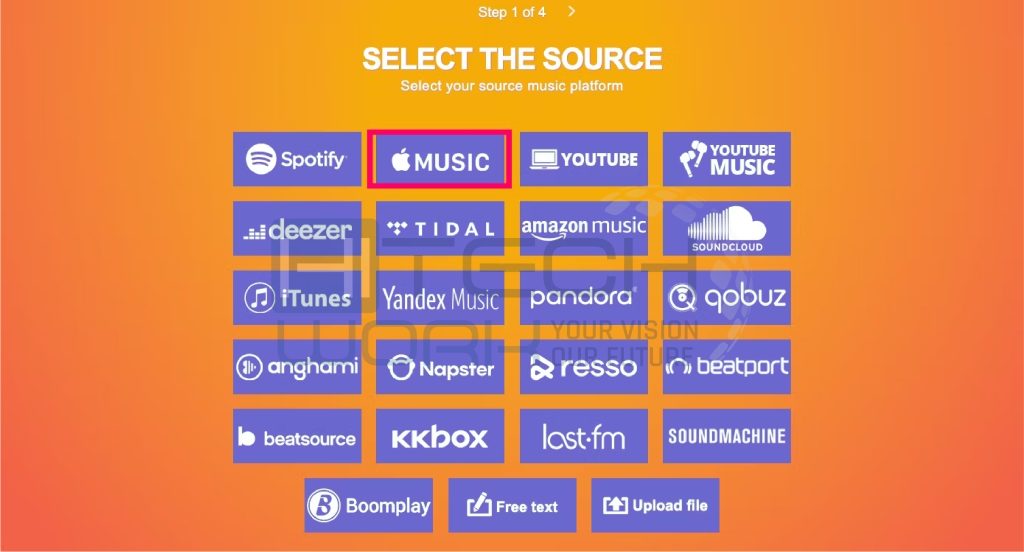 Later, grant Tune My Music permission to access your Apple Music library by tapping Allow. Tune My Music will display your Apple Music playlists on the next page. By default, the tool picks all playlists and your library songs, albums, and artists. If you only want to shift playlists, deselect other options. You can also move all your playlists or select specific ones you want to port to Spotify.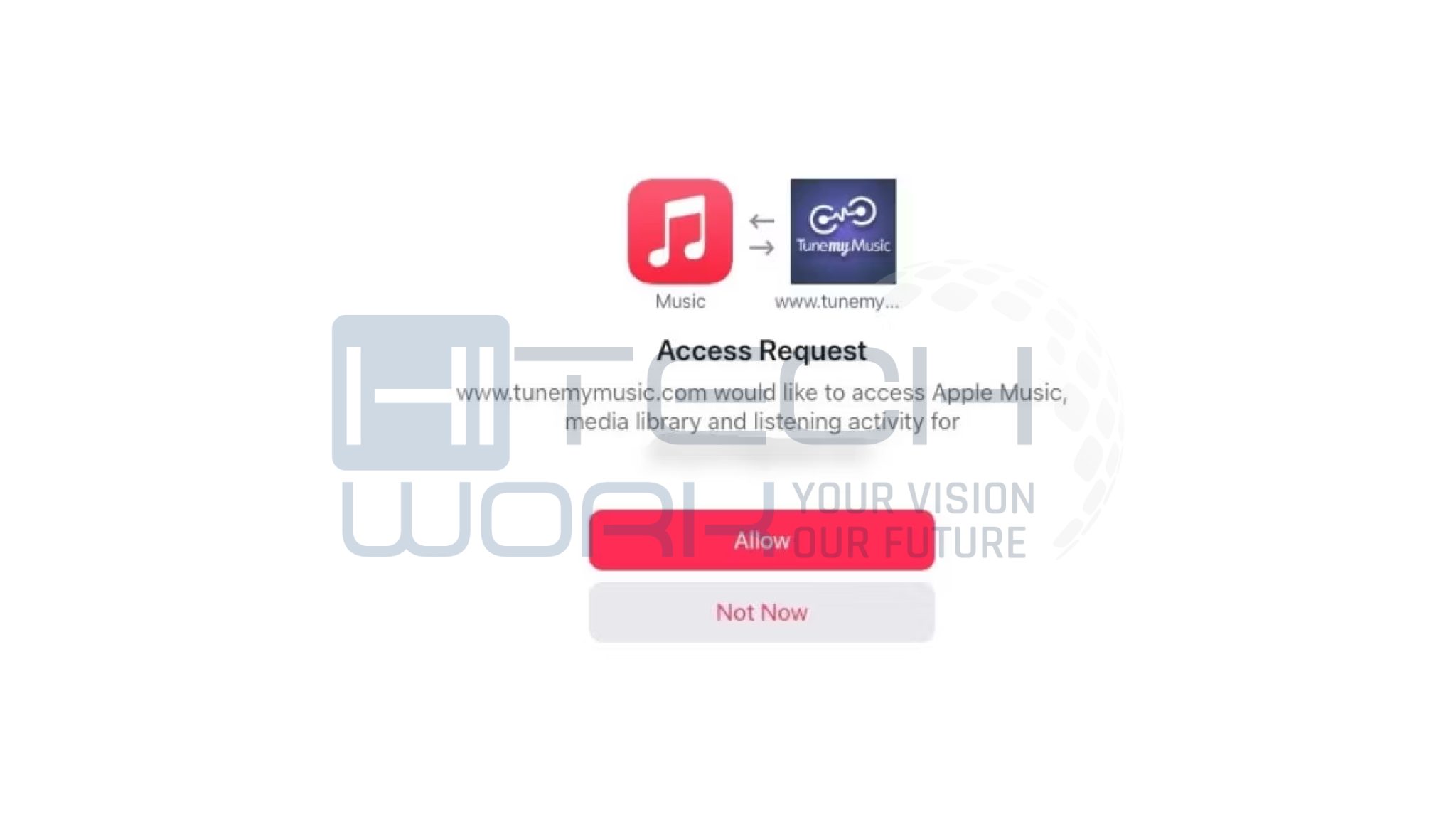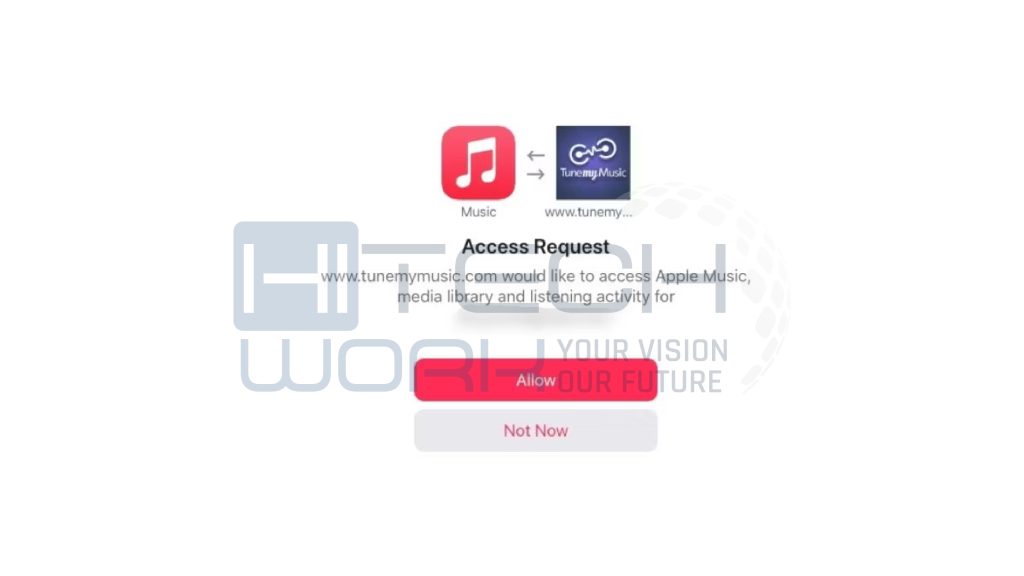 When you're done selecting, tap on Select Destination.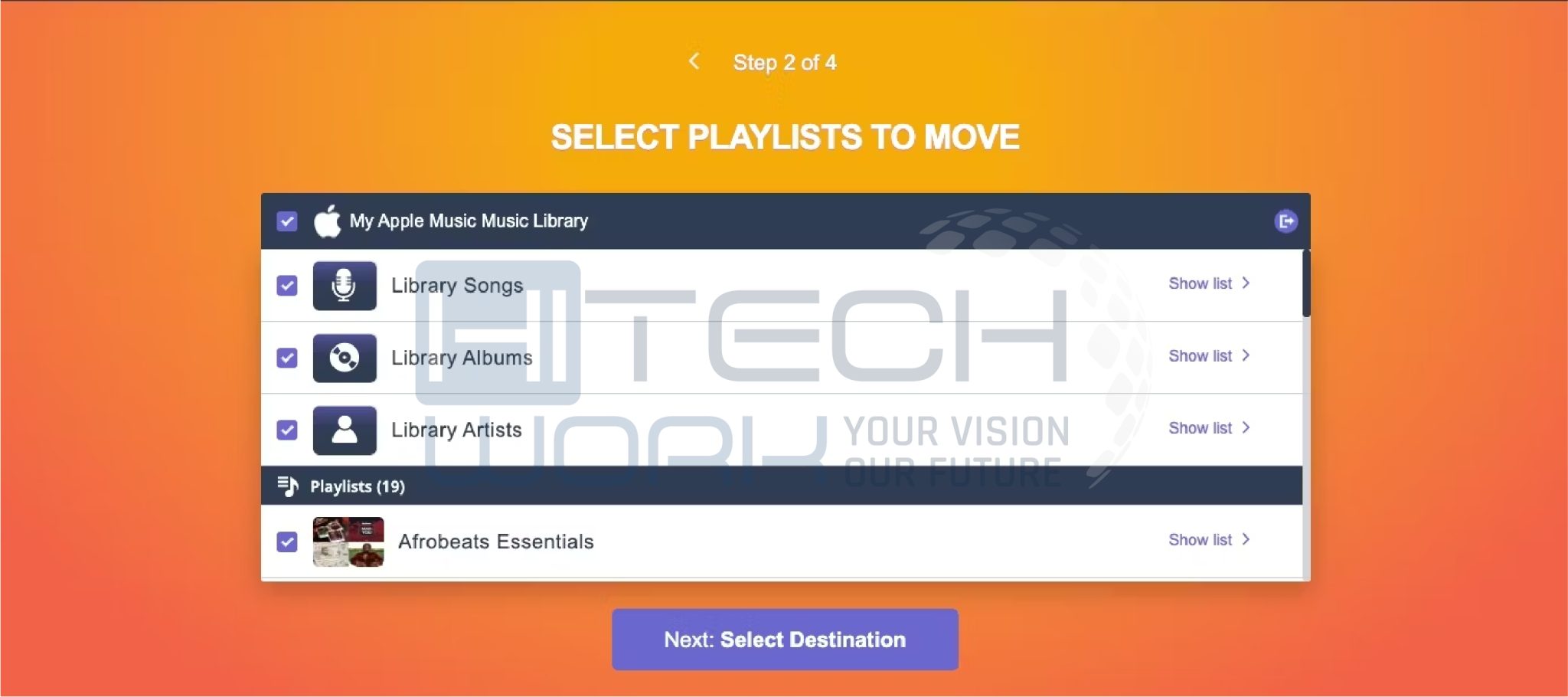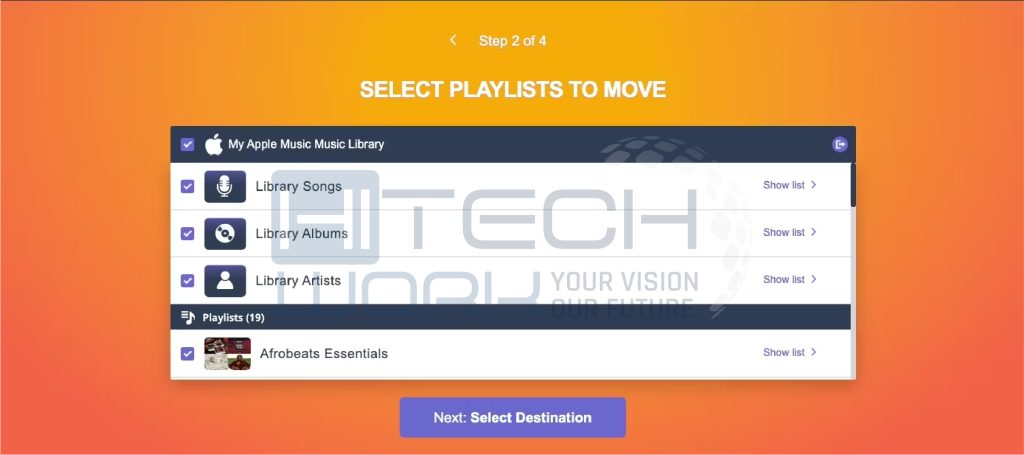 Click Spotify from the next page and choose to agree to allow the tool permission to access your account in the new window. You might have to log in to Shopify if you have not already.
Begin your transfer by clicking Start Moving My Music. Now the website will show a progress bar. You can see the songs and playlists that have already been shifted and even those that are missing.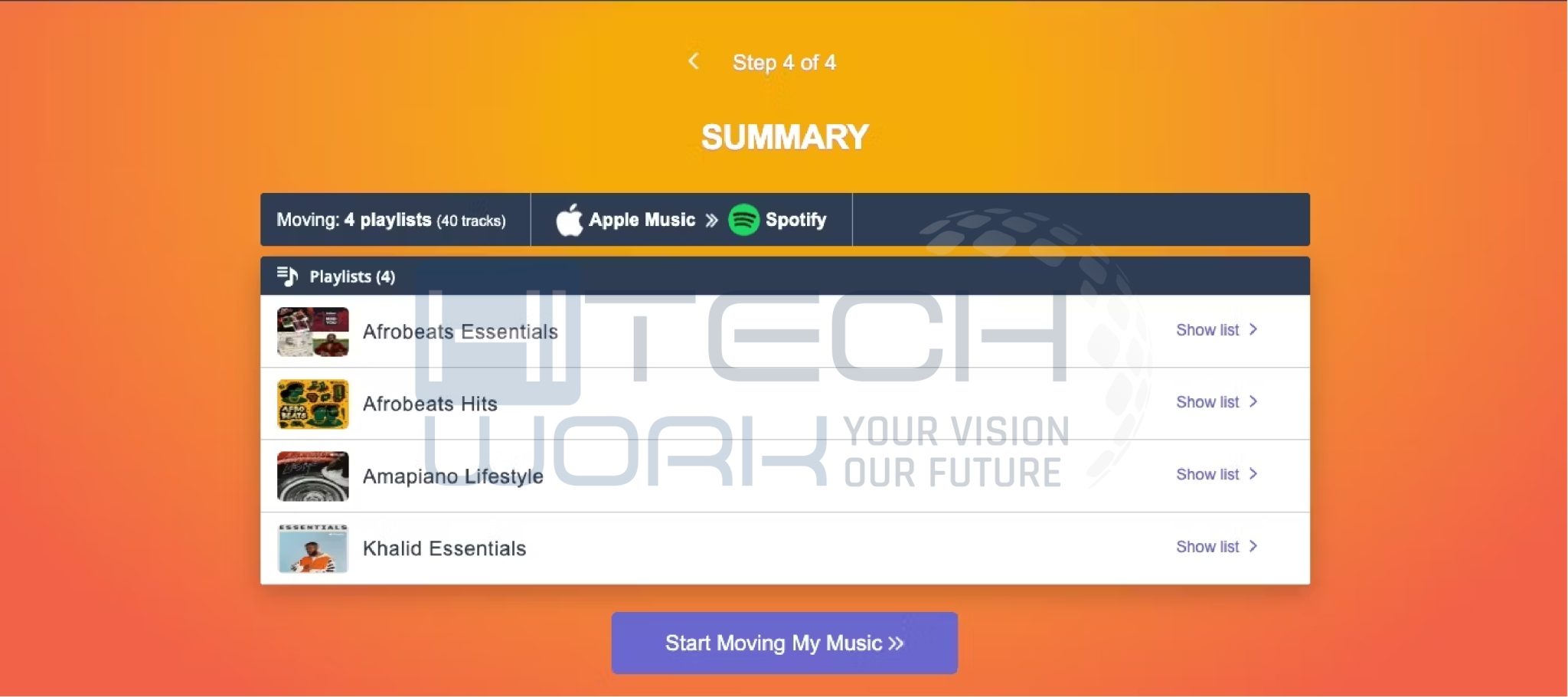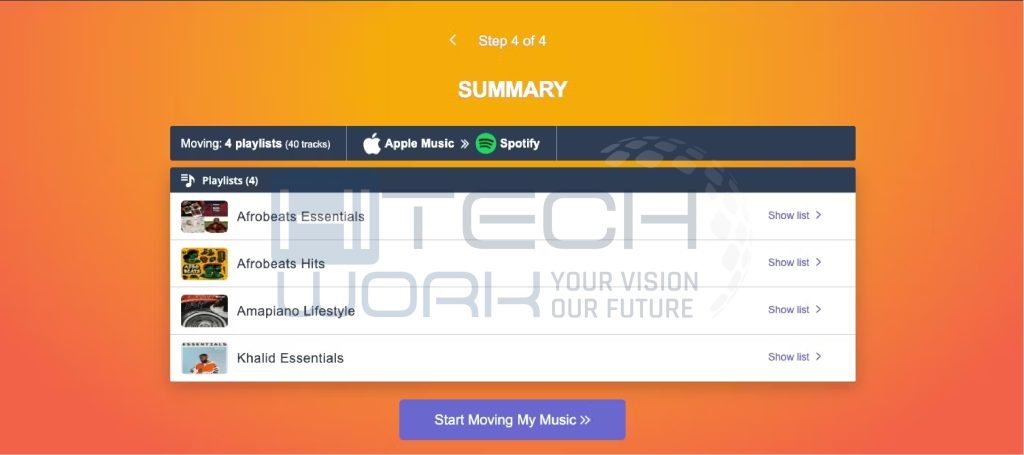 You need to click the Open button to open your transferred playlist on Spotify.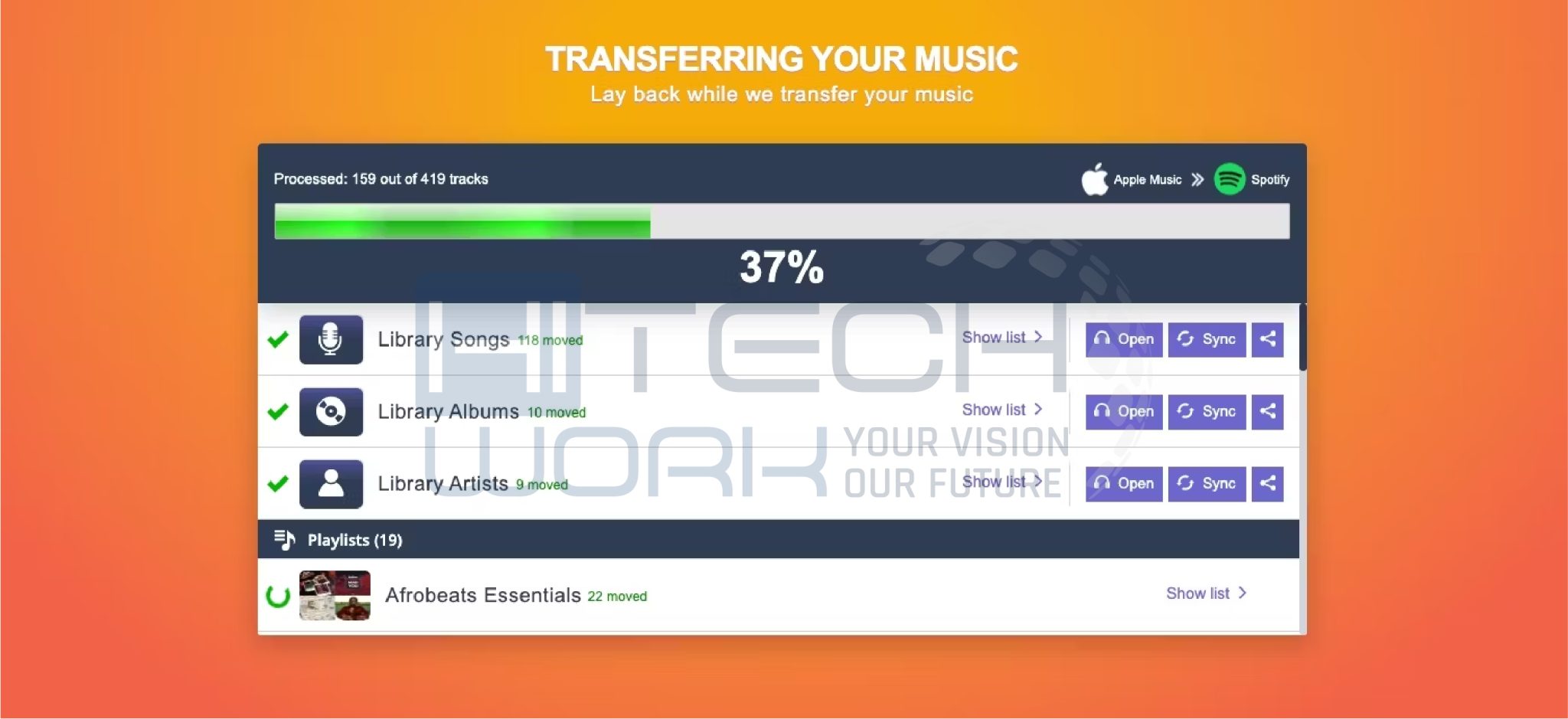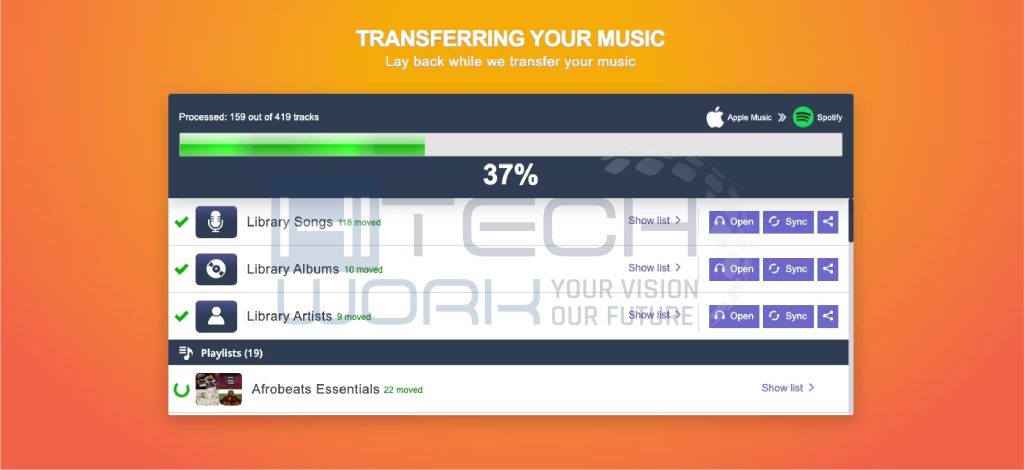 Unfortunately, there's no capacity in Tune My Music free version to transfer songs more than 500. However, you can try out its paid version, through which you can simultaneously make a bulk transfer of more than 500 tracks. Although, the premium version also allows you to sync tracks automatically regularly, weekly, or even monthly, which is so handy.
Conclusion
By following the methods described above, you can transfer your playlist, and you'll easily be able to listen to your song anytime. Indeed, without third-party music services like Tune My Music, transferring your playlist to another platform, such as Spotify, couldn't be simpler.
Editor's Recommendation