There are certain groups of weapons you can find in COD mobile season 9 though there are some epic weapons you need to put an eye on. However, there are a variety of rare weapons in the COD mobile instead of the PC version. After the release of the gunsmith feature, it became prominent among call of duty players. Even so, you also have the luxury in cod that you can change the skins of your weaponry with some charming skins options.
A legendary weapon is everything your match depends on, so it's important to understand it correctly before getting into a match. Moreover, epic weapons in battle royale mean the one which suits all your expectations.
In this article, we'll be going to disclose some awesome badass weapons so you can knock out your opponent smoothly.
Top 9 Epic Weapons You Can Use on COD Mobile Season 9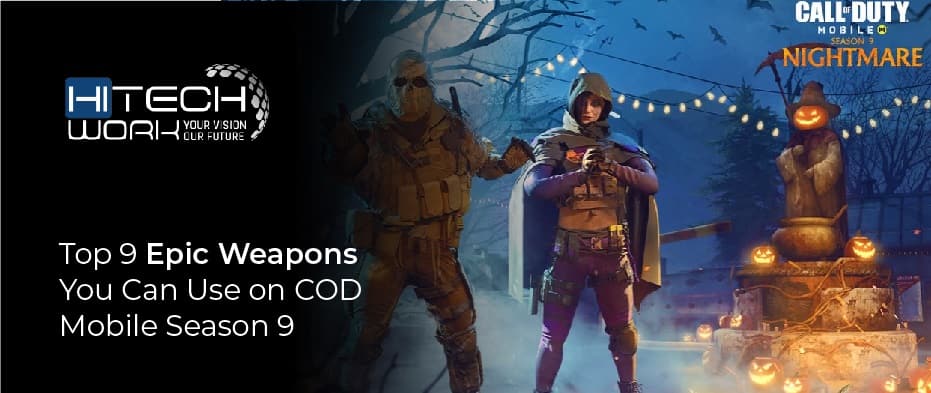 We've got one more battle pass season before the ranked season resets, and it's evident that this meta is going to be the same aim-down sights. Wait for the target and knock them off. However, there are a lot of guns on this list that are great for that type of playstyle.
But we got a bunch of aggressive weapons mixed in somewhere. Let's Start with the top 8 weapons you can use to become a pro in COD.
1. Type 25
Type 25 with the stopping power mag got smooth this season, and it can kill 4 shots within 25 meters which is quite huge cause this means that you can kill within 210 milliseconds at that range.
However, the overall mobility is pretty slow because we have to stack the BSA to keep it workable with all the other buff that the stopping power mag received. This is the gunsmith which it comes from.
Damage = 28
Fire rate = 86
Accuracy = 49
Mobility = 76
Range = 61
Control = 41
2. MAC 10
This legendary weapon is not so new unless it is a few times older. Although, thanks to the best pure CQC SMG for providing an insanely fast fire rate and remarkable mobility. There isn't much more to say about it though the power it has regarding different aspects is as follows.
Damage = 24
Fire rate = 75
Accuracy = 49
Mobility = 104
Range = 49
Control = 41
3. Holger 26
You can consider Holger 26 as a big mag with big damages, a wide range, and big disabled effects. However, in season 9, the buff it receives is highly viable at long range along with the BSA. It also received a huge range of buffs, making it an epic LMG weapon of cod mobile battle royale in season 9. This weapon has mobility closer to an AR than an LMG. However, you can try this gunsmith for the hooker.
Damage = 31
Fire rate = 71
Accuracy = 57
Mobility = 68
Range = 60
Control = 53
4. CBR4
This weapon was new and had some drawbacks, but it is pretty strong here to be on the list. However, the stomach kit box for this season is 1.1 x simply means that it allows you to kill 4 shots in a first range though the gunsmith of this describes below.
Damage = 24
Fire rate = 80
Accuracy = 53
Mobility = 93
Range = 55
Control = 45
5. Peacekeeper MK2
This weapon shocked me this season. According to my perception, it's not as good as in the previous season. The effective wide range in this season is 31 instead of 38 as in the previous season. However, this weapon is still doing pretty much good with the 31 range. But nobody knows why they dropped their range below. The characteristics of this gun are as follows.
Damage = 26
Fire rate = 66
Accuracy = 50
Mobility = 96
Range = 66
Control = 49
6. Epic weapons of COD mobile (KSP 45)
KSP is the monster SMG. It is very good with mid-range shots and is an aggressive weapon. Thanks to this SMG for being the high damager and super low recoil. However, this gun is not the easiest weapon you can play with unless you are much more confident in your aiming qualities.
Damage = 34
Fire rate = 75
Accuracy = 40
Mobility = 118
Range = 50
Control = 36
7. Switchblade X9
This SMG was on the hit list of many close to the KQ9 but had a better time-to-kill consistency. However, the mobility is not so good compared to the previous version. But we see the increase in damaging power though the one thing which is not comparable with any other weapon is its esp 1 burst which isn't consistent, or a shotgun one shot which is limited at a certain range.
Damage = 27
Fire rate = 85
Accuracy = 48
Mobility = 103
Range = 50
Control = 40
8. M16
If we say this gun is the most famous one, then it wouldn't be wrong. However, this gun is so vibrant that every action game player knows about it.
It has a faster rate of fire than the KSP and a slower interval between bursts, which might be the biggest drawback of this gun. However, the more you understand the burst mechanism, the more you like the gun.
9. Epic wepons of COD mobile (Krig 6)
This new weapon added to the cod mobile is one of the epic weapons like others. Let's explain with a simple example if kilo 141 and the peacekeeper had a baby, then that would be Krig 6. This weapon has kilo printer damage in range and has peacekeeper mobility.
Therefore, we have two types of gunsmiths for this gun one is for more range, like kilo playstyle. The other is for more mobility trade and something close to the peacekeeper.
How To Get Mythic Epic Weapons in COD Mobile Season 9 For Free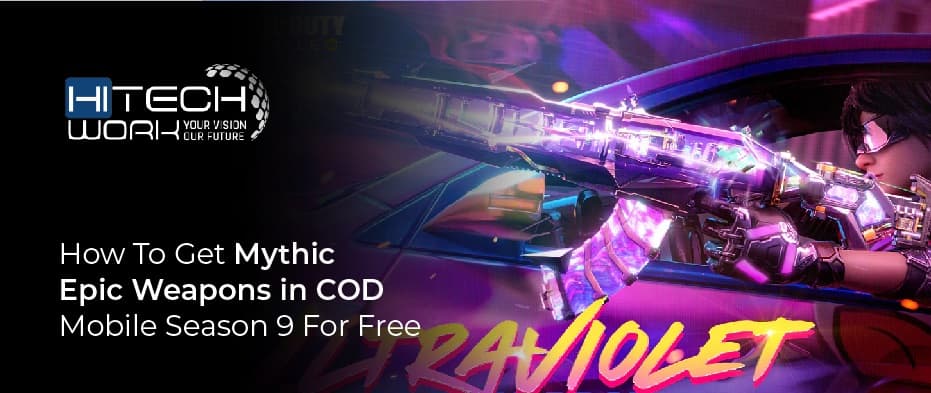 If we tell you that you can get free mythic blueprints, over 5000 weapons, XP cards, and over 10,000 CP? Yes, it's true, but we are going to do this with the test server, which is a global version and was released just a few days ago. A test server includes limited-time updates that are currently available for android & IOS users
However, learn the process of how you can get the mythic guns for free. Follow the process underneath.
Click the TEST SERVER, and it'll download to your mobile download folder.
After installing the test server go to your play store and download QuickVPN. In the VPN, select Singapore as your server.
Download the COD game on your mobile device after all the downloads. Create your account on COD.
Follow the on-screen instruction. After you finish up with all that at the main menu, go to the download manager, and download all the weapons and skin within the game app.
After you finish with the weapon downloads, tap on the mailbox above the lobby screen. Tap on the message and then tap claim rewards.
You'll now see up to 10,000 CP 5000 XP and more. However, this is only available till the server remains, but you can experience those weapons by playing it whatsoever.
Conclusion
As we all know, call of duty is very famous among other FPS games and has been the dominant one so far. However, one of the reasons which I understand is its weapons. Because how can one stop himself from not being in the hypnosis of these weapons?
So we decided to entertain you with the top epic weapons of COD mobile, which we mentioned in the article above, even though we also state the process from where you can get free mythic weapons.