Note: The Garmin Quatix 7 watch is made for those who want to spend most of their time in the swimming pool, sea sides, and marines.
Garmin Quatix 7 Standard Edition Released Date: April 2022
From the depths of the darkest oceans to the highest peaks of distant mountains, the Quatix 7 Standard Edition is your steadfast guide, an unwavering companion on your quest for new horizons. Its sleek design embraces your wrist, an elegant reminder that you are part of something greater, connected to a world brimming with possibilities.
With its cutting-edge technology, the Quatix 7 Standard Edition unlocks a realm where dreams take flight. It harnesses the power of the elements, empowering you to navigate with confidence and dive into the depths of your imagination. It tracks your heartbeats, syncs your aspirations, and intertwines your story with the pulse of time.
Embrace the call of adventure as the Garmin Quatix 7 Standard Edition watch invites you to embark on a voyage of self-discovery. It whispers, "Carpe Diem," urging you to seize the moment and create memories that will forever shape your existence. Let it be the guardian of your dreams, the compass that guides your spirit, and the silent companion that forever reminds you to embrace the extraordinary.
Also: White Garmin Titanium Epix (Gen 2) GPS Watch Review
| | |
| --- | --- |
| Pros | Cons |
| Touch screen & 5 buttons for navigation | Available in limited colors & sizes |
| Upgraded to a well-rounded watch | No phone supported |
| New AMOLED a winner | No voice assistant supported |
| Tide times are enormously useful | Some boat integrations are somewhat niche |
| A great option for mariners | ——- |
| Supporting athletic & daily routine activities | ——- |
| Build quality and attractive design | ——- |
| Powerful Garmin ecosystem & Capabilities | ——- |
Where to Buy?
| | | |
| --- | --- | --- |
| Walmart | BestBuy | Amazon |
| $499.99 | $499.99 | $499.99 |
Key Specs of Garmin Quatix 7 Standard Edition Watch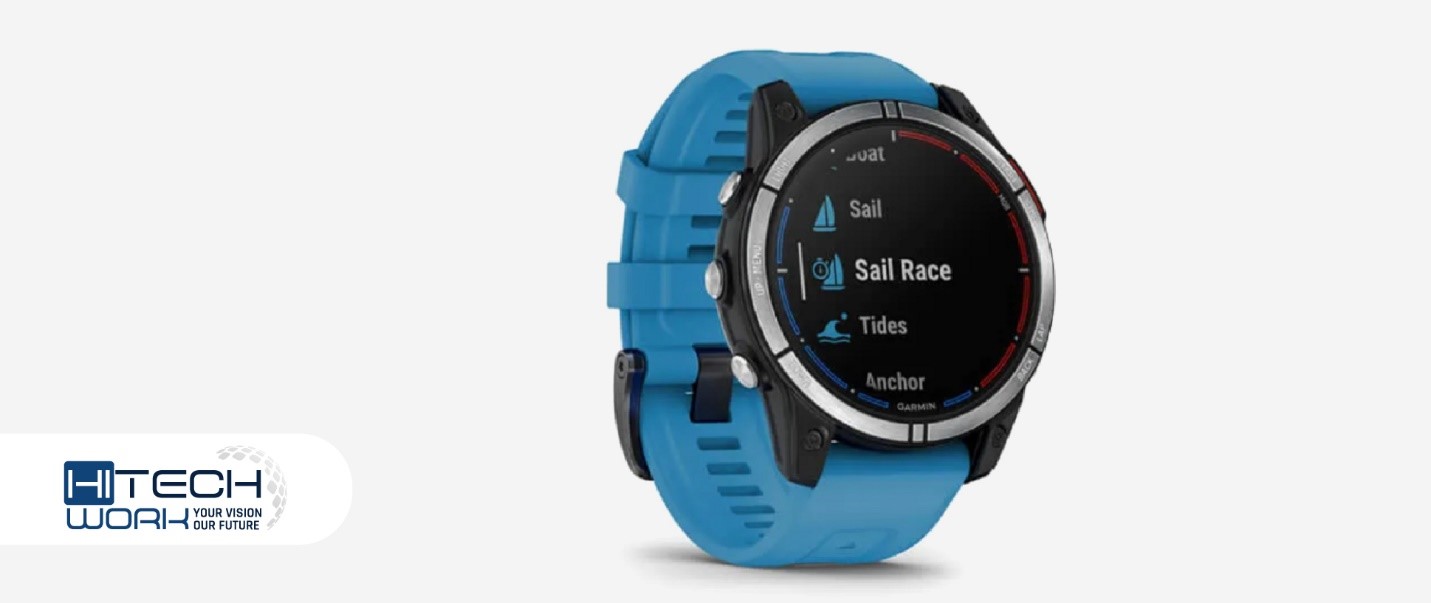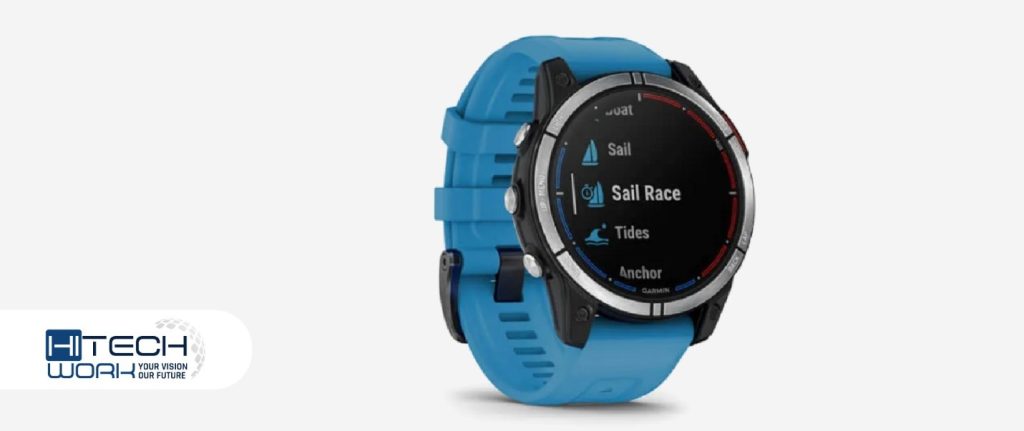 | | |
| --- | --- |
| Display | 1.3-inch diameter 260×260-pixel resolution, sunlight-visible, transflective memory-in-pixel with Power Glass lens |
| Materials | Fiber-reinforced polymer case material with titanium rear cover. Silicone quick-release 22mm watch band |
| Storage | 16GB internal storage for up to 2000 songs |
| Water resistance | 10ATM |
| Connectivity and sensors | Wi-Fi, Bluetooth, ANT+, GPS, GLONASS, Galileo, optical HR, barometer, compass, altimeter, Pulse Ox, thermometer |
| Battery | Up to 18 days in smartwatch mode, up to 57 hours with GPS, up to 40 hours with all satellite systems, and up to 10 hours in GPS mode with music playing |
| Dimensions | 47 x 47 x 14.5mm and 79 grams (with silicone band) |
Difference Between Garmin Quatix 7 Standard Edition Vs. Other Garmin Quatix Series
The display is the only difference between the Garmin Quatix7 standard Edition, Quatix 7 Sapphire, and the Garmin Quatix 7X solar. While the standard Quatix 7 and Quatix 7X solar come with memory-in-pixel (MIP) displays. The Garmin Quatix Sapphire edition comes with an AMOLED scratch-resistant sapphire crystal lens on display. This makes it a better option for those who engage in outdoor activities or sports, that may result in the watch getting scratched or damaged easily. Additionally, the Sapphire model is slightly more expensive compared to the standard Quatix 7. Depending on your budget and needs, you can choose the version that suits you best. And these mariners' wearables are similar to the Garmin Fenix 7 and Garmin Epix smartwatches; they have better marine integration and wide-ranging features for usage in marine eco.
Also: Garmin Golf Watch S2 Review
Design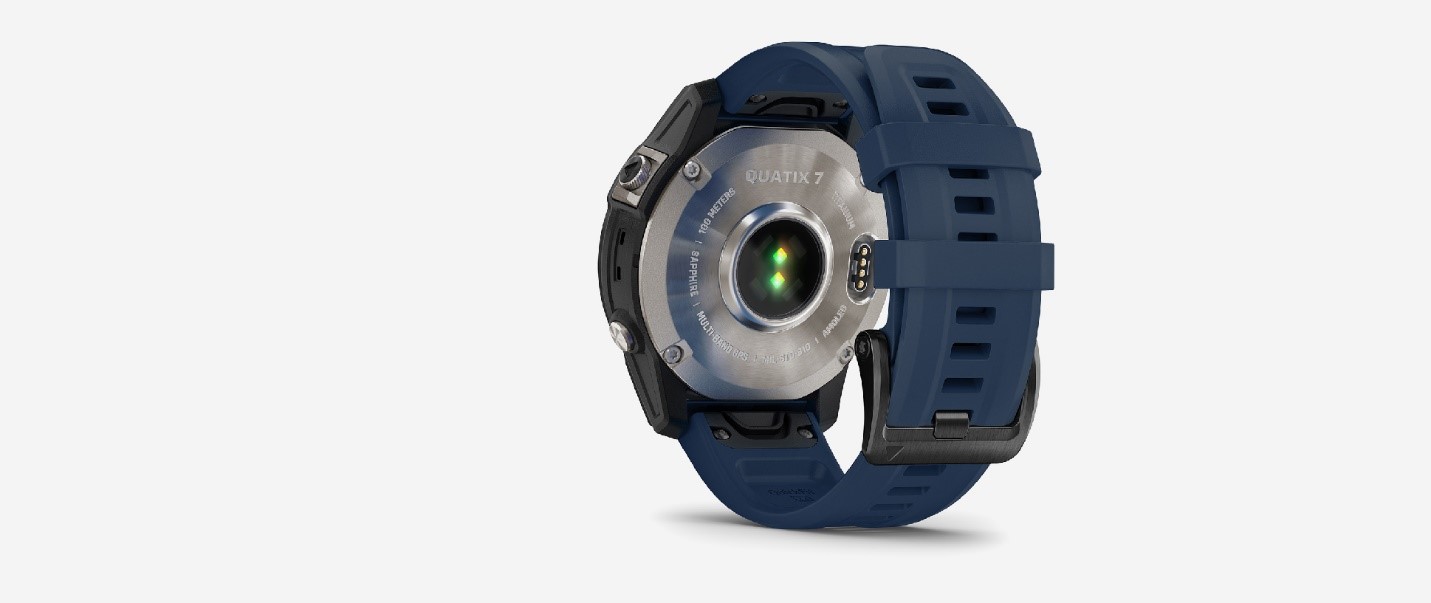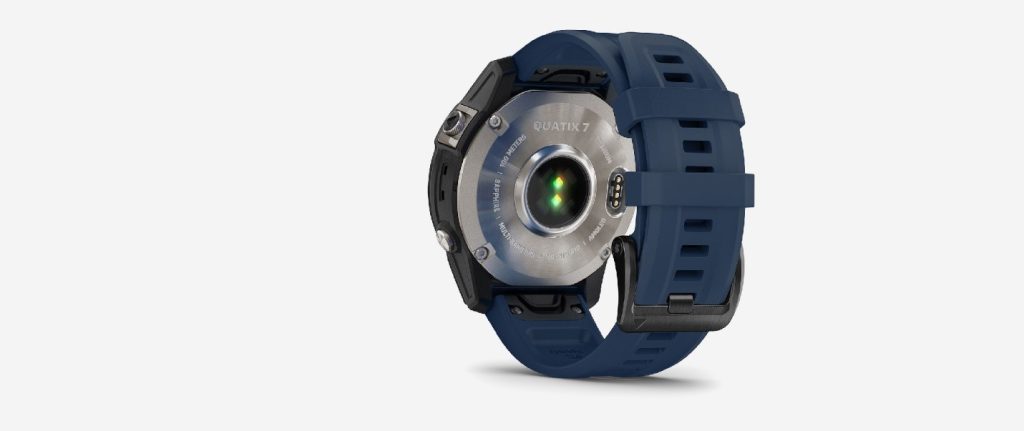 The Quatix 7 standard edition is the multisport GPS smartwatch that has all features you need to do your boating experience. It provides comprehensive connectivity with compatible Garmin chart plotters and other compatible marine devices to offer autopilot control, data streaming, integrated tide data on the watch face, and more.
This smartwatch supports optional BlueChart g3 coastal charts and LakeVü™ g3 inland maps.
Available with a 1.3" display, quick fit band system, stainless steel bezel, and rear case.
The strap is a 22mm quickfit version which is comfortable to wear.
Touch screen interface for convenient access to selection control within seconds.
Release in limited colors and Garmin lovers mostly use stylish marine blue colors.
Five standard buttons show at the side of the watch around the watch circle for configuration.
Show OLED touch numbers at the watch front that is bright enough to handle the sunny situation.
The watch body is a fiber-reinforced polymer, and the back is dominated by the sensor array and charging port which is made up of titanium.
Hardware & Battery Life
The 3 Quatix 7 series have a similar appearance with a silver stainless steel bezel, red and blue highlighted areas around the watch face, touchscreen and 5 navigation buttons, and more. The Garmin Quatix Sapphire edition has a unique AMOLED display, while the solar model has the power Sapphire display that supports solar charging. Here we are going to focus on one model, the standard edition, so keep the focus on it to explore:
The software elements between the 3 models are the same, with enhanced functionality and mariners' features.
The standard edition has a 1.3" sunlight-visible, transflective MIP display made of Gorilla glass that is perfect for outdoor sunlight visibility.
This Quatix standard edition watch has a top left button (disable/enable the display backlight), a center-left button (Move up the display and use to access the vast menu), and a bottom left button (Move down the display).
The top right button (Open up the activity button) and used as a selection button. And the bottom right/lap button is used to go back to the screen in your navigation.
The top right button shows on all the 3 models stuck around the casing to prevent accidental damage or pressing it. The button also has a red metallic ring around it to identify the start/stop function.
The Garmin Quatix 7 has a V4 heart rate sensor centered on the watch's back. Moreover, the multi-GNSS option is also available, so you can use it to improve location tracking in certain conditions as your boat around the world.
Also: Biggest Loser Smart Watch Review: Grab Your Garmin at E-Commerce
Watch Software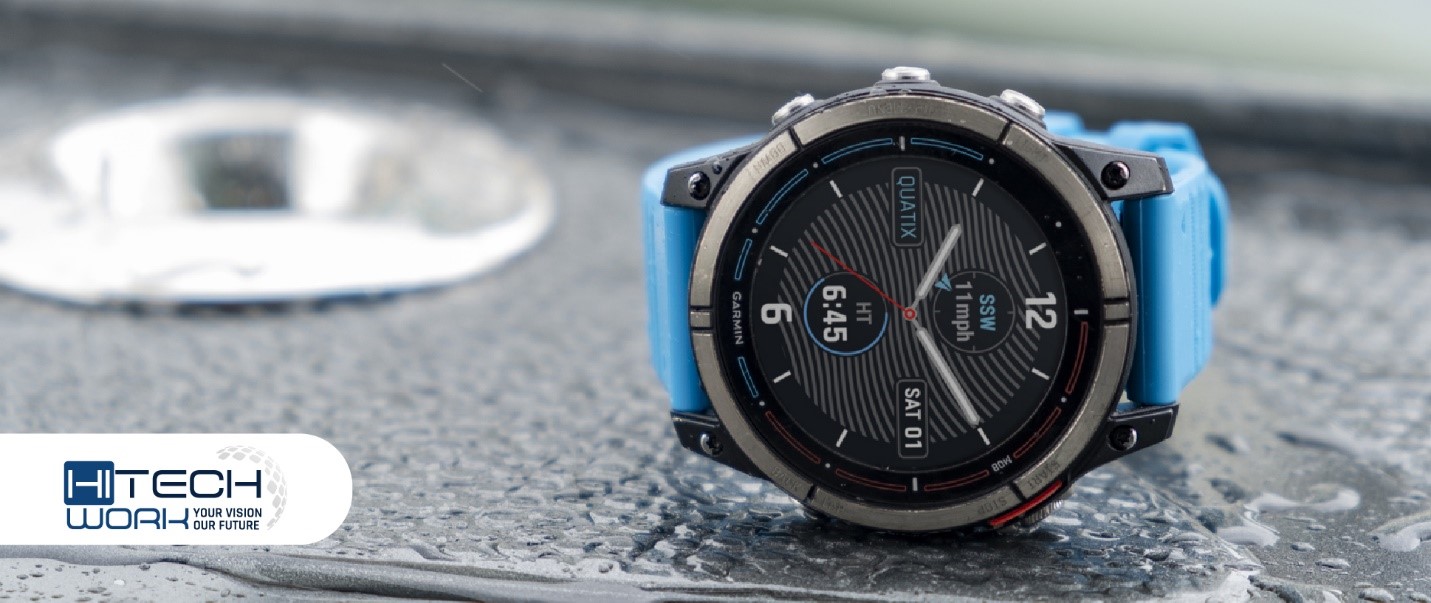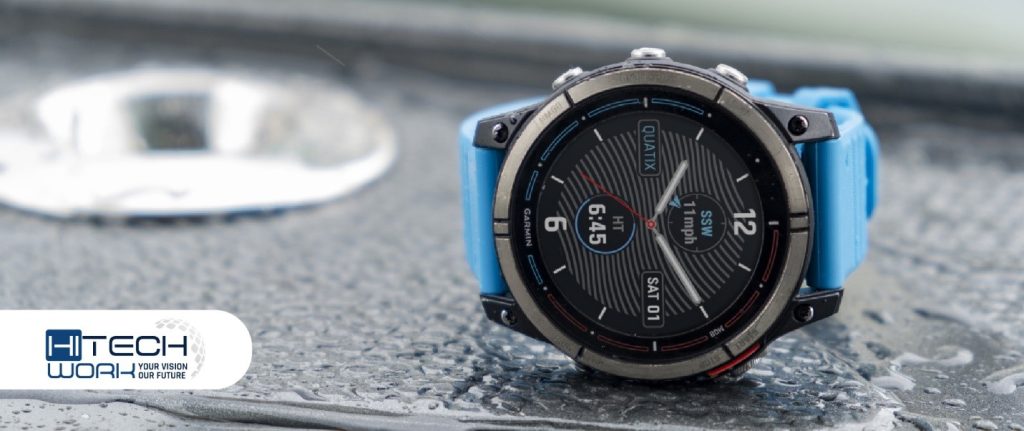 The Garmin Quatix 7 Standard Edition watch software is built upon Garmin's proprietary operating system, which provides a smooth and responsive interface. It is designed to be user-friendly and easy to navigate, allowing you to access the watch's various features and functions quickly.
One of the standout features of the watch software is its comprehensive tracking capabilities. The Quatix 7 has advanced GPS and GLONASS navigation systems, allowing you to accurately track your outdoor activities, including hiking, running, cycling, and boating. The watch software provides real-time data on distance, speed, elevation, and more, helping you keep track of your performance and progress.
The Garmin Quatix7Standard Edition supports up to 7 hotkeys which consist of press and hold of 2 buttons together so that you can carry out different functions such as screenshots, music controls, Garmin Pay, and more.
Press and hold the right button to do your favorite workout, and press it again to start the activity. You can customize specific workout settings. It includes data pages and more functions.
Press and hold the center-left button so you can jump into watch settings. It includes watch face selection, customization, clocks, history, notifications & alerts, appearance, sensor, map, music, and more.
Boating Features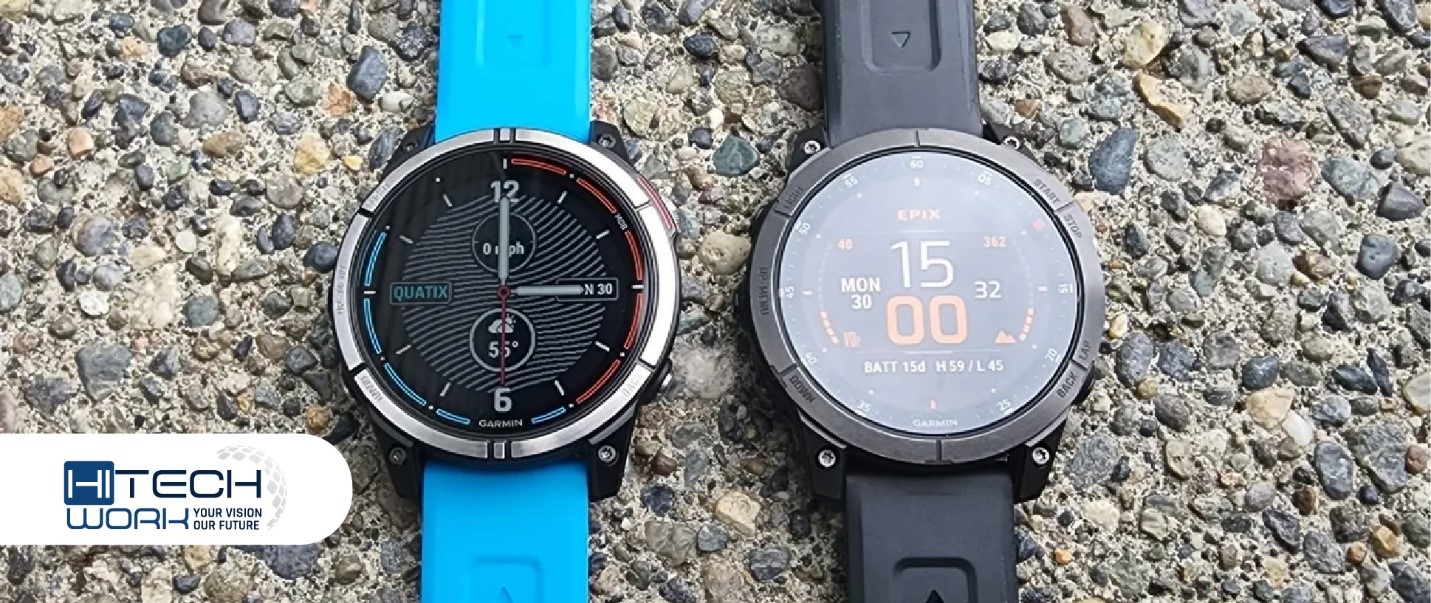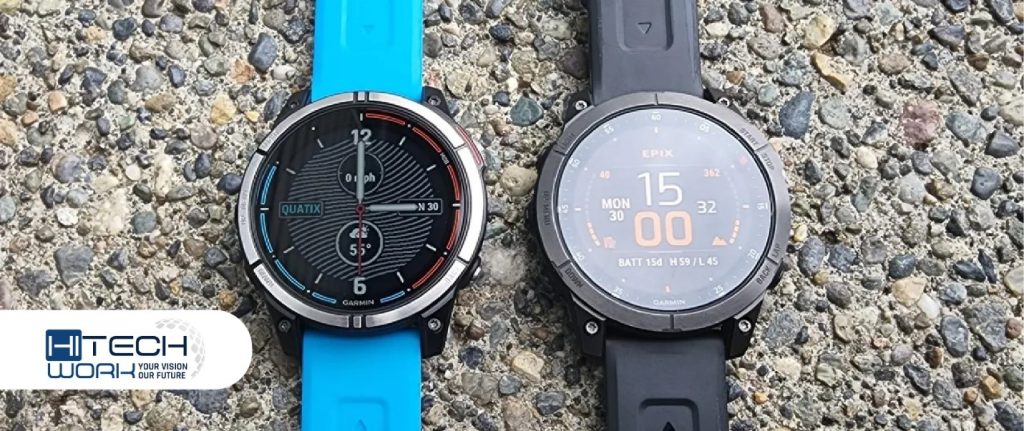 The Garmin Quatix 7 Standard Edition supports all kinds of activities and other software found in the Epix and Fenix 7 series. However, there are fewer options that are different when it comes to size and colors. Here are the boating features included in Quatix 7 series.
Autopilot control system
Fusion link audio system that controls your fusion entertainment
Wearables can view boat data like water depth, engine RPM, wind, and lighter from your watch.
Use your watch to place waypoints on your chart.
Sailassist support means creating a virtual starting line to determine your condition.
Get anchor drag alarm alert to the watch
Explore multi-continent topo maps around the world that are easily loaded and updated via built-in Wifi.
Water tide alert that reminds you your water ebbs and flows with integrated tide data
Multi-function display control that accesses common interactions like chart zoom, backlight adjustment, and layout shortcuts.
Verdict
That's all about the Garmin Quatix 7 Standard Edition watch, which is a valuable tool for athletes and individuals who enjoy engaging in personal activities. It is designed to focus on outdoor enthusiasts; the Quatix 7 offers a range of features that enhance performance and provide useful data. If you want to buy this one, please visit the e-commerce store. And if you find it better than Quatix 7 standard edition, please let us know in the comment box.