If you are an influencer, you will definitely be a daily Insta user for posting quality content such as pictures, videos, and reels. But you probably ever encountered an Instagram bug or Insta challenge error required at least once a year. However, this error is used to prevent bots, spam, and automation on the platform, and if you have got the error, it means you have logged in so many times. That's why sometimes you need to resolve this error, and I have a guide for you to resolve it on a short note that will be helpful for you.
What Does Challenge Required Mean on Insta?
The Insta challenge required an error to appear when people want to access their Insta account through the web browser. And when people want to log in to their account from a new unrecognized device. On the other side, you don't need to worry about these errors because it is easy to resolve to protect the privacy of your account.
Note: The error message appears on Insta and shows that your Insta account is run by a human being, not a reboot.
How To Fix Challenge Required Error on Instagram? (Quick Solutions)
Now we will fix the challenge-required error on Insta. You just need to prove that the account is yours, or you must change your IP address, including updating, reinstalling the app, login in from the known device, clearing the cache, and then you can access your Instagram data. The following article will guide you on how to fix the issues according to the professional's guidance.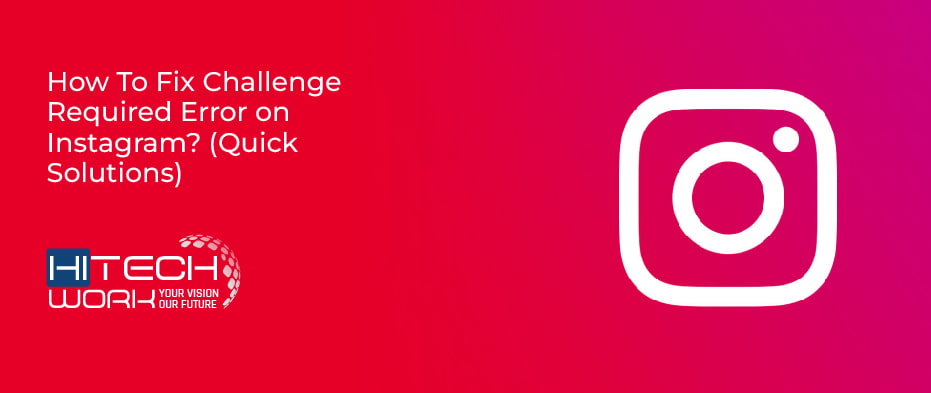 Verify Your Account & Log in Back
You can hit the message dismiss button when you know that the challenge required error has been popup on Insta. Subsequently, follow the onscreen account confirmation that you will see there. Once your profile is verified, re-login your account with your security credentials to confirm that the problem no longer exists.
Find Out the Insta Down Error  
Here you have to verify your Instagram account if Instagram's server is down and among the best method is to use a down detector that will be convenient for you to detect the server. You need to indicate only the service to check on the webpage. This is a better method than waiting for Instagram to make an official announcement. Due to this, you will immediately see results about Instagram's recent outages on the Down Detector site.
Suppose you make sure that the challenge required a prompt on Instagram and was triggered by server issues. Then you made a good effort and saved time by using another method that is not even applicable. So, you must now wait for Insta to restore its server functions or connections.
VPN Activation or Deactivation
If the following above solutions did not work for you, now use this solution to get back to your Instagram account without any glitches. It's also worth switching your VPN on or off. If you have been using Instagram since morning with the VPN connection and now it's showing an error. You need to deactivate the VPN and activate it again. A VPN conceals your actual IP address. Hence, you are using one gadget for Instagram, and the platform cannot establish a connection to your end due to the changing IP address.
Use An Instagram App Instead of The Browser to Resolve the Error Challenge Required
The previously listed solutions directly address the most common causes triggering Instagram's "challenge required" error. Although it is unlikely that the cause is not one of the common ones discussed or unknown, it is not zero. In such cases, you can only assume the app, or mobile browser is malfunctioning.
It is worthwhile to try switching from the browser to the app or vice versa before we go on to the next fix that can resolve unknown errors. Once you have done this, go back to the original platform and see if the error still exists. You can sometimes find a temporary alternative and wait for it to resolve itself.
Upgrade the latest version of Insta
An update might solve the problem regardless of the underlying one with the Instagram app. Patches are often released to fix existing security flaws. Therefore, most of the errors you encountered on the outdated app may no longer persist once the app has been upgraded. Now switch on the updated version of Instagram by following the steps below.
Open the App Store or Google Play from the gadget app.
On the search bar, type Instagram and hit the search icon.
Once Instagram appears, tap on it and click on the update option.
Now, wait for the update option to finish it.
Make sure that Instagram's "challenge required" prompt doesn't block you anymore by accessing your profile.
Login Verification Through the Usual Sign-In Gadget
Are you still using the old smartphone or tablet PC you used to sign in to Instagram? In that case, you can log back in and enable new login verification processes for your Instagram account. Then you can prevent the "challenge required" Instagram error from appearing again after switching to the new gadget. As a result, the app will request that you verify your account using your secondary method. Here are the steps you need to take to verify your account:
Log in to the Instagram profile on the device you used to sign in before.
From your profile interface, click on the three horizontal line icons.
Tap on Settings from the bottom menu and choose the security option.
Now tap on the two-factor authentication and click on the blue button, which is started button.
Turn on at least one method you want to use to verify your account upon login (available options are WhatsApp, text message, or authentication app).
Regardless of how you choose to verify your account, Instagram may require you to do so if the "challenged required" message displays. Thus, you might avoid the problem the next time you try to sign in to your Instagram account on the new gadget.
Remove the Instagram App Cache to Resolve Challenge Required
It is possible that you will have to delete data from your Instagram application cache during the said scenario. Because only a small amount of cache remains, any app can malfunction. The following is an alternative fix to try if you cannot determine the exact cause and have already verified your account via Instagram's "challenge required" process but still cannot log in.
Note, however, that this fix is only available on Android, not iOS. You cannot clear the cache for the app on Apple devices. If you are using the latter OS, you can offload Instagram and regain it instead. The following instructions explain how to do each step:
Remove Insta App Cache on Android
Go to your phone setting app and tap on the Apps option.
Now on the scrollable list of apps, click on Instagram.
Then tap on the storage option among the Instagram app details.
Now clear the app cache option below the storage space information to resolve the Instagram Error challenge required.
Remove Insta App Cache on iOS
Go to the iOS setting gear and click on the general option.
Tap on the iPhone storage option.
Afterward, click on Instagram from the list of apps.
Now go for the offload app option for it. Tap on it to finalize the action.
Install and set up the Insta app again from the app store.
      8. Must Check Your Internet Connection
If you are facing an Instagram challenging required error, check your WIFI connection and try t toggling it off. However, if it does not work, you can connect your Instagram with your cellular data and vice versa. On the other hand, you should perform an internet connection speed test for an acceptable quick rate.
      9. Troubleshoot the Instagram Errors
Many glitches may interrupt the daily functions of Instagram and it is one of the best ways to start troubleshooting because it tells you about the manual change you made with your phone. Here are a few Insta errors occur that you need to know:
Did you recently update your Instagram account?
Have you used your Insta on another mobile?
Are you facing any malware updates or antivirus programs?
    10. Close Your Insta by Shipping & Restart it
This temporary glitch results in odd bugs such as posting no content, sharing no more stories, not replying to a single DM, and many more. So, you need to go to the multi-tasking center on your phone and swipe the app away. Although the iPhone and Android phones have different processors, the app closure process is the same.
After closing the app, reopen the app and try to post the fresh content. But if you still face the troubling issue, there are more things to try but update me soon to know you.
Wrapping Up
The Instagram challenge error required is the most common default, and it happens when you try to log into your account many times or you follow or comment on another profile too fast. But you don't need to worry about this error because I have explained many solutions that probably will help you a lot in different ways. If you ever faced any error like this, quickly let us know in the comment box.