Of course, you want a VR headset for your phone. And yes, you are opening every link which says 'Best VR Headset for Your Phone'? But they don't have what they say.
So, you started to do an 'open each link' cycle until you came across this article. This article meant what it said. And in here, you will find the top-rated VR headset for the phone out there to help you decide which is the best headset for you,
Keep reading till the end to find out your kind of VR headset.
Oculus Quest 2
If you have a tight budget and your requirements are aligned with a standalone VR headset: then Oculus Quest 2 is just the right thing for you. The headset is highly portable and easy to operate.
How so?
Because the VR headset doesn't require to be connected to the PC or any console to function. The VR is also one of the most advanced VR headsets due to its high experience and advanced VR gaming. The Oculus Quest 2 has also connected controllers to UP the headset experience. Oculus Link can also connect the headset to the PC for play. The specification of the headset is as follows:
Qualcomm Snapdragon XR2
6GB of RAM
Samsung Gear VR
Samsung's Gear VR defines the 'quality VR headset' in mobile phones. Connect the headset to your phone to enjoy limitless games and 360-degree videos. The only con of the Samsung Gear VR is that it only functions in Samsung smartphones; in return, making it redundant for other phones which have different mobile manufacturers.
Another con is Samsung Gear VR is accessible only in specific Samsung models such as Galaxy S9 or Note 9 and earlier models. Though, the VR headset is not accessible in newer Samsung models.
VR headset for Phone: Mattel View-Master Deluxe
This VR headset came straight from a classic reel toy in the '80s; Mattel View-Master Deluxe is the modern evolution. Google-powered Cardboard headset is billed as one of the advanced VR headsets out there. The VR headset also boasts a headphone connection to amplify the audio. Came in an economical price tag and a nostalgic outlook, Mattel View-Master Deluxe is the best choice of VR headset out there.
Merge VR
If you are looking for something for your kids, get Merge VR. It tailored its technology with its mobile VR goggles to give your kids a fitting VR device. Giving its less-weight, convenient and durable, Merge VR checks all the options of the best VR headset for kids.
Plus, Merge VR can be connected to various smartphones, leaving the problem of exclusivity. They are making it easy to pair with several smartphones. Moreover, the VR headset is made up of durable form, making it lighter in weight than other VR headsets.
VR headset for Phone: Nintendo Labo Kits
Looking for something inventive console? Check Nintendo Labo Kits. Its cardboard creations and Do It Yourself with gaming for immersive and compelling results. Now apply it on Nintendo Labo Kits. It is similar to Google Cardboard; in Nintendo Switch, you can make your virtual reality headset just from the cardboard. Plus, it can be molded in various shapes and forms, from VR goggles to Toy-con blasters.
Google Cardboard
Google cardboard, as the name suggests made up of cardboard which comes at a more reasonable price. The VR headset provides you with one of the cheapest and most immersive ways to bring yourself into the world of virtual reality. Plus, you can build a headset yourself if you know how to. This will save you a handful of money.
Significantly, new virtual reality users considerably have a knack for Cardboard viewers. Any headset can work with them; however, the experience may vastly differ when watching on a low-resolution display. In the viewer, the device has been placed. If your phone has an intact NFC, It will launch (CARDBOARD app) on itself. As it will open, you can do several things. From playing virtual reality games to going to different places anywhere with the help of Google Maps, and can stream and watch YouTube videos on 360-degree and whatnot.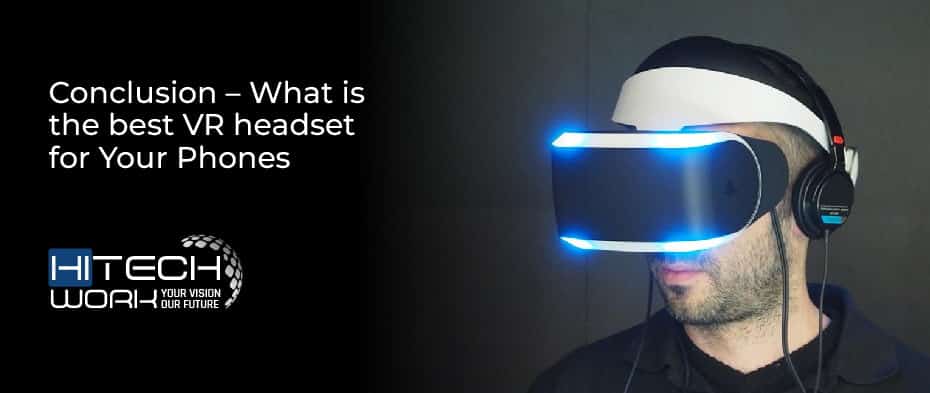 Conclusion – What is the best VR headset for Your Phones
Choosing the best virtual reality headset for you from the plethora of options is a hard task. Every VR headset is unique in its way; with features ranging between good and above average.
The VR headset of Google-powered Cardboard is a bit different compared to other VR headsets, but it has a lot to offer. However, if you are into high-octane games and stuff, maybe the Google cardboard will not satisfy what you are looking for.
On the other hand, Samsung Gear VR is a slick virtual reality headset until you have a specific Samsung smartphone model. The headset is rare now due to the Samsung decision to stop making it. So better get it now than never.
However, to get the real immersive experience in the virtual reality world with the help of a headset, Oculus Quest 2 standalone headset is for you. Whether you want to play games or watch videos, it can make it happen in a truly immersive way.