Are you wondering how to add a page on Google Docs? Doesn't your text look like a bulk of mixed-up information, or do you want to start a new detail from a new page? This setup is a step-by-step guide to adding a page in Google Documents.
Also, Alphabetize in Google Docs and other features that can help to make your writing impactful, including page breaks.
However, when you write something, whether it is any play, book, thesis, essay, report, or anything else, formatting is equally important as the writing itself. To do that, you must have a Google account first. So, here is a complete guide to creating one.
Make A Google Account
You must sign up for a Google account to use the Google document. But you can go to the next step if you own a Google account. However, to create a Google account, you must follow these steps:
First, go to account.google.com.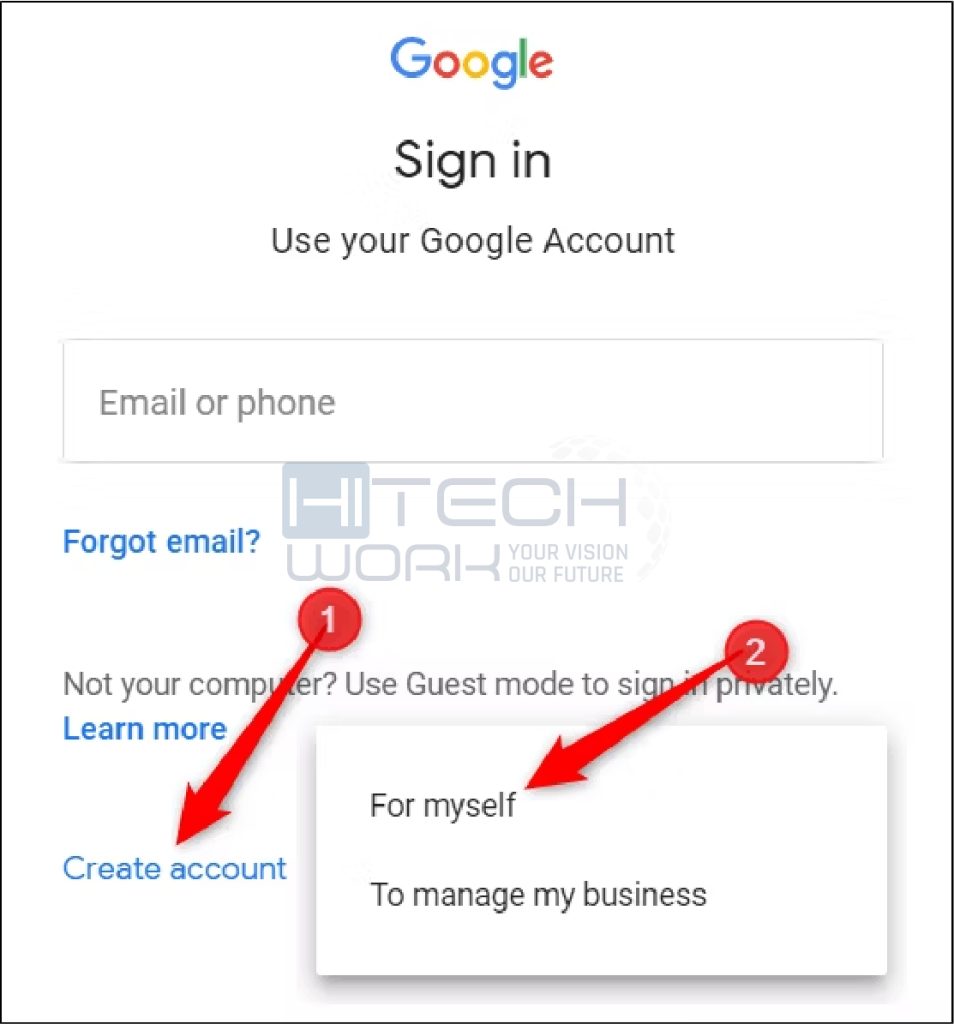 Then, on the second page, it will ask for some basic required information for your Google Account. Provide it with your correct information.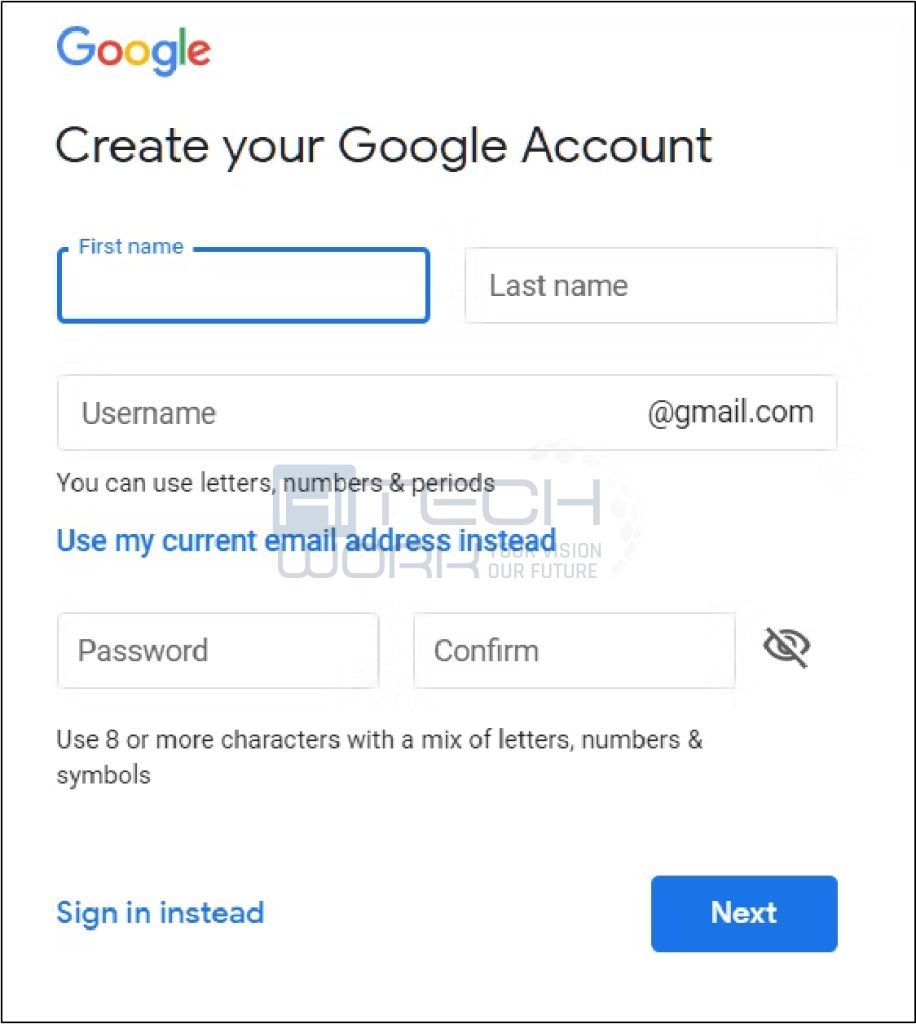 Then, to verify that you are not a robot, you have to verify your number.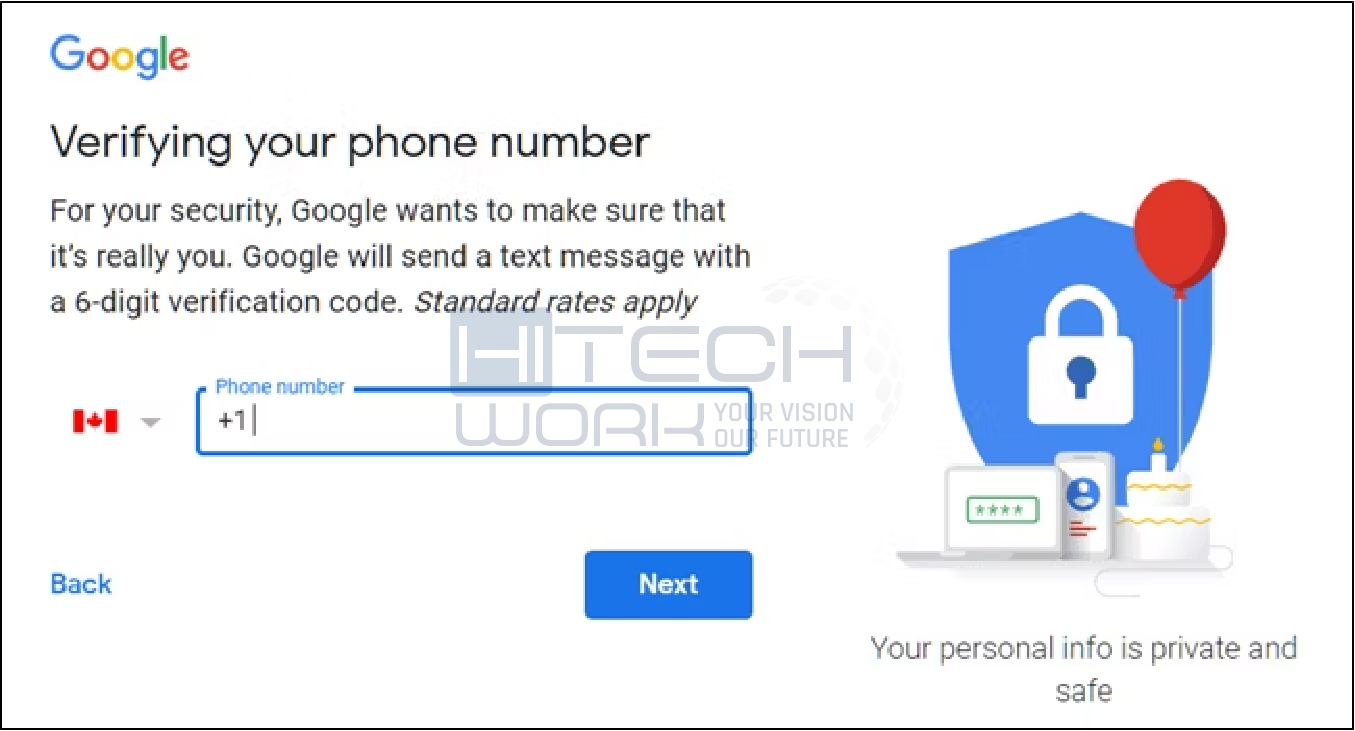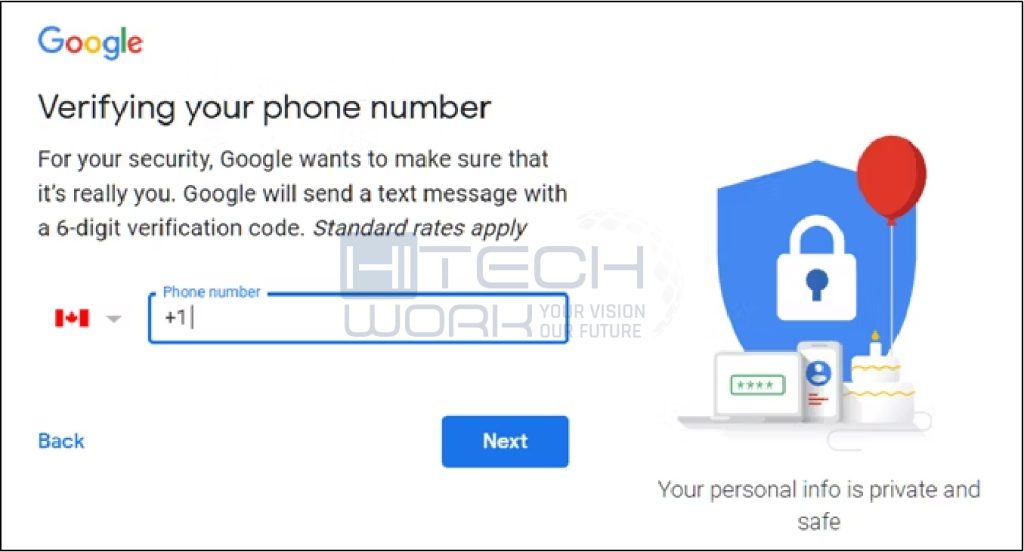 After the phone number verification, it will ask for other details like recovery email, birth date, and gender. Moreover, you also have to accept the terms and conditions.
Finally, you have created your personal Google account.
How To Add New Blank Page on Google Docs?
You can start with your first document as you have created your own personal Google account.
First, go to Google Documents.
Now, on the bottom right corner, click the multi-colored plus sign from where you want to add a new page.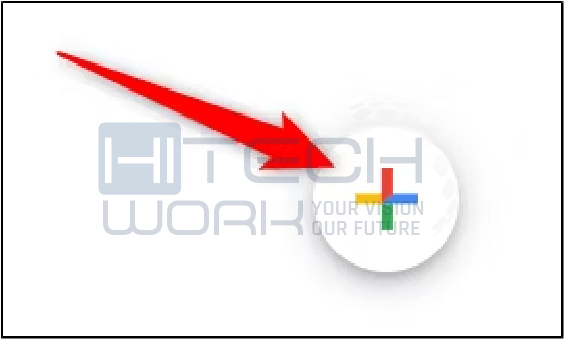 Click on the pencil icon, which will appear after clicking on the multi-colored plus sign.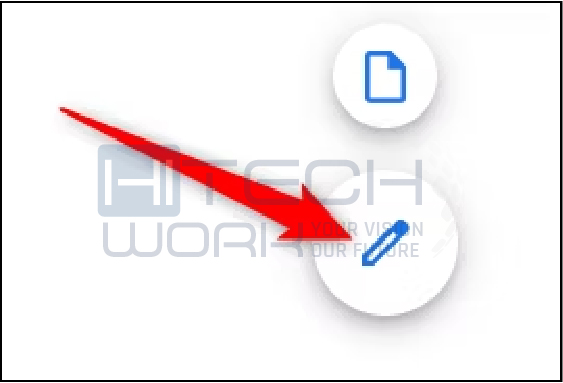 Note: If you use Google Documents on Google Chrome, type docs.newin the omnibox and enter. A new page will automatically appear.
Also Check: How to Make a Brochure on Google Docs – Simplest Ways
How To Break A Page On Google Docs On PC/Computer?
You must be in between your writing on the document.
First, place the cursor from where you want to break the page.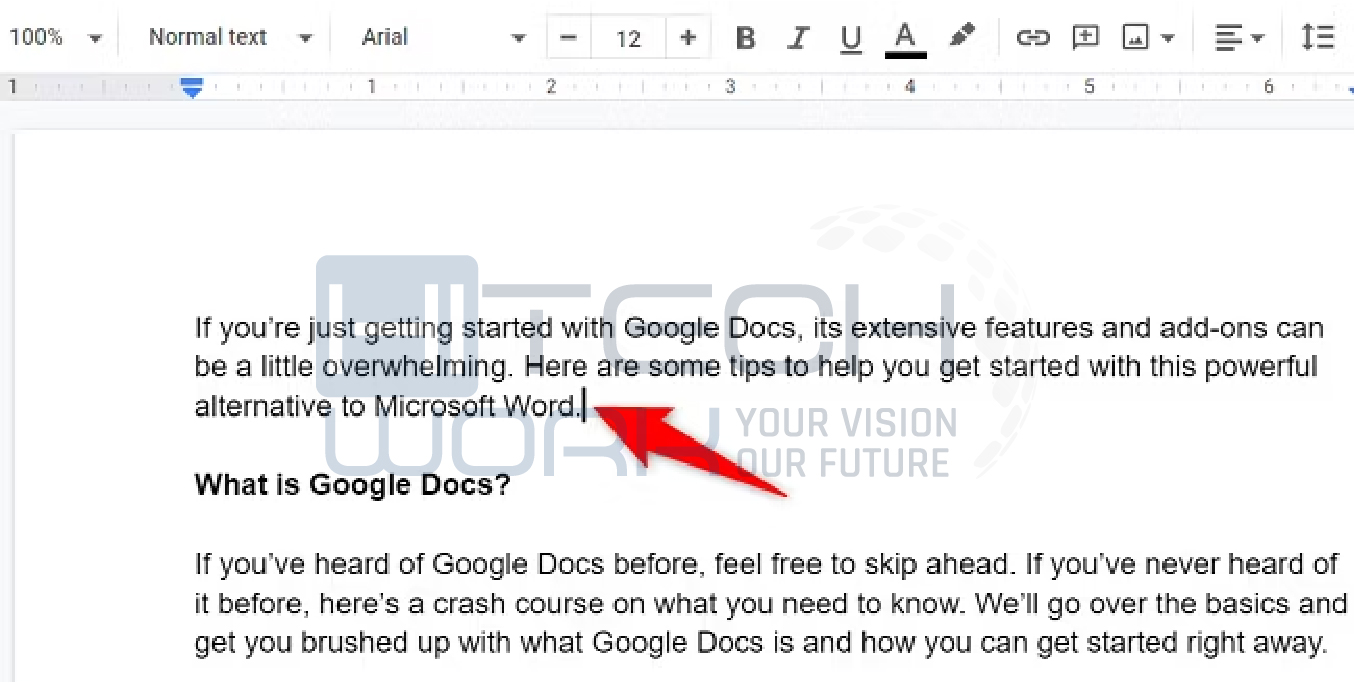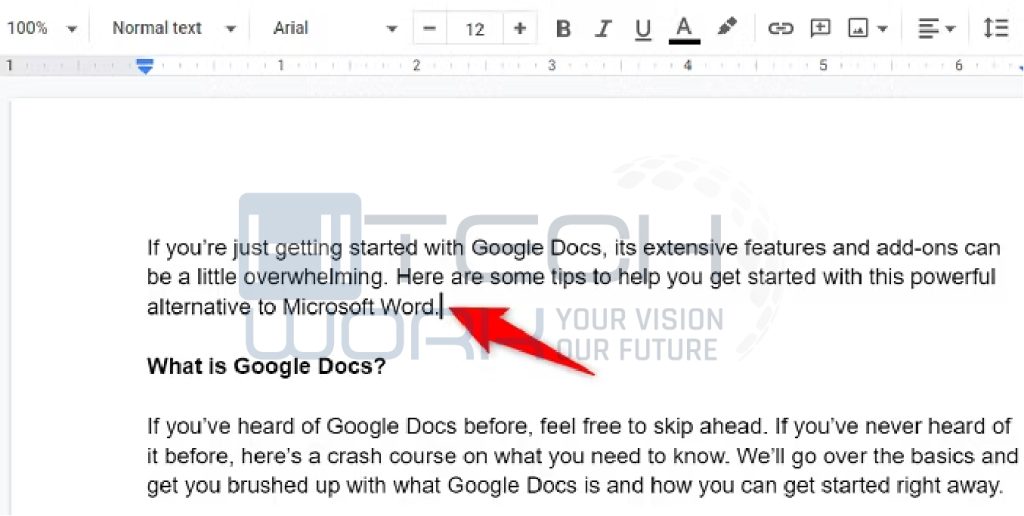 Now, as you can see at the top toolbar of the document, there is an option in the menu bar "Insert"; click on it.
The drop-down menu will appear below. Then look for the option "Break"; select it.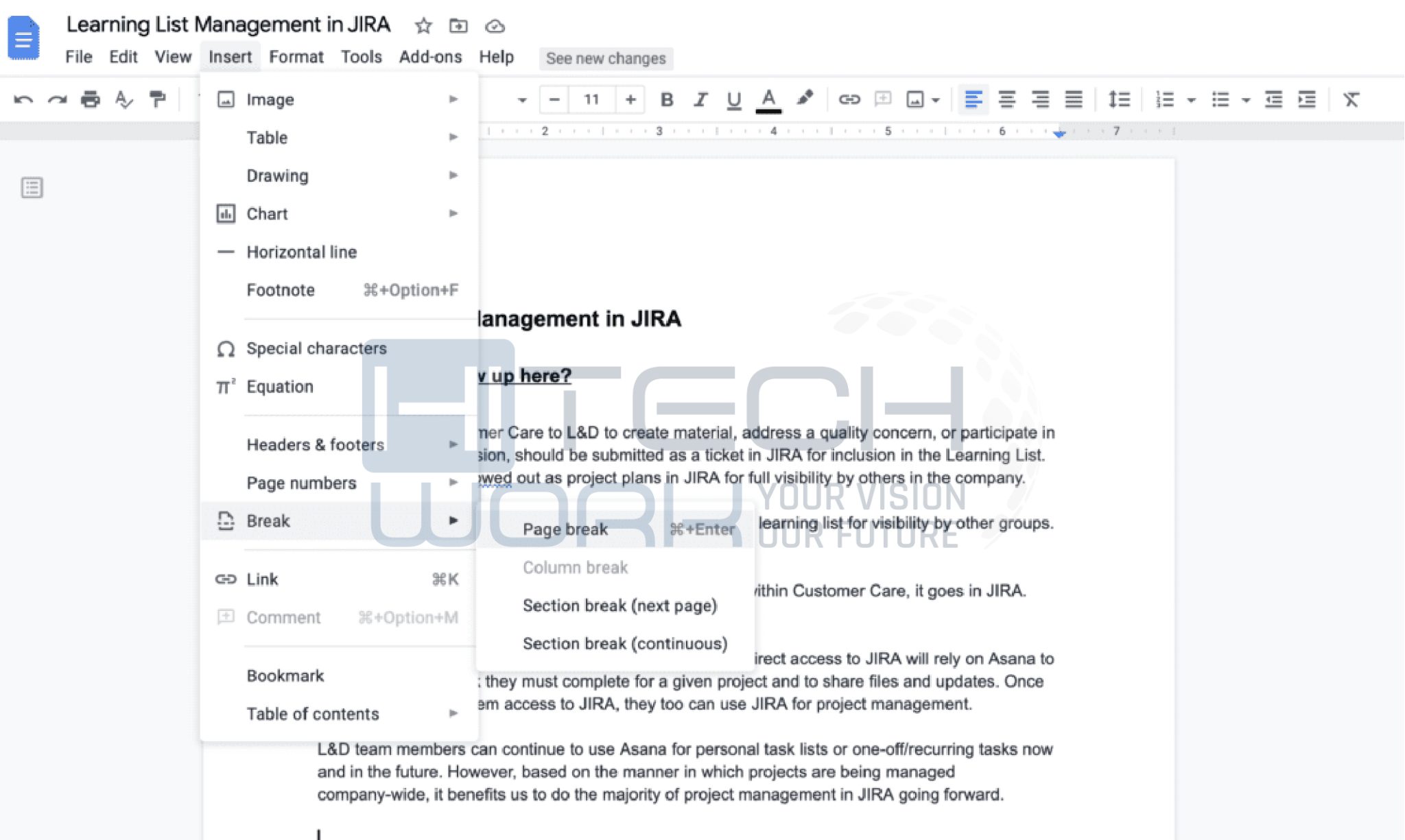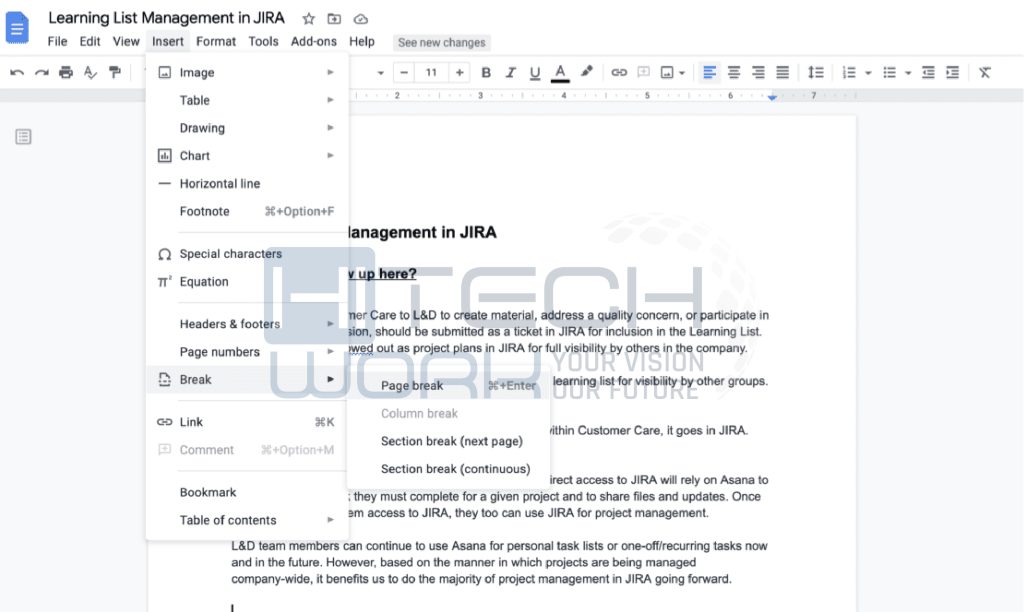 Another drop-down menu will appear next to it, where you can see the "Break Page option."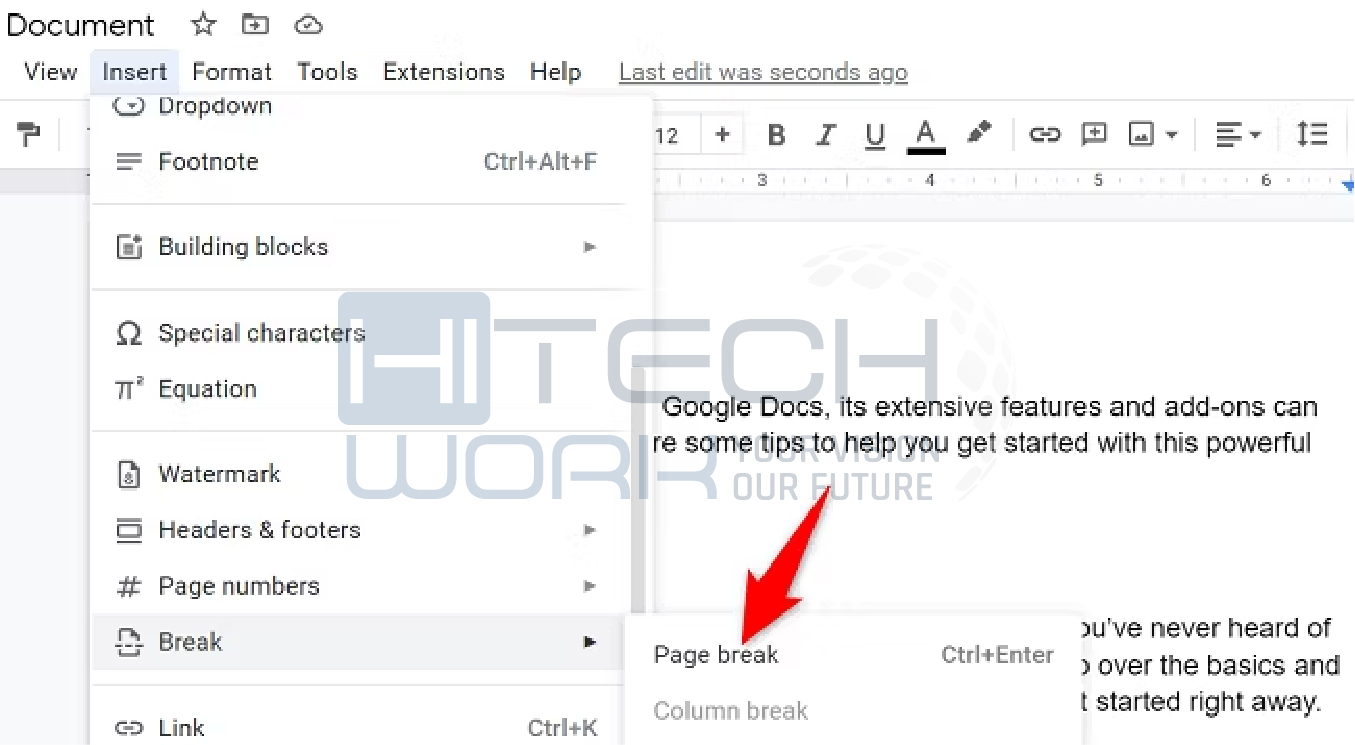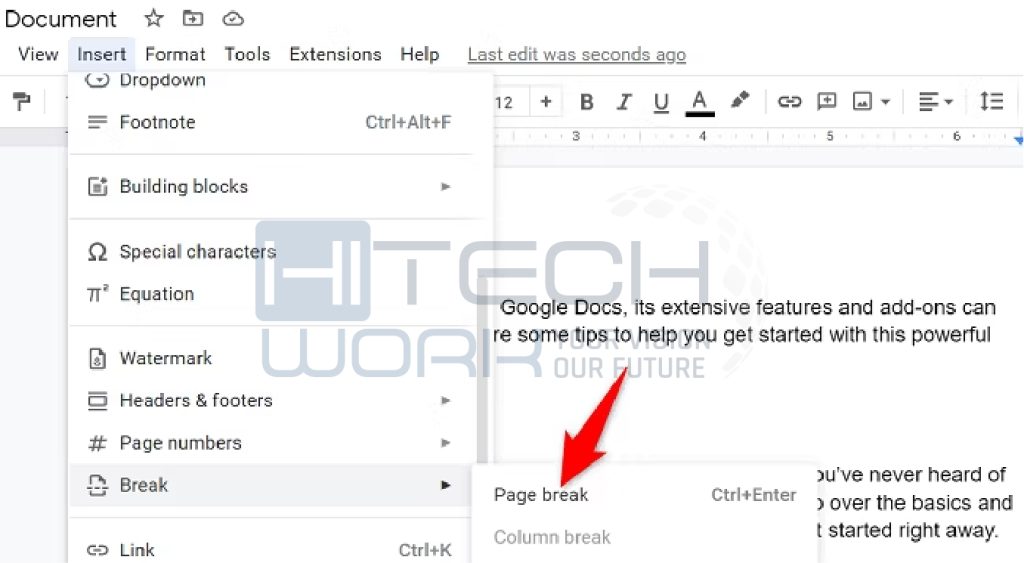 Pro Tip: You can also press Ctrl + Enter on your PC. On your Mac, you can press Command + Enter.
How To Break A Page On Google Docs Mobile Phone?
To add a new single page in your document in Google Docs mobile app:
First, go to the Google Docs app on your mobile phone.
Second, open the document you want to edit.
Then, you will see the pencil icon at the bottom right corner of your document preview.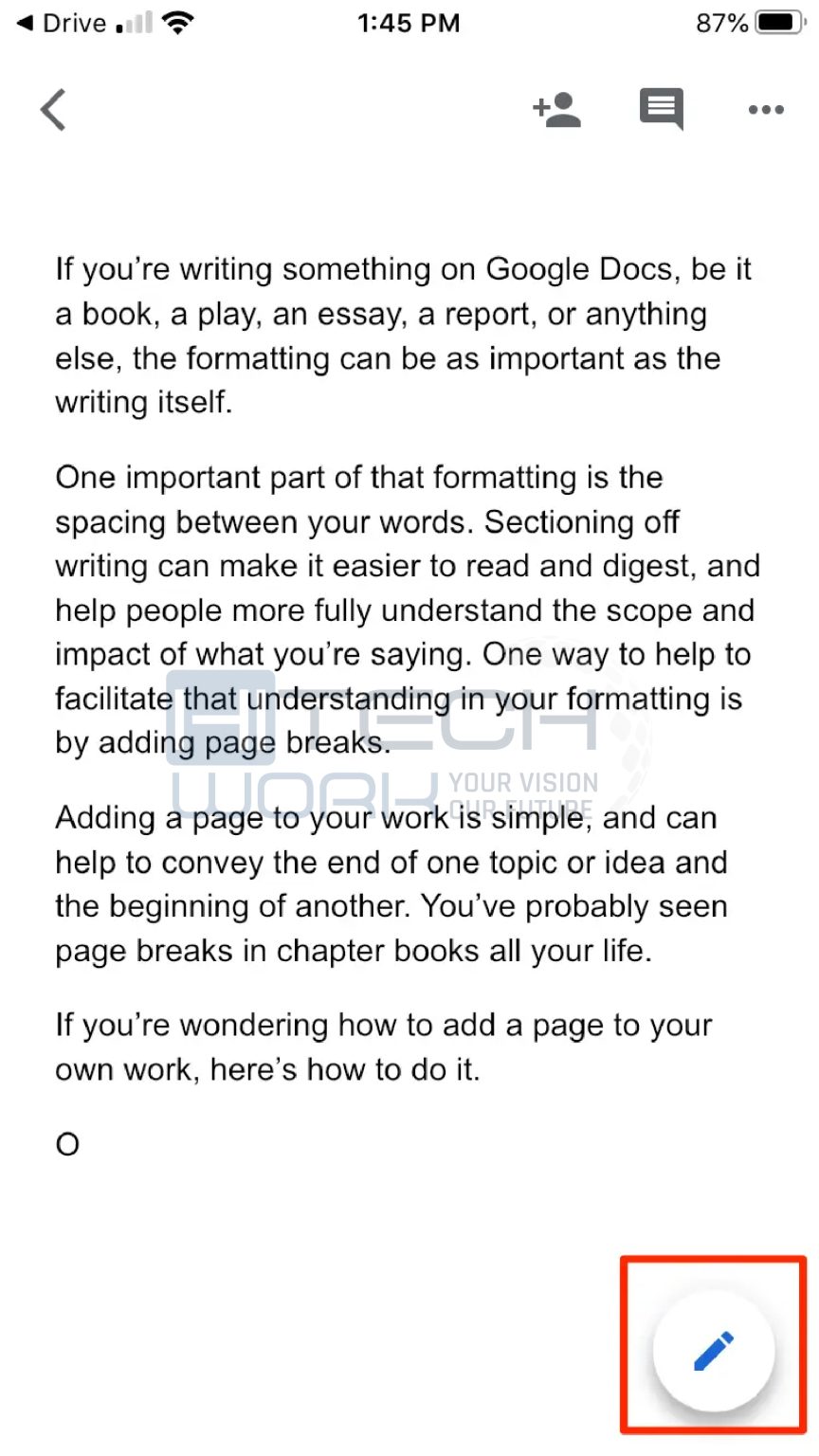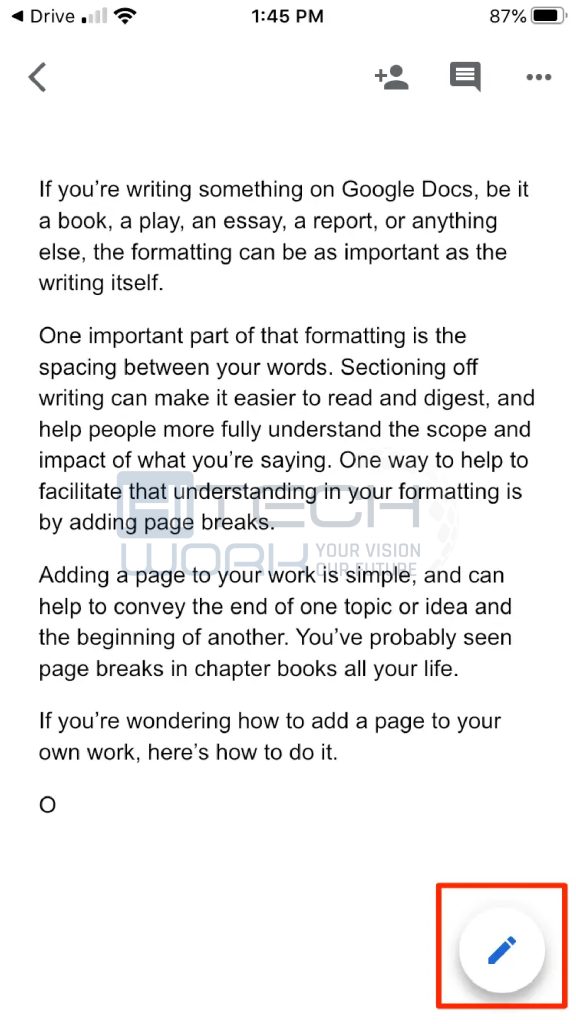 Place the cursor from where you want to break the page.
Click the plus button "+" at the top of the screen.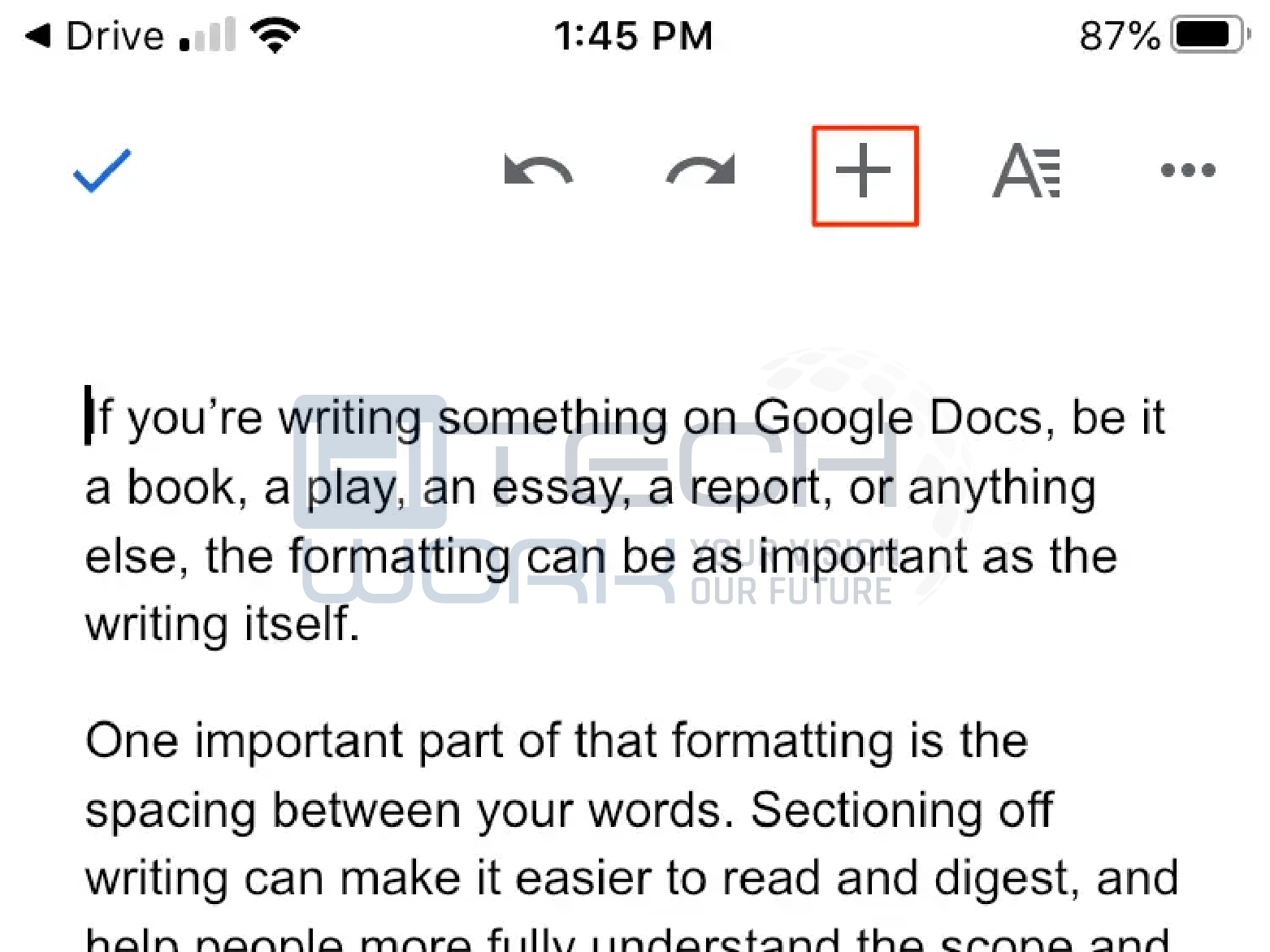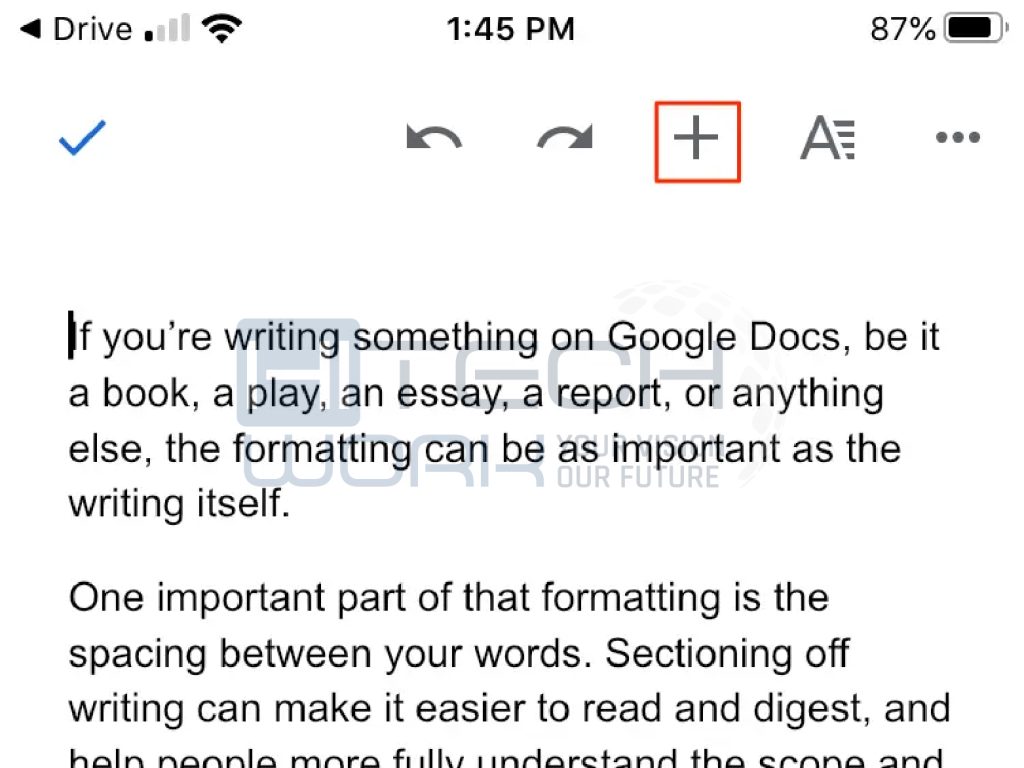 Then the Insert menu will pop up, then click on the "Page Break" option you will see there.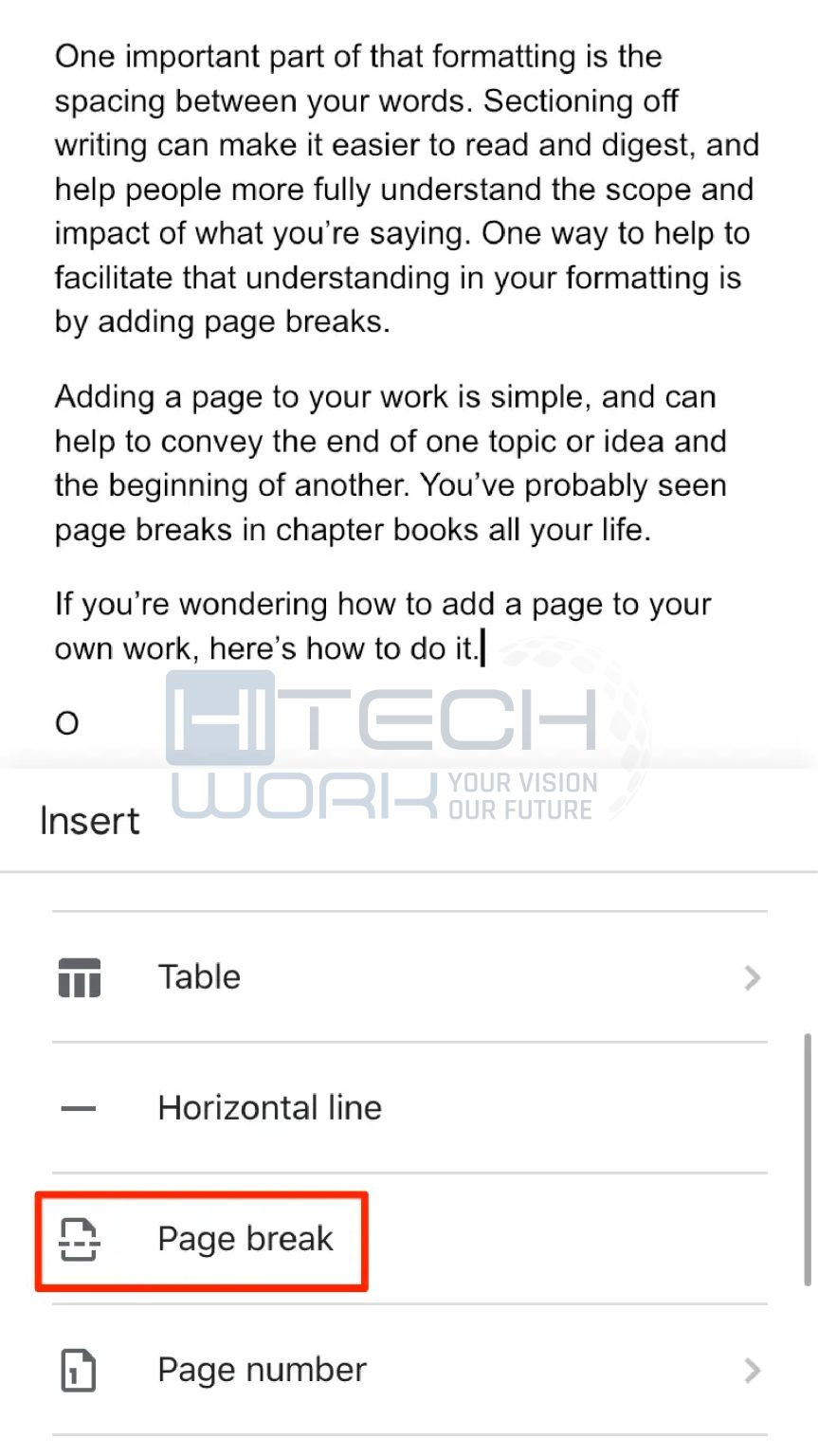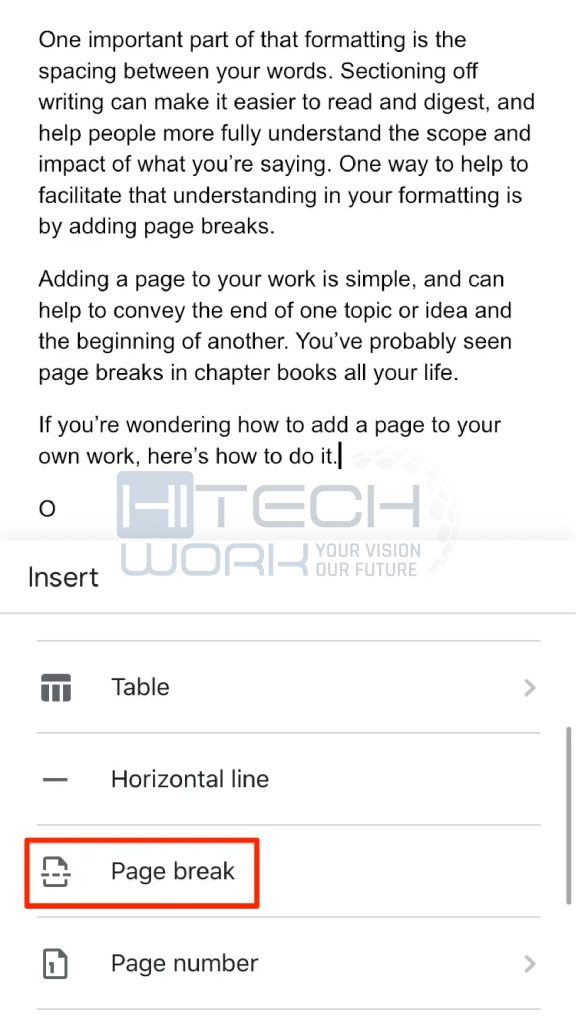 Now, you will see a dotted line, and everything below will be on a new page.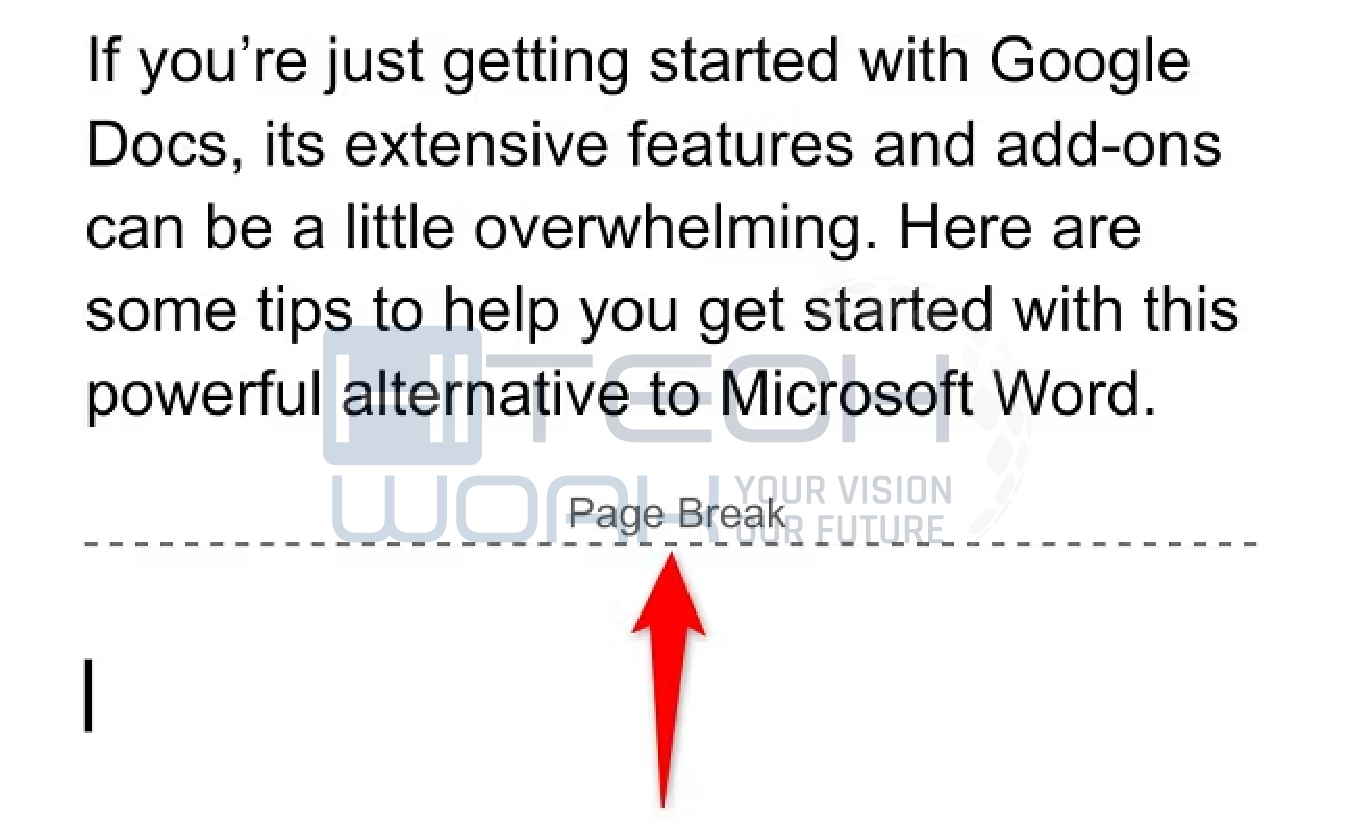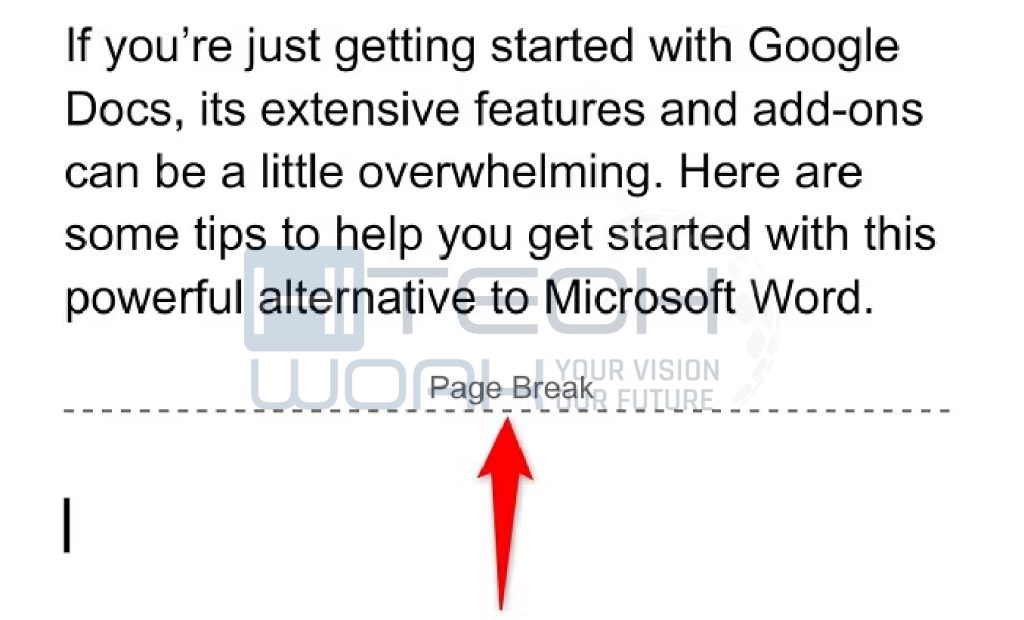 Import A Document on Google Docs
You must already have Microsoft Office Word files you want to upload to your Google Documents. Now, you can upload your Google documents. And you will see your documents in document-file type on Google Docs on the homepage.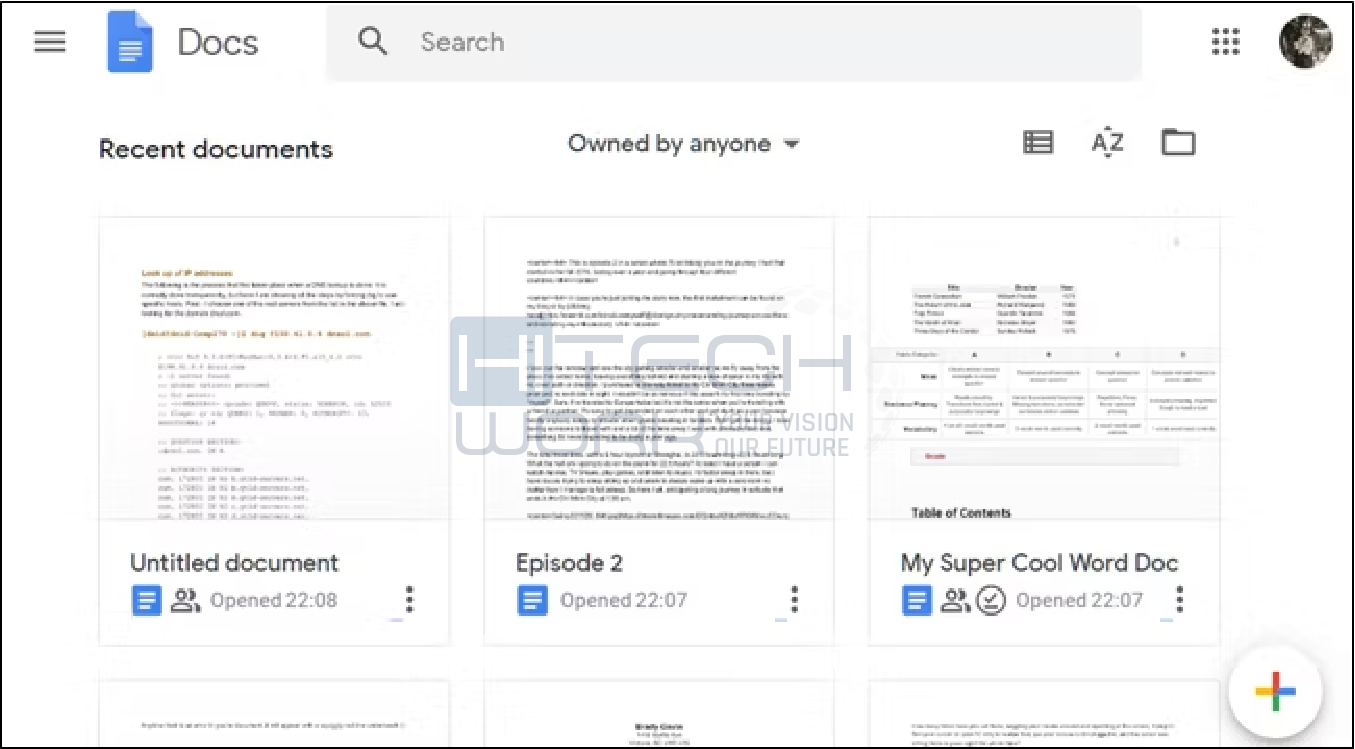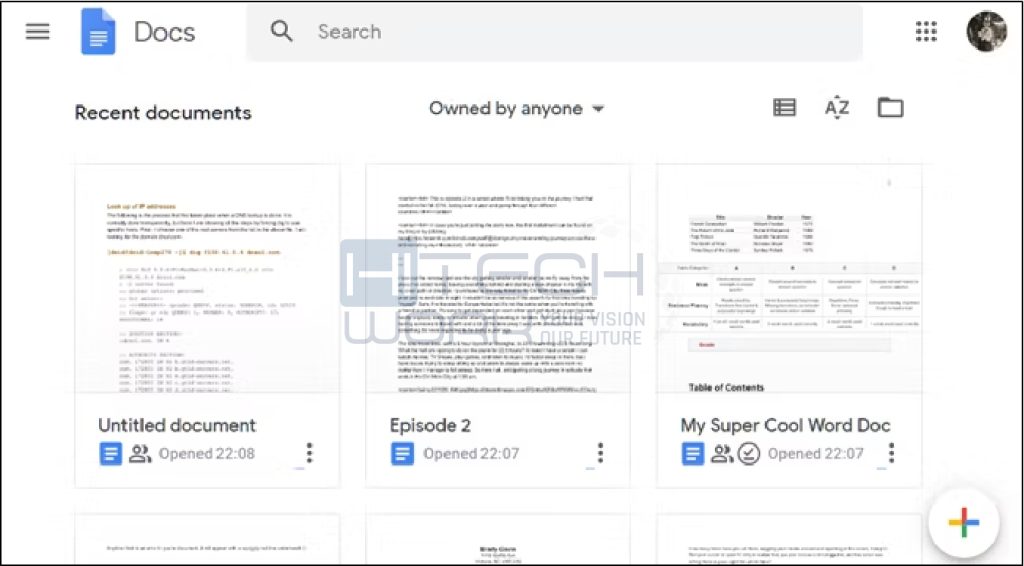 First, go to the homepage and click on the folder icon.
Now, a small flap will open; click on the upload option you will see it there.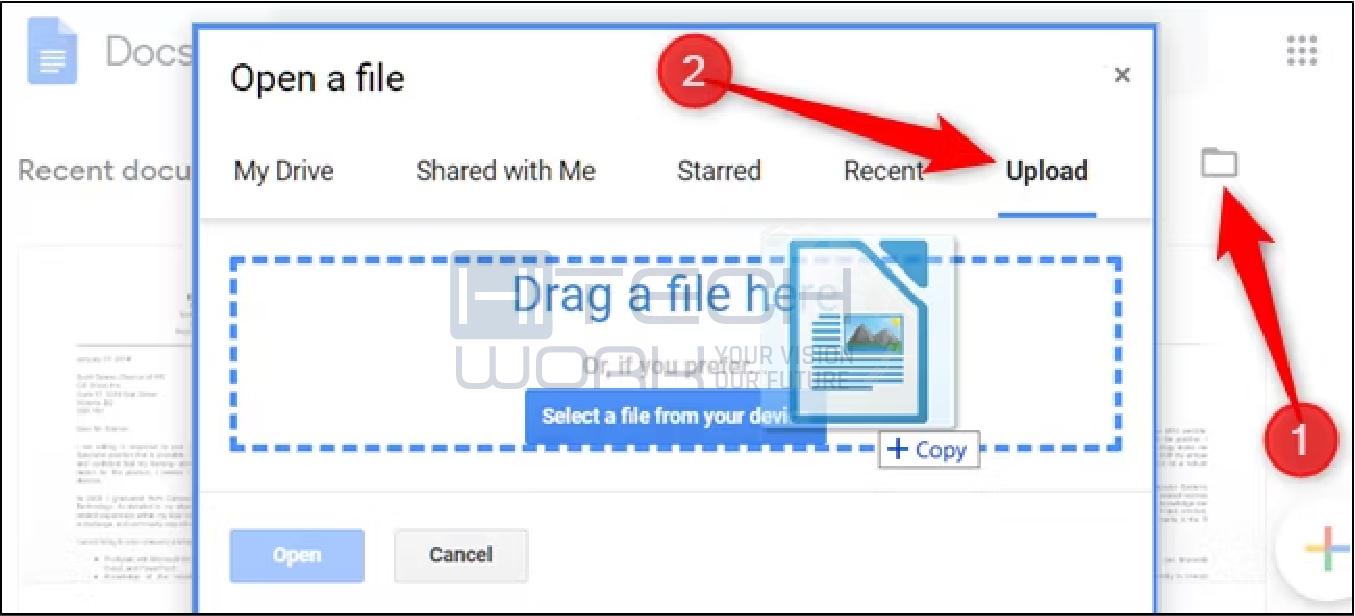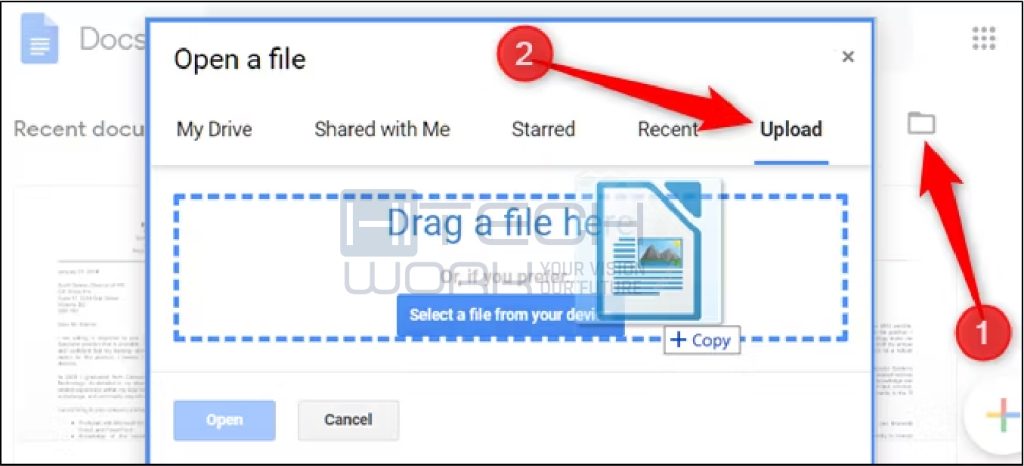 Then you can either click on the "Select a file from your device" and select your file to upload or drag and drop the file you want to upload.
Your document will open automatically by Google Docs once it is uploaded. You can also open your file and edit it with the help of the capital blue "W" located next to your filename on the homepage.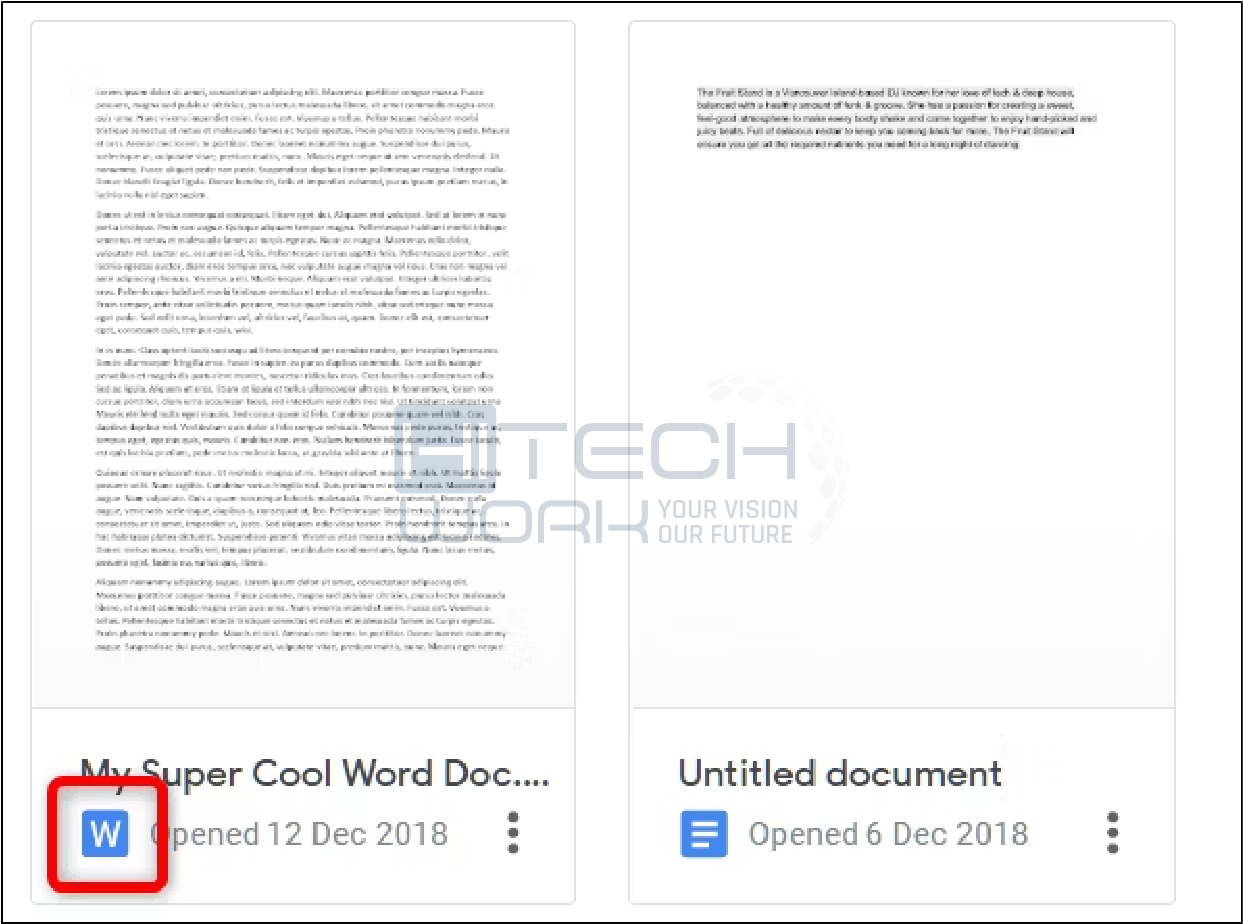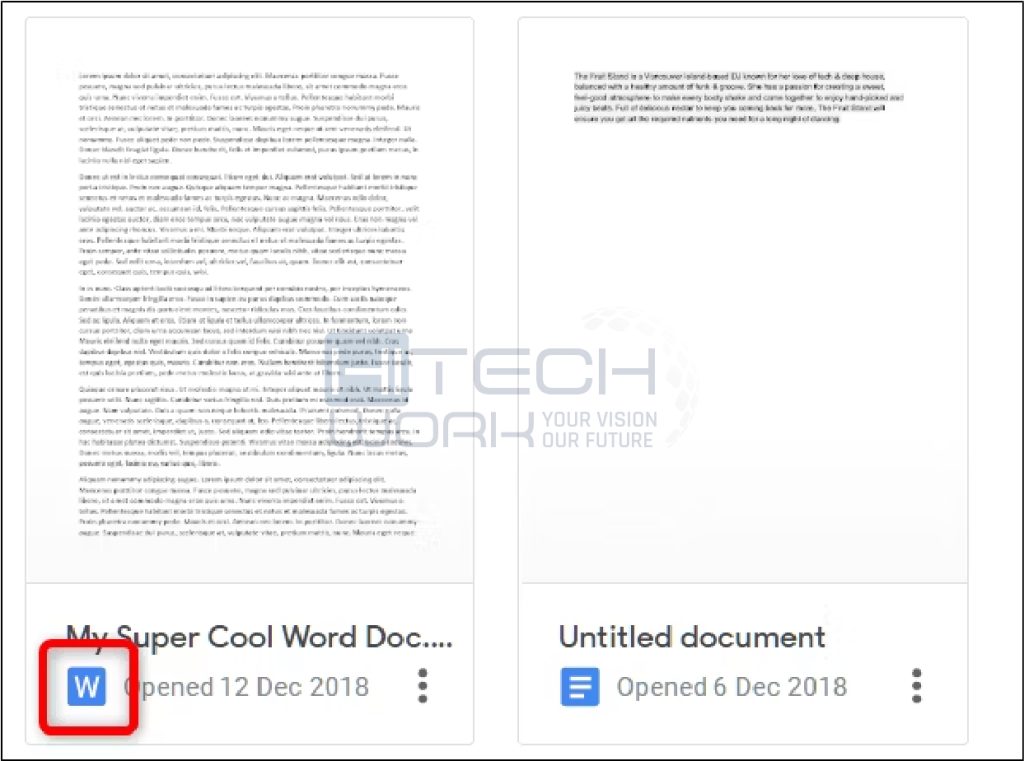 Click on either any of these options as per your preference.


Import A Document On Google Drives
You can also upload your document on Google Drive by following this step-by-step guide:
First, go to your Google Drive.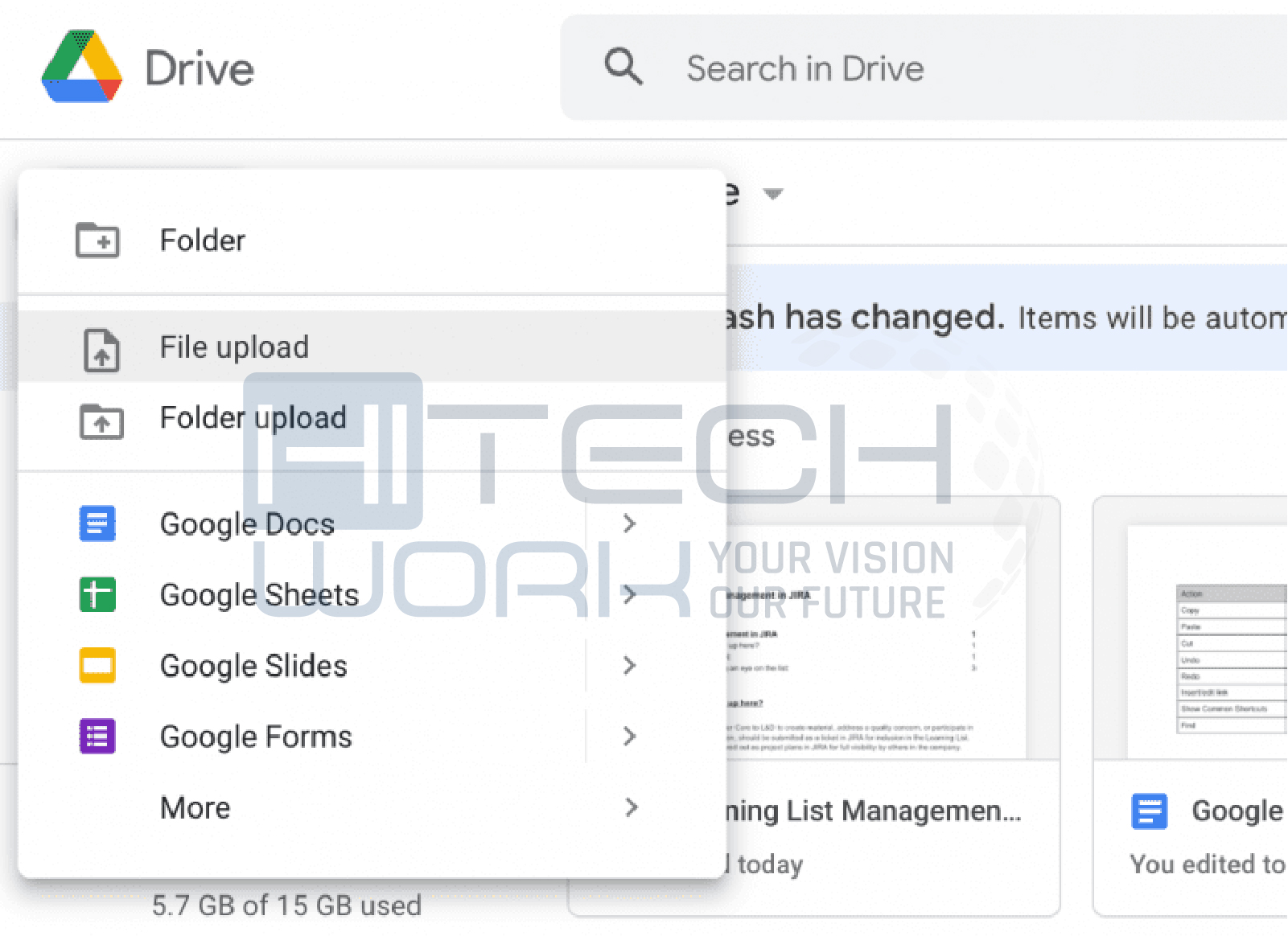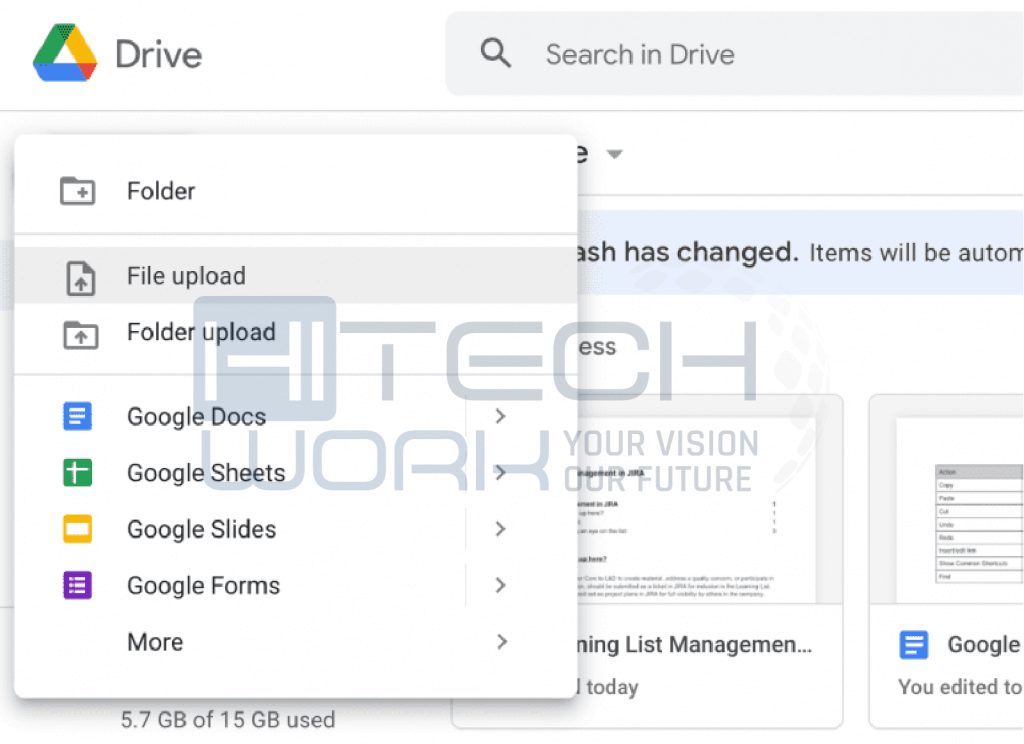 Now, you can easily choose and upload the file from your local computer drive to Google Drive.


Download A Document From Google Doc
You can also redownload it in any format options, like DOCX, PDF, ODT, TXT, HTML, or EPUB format. For which:
In the menu bar, click on the File option.
Then, go to the "Download as" and other options for different formats will follow up.
Now, select your desired format option.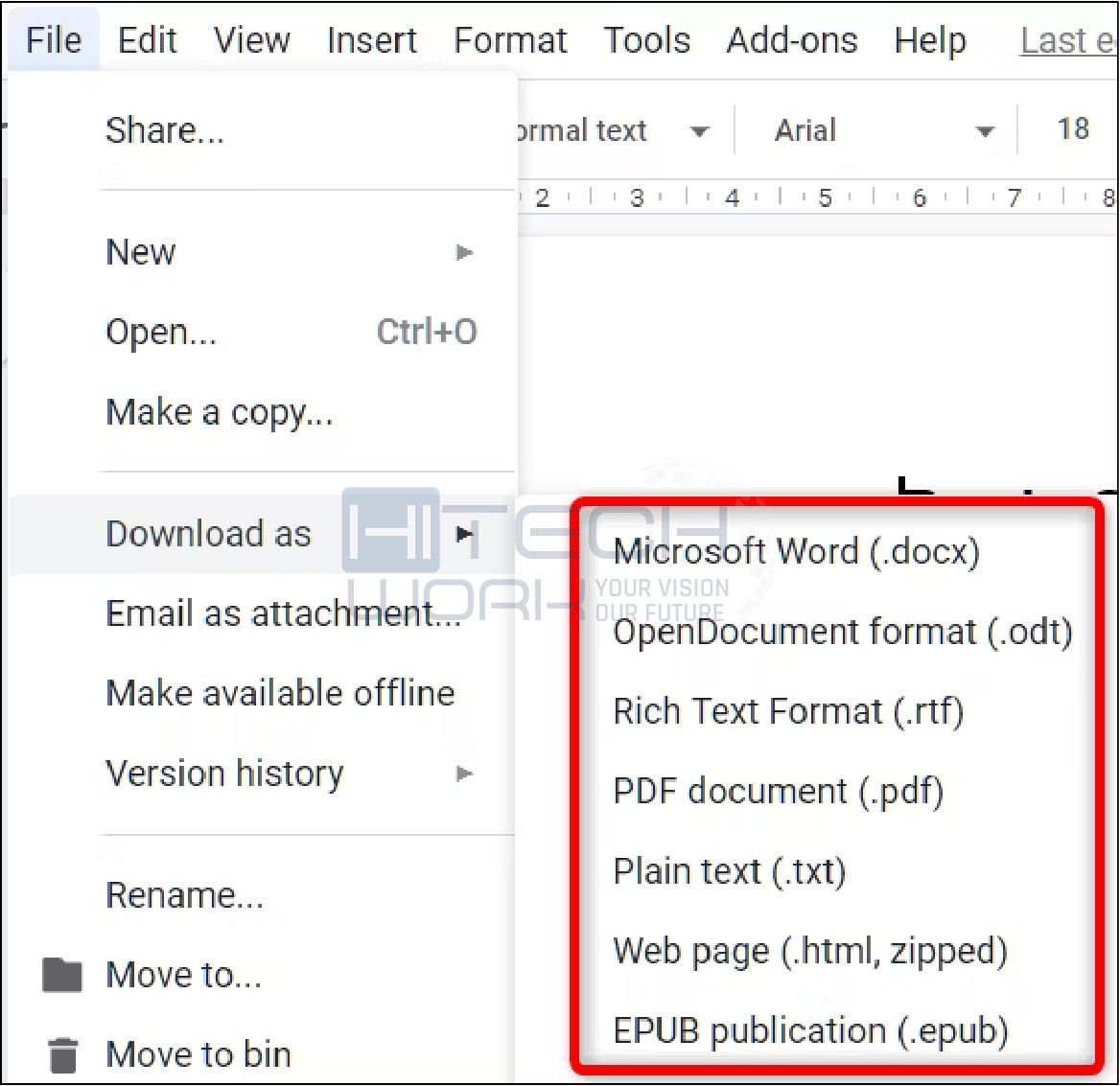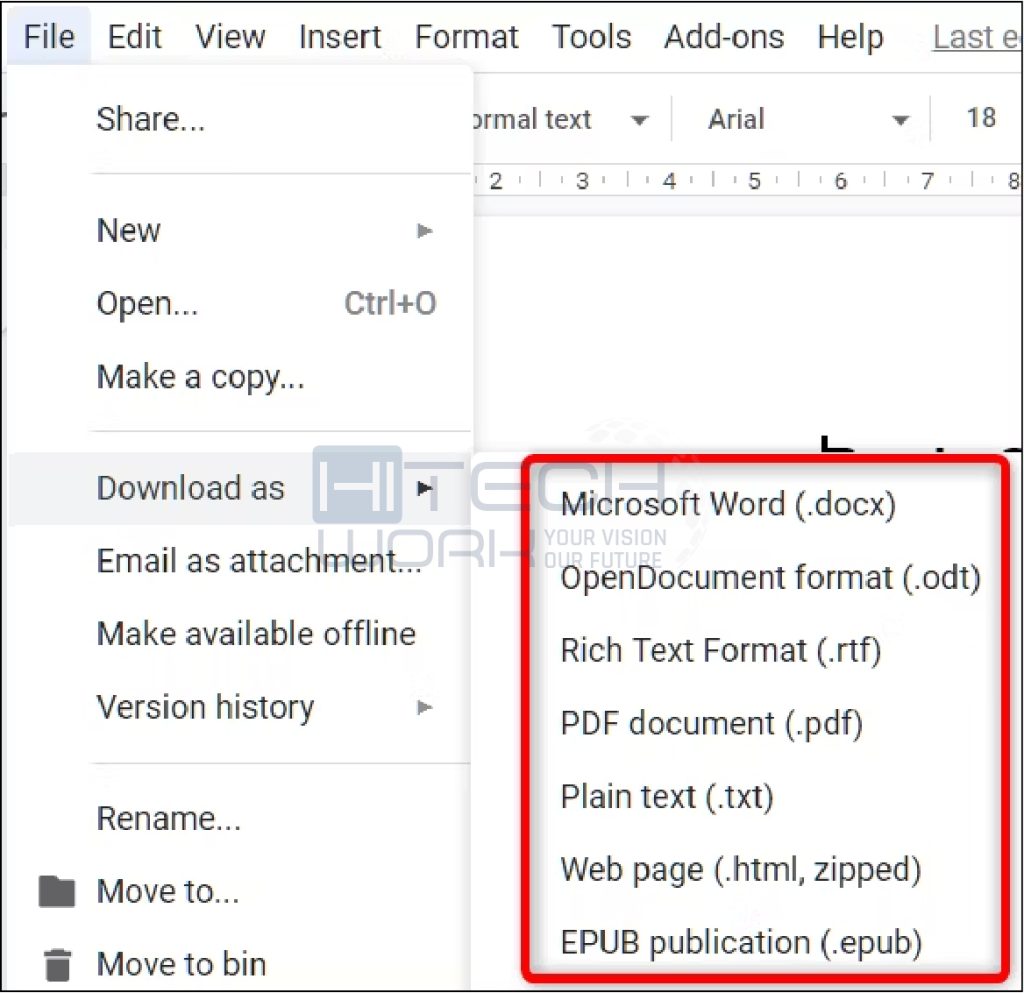 How To Delete A Page On Google Docs?
Suppose you have inserted an extra blank page, and now there is no need for it anymore, and now you are wondering how to remove it. You can place your cursor on the blank page you want to remove and backspace until it takes you to the previous page.
Shortcut Keys for Google Docs
While working on Google Docs, it is very efficient to use shortcut keys (Keyboard Commands).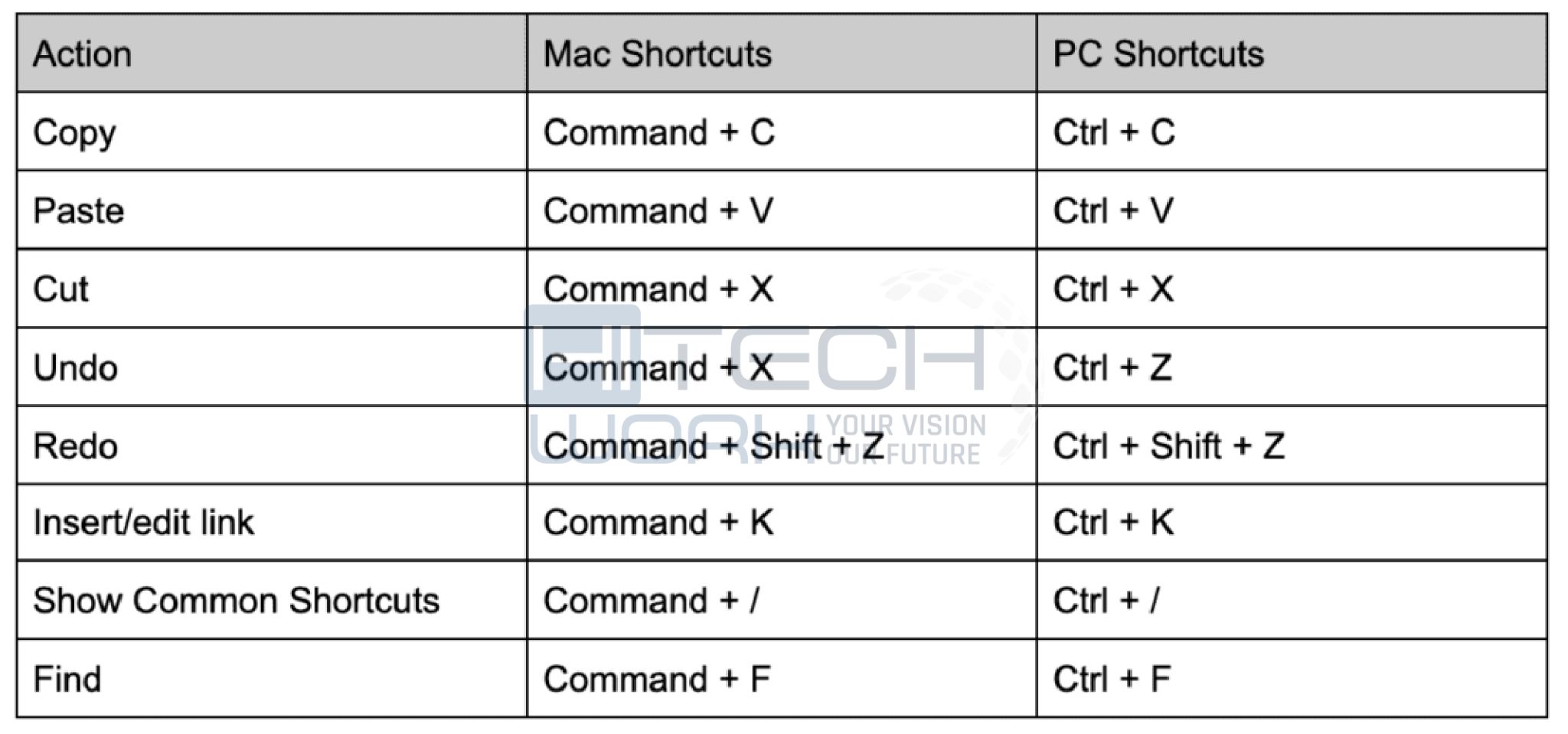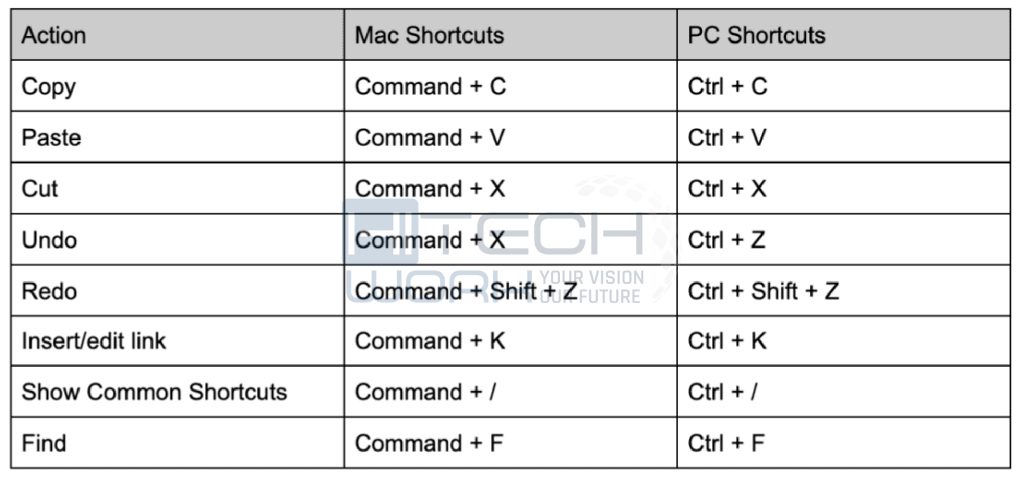 FAQs
Conclusion
We hope to have covered everything you need to know about how to add a new page on Google Docs and a little more. It's probably a good idea, especially if you intend to print your Google Doc document.
However, having this choice is crucial, regardless of whether you need two lines on one page or to begin a second page a few lines before the finish. The formatting has a significant impact on how a document is perceived overall. So, learning new skills is always a good idea.
Editor`s Recommendation