Who blocked me on Twitter? Are you eager to know who blocks you, but you don't know how to check it? It is so annoying when someone blocks you, and your mind raises many questions. However, Twitter does not give us the answers to these questions. But in this article, we will tell you some techniques that you can try to find out your answers. And if you are removed by someone on Twitter but are not sure how to confirm it. Then you have landed at the right place because you can learn more about blocking, muting, and more Twitter features here.
Find Out Who Blocked Me on Twitter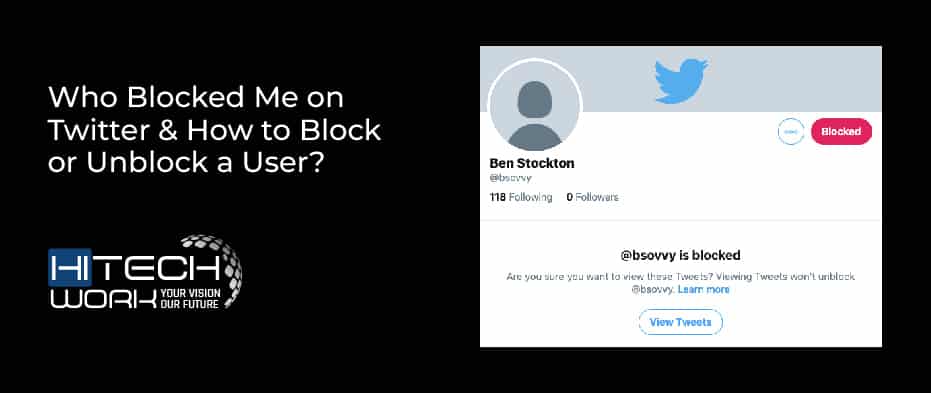 Unfortunately, you can't see the list of people who shut off you, but there are indirect ways to check out who removed you on Twitter. These informative methods will help you findoutwhoblocked you. So, let's have a look.
Using the Search Bar
The search bar on Twitter allows you to look up or find out if someone shut off you. To find out who blocked you, simply follow these steps.
Log in to your Twitter account.
Open the search bar at the top of the page.
Now type the username you think can block you.
Go to their profile. If you are blocked from the user, you will not see their name, tweets, replies, location, and bio. You have no options to connect with the user.
If you see a typical profile, bio, and recent tweets of that person you have searched. It means that you are not blocked from the user.
Using the Blolook
The third-party app (Blolook) is also helpful for you to find out the blockedlist on Twitter. But this app does not tell you the person's names.
Here are the steps to use the Blolook.
Go to the Blolook website or app.
Log in to Twitter through the Blolook.
Now authorize the app to access your Twitter account.
When you have done with it, Blolook will give you all details about the blocking chart.
That is how you can see the account number who has blocked you, but you can't see the name.
How to Block and Unblock a Person on the Twitter
Twitter account is easy to handle where you can block and unblock the users whom you don't want to interact with them. After too much troll running on Twitter, it's important to know how to silence a noise. Check out our two steps detail below.
Blocked Someone on Twitter
As you know, if you don't like the content of any person and don't want to interact with them, Twitter has a convenient feature to block that person. Here are the steps to shut off someone on Twitter.
Open the Twitter app on your device.
Tap on the search bar and type the username you want to block.
Now open the profile of the user.
On the profile option, you will see three dots. Click on that.
As you click, a menu appears on your screen.
Tap on the block button to confirm it.
The person is now blocked from your account, and they will not be able to interact with you and also will not see your profile.
Unblock Someone on Twitter
Do you block someone mistakenly? Or you blocked one of your friends mistakenly. Here are the steps to unblock someone on Twitter quickly.
Open the profile of the user you want to unblock.
You can see the three dots on the profile. Tap on it
Now click the unblock option.
Here you have to confirm your option.
Now you have unblocked the person, and you can communicate with them on Twitter.
What Happens When Someone Blocked on Twitter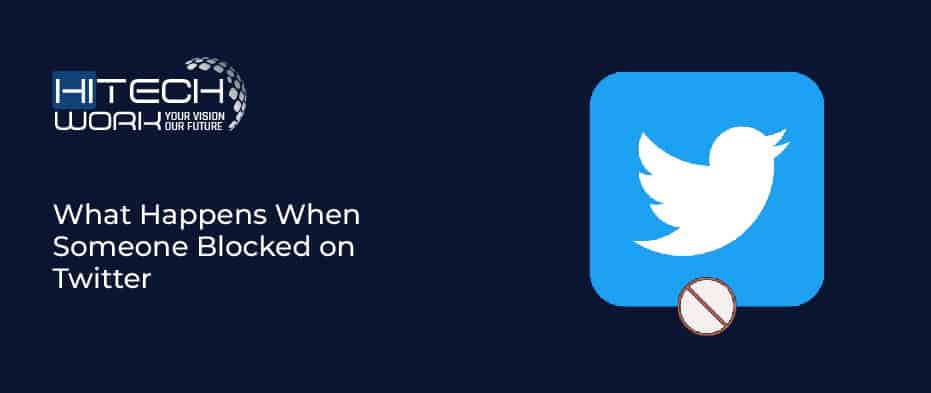 Are you new to the Twitter app and don't know what happens when a person is shut off from another account? Here's everything you need to know related to that situation.
Twitter does not allow you to shut off users to follow the account that blocks you, and you do not receive any notification about it.
You can send text messages to the person who blocks you. But they would not receive any messages from you.
Another noticeable part of blocking someone is you can't see their tweets on your Twitter feeds. They will also not appear on the other tweets when they comment on them.
Similarly, Twitter will not allow you to retweet their tweets.
Do I Block Other People Who Has Already Blocked Me?
Of course, YES. You can block someone who has blocked you already on Twitter. However, it sounds weird that both of you had to block each other. But it may be possible due to many reasons. Below are the steps that will guide you on how you can block someone who has already blocked you.
Open your Twitter app and log into your account.
Go to the user's profile you want to block.
On the profile, you will see the three dots option. Tap on it.
A list of options will pop up on your screen.
Click on the block option and confirm your blocking.
Now you have blocked the user who has blocked you.
Is There a Better Way Than Blocking?
As I mentioned above, when you block a user on Twitter and search your profile from their account, he will know that you have blocked them. It becomes fizzy between both of you.
However, I have a better option for you than block a person. If you don't want to see a person's profile or tweet on your profile, you can remove them by Muting and SoftBlock their profile. Follow the guide to mute and soft block a user.
Steps for Soft Block a User on Twitter
Twitter recently launched its new feature, SoftBlock. It will permit the user to confiscate a follower without blocking them. The user will not get a notification if someone soft blocks them. It is different from blocking someone because when you soft blog a user, they are still able to view your tweets and can send you text messages.
To soft block someone on Twitter, you can follow these simple steps.
Open the Twitter app and log into the account.
Searched the user name on the searched bar whom you want to block.
Open their Twitterprofile.
Now click on the three dots option which is appeared on your page.
A menu will pop up on your screen. Here you will choose "Block@user."
Now confirmed it again by taping on the Blocked.
The user is now soft blocked from your account.
Your next step is to click on the Blockedbutton, and then the unblocked option will pop up here and select the undo.
Note: When you block the user, the undo option will immediately appear on your screen, and you have to do it at the moment rapidly.
Steps for Mute a User on Twitter
If you mute a user account that you have unfollowed, their tweets no longer show you on your Twitter feed, and you will not get any notification on your account. But their profile will still appear on your follower's list, and the user can contact you directly through the direct message. But now, you will not be able to view their tweets on your feed anymore. But they are able to see your profile and send you comments on your tweets, and you will not get notified about it.
Therefore, here are the steps to mute someone on Twitter.
Log in to the Twitter app.
Searched the user you want to mute.
Go to their profile and press the three dots button, which is shown at the top right corner of the mobile's screen.
Now tap on the Mute to mute the user from your account.
Conclusion About Who Blocked You on Twitter
Unfortunately, Twitter doesn't have an option to see who shut off you. But if you think that someone is blocking you on Twitter and you want to know who they are, you can use the methods mentioned above that I shared with you on this page. You can also use the third-party option to see who else is blocking you. Moreover, I gave you detailed information, tips, and tricks about blocking your Twitterprofile. So tell me in the comment section if you use any of these methods to see who blocks you on Twitter.