Michael Reckhow product manager of the Facebook, Introduce the facebook instant article on 2015/05/11 and successfully launched on April 12th, 2016. The pitch was that Facebook hosting Your articles would provide a much faster, cleaner experience for mobile readers. So I write this, Facebook Instant Articles Tutorial for you to grab the opportunity in a Social Content Marketing.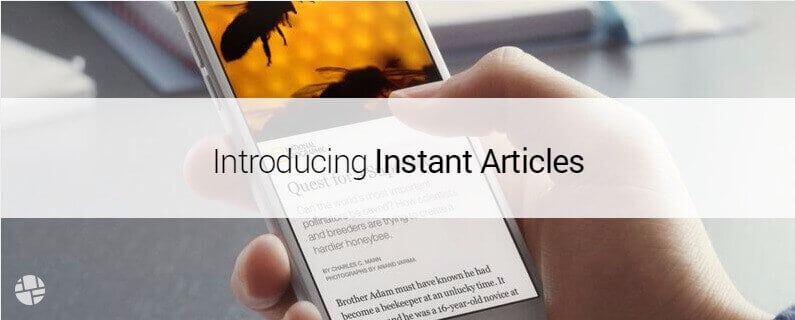 Let me explain first, Mobile is an increasingly important part of the social web. This is particularly true for Facebook, which boasts 1.44 billion mobile monthly active users (as of December 31, 2015). And that's not all—over half of Facebook users access the site exclusively via mobile (as of January 2016). That's a lot of people. And a lot of phones.
While highly visual content, such as images or social video is certainly on the rise, links are still an integral part of the social content. But they can load slowly on mobile, hurting the user experience. That's why Facebook developed Instant Articles—to improve the experience of reading articles for Facebook mobile users. Google also launched the Accelerated mobile page Project so that user can easily read the article on Mobile.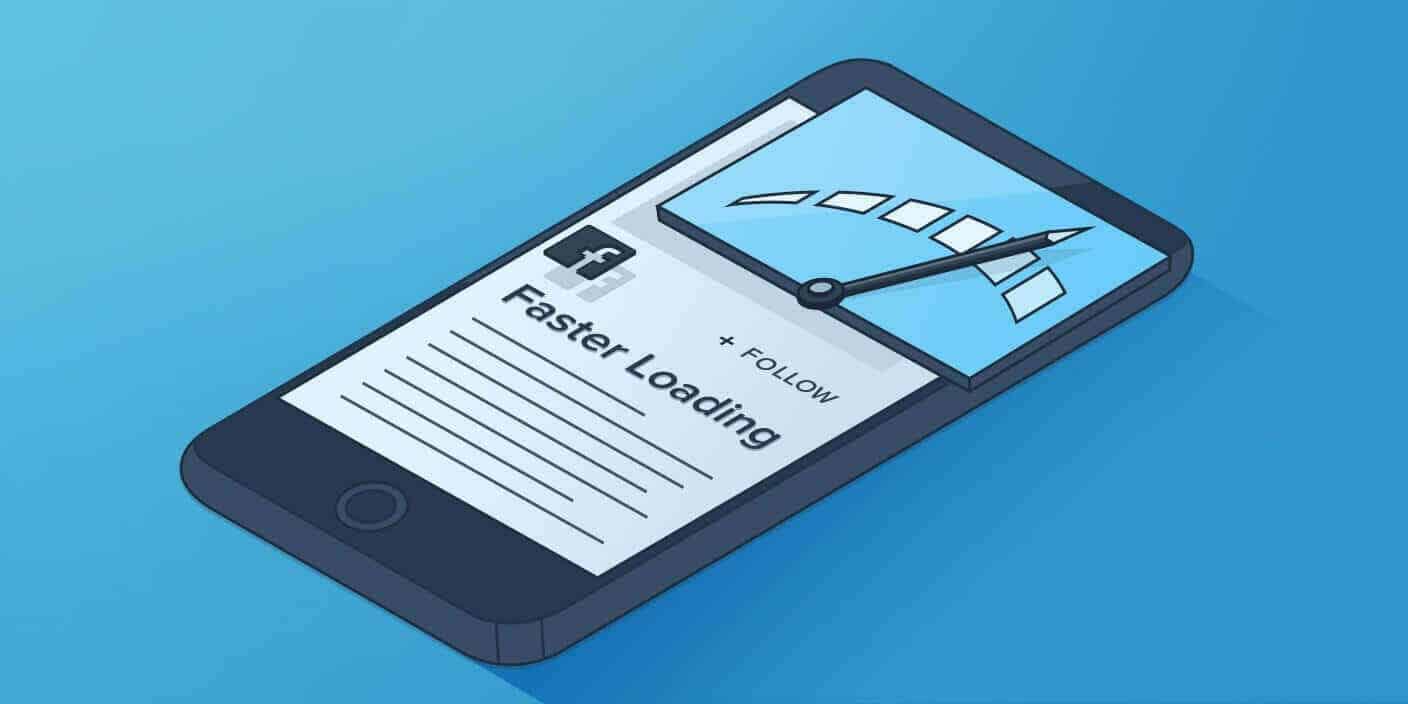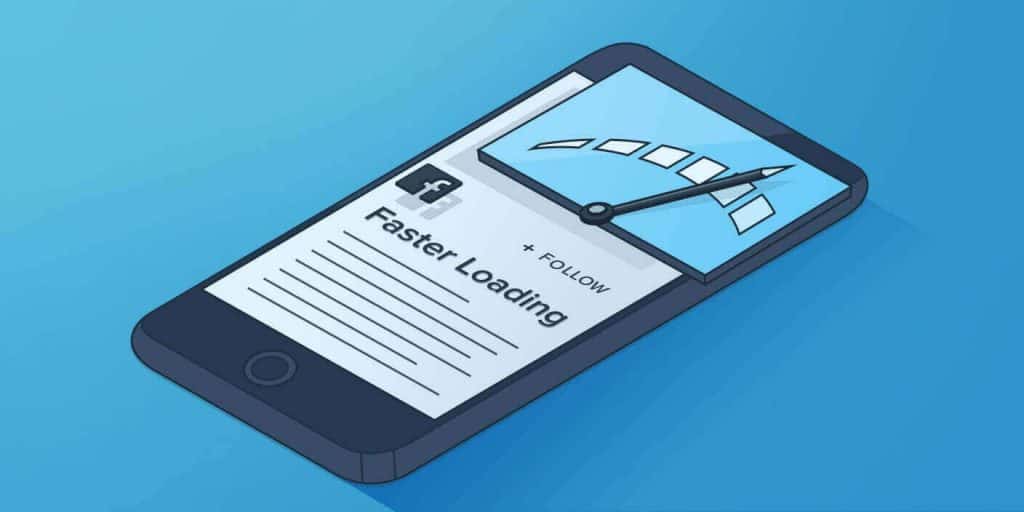 Instant Articles are fast-loading versions of web articles where users stay on Facebook to view content rather than follow a link to another site. They also boast a number of interactive features, such as zoom and tilt images, auto-play videos, interactive maps, audio captions, and the ability to like and comment on individual parts of an article in-line. Facebook describes them as "a faster, more beautiful reading experience on Facebook."
I have waited for quite a long time to share Facebook Instant Articles Tutorial with you as I wanted to give you all the necessary details & guidelines to configuring FB Instant Articles within your website. Today, I will be sharing the complete Facebook Instant Articles Tutorial guide to help you set up Facebook Instant Articles for your blog.
Facebook Instant Articles Tutorial For WordPress
Facebook Instant Articles Tutorial walks you through the basic steps to begin publishing Instant Articles and familiarizes you with the tools used in the process. So here we go.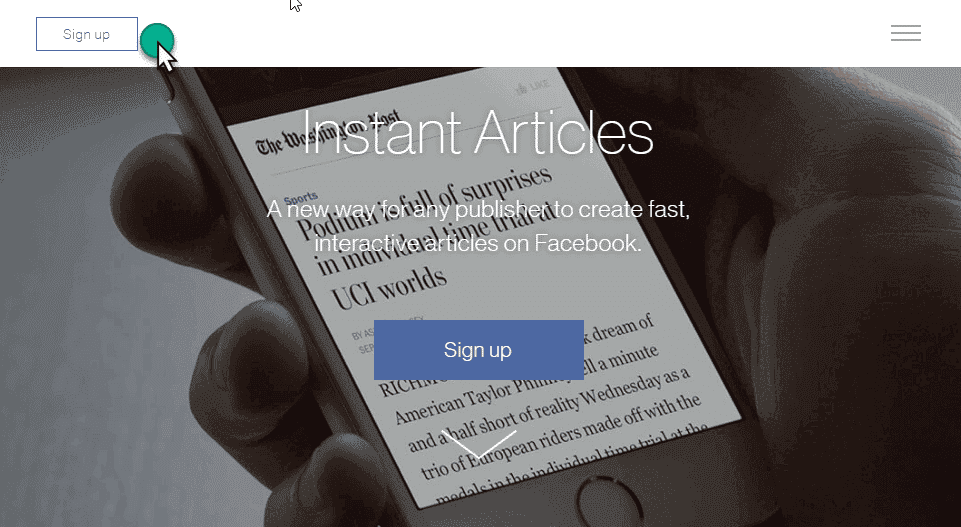 This will lead you to next page where you need to select the Facebook page, where you would like to enable the Instant Articles tool.
Select the page & Click on "Access Instant Articles Tool"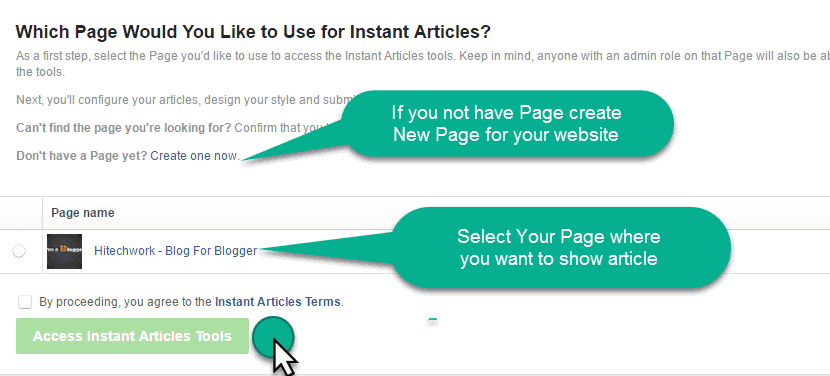 Facebook Instant Articles Tutorial divided into a several Step. So we cover each step, In Step by step so that we not gone puzzle in the process, but if you still stuck within the step please feel free to comment below.
Step 1. Initial Step
This process has a divided into 7 step some of them are little technical and some of them are user-friendly.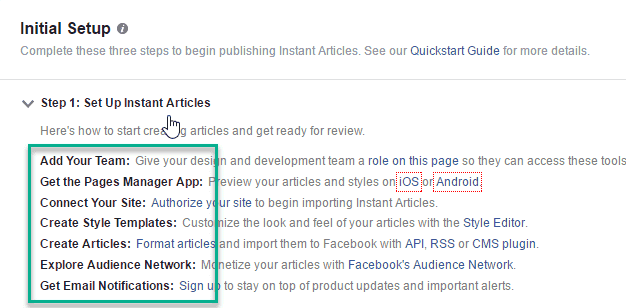 Add Your Team:-  Here You Can Add the member to manage your Page. Click on  Role On This Page in the first step and Your will redirect to Admin Role Page. Here you can add your Facebook page manager member.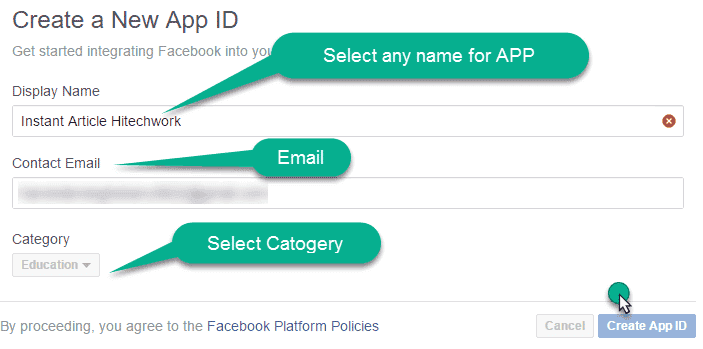 Get the Page Manager APP:- Download Page Manager app to work on Instant article. You can Directly download it by from play store, search "facebook page manager"

Connect Your Site:- Click on Authorize your site, you will forward to connect your site page.
Here you have to add the URL of your website and Copy the Code.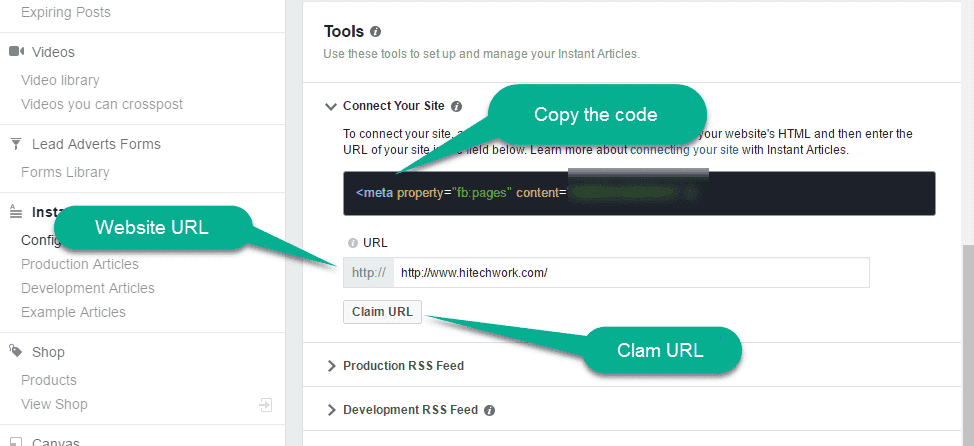 Enter the Code into the header section of the theme. This is important for the verification process.
And Update the setting.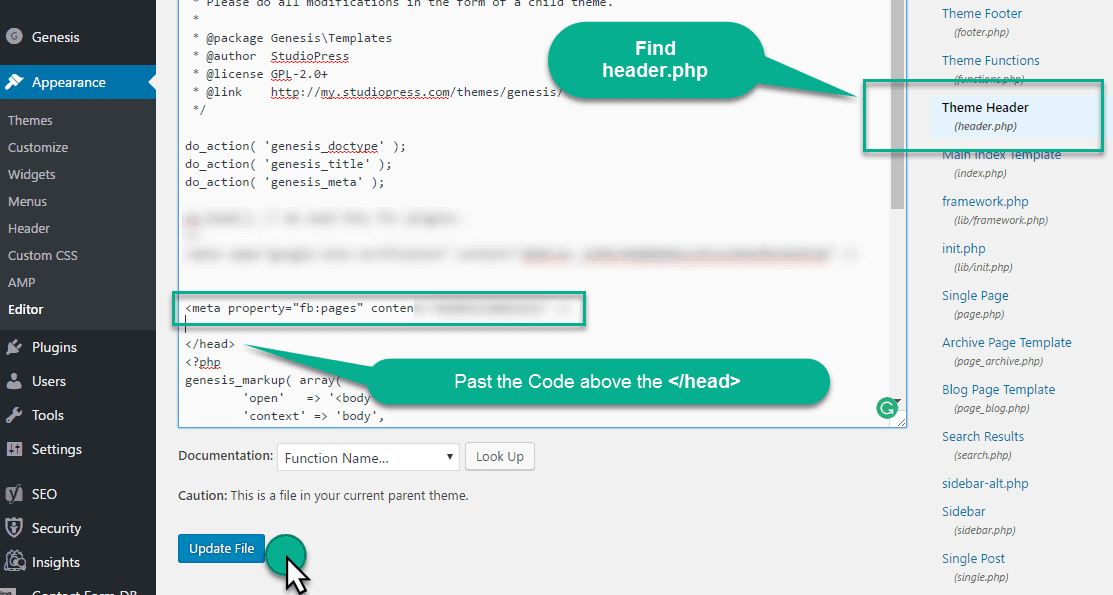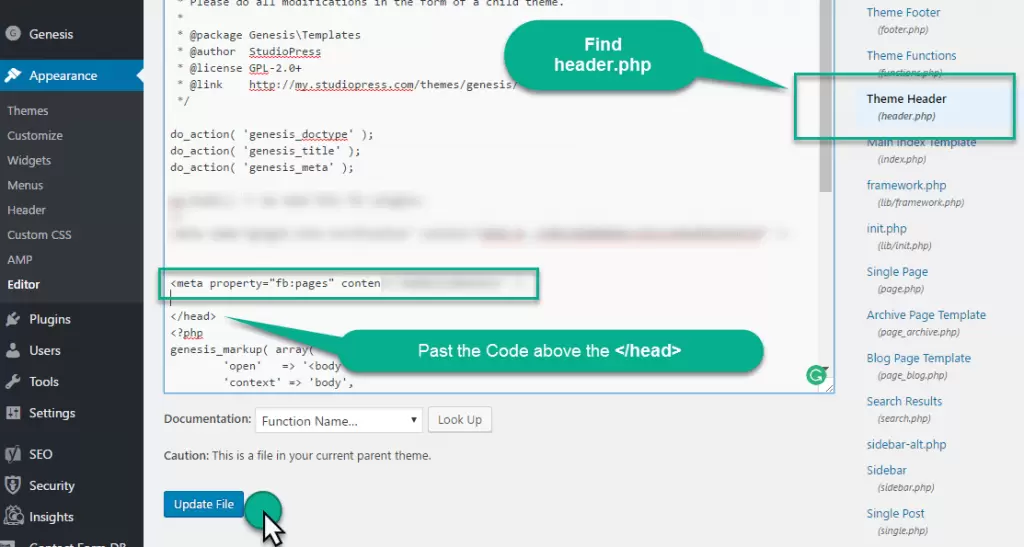 Now, click on "Claim URL" & you will see a success message (shown below).

Create Style Templates :- Click on Style Editor again you will move to Styles page. Click on default style and just check how it looks, we will do this part during plugin configuration.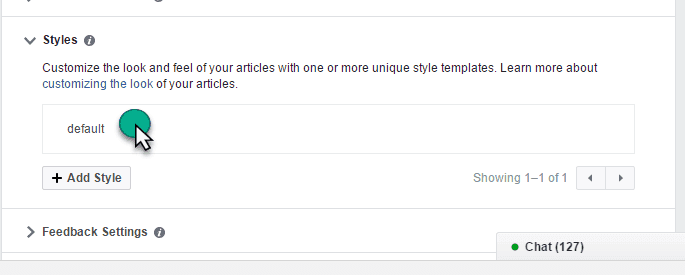 Create Article :- Now You need an API, RSS or CMS Plugin to import your Content on Facebook Draft for review and publish.
Instant Articles offers three ways to convert your mobile web articles to Instant Articles:
By using a supported third-party publishing tool such as the WordPress plugin;
with the Instant Articles API;
or through an RSS feed.
Difference Between API or RSS
If you use a custom CMS, setting up a dedicated RSS feed or using the Instant Articles API are the ways to go. The main difference between the two is that using the API allows you to manage articles and receive errors and alerts instantaneously through your own CMS. If you use an RSS feed, Facebook pulls articles from the feed several times an hour. And you'll need to use the Publishing Tools section of your Facebook Page to delete articles and see errors and alerts.
Third-Party Options
WordPress and Drupal support Instant Articles plugins. In total, more than 10 partners offer native integrations. If you don't have a team of developers, a plugin is the easiest solution to set up and maintain. It's a great way for bloggers or independent publishers using third-party platforms to publish Instant Articles.
API Setup
Publish new stories via the Instant Articles API only when they are also publicly available on your website. The Instant Articles system requires access to each article's standard web URL to render the content properly.
You'll need an existing Facebook app ID, which is used to issue calls to the Instant Articles API. If you don't already have an App ID, create a new one.
Register yourself as a Developer.

Now Click on Create APP and Select the category, enter email and name for API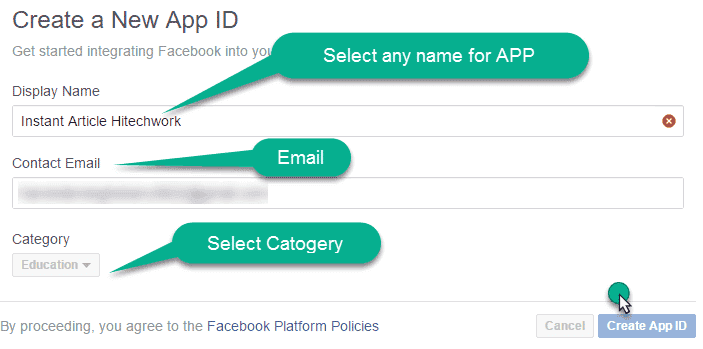 APP ID and APP secret ID is ready, don't share this ID with anyone. Copy both the ID and  Save  it on somewhere.

Now Click on Add Platform and click Add your website and enter the URL of your website in both boxes and click on save.
You can also Upload the App Icon in for identification.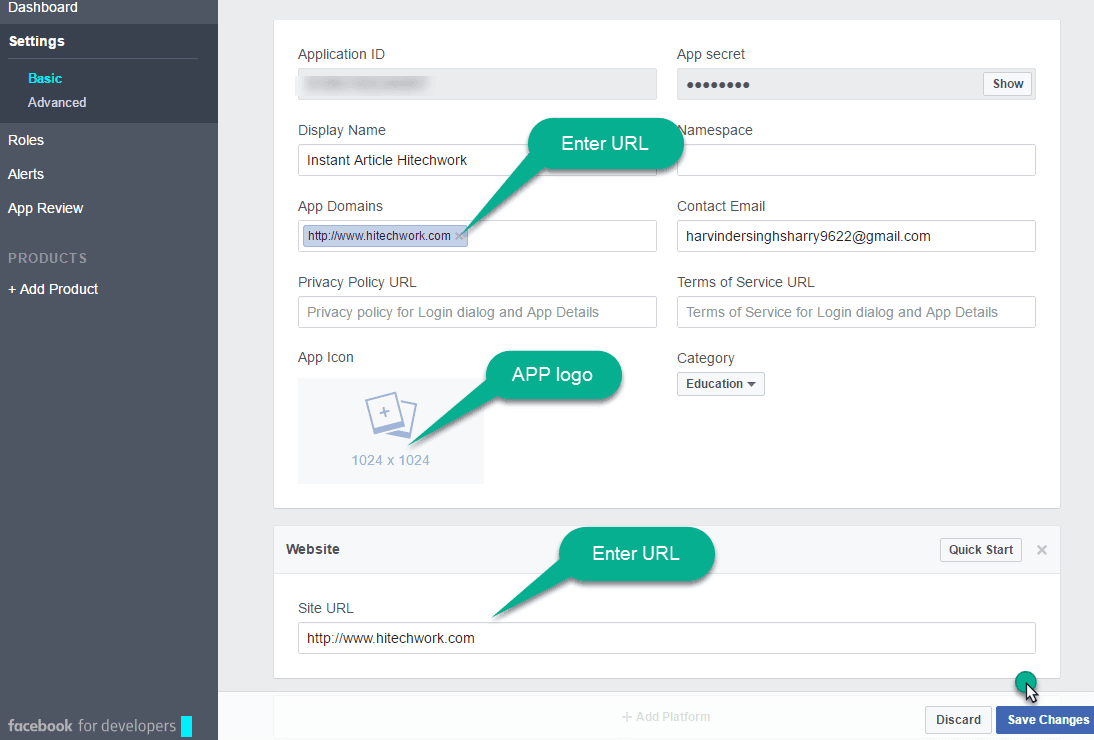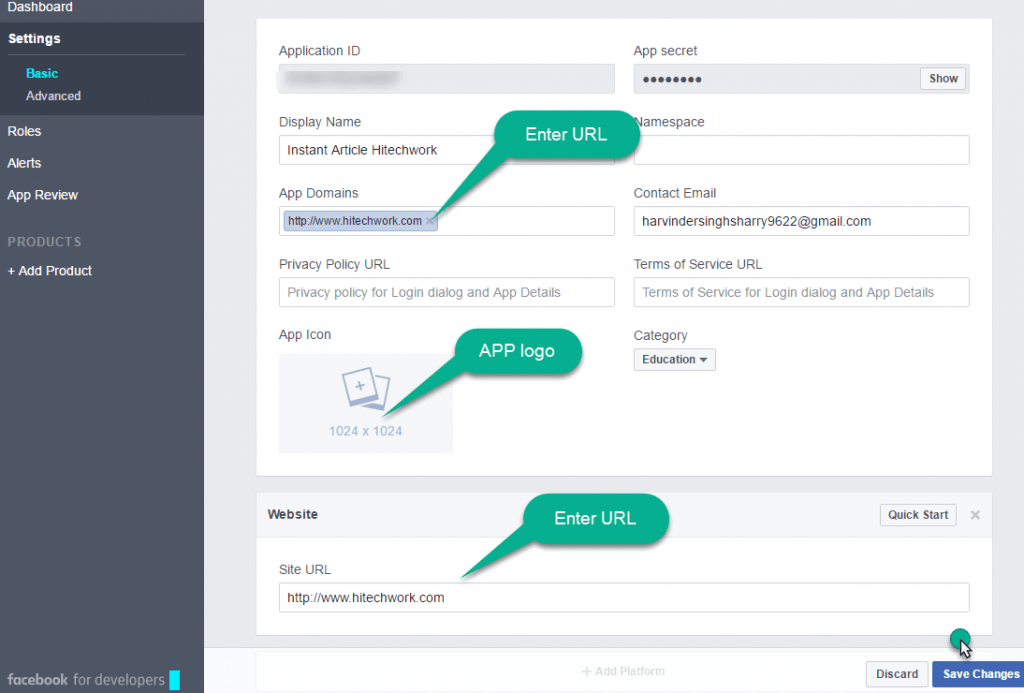 RSS Feed Setup
You should only publish new stories via your Instant Articles RSS feed when they are also publicly available on your website. The Instant Articles system requires access to each article's standard web URL to render the content properly.
Facebook Instant article plugin is developed by Facebook & few more developers. Install this plugin and activate it. A new feed will be generated & you can check it by adding   /feed/instant-articles  to your domain name.
So, in my case it was:
https://www.hitechwork.com/feed/instant-articles

Go back to your Facebook page Instant Articles setting & add this RSS feed into the "Production RSS feed" area (Refer to below screenshot).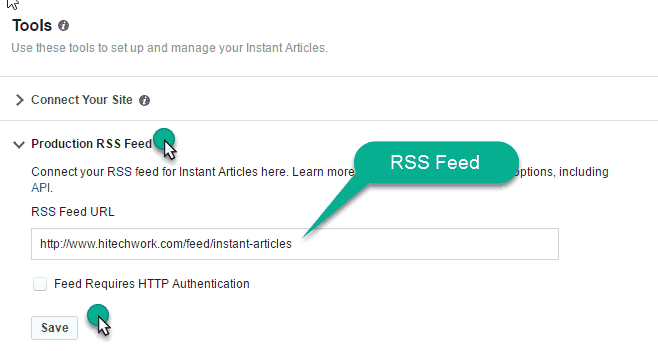 Click On save. After saving your page automatically refresh. If not please refresh it.
Note:- Publishing an Instant Article does not automatically create a new post on your Facebook Page. Instead, new Instant Articles are added to the Instant Articles library associated with your Page. To add a post on your Facebook Page, you must still compose and publish a post to your Page. Automated publishing of Instant Articles vis RSS or API simply means that whenever enabled readers encounter the URL of your article while using Facebook, the article will be rendered as an Instant Article.
Configure The plugin CMS Plugin.
Now the second part of the Facebook Instant Articles Tutorial is to the configuration of the plugin. Click on Instant Article plugin then clicks on Get Started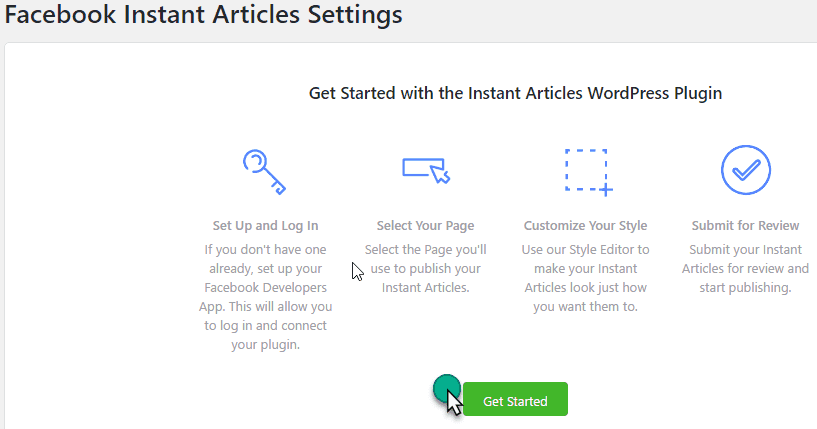 Read few step provided by the Author of the plugin.
We already generate APP and Secret ID, Past into the box and click on Log in

When you enter your app and Secret Id then click on Log in with Facebook.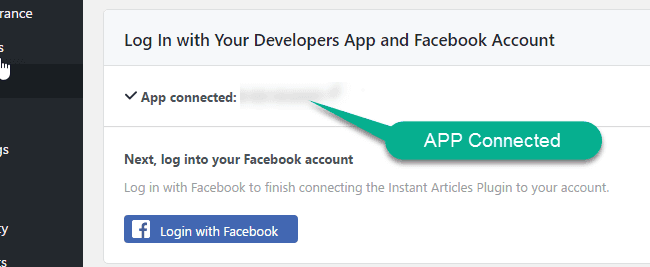 Now the List of your page will appear here
Select the page which is you use for creating APP ID.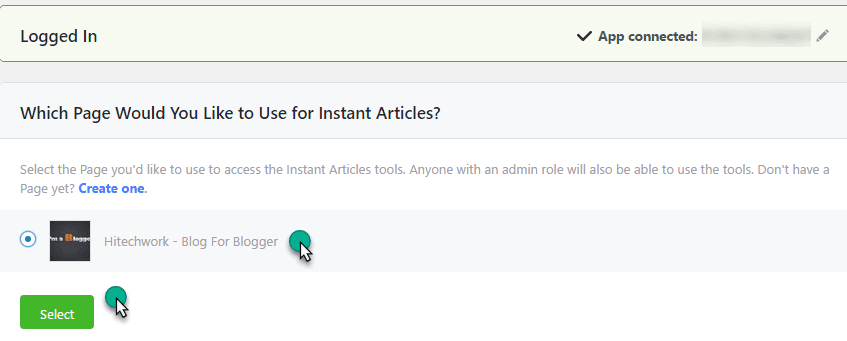 Now click Customize page (Here you can again customize your page).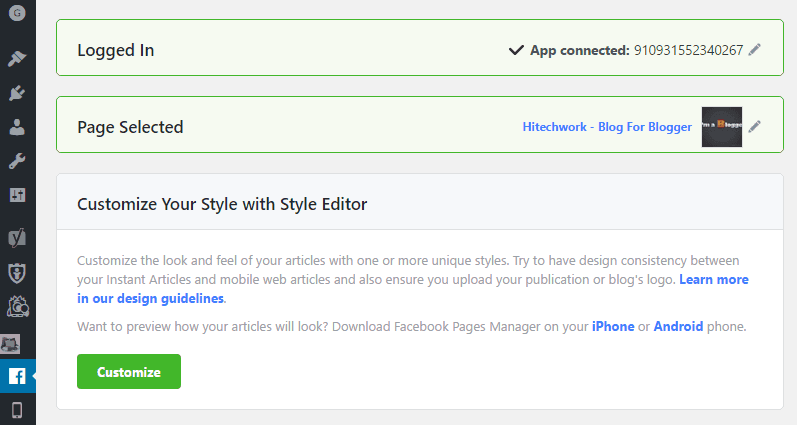 Change the name of the page Default to whatever you want and save it.


After Saving comes back to the plugin and click on next. Now all process is done. You just need to select the article and add to the draft of the Facebook for review and approval process.
Step 2. Submit For Review
The last part of the Facebook Instant Articles Tutorial is approval process, You just have to submit 5 Article and Click for Review. Fix all the error in the Facebook instant article before Submit for Approval Process. Here is a common Error And Turboshooting Process are:-
Missing Logo
Lack of Custom Styling
Missing Captions
Missing Log
Go to Create Site template  and Click on Style Editor. 
Then Select Your Page and upload the Logo.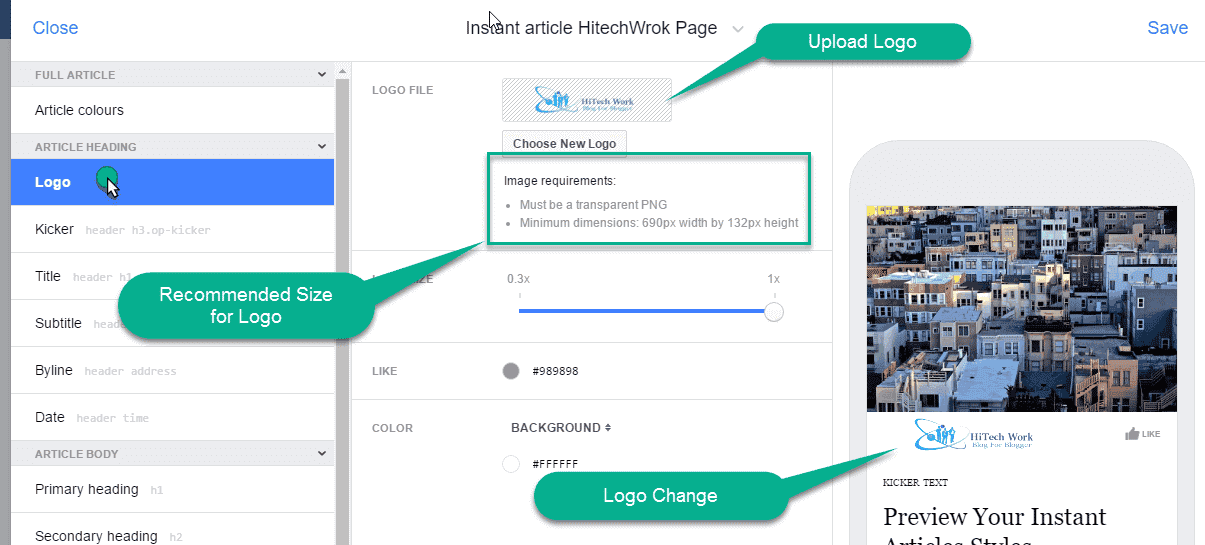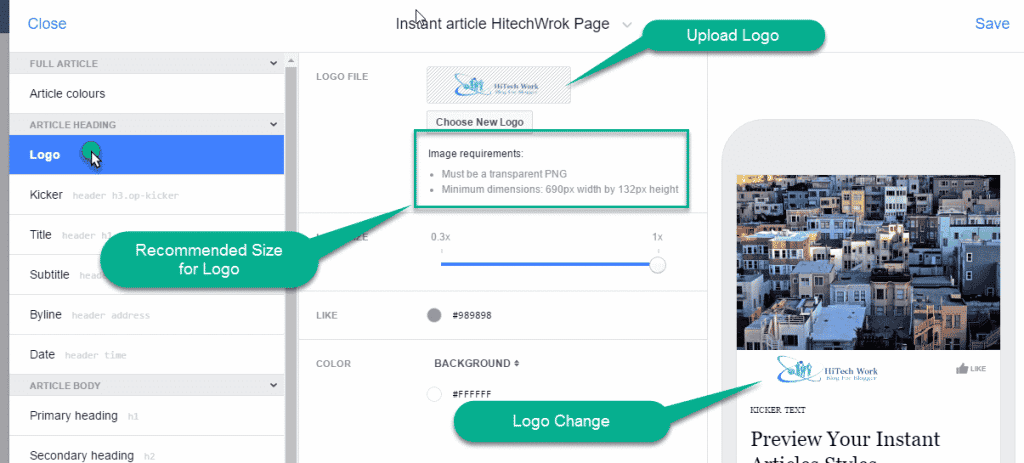 Logo size Should be in width 960 x Hight 132  and format must be in PNG. If you have a large image go here to resize the image free.
Note:- Also Upload logo into the default style.
Lack of Custom Styling
This a not actually error in the website, Some type some blogger hide the link by a place with the same color of the content i.e generally in black color.

Be careful with the color of the link, you can change it under Style editor
Missing Captions
The Caption is used for the image to explain the image. Caption also  help to decrease the bounce rate of the website. We already discuss how to optimize image for both search engine and User. So, I think, I no need to explain again here. For sake of information, Caption is a word that is just place above the image to tell the visitor about image.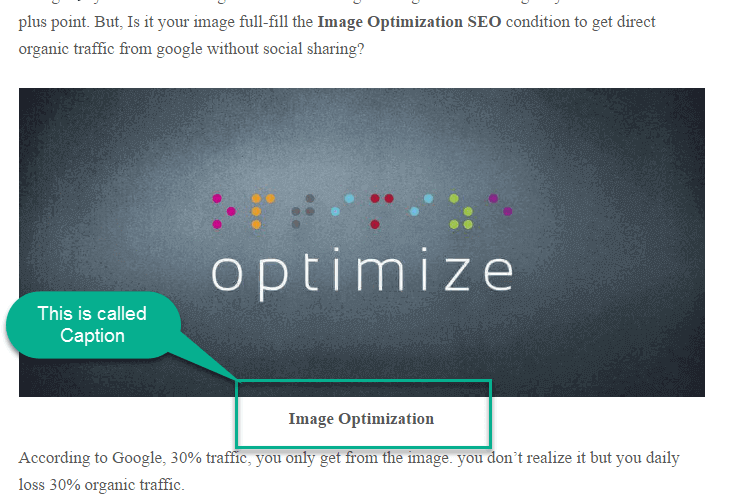 Other types of error are Embed Troubleshooting, Ad Troubleshooting, JavaScript Troubleshooting and Tool Access Troubleshooting. This is all Technical error we will cover this in next article.
How To Submit Article For Review
If you are using RSS Feed then you no need to manually enter article to Facebook. Whenever you Publish the new post to blog RSS Feed automatically publish it on Facebook. But for Approval Process you have to manually enter 5 Article to Facebook.
Go to new or existing post and scowl down at the end of the article.
Find Facebook Instant Article option and tick the box.
Wait for few minute, Post automatically moves to facebook draft. If not then, click on Update the post again.

You can check how many post you have added in the facebook draft box.
Open your facebook page which is you selected for facebook instant article.
Now click on Publishing Tools>>Production Article.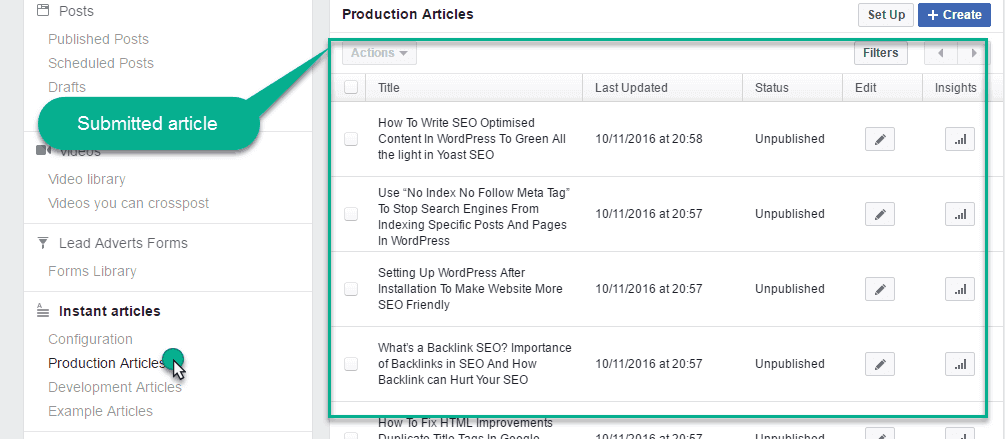 Now click on Instant article the configuration button and Hit Submit for Review Button.

Here, Your article is in a review process, after 1-3 business day you will get a message and then you can easily publish your article.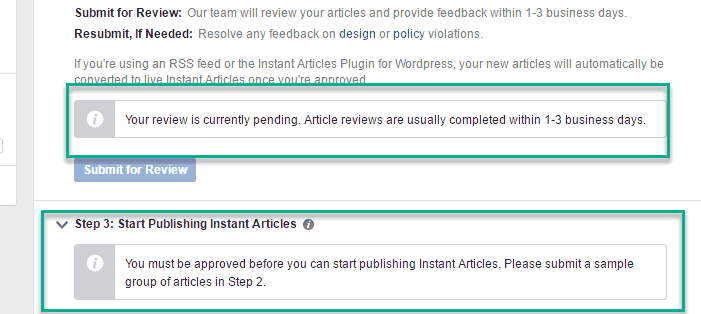 This is the complete guide of the Facebook Instant Articles Tutorial, if you still face problem or ned help please comment below
Help Source
Recommended Post
Remember to share this post with anyone who might benefit from this information, including your Facebook friends, Twitter followers and members of your Google+ group! And also Support Us By Liking Our Facebook, Twitter, and Google+ Page.
If you have any suggestion or problem about Facebook Instant Articles Tutorial please feel free to comment below.