Roku is a fantastic video streaming platform for watching movies, drama series, live news broadcasting, live sports, and much more. This device is literally straightforward to use, but sometimes we can see issues like the content we are watching is not streaming and constantly buffering, and it will freeze on your screen. So, if it happens to you, your Roku device needs to clear the cache to improve its performance. Here in this guide, we will tell you how to clean the cache on the Roku device and some pieces of information and tips you have to be noted while cleaning the cache or junk files on your Roku device.
What is Cache?
The cache stores the recently and frequently accessed data searched or streamed on a particular device in an app. In simple words, the caches are temporary files that store the data in your device, decreasing the loading times and getting your searched content quickly. The stored data helps improve your multiple devices' overall performance and storage.
Why Should We Clean Cache on Roku?
Sometimes, the cache may lead to some issues in opening or streaming the content on the app, and your screen is frozen at a point, so you need to clear the cache to fix your problems. If your Roku device is not working frequently and you want to increase and speed up your device performance, it is vital to clean the cache memory on Roku.
Pro tip: You should always keep your Roku device clean. So, you need to delete the files that are not needed because they will take up space which means there is less storage for other files.
How to Clear Cache on Roku (3 Easy Methods)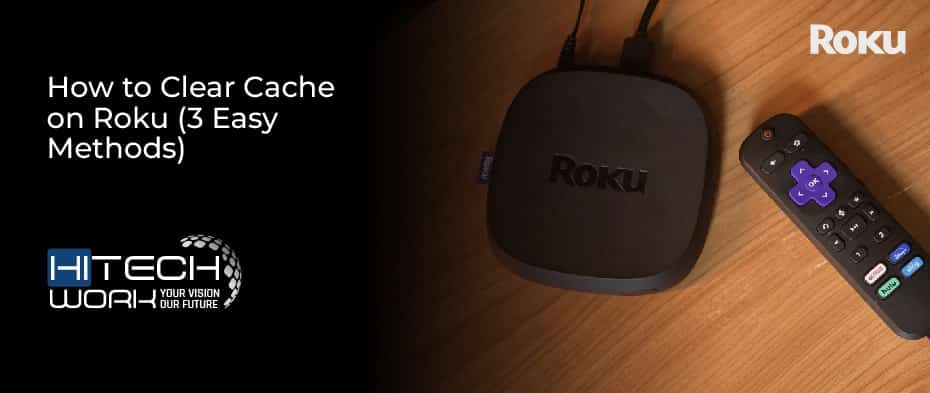 Unfortunately, Roku does not provide any guide to cleaning the junk files, but if you have encountered performance issues on the Roku device and want to clean the cache. These three methods will help you to resolve your issues.
Clear junk files from the Roku device.
Clean cache from an app on Roku.
Clear junk files by using the remote.
Clean the Cache Files from the Roku Device
Roku is a streaming device designed for long-hour use, but it's common for every device that your device needs some cleaning to get better improvement. Therefore, speeding up your Roku device, you have to restart the device to clean the cache. Do follow these steps to resolve your problems.
Open the homescreen on your Roku device.
Go to the settings and then select the system
Now click on the systemrestart.
Then tap on the restart to confirm it.
Now it will automatically turn off and then turn on by itself.
When your device is restarted, the cache on your device will be cleaned.
This method can be applied to all types of Roku devices.
Clear the Cache from a Particular App on Roku
You must try this method to clean the cache files from an app like Netflix, Hulu, or more. You have to delete the app from the Roku device. Follow these simple steps.
Open the Roku device and go to the homepage.
Select the app that has been troubled for you.
Now press the (*)asterisk button from your Roku remote.
Click on the removedchannel.
When your selected channel is removed, now turn off your device.
Turn on your device after 30 seconds.
Now your cache is removed from the device.
Now you can reinstall the app you have removed from your device.
Clean the Cache on Roku Using the Remote
You can use the remote to clear the cache on Roku. Another method you can use when your device is slowing down and troubleshooting your content. Here the guide will help you out with your problem.
Firstly, pair your remote with the Roku device.
Open the homepage and go to the home
Now press the home button five times on your remote.
Then up button and then rewind button two times from your remote.
Now press the fastforward button two times from the remote.
Now, wait for 30 seconds. Your Roku device will turn off and then restart automatically. When your device opens, your cache file will be clean from your device.
Points To Be Noted to Clean Cache Files on Roku
Are you cleaning your junk or cache files on Roku? If YES, check these simple points before cleaning your junk files. You should note these tips because if you do not ensure the information, you cannot remove the files on your Roku device.
At first, make sure that your Roku device is turned on and linked to the web or browser.
Another thing you have to remember is that you are using the most recent software on your Roku device.
Suppose you are unsure whether the software is the newest version or not. Go to the setting menu and verify the recent software.
Final Words
Your Roku device is not working correctly, and the content you are watching is buffering, and you are just fading up with it. So, it is a good idea to clear your device's cache or junk files to speed up your Roku device performance. Before cleaning the file, remember some tips and tricks we already shared in this article. If the problems are still at that place after clearing the cache on Roku, let us know in the comment section. We will help you to get back on streaming content.